Bill Cosby has been found guilty of drugging and raping a woman in 2004
The 80-year-old comedian now faces up to 30 years in prison.
Cosby was convicted of drugging and raping Andrea Constand at his Pennsylvania home in 2004. Last year, the jury could not reach a verdict. This time, after 14 hours of deliberations, the jury found Cosby guilty.
He was whisked away in a black SUV after. Prosecutors had argued against his release on bail as he could be a flight risk, prompting Cosby to lash out and yell that he "doesn't have a plane, you asshole!"
But enough about Cosby. (Really.)
The case was about what happened to Andrea Constand, and also the many women who had come forward with accusations against the comedian.
A handful of those women were in the gallery. We asked them for their reactions:
Victoria Valentino: "I stared him down. I just stood there, proud and strong."
Lili Bernard: "This is a victory not just for … the 62 publicly known Cosby survivors, but it is really a victory for humanity."
Kristina Ruehli: "Hats off to the tenacity of the victims, the media, and the justice system."
Further reading:
"This is a victory, but it's hard to let the whole weight of it sink in," writes Scaachi Koul in a smart piece on why women never expected Bill Cosby to be convicted.
Quick brief:
LGBT activists around the world are worried about the new US secretary of state
Mike Pompeo's confirmation as secretary of state is being greeted with skepticism from the international LGBT community. There's concern that his stance on LGBT rights will undermine strides made globally.
During Pompeo's confirmation hearings, when asked whether he still believes that gay sex is a "perversion" — a view he's expressed before — he refused to give a direct answer.
Pompeo's evasive response: "When I was a politician, I had a very clear view on whether it was appropriate for two same-sex persons to marry. I stand by that."
One activist based in Kenya told us Pompeo "will likely roll back LGBTQ global achievements in the last decade."
Kim Jong Un has become the first North Korean leader to step into the South
For the first time since fighting in the Korean War ended more than half a century ago, the leader of North Korea has visited South Korea.
Kim Jong Un and South Korean President Moon Jae-in shook hands in the heavily armed demilitarized zone, a 2.5-mile-wide strip that has divided their countries since 1953.
Kim then made history by stepping into South Korea, which is technically still at war with his country.
The two men then began a historic summit. On the agenda for the meeting was denuclearization, peace, and improvements in the relationship between their nations.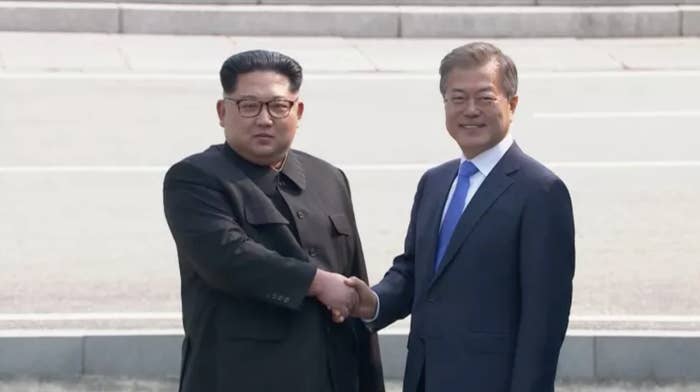 A suspected serial killer was caught because investigators found his family's DNA on a website
The man police believe to be the Golden State Killer, who was responsible for 12 murders and 51 rapes between 1974 and 1986, was arrested this week. An unidentified online DNA database helped identify him.
How it happened was relatively simple: Investigators ran the killer's decades-old DNA through genealogical websites and found relatives with matching segments of DNA. Then, one by one, they ruled out people in the family trees.
After authorities identified Joseph James DeAngelo as a possibility, they set up surveillance on his home and got a fresh sample of DNA from something he threw out.
One expert told us the potential for abusing the technology is high: "If people were using it to track immigrants, we'd be rightfully up in arms."
The US autism rate among kids is still rising, according to a new report
The study by the Centers for Disease Control and Prevention found that 1 in 59 kids fit the criteria for autism in 2014, up from 1 in 68 in 2012.
Experts attribute the increase to better awareness and identification of autism, especially among black and Latino children who were previously underrepresented in the count.
In the 2012 count, autism prevalence among white kids was 20% higher than black kids and 50% higher than Latino children. By 2014, those gaps had been narrowed significantly — white rates sat about 10% higher than black children and 20% higher than Latino kids.
Sink into these great long reads this weekend
Hermione Granger is a black woman. "The ranks of fans imagining her this way had been growing for years. All over my Tumblr timeline were versions of Hermione with brown skin, her race most often black," writes Alanna Bennett. That manifestation of the Harry Potter character was brought to life with the opening of The Cursed Child on Broadway, where Noma Dumezweni plays Hermione. Bennett reflects on the day she burst into tears when she saw the casting, and what it means: "A black woman as Hermione remains a symbol of pure possibility." Seeing A Black Hermione Still Feels Like A Bright Spot In A Torn-Up World.
Last week, Swedish DJ Tim Bergling, better known as Avicii, died. Sheridan Watson wrote a moving and difficult tribute to Avicii's music, and it touches, I think, on a feeling familiar to many: When the right artist comes along at the right moment, their music might quite literally save your life. Watson writes, "That first night I saw Avicii, I realized we could all be a little less lonely together." Hearing Avicii's Music Was The First Time I Felt Seen.
Paulette Jordan is angling to be the first Native American governor of Idaho. She would also be the first Native American governor, period. Never mind that in Idaho, any Democrat running would be a long shot. Anne Helen Petersen's profile of Jordan is an excellent read about a woman who doesn't mind the steep odds and has no interest in heeding the calls to let an older, white, establishment candidate take her place. Paulette Jordan Is Running For Governor. Who Will Follow Her?
Enter your email below to sign up for the BuzzFeed News newsletter: