Morning Update: And The Week Only Just Started
Kavanaugh speaks out, Rosenstein's still in the job, Weight Watchers sheds the name. Your BuzzFeed News newsletter, September 27.
Brett Kavanaugh has again denied sexual misconduct allegations: "I'm not going anywhere."
Christine Blasey Ford alleged that Brett Kavanaugh sexually assaulted her decades ago at a high school party. Then Deborah Ramirez told the New Yorker that the Supreme Court nominee exposed himself to her at a party at Yale.
Kavanaugh has denied both of those allegations. On Thursday, Ford will testify in front of the Senate Judiciary Committee.
Yesterday, Kavanaugh sat down for an interview with Fox, and said he won't let false allegations "drive him out of this process." He added that he was a virgin in high school and "for many years" after. (Neither of the accusations allege sexual intercourse.)
The interview was an unusual move for a candidate hoping to be confirmed to the high court. But then again, this whole nomination has been unusual. Democrats have called for his confirmation to be postponed, or for his name to be withdrawn completely.
Some things you should know:
Despite what you heard yesterday, Rod Rosenstein is still in his job
On Monday, multiple outlets reported that Deputy Attorney General Rod Rosenstein had either resigned or was about to be fired.
After three hours of confusion, it emerged that Rosenstein is still in his job, and he and President Trump will meet Thursday.
I heard about this. Why is it important? Rosenstein is the number two at the Department of Justice, but more importantly, he has authority over special prosecutor Robert Mueller's Russia investigation.
Why does that matter? The president has called for Mueller's investigation to end several times. But he can't fire Mueller — only Rosenstein could do that.
Why would Rosenstein be uncertain about his job? Last week, the New York Times reported that Rosenstein had discussed potentially wearing a wire around Trump to secretly record the president and had talked about bringing together cabinet members to discuss invoking the 25th Amendment to remove Trump from office.
Yikes on bikes. What did Rosenstein say about that? He said the Times report was "inaccurate and factually incorrect," which both mean the same thing.
And what happened after? Well, there was a dizzying series of reports that Rosenstein had "verbally" resigned; was about to resign; resigned and it was accepted; was "expected to leave his job." None of those appear to have come to pass.
What happens now? The White House says Rosenstein will meet with Trump on Thursday to "discuss the recent news stories."
SNAPSHOTS
Trump officials just killed a safety rule for trains carrying oil. The administration rolled back a requirement for trains transporting oil and other flammable materials to install special brakes. Reversing the rule, officials cited an updated federal analysis that found the high costs of implementation outweighed the benefit. A chemical safety and transport consultant told us the special brakes "would have been a long-awaited safety improvement."
The white Dallas police officer who shot a 26-year-old black man in his home has been fired. Amber Guyger, 30, shot her neighbor Botham Jean after entering his apartment allegedly believing it was her own. Guyger was arrested and charged with manslaughter. Now, she has been terminated after an internal investigation concluded that she had "engaged in adverse conduct when she was arrested for manslaughter."
Google's former CEO asked for ways to raise low-income workers' wages. Twitter had answers. Through Eric Schmidt's "venture philanthropy" firm, Schmidt Futures, and an organization called Jobs for the Future, Schmidt wants to help 100,000 workers increase their wages by $10,000. Schmidt tweeted saying he was "delighted" to be supporting the search for a "unicorn for the middle class." Twitter had some snark. My favorite: "Can't spell 'unicorn' without 'UNION,' man."
Trump got the world to agree that illegal, addictive drugs are bad. The United States began the week of the United Nations General Assembly annual meeting with a global call to action on the world's drug crisis — and two of the nations the Trump administration has blamed for that problem, China and Mexico, signed on. One hundred and twenty-nine countries joined the US in signing the call.
Kanye West and Saint threw the first pitch at a Chicago White Sox game over the weekend. The rapper and his son reportedly walked out to the mound while his song "Homecoming" played in the background. The event follows news from West that he plans on moving back to Chicago, the city where he grew up. Dadye is my fave Kanye.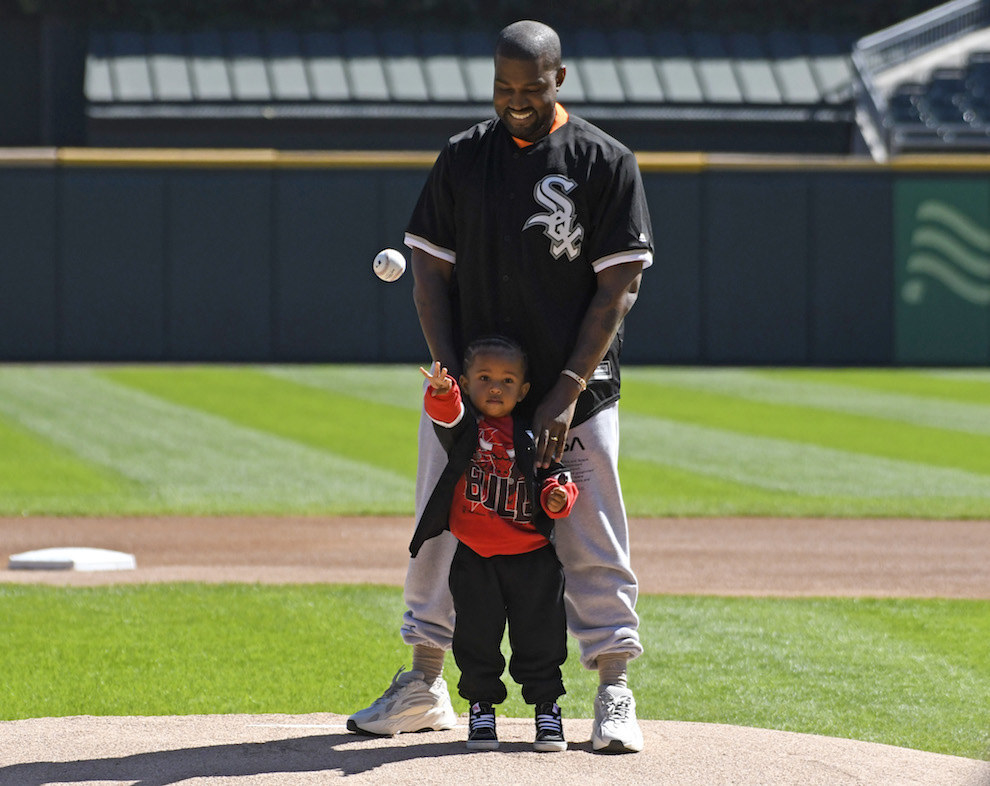 Weight Watchers is changing its name. Here's why it can't survive as a diet-only brand.
Weight Watchers, the most familiar brand in the weight-loss industry, is losing its name. It now wants to be called WW.
Along with the shift in brand name, it now wants to be known as a "health and wellness" company, rather than just the place your mom went to lose some pounds.
Recognizing a consumer pivot away from diet culture and toward wellness, WW wants to move into that space.
The company is best known for its points system that assigns different values to different foods. In-person meetings have dieters meet up, get weighed, and discuss their struggles. Given that history, it seems a no-brainer that WW is eager to rebrand.
Read Lauren Strapagiel's deep dive into how WW wants to position itself as a company that believes that "wellness is not just about one thing."
An Indonesian teenager survived 49 days adrift in the Pacific Ocean in a floating hut
Aldi Novel Adilang, 19, was working on a floating fish trap in July when the rope fixing what resembles a small wooden hut to the seabed came loose.
He drifted thousands of miles on the structure, and his survival instincts came into play. He was resourceful, and survived by catching fish and filtering seawater through his clothes.
At least 10 ships passed by without noticing him before he was finally picked up by a Panamanian-flagged vessel at the end of August. Officials say he's healthy and has been reunited with his family.
This is what the structure looked like: