Border agents have stopped referring immigrant parents for criminal prosecutions after Trump's executive order
We're in the second week of the child separations story being the story, and there is seemingly no end to the confusion and chaos. Let's make some sense of it:
What's the new thing that just happened? US Customs and Border Protection (CBP) has stopped referring immigrant parents who cross the border illegally with their children for criminal prosecution — it says this is a "temporary action."
Why did it stop? Relenting to pressure, President Donald Trump signed an executive order directing the Department of Homeland Security (which oversees CBP) to keep detained families together.
Is the "zero tolerance" policy still in place? The CBP commissioner says the Trump administration's policy that all those who cross the border illegally will be prosecuted is still in place. Single adults will still be referred for prosecution. However, people crossing with children will not.
But doesn't that undermine the "zero tolerance" rule? Yeah, suspending criminal referrals for people apprehended with children — however temporarily — is a clear undercutting of the rule's purpose. You could even say it makes it false by definition: There's some tolerance. Hence the confusion.
What happens next? White House press secretary Sarah Huckabee Sanders said Trump's executive order is a "temporary solution" because the government will soon run out of space and options to house families together.
How are the children doing? The incident commander of the tent facility housing 326 immigrant children called the policy that seeks to separate families an "incredibly dumb, stupid decision." He added, "All it did was harm children, no question about it."
What are the facilities like? You should read Amber Jamieson's report from touring the facility. There were ground rules for reporters who visited: "You can say hello. Wave. 'Hola.' 'Buenos dias.' That's it." This facility is 30 miles outside of El Paso, Texas — and there were demonstrations outside of it.
Thousands of Marriott workers will protest for safer conditions this week
Tomorrow, several thousand Marriott employees are expected to protest in eight cities. Here's the thing about Marriott: It's the largest hotel company in the world — it owns a portfolio of 30 brands, including Westin.
Workers for the hospitality giant are represented by a union called Unite Here. When they take to the streets, it will be their union's largest day of action against a single company in years.
What do these workers want? They're seeking workloads that won't result in injuries, a living wage, and more protection against sexual harassment and violence.
Housekeepers and room service staff find themselves particularly vulnerable as they enter guest rooms alone, and the union wants them provided with panic buttons that can instantly send their location to hotel security.
SNAPSHOTS
The FDA just approved a cannabis-based drug as a treatment for epilepsy. The drug contains purified cannabidiol, or CBD, which is a derivative of marijuana, and it will be used to treat two rare forms of the condition.
Environmental Protection Agency chief Scott Pruitt encouraged oil executives to apply for top agency jobs. According to emails we obtained, Pruitt made a recruiting "plea" to executives at the American Petroleum Institute, a major oil and gas trade group. At Pruitt's prompting, a ConocoPhillips official sent the EPA résumés of two people to be considered for regional directorships at the agency.
Cardi B confirmed on Twitter that she married Offset months before his public proposal. The announcement came after TMZ reported it had dug up the marriage certificate of the two rappers, which shows they got married eight months ago. Cardi said getting married was a moment she wanted to keep to herself and that the ceremony came together one morning on a whim. She wrote, "I said I do, with no dress no make up and no ring!"
Jimmy Fallon admits he regrets the Trump hair-ruffling incident. If you remember, in the run-up to the 2016 election, Fallon drew criticism for a softball interview with the then-candidate. During that interview, he ruffled Trump's hair playfully. Now Fallon says he would've done it differently. He added: "I don't support his politics but I don't make that part of my show. It's The Tonight Show. It should be for everybody."
If, after the madness of news in the last year, you don't remember the incident, let me jog your memory:
Employees of another tech giant are pushing back against their company's government contracts
Over the last few weeks, we've covered the internal backlash at Google against participating in a government drone program, and Amazon employees taking issue with their company's contracts with law enforcement agencies using its facial recognition technology.
This strategy is spreading. This week, more than 650 employees at the software giant Salesforce have signed a petition asking their employer to cut ties with US Customs and Border Protection after news broke of immigrant children being separated from their families at the border.
The petition reads, "we are particularly concerned about the use of Service Cloud to manage border activities." It's addressed to the company's CEO and asks that the company "craft a plan for examining the use of all our products, and the extent to which they are being used for harm."
This hero of a boyfriend did his girlfriend's skin care routine while she was passed out
This is the story of Shanika and Albrecht, who are both pilots in the Philippines. It's also the definition of true relationship goals.
One night, an exhausted Shanika passed out in the car after coming home from a few drinks. Well, Albrecht didn't just make sure she got to bed — he did her whole skin care routine.
And he didn't half-ass it, either. We're talking toner. We're talking cleanser. We're talking moisturizer. We're talking eye cream.
Shanika woke up the next morning with a smooth face, and checked her phone to see her boyfriend had taken pictures of the process. People are in love with how thoughtful he is.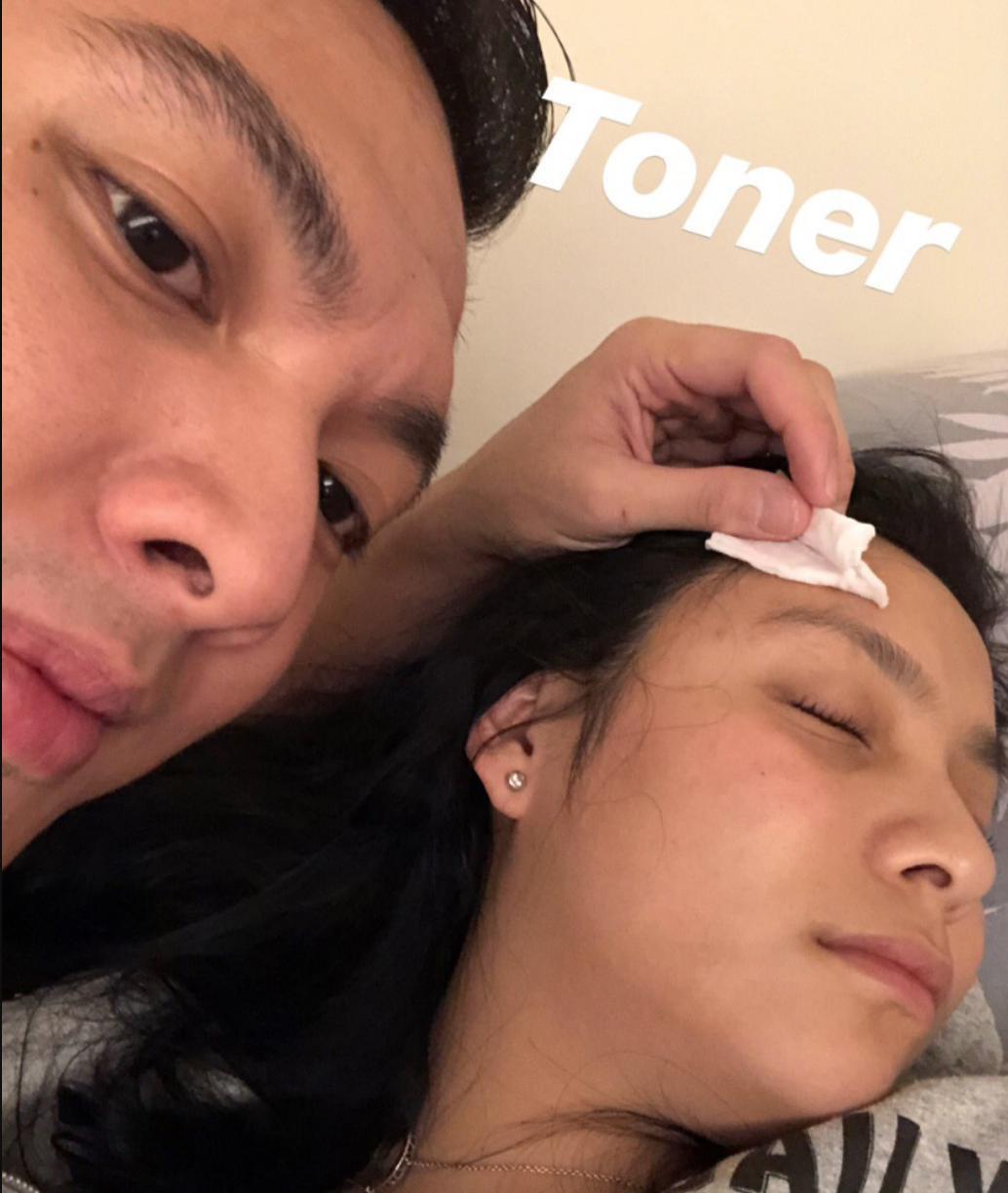 Love is little more than paying attention,
Elamin
Enter your email below to sign up for the BuzzFeed News newsletter: