11 people have been killed in a shooting at a Pittsburgh synagogue
The massacre inside the Tree of Life synagogue also left six people injured, including four police officers. Officials described the shooting as a hate crime.
The suspect, Robert Bowers of Pittsburgh, is now in custody. He faces 29 counts of federal charges, including 11 counts of obstruction of exercise of religious beliefs resulting in death. The shooter was armed with an assault rifle and at least three handguns, officials said.
FBI Pittsburgh Special Agent in Charge Bob Jones said it was the "most horrific crime scene" he had seen in his 22 years with the bureau.
The suspect is a neo-Nazi who has railed against Jews, immigrants, and refugees and pushed a white supremacist agenda online. During the shooting, the attacker said he wanted all Jews to die, according to police dispatch audio.
Squirrel Hill, where this took place, is a quiet Pittsburgh neighborhood. We talked to residents, who told us this "rips at the fabric of our community."
News of the killings spread rapidly, but some Orthodox Jews in the area didn't find out for hours.
This is because Orthodox Jews don't use phones on the Sabbath, meaning they couldn't call loved ones on Saturday to say they were safe. Some didn't hear about the Tree of Life horror until sundown.
A husband and wife. Two brothers. A trusted doctor. A 97-year-old grandmother. Here are the names and stories of the 11 victims.
President Trump appeared to place some blame on officials at the house of worship for not having stronger security.
The wider context
No crime happens in a vacuum, but especially not one motivated by anti-Semitism. Hate crimes against Jewish people have risen dramatically in recent years, along with the proliferation of white supremacy groups both online and offline.
And the conspiratorial hate we see on the internet is increasingly appearing offline too. From Charlie Warzel's excellent analysis: "Connecting the online footprints to tragedies in the physical world reveals an undeniable truth: that the dichotomy between an online world and 'real life' is (and has always been) a false one."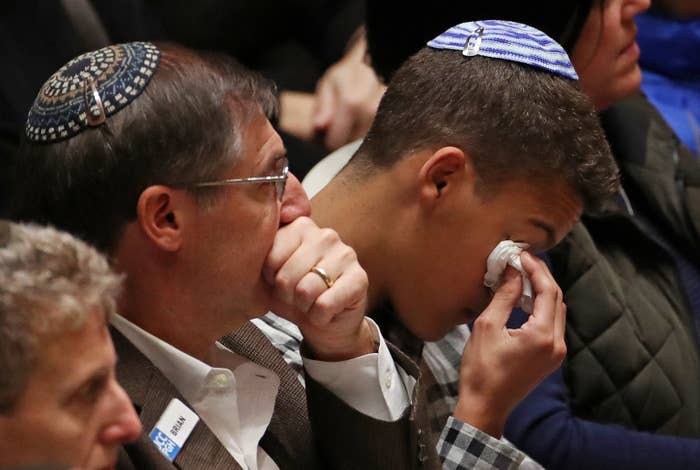 An Indonesian passenger plane carrying 188 people crashed shortly after taking off
The Boeing 737 was carrying 181 passengers, including a child and two infants, as well as seven crew members, when it left Indonesia's capital around 6:20 a.m. local time. Shortly after taking off, it crashed into the ocean.
The Lion Air flight was heading to Pangkal Pinang, the main city in the Bangka Belitung Islands, a trip that usually takes just over an hour.
No survivors have been found. The head of Indonesia's search and rescue agency said at a press conference, "We don't know yet whether there are any survivors. We hope, we pray, but we cannot confirm."
This cop was accused of putting an 11-year-old girl in a chokehold and lying about it. He kept his job.
In the winter of 2015, Lt. Paul Gaglio made a sworn statement that an 11-year-old girl used "intimidation, physical force, or interference" to resist arrest, causing them to fall after slipping on a patch of ice. But the incident was caught on video, and the video showed him grabbing her, throwing her to the ground, and cuffing her.
An oversight group accused him of using a chokehold — a dangerous move that NYPD rules ban except in "extraordinary circumstances" — and lying about it. This is supposed to be a fireable offense.
According to confidential documents we've reviewed, Bill Bratton, the NYPD commissioner at the time, took the unusual step of shutting down an internal examination of Gaglio's actions. He received no punishment.
Today, Gaglio patrols Yankee Stadium, earning $163,000 last year. On Facebook, he has shared anti-gay memes, images denigrating Islam, and posts demeaning black people.
The NYPD continues keep its internal disciplinary practices secret, but has created an independent panel to review the process.
SNAPSHOTS
The Kentucky supermarket shooting that left two black people dead is being investigated as a hate crime. After Gregory Bush, a white man, was charged with fatally shooting Maurice Stallard and Vickie Jones in a Louisville suburb on Wednesday, the incident is being investigated by federal authorities as a possible hate crime. Prior to the shooting, security footage showed the suspect had tried to enter a predominantly black church nearby, according to the local police chief.
The pipe bomb suspect is a Trump supporter who threatened several Democrats on social media. Authorities arrested Cesar Altieri Sayoc, a 56-year-old man living in Florida, in connection with the 13 explosive devices sent out last week to the likes of Barack Obama, Hillary Clinton, and Robert De Niro.
NBC has canceled Megyn Kelly Today after she defended blackface on the show. A tearful on-air apology and email to staff did little to quell the controversy that even prompted public condemnations from her colleagues.
Simone Biles totally nailed it at the Gymnastics World championships, despite having a kidney stone. Biles secured the highest scores on the beam, vault, and floor, just 24 hours after discovering the stone, which she still had not passed.
The Boston Red Sox defeated the LA Dodgers in Game 5 to win the World Series. When reached for comment, Angelenos said, "Yeah, this hurts, but at least we don't have to put up with Boston winters, so who's the real winner here?"
The far-right "Donald Trump of Brazil," Jair Bolsonaro, has been elected president
Bolsonaro defeated the leftist candidate, winning 56% of the vote and signaling with his win a radical political shift rightward for the world's fourth-largest democracy.
Bolsonaro, an ex-paratrooper, positioned himself as an unlikely outsider in the presidential race, capitalizing on widespread voter anger at the country's sluggish economic recovery, record-high crime rates, and a massive corruption scandal that has ensnared much of Brazil's political class.
His use of populist nationalism — as well as his extreme solutions to crack down on crime, and his long history of sexist, anti-gay, and racist rhetoric — has drawn comparisons to US President Donald Trump and the Philippines' Rodrigo Duterte.
The big picture: Ryan Broderick, who has spent a lot of time covering the dark corners of the internet, looks at how the web made radicalization worse: "this era of being surprised at what the internet can and will do to us is ending. The damage is done. I'm trying to come to terms with the fact that I'll probably spend the rest of my career covering the consequences."
A kindergarten class learned how to sign "Happy Birthday" for their hard-of-hearing custodian
I can't promise you that the world will be calmer or safer or saner tomorrow, but I can offer this small refuge of a story.
Students at a Tennessee school wanted to surprise their longtime custodian James Anthony for his 60th birthday. So they learned how to sing "Happy Birthday" in sign language.
The result is the purest thing you'll see today — so much sweetness and joy.