The Trump administration reunited 1,400 families by the deadline. Hundreds of children are still separated.
About a month ago, US District Judge Dana Sabraw set a deadline for the Trump administration to reunite families that were separated at the US–Mexico border. That deadline was yesterday.
The administration says it has reunified 1,442 families where a parent was still in the custody of Immigration and Customs Enforcement — but hundreds of children remain separated from their parents, the government does not know where many parents are, and it has deemed others ineligible for reunification.
There are 711 potentially eligible children who have not been reunited, according to authorities. That includes 431 children whose parents were deported, 120 children with a parent who waived reunification, and 79 children whose parent was released into the US and hasn't been located yet.
The government is still trying to figure out the status of the parents of 94 children.
Dive deeper:
The stories of now-reunited families are difficult but necessary to fully understand this story. We spoke with three families who are back together after being apart for months. One parent told us, "We felt powerless to do anything."
These emotional pictures of family reunions are immensely moving. I found this one particularly striking: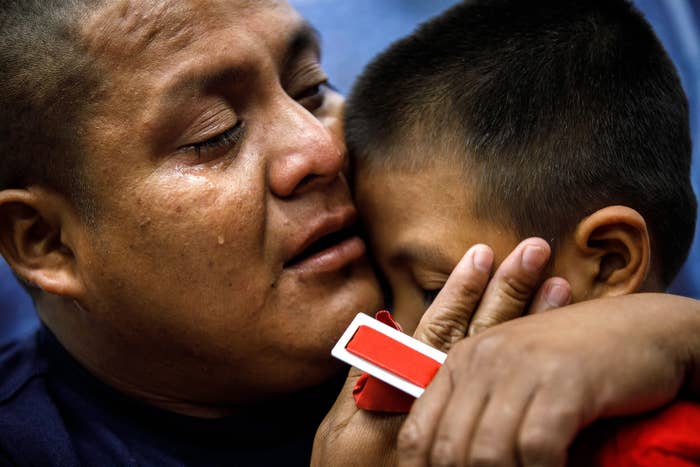 Facebook's stock slide is the largest single-day loss of market value in US history
Yesterday, the company's stock tumbled and tumbled (and tumbled), closing 19% lower than the day before. The slide erased $119 billion from Facebook's market capitalization, making it the largest one-day loss of any company in stock market history.
The scandals that Facebook has faced this year didn't seem to faze investors much — it wasn't until the company reported slowing growth that the market began to panic. Wednesday was the first time investors had seen a slowdown in Facebook's core financials.
Facebook now has 1.47 billion daily active users, up from 1.45 billion. That's a a 1.4% increase quarter over quarter, which pales in comparison with a 3.5% increase in users in the previous three months.
Those figures suggest that perhaps the scandals, mishaps, and growing mistrust might be catching up with Facebook.
SNAPSHOTS
Michael Cohen says Donald Trump knew in advance about the infamous Trump Tower meeting with a Russian lawyer. You remember the meeting — it was the one between Donald Trump Jr. and a Russian attorney in June 2016. Now Cohen, Trump's longtime lawyer turned liability, claims he was "present, along with several others, when Trump was informed of the Russians' offer by Trump Jr.," CNN reported. Then-candidate Trump "approved going ahead with the meeting with the Russians, according to sources," the report said. The president's current lawyer Rudy Giuliani reacted to the report, saying, "There's no way you're going to bring down a president with a proven liar."
Someone untied Betsy DeVos's $40 million yacht and set it adrift. The yacht, called the SeaQuest, is one of 10 owned by the family of the billionaire education secretary. Officers are looking for surveillance footage to investigate further.
Roseanne Barr gave her first interview since she was fired, and it went about as well as you'd expect. Barr appeared on Hannity to discuss her firing from ABC over a tweet. The comedian continued to insist in an unusual interview that her tweet was not racist, but was instead "political." In her post, she compared former top Obama adviser Valerie Jarrett, a black woman, to Planet of the Apes. Barr said she suffered consequences and she was "so scared to go outside, it was like, 'Oh my God, everyone thinks I'm a racist." She added, "I live on an island where its all brown people. I'm like, oh hell, you know." Oh hell, you know.
Cardi B said she's not going on tour with Bruno Mars: "I'm not ready to leave my baby behind." The provider of consistent summer bops says she's canceling her fall tour dates to recover from giving birth and spend time with her baby. Cardi was set to go on a grueling schedule with Bruno Mars less than two months after giving birth. Her daughter, Kulture, was born on July 10 and Cardi said she had planned to bring the infant with her. But, she wrote on Instagram, "I think I underestimated this whole mommy thing."
Greek officials found "serious indications" of arson in the wildfires that have killed over 80 people. The blazes erupted Monday, consuming forests and coastal towns on both sides of Athens. Less than 24 hours later, emergency services had recorded 47 separate wind-fueled fires that moved so rapidly people had hardly any time to escape. After reviewing satellite images and ground inspections, officials said they had determined that the fires started in multiple places around the same time. With dozens still missing, the death toll is expected to rise. A public official says the evidence points to "significant findings of criminal activity concerning arson."
Kristen Stewart has officially been cast in the Charlie's Angels reboot. The upcoming film, which will be helmed by Elizabeth Banks, has now finished casting all its angels, with actors Naomi Scott and Ella Balinska cast as the other two. Also, speaking of reboots...
The showrunner of the Buffy the Vampire Slayer reboot defended it on Twitter. Monica Owusu-Breen took to the platform to address fan concerns about the project, which has been rumored to star a black woman as the lead. Owusu-Breen began her response by saying, "Buffy the Vampire Slayer is my Star Wars." She told fans that their much-loved characters "can't be replaced." But, she wrote, "the world seems a lot scarier. So maybe, it could be time to meet a new Slayer." Definitely doesn't sound like a showrunner just going through the motions.
Starbucks, once triumphant, is in a slump now
The coffee giant has hit a wall — it hasn't managed to grow its transaction count for more than a year now.
The company reported on Thursday afternoon that domestic stores experienced a 3% decline in transactions in the last three months.
Now, this isn't new — Starbucks experienced a similar decline in 2016 when it changed its loyalty rewards program to reward customers for dollars spent instead of orders. The old program led people to split orders, causing an inflated transaction count.
This time, Starbucks execs told investors the delayed launch of a marketing campaign and weak business at stores in the afternoon have contributed to the decline.
Don't be too sad for Starbucks, though — US sales are still up because the average check has gotten more expensive. But you knew this, because you're reading this while drinking an iced hazelnut macchiato.
Time for you to take a breather with some longreads
This week was Sex Week at BuzzFeed News, and we ran some really thoughtful pieces about the ways we think about and have sex. This one from Krutika Mallikarjuna stuck with me — it's a wonderful essay on how realizing she was bisexual helped her have the sex she actually wanted to have, and the power of self-knowledge. Here's Mallikarjuna: "I now had the language and the understanding, thanks to Annie and the women that came after her, to wield consent properly rather than leave it at 'Well, he hasn't hurt me yet, so it'll probably be fine.'"
Tom Cruise. Is he a man? Is he a machine? Who's to say, really? Our film critic Alison Willmore wrote on Cruise's enduring appeal and enduring… uh, just enduring. Like, sure, it's about the Mission Impossible movies, but it's also about a man who runs with his whole chest. Or his whole being. I'm obsessed with Cruise's agelessness, so I read Willmore's piece with great interest, particularly this: "Cruise doesn't come across as looking younger than he is so much as he comes across as someone who has managed to remove himself from the standard human timeline." Truth.
After that brief Tom Cruise interlude, we return to Sex Week. I loved this brilliant piece from burlesque performer and sex educator Fancy Feast on how working in a sex shop helped her understand how the pressure to have great sex all the time can inflict its own damage. It features this wonderful passage about imagining a better world where a bachelor party comes in for a workshop, with each of the men "nervous that there is some secret out there to pussy eating that the other men aren't telling, each of them worried that their girlfriends and wives or Tinder dates will leave them for someone who sucks clit better."