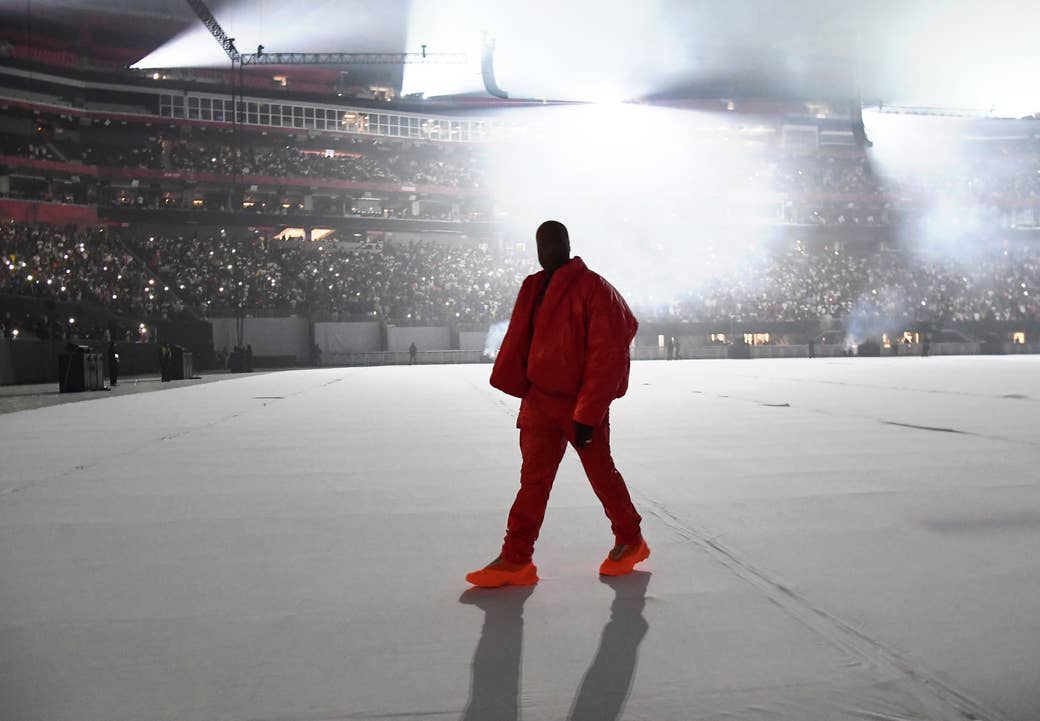 Kanye West is making his best music in nearly a decade — he's just not sure he wants you to have it yet.

You could be forgiven if that's the impression you're left with after the chaotic theater surrounding his still-unreleased 10th album, Donda. Consider: Two weeks ago, in mid-July, West held a listening party at the Mercedes-Benz Stadium in Atlanta. Roughly 42,000 people attended and watched Ye — dressed all in red, wearing a full face cover, and not speaking a word — vibing to his own music under a spotlight. The album, we were told, would soon follow. No such thing materialized, which was a mercy because, at that point, the songs that had been previewed were brimming with potential but were still incomplete.

Instead, Kanye moved into the arena — reportedly at a cost of $1 million a day — to finish the record, like a hip-hop Phantom of the Opera. He occasionally emerged in the same red getup from the listening party, giving the impression he hadn't changed for days. He hired a private chef, because a phantom's gotta eat. Word got out that Donda would be pushed back two weeks and released on Aug. 6, with another listening event scheduled for the night before.
The deadline sounded promising, particularly because it's more time than Kanye had typically given himself for the final stretch of his last three projects. Sure enough, hours before the album was supposed to be released, a live video feed emerged of Kanye inside a windowless room where he appeared to be putting the finishing touches on the record. Occasionally, the stream featured bizarre moments and naps and whatever the hell this is. A clock on the wall counted down to 12:30 a.m., which is a totally reasonable time for an album release. The clock was a tether to reality — even hope. More promising signs: A preorder link appeared on Apple Music by late Thursday afternoon.

When Ye emerged for last night's Donda listening event, he was again on Kanye Standard Time, showing up around 10:30 p.m. (the ticket said 9 p.m.). No matter: For the 35,000 people in attendance, including rap luminaries like Jay-Z and Consequence as well as Kanye's ex-wife Kim Kardashian and his children, and the countless people tuning into the Apple Music livestream, it was time to hit the "Ye" button.
Over the next 90 minutes or so, Kanye — once again masked, at times alone, and at times surrounded by a mass of people dressed in black — fist-pumped and did pushups and transformed into a dementor while the latest iteration of Donda played. And it was sublime.
West showcased an album that was perhaps his most cohesive since 2013's Yeezus. This listening event highlighted more songs — more than 20 — than last month's, with more features and more bars and just…more. The feature list on the album is overwhelming. Roddy Ricch features on the excellent "Pure Souls," while the Weeknd and Lil Baby lend a hand on a retooled "Hurricane," a song that has evolved since the first listening party. There were guest spots from Jay Electronica, Griselda, and a particularly buoyant Jadakiss verse somewhere in there too. Playboi Carti went hard. Kid Cudi, who tweeted two weeks ago that he wasn't featured on Donda (apparently, at the time, he really wasn't), showed up in two spots that make good use of his smooth singing.
Lyrically, Kanye is effectively introspective while creating a toned-down version of the messy confessional approach that marked 2018's Ye or 2016's Life of Pablo. "I'm losing my family," he sings in "Never Abandon Your Family," and it is sad and mournful and made more moving when you remember that the family he is talking about — Kim and the kids — were in attendance as Donda unspooled for the public.
Donda is a fever dream, a memory experienced once.
The emotional throughline of the album is its namesake, Donda West, Kanye's mother who died in 2007 after complications from plastic surgery. In words and in song, West has repeatedly framed her death as a foundational trauma. It became the subtext of the pain he has spent more than a decade examining. But in Donda, he confronts her absence head on: "Mama, you was the life of the party / When you died, it took the life out the party." Donda herself appears on the record, to detail lessons she learned from her father. He loops her voice as she says, "No matter what, you never abandon your family." At one point, in a piece that starts off bewildering and becomes unexpectedly devastating, a voice repeats her name over and over and over.
This is not to say the album is entirely a downer, either — Kanye is fundamentally a democratic artist, a rapper obsessed with people bopping to his music. Even Yeezus, once received as a somewhat inaccessible album, is essentially a big industrial party record. On Donda, Kanye is bouncy; he's got bars. He wants this record to be understood as operating in the current hip-hop arena. He features a boatload of contemporary rappers like Lil Yachty and Lil Durk and a clever use of the late Pop Smoke. On "I'm Not OK," he borrows Drake's flow to take shots at Drake, and it's surprisingly effective. (At some point, he offers, "I can give every person a dollar on this earth, that's God's Plan.")
None of this solves the larger problem, which is that the album does not yet exist in its final form. As of this writing, Donda is a fever dream, a memory experienced once. As transcendent as the livestream was musically, by the time the actual album comes out, Kanye might cut half of the songs I am talking about. He could replace them all with a variation of that Whoopty Scoopty song. Which raises the question: Who is Kanye making music for?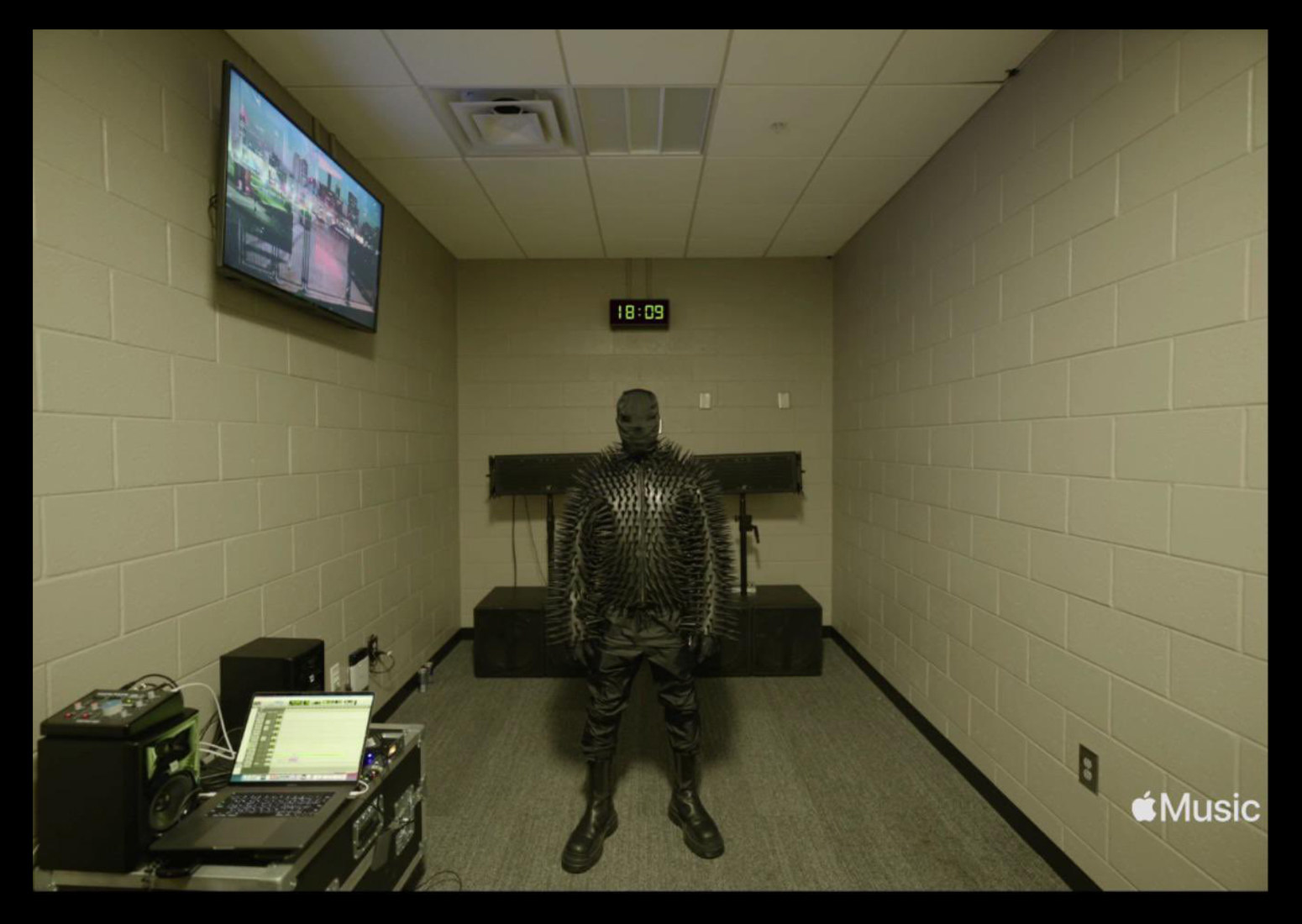 It is, by now, not news that Kanye is compelled by the project of editing in public. He earned that reputation after making edits on Life of Pablo even after the album was uploaded ("Ima fix wolves," he promised). In truth, it's an arc that started as early as 2011's Watch the Throne, his project with Jay-Z — on that album, you hear Kanye occasionally grunt and "um" his way through an unfinished lyric, nailing a flow that sounds good and leaving the half-complete verse in.
Increasingly, the unfinished has become standard for him. Ye contains songs where the auto-tune is applied to some lines and not others. Pablo is both maximalism and still under construction. Kanye found himself as an artist by leaning into the exposed-brick approach of songwriting. An unfinished Kanye song is a part of the aesthetic: We are not here for polish, we are here for vibes. And on Donda, this is deployed to maximum effect. We watched the record move from one version to another in two weeks, and it's likely it will continue to evolve. He brought out songs that still sound like they could use another mix or a decision about expanding or cutting a verse. And yet in their raw form, their power is striking.
That he was living in the arena to finish the songs made the whole thing exhilarating. It does not get more fresh-out-the-kitchen than this. But we're now past the day when the album was supposed to drop. So was the theatrical production a botched release? Or was it the entire point? It certainly seems that he feels no urge to commit something to the public record, and fair enough: There is a crude finality to an album release. A product is pried out of the artist's hands and apparently, Kanye is not yet ready for that. At the most generous, he seems gun-shy about it. It is, after all, his most personal work in a decade. The stakes could not be higher.
At its heart, Donda is an album concerned with what Kanye owes other people, which is to say it is an album about responsibility: to his friends, his family, his colleagues, and most of all, to his mother. But an ever-present conflict in Kanye's career is the question of what he owes to his fans, and to the industry. Does he don the du-rag over his face out of vanity? Or is it self-protection? Are we invited to see the process and the rough drafts out of respect? Or is it anxiety? And anyway, does he owe his fans music? Does he owe them something as rigid and unchanging as an album?
The delay in Donda's arrival could be due to a whole host of reasons. Maybe the lawyer who clears the samples is on vacation. Maybe the Wi-Fi inside the stadium is slow. But here is another possibility that cannot be discounted: Maybe at this stage of Kanye's career and on such a personal project, Kanye's enemy is not time or process, but finality itself.
There's the more immediate finality of divorce ("Time and space is a luxury / But you came here to show that you're still in love with me," he raps about Kim on "Love Unconditionally"), but the larger end point that looms is making peace with the finality of his mother's death. "If I die tonight, will I see you in the afterlife?" he asks, and the answer is a cosmic silence. How could Donda be finished, and how could Donda be finished?
At some point, presumably, Donda will be out. It'll be in your feed to buy or stream, and add to playlists, and bump in the whip. But it is jarring to think of this record under the constraints of traditional music distribution, subject to streaming and radio promotion like any other album. It is a perfectly coherent conclusion for Kanye to treat these songs like a soundtrack to a theatrical production about loss without ever publishing the album.
Toward the end of the show, on a song as of now called "24," Kanye is ebullient as he goes back and forth with the choir. He exclaims, "We gonna be OK," and the choir shoots back reassuringly that "God's not finished." It is peaceful, hopeful — optimistic even. Then during the final song, Kanye ascends from the floor of the arena to the heavens as his voice calmly repeats, "He's done miracles on me."
But perhaps Kanye will emerge from the darkness of the MBS Stadium every two weeks with new tweaks, insistent that he must get the songs right, that he must keep editing in public. Records get released. But grief is relived over and over again, retreating and advancing without your permission. ●