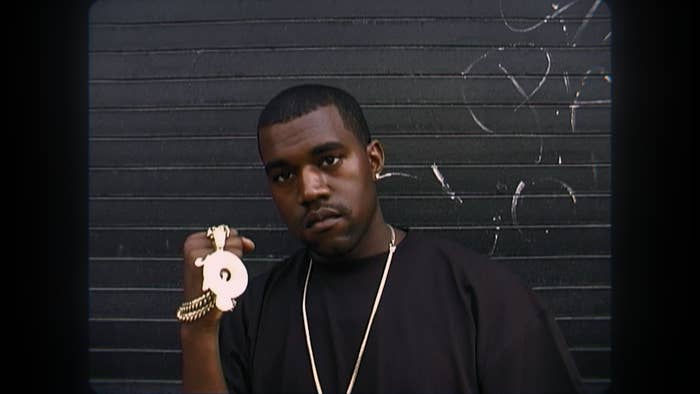 There's something awkward about the way Jeen-Yuhs: A Kanye Trilogy, the three-part Netflix documentary about Kanye West, begins. We are treated to fly-on-the-wall footage of West laying down a verse in the Dominican Republic in 2020. He then takes a break for a quick chat on speakerphone, making decisions about his ill-fated presidential run and sorting out paperwork for the very documentary you're watching. The camera captures all of this, but West, who legally changed his name to Ye in August, is distant. You get the sense that the presence of the camera is neither hostile nor welcome. Perhaps it is merely tolerated. Ye clearly has other things to worry about.

But if Ye is aloof, he is not quite indifferent. He has a history with the man who's behind the camera for much of the documentary, Clarence Simmons, better known as Coodie, who made Jeen-Yuhs with his directing partner, Chike Ozah. There is an old trust there, a familiar intimacy. Ye shows the camera a draft of a tweet. He asks, "Tweet that?" He laughs and adds, "I need a translator real bad sometimes." In seven words, Ye sums up his whole career.
As of this writing, Ye's recent behavior once again needs translating. Early last week, he announced that his 11th album, Donda 2, would be available only on something called a "Stem Player," ostensibly a proprietary smart speaker that lets users play with different elements of the song while listening, for a cool $200. The device was actually launched in August 2021 and shipped preloaded with Ye's last album, Donda. But now the player will be the sole home for his latest release. The follow-up apparently will not grace the regular streaming networks, because, Ye says, "Today, artists get just 12% of the money the industry makes. It's time to free music from this oppressive system. It's time to take control and build our own."
Fair enough. He is not the first artist to gripe about the diminished streaming revenue, and he is not even the first to build a platform for his own music (shoutout GhostTunes). It even makes sense that Ye tees up the launch of the Stem Player with exciting new music of his own. But as has been a recent trend with him, it's the execution that puzzles. The rapper who was once one of the most meticulous public figures of his generation finds himself, just five months after Donda's chaotic release, embroiled once again in a messy rollout. Last Tuesday's Donda 2 launch event in Miami was plagued with audio problems. For no apparent point beyond provocation, he once again brought out Marilyn Manson, whom multiple women have accused of sexual abuse (Manson has denied the accusations), and DaBaby, who was dropped from multiple music festivals after he made anti-gay comments last year. The next day, those who already have a Stem Player were greeted with four songs that sounded promising but not finished. By Thursday evening, more songs were added, and Donda 2 stood at 16 songs. Most of them are unfinished.
Meanwhile, on Instagram, Ye has been caught in a cycle of posting and deleting. He has admitted that some of his posts — which include screenshots of his text messages with his ex-wife, Kim Kardashian, and her boyfriend, comedian Pete Davidson — could be considered harassment, but he kept doing it anyway. Last Thursday, he bragged about his fans running Davidson off the platform. By the time you read this, that post may have already been deleted too.
We watch Ye transform from a performer obsessed with self-mythology into one who is so deep in his own self-narrative that he may have forgotten he was building a myth in the first place.
Posting and deleting may be a hallmark of a turbulent online presence. But it's in keeping with Ye's recent bend toward public self-editing, a grand performance of reserving the right to change your mind in a culture that demands firm interpretations. He has been moving in this direction at least since 2013's Yeezus, but now it has become Ye's primary mode of public existence.
Not even Jeen-Yuhs was spared from Ye's attempts to seize the narrative. On Jan. 22, he posted the artwork for the documentary ahead of its Sundance debut; it was captioned, "I'm going to say this kindly for the last time. ​I must get final edit and approval on this doc before it releases on Netflix. ​Open the edit room immediately so I can be in charge of my own image."
The first two parts of the documentary cover his career from the late '90s until about 2004. The third part of Jeen-Yuhs extends from then, all the way until now — a stretch of time after the subject grew distant from his documentarian. Jeen-Yuhs shifts gears in this last episode, which will be released Wednesday, and becomes a brief history of the evaporation of steadying forces in Ye's life — the calming influence of his mother and the reassuring bond of close friends who know when you're out of pocket because they know who you've always been.
Jeen-Yuhs was originally meant to capture the release of Ye's debut album, The College Dropout. So why did it take two decades for it to emerge? According to Coodie, Ye didn't want to release the documentary then, because it was too revelatory. "He said, 'Man, I don't want nobody to see my real self,'" Coodie told the New York Times.
While the first two parts of Jeen-Yuhs give us deep insight into his origins, the third episode attempts to reconcile College Dropout–era Ye with the one desperately trying to pop a wheelie on the zeitgeist with his 11th album. Jeen-Yuhs, ultimately, doesn't deliver on this big promise — but in the process of trying, it lands somewhere more compelling. As his relationship to Coodie's camera changes, we watch Ye transform from a performer obsessed with self-mythology into one who is so deep in his own self-narrative that he may have forgotten he was building a myth in the first place.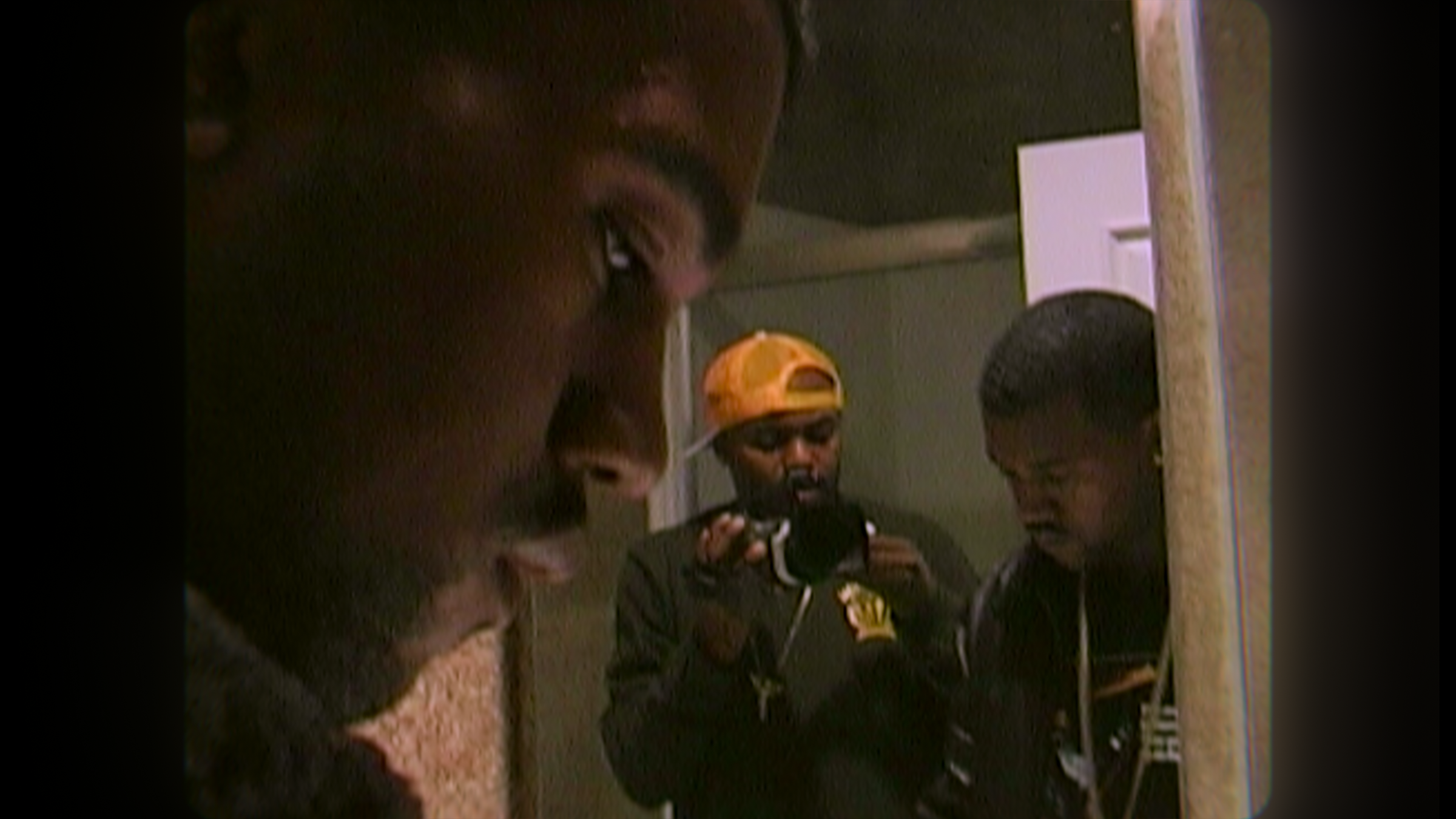 Though Jeen-Yuhs begins with his aloofness, it quickly gives way to extraordinary footage from the beginning of his career. We find ourselves in 1998, at Jermaine Dupri's birthday party, and Ye is eager for the camera's attention. Coodie delivers a gentle narration, explaining that he once hosted a popular Chicago public television show called Channel Zero, and how, after he met Ye, he was so struck by the young producer's confidence and abilities that he left Chicago and moved to New York to start filming him in the early 2000s.

Just like Hoop Dreams followed high school basketball players as they pursued their NBA ambitions, Coodie set out to tail Ye with an end goal of following the rapper to his first Grammys. Ye welcomes the project. From that point on, Coodie seems to have unfettered access to the rising star.
Coodie seems to know that he's too close to the subject, which is perhaps why the documentary works best as a story of a fraying friendship between the two men.
Coodie captures the tensions of Ye's early years, keeping close as the rapper received an onslaught of slights and indignities. We see him bouncing through the Roc-A-Fella offices, playing "All Falls Down" to bored secretaries and seasoned A&R representatives and pretty much anyone who will listen. At best, Ye is received as a nuisance and at worst, a joke. We watch as he is repeatedly denied a record deal while still being buttered up just enough to keep making beats for Roc-A-Fella rappers, after the incredible success of the Ye-produced "Izzo" by Jay-Z, which became the rapper's first top 10 single.
The Roc-A-Fella roster seem to treat Ye the way teenagers treat the annoying friend who has a car. He is an outsider, but he is useful. Multiple rappers are puzzled as to the presence of Coodie and his camera — they see him as a nobody, undeserving of such attention — but push past their confusion to ask him for yet another beat. Meanwhile, he tells everyone who will listen, "That camera is for a documentary on me." He is thrilled to use the presence of Coodie's camera as a legitimating force.
Jeen-Yuhs also offers a treasure trove of little wins for a Ye who needed them. In a sequence that will make you cry, he returns to his mother's apartment in Chicago and she flawlessly recites one of his high school talent show verses. In another, you find yourself rooting for him as he talks his way into a feature on a Jay-Z song. And in the second episode, we're treated to a spectacular moment as Pharrell listens to "Through the Wire" for the first time and is astonished at the genius.
Still, Jeen-Yuhs offers relatively little commentary on its subject. Coodie is content to be in Ye's presence, falling silent for long stretches of time. When Coodie speaks, he rarely argues with the star or even asks provocative questions. As a result, the doc feels out of step with how we normally receive Ye — either challenged in interviews or hell-bent on spinning his own narrative. In Coodie's footage, he is free to be himself, to inhabit a range of postures. He is fallible and frustrated, vulnerable and victorious, cunning and confused. While this is thrilling to watch, it's ultimately to the detriment of the documentary. Jeen-Yuhs is frequently uninterested in taking a perspective, much less passing a judgment on its mercurial subject.
But in abandoning the project of explaining Ye's contentious legacy, it transforms into something else: a lament for a severed tie. Coodie seems to know that he's too close to the subject, which is perhaps why the documentary works best as a story of a fraying friendship between the two men.
Though the first two parts provide a thorough documentation of Ye's rise, the third part opens with a time jump. It's not long, but it's jarring. We watch Coodie and his camera transform from playing a central role in Ye's life, to the 2006 Grammy afterparty, when a drunk Ye appears to forget Coodie's name multiple times. It's painful to watch Coodie's face here as he acknowledges the change in proximity to the star.
From that point, the distance only grows. There's a check-in here or there, but mostly the pair of them drift apart. As Coodie gradually loses access to Ye, he begins to rely on news clips and fan footage on YouTube, and the distance becomes the juxtaposition; clips of Ye pushing back against the idea that he needs to time off to grieve his mother are set against the tender footage Coodie captures of him and Donda being each other's world. video of Ye alone in the aftermath of the Taylor Swift debacle is contrasted with the early days of his career, when he always had a roomful of people to lean on.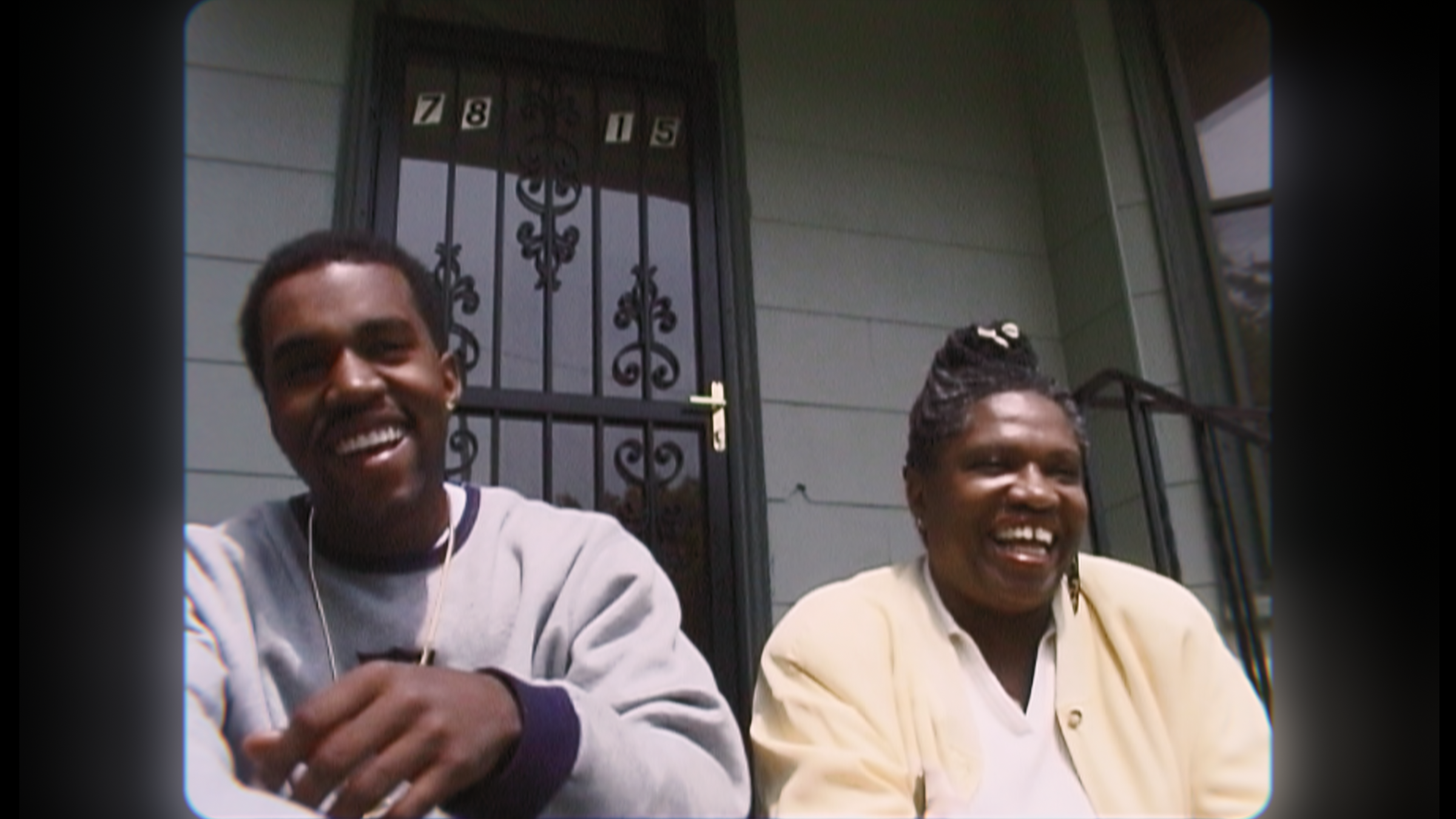 By now, the sight of Ye's face transforming for the camera is a familiar meme. He doesn't seem to like being caught smiling. Quite frequently, when he realizes a camera is trained on him, he turns his face into his trademark serious expression. Ye explained once that smiling just doesn't look as cool.

I was thinking about this as Coodie's camera showed a carefree Ye in the Dominican Republic. It may have been more than 20 years since he was first filmed by Coodie, and the two may have lost touch from time to time — but with Coodie pointing the camera, Ye seems to let down his guard. He may not need the filmmaker anymore, but he isn't threatened by him either.
Early in the third episode, Coodie shares that Ye didn't want the documentary to come out after The College Dropout, because "he said he was acting for now, playing a role." Watching the rapper's career, it's easy to see this at work, how he has leaned into the various villain and provocateur parts he has been assigned. This has helped his career immensely and, in the process, radically changed the culture. It's still disorienting how much of high fashion right now is inspired by streetwear, in precisely the ways he and his longtime collaborator Virgil Abloh fought for. Meanwhile, Ye is a central player in the story of how hip-hop became pop.
But if playing the role worked in his favor, it's now reasonable to wonder if Ye has lost himself in the performance. It's certainly a question on Coodie's mind, though he is hesitant to draw a conclusion.
Ye tells us that sometimes he needs a translator. As a Kanye fan, I have, on multiple occasions, done this work. What is fandom, ultimately, if not the urge to translate, to explain fervently and perhaps too neatly?
By the time Jeen-Yuhs winds down, Coodie declines to translate. During a business meeting with older white men in the Dominican Republic, a meandering and unintelligible Ye tells them, "I took bipolar medication last night to have a normal conversation and turn alien to English." Coodie confesses that he had never seen Ye like this; in an act of mercy, he turns off his camera.
In doing so, you sense Coodie protecting him. The filmmaker appears to have become aware that having his camera affixed to Ye comes with higher stakes now, that the very camera that has bonded the two of them could be hurting his subject. He does the one thing none of us seem to be willing to do when Ye is in crisis: He looks away and wishes the best for him. I can't think of anything more merciful. ●