The Trump administration plans to deny work permits to asylum-seekers who cross the border
According to two sources, the administration plans to issue a new policy that would deny work permits to asylum-seekers who cross the border without authorization. The new policy would also significantly delay when those qualified to apply for a permit can do so.
The new restrictions mark the latest move by President Donald Trump to reduce the number of asylum-seekers crossing the southern border.
The plan is part of a wider context: The proposal comes as Ken Cuccinelli, the acting director of US Citizenship and Immigration Services and an immigration hardliner, pushes restrictive policies, including allowing the government to deny permanent residency to immigrants who use or are likely to use public benefits, such as food stamps.
Doug Rand, an immigration official under the Obama administration, noted, "Let's not forget: People seeking asylum are legal immigrants."
Smoke from the burning Amazon plunged Brazil's largest city into darkness in the middle of the day
As a record number of fires raged in the Amazon rainforest, a massive plume of smoke descended on São Paulo, turning day into night.
Brazil's meteorology officials said the unusual scene was the result of a combination of factors: cold, humid air, and smoke from unprecedented fires burning in the Amazon thousands of miles away.
The darkness caused many on social media to express concerns over ongoing fires burning in the world's largest tropical forest, which some have dubbed the "lungs of the planet."
This is what São Paulo looked like in the middle of the day: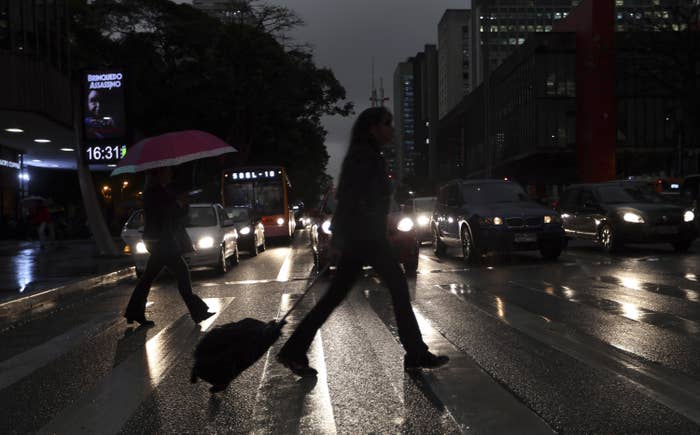 SNAPSHOTS
Mackenzie Lueck's alleged killer has been charged with sexually abusing a woman in 2018. Ayoola Ajayi, the Utah man charged with killing 23-year-old college student Lueck, has been accused of sexually assaulting and kidnapping a woman he met on a dating app in 2018.
A self-avowed Nazi was arrested for threatening to "exterminate" all Latino people. Federal authorities arrested Erin Lin, 36, who allegedly sent Facebook messages to a Florida resident in which he threatened to kill her and called for the "extermination" of all Latino people. Lin allegedly threatened to rape, "enslave," and kill an unidentified restaurant worker as well as kill all Latino people in Miami and elsewhere.
Keanu Reeves and Carrie-Anne Moss will star in a fourth Matrix movie. Sixteen years after the last Matrix film, Neo and Trinity will return. Series co-creator Lana Wachowski is set to write, direct, and produce the upcoming sequel.
Spider-Man is leaving the Marvel Cinematic Universe. Sony Pictures has owned the movie rights to Spider-Man for decades. Disney entered into an unprecedented agreement to use the character in the Marvel universe — but that agreement is no more. The issue, as you can imagine, came down to money.
You can finally see the info Facebook collected about you from other sites
A little background here: Facebook collects information about you in two ways. First, there's the stuff you do on Facebook — the information you input into the website and the apps.
Second, it's by tracking which websites you visit while you're not on Facebook. That's why, after you visit a clothing retailer's website, you might see an ad for it in your Facebook News Feed or Instagram feed.
Users have never been able to view this external data Facebook collected about them — until now. After a long delay, Facebook is releasing a tool that will allow people to see what kind of information it has collected about their online activity beyond its borders.
The new tool also comes along with an option to dissociate that data from your account. Here's how it works.
Tiny desert towns around Area 51 are stressed about the viral Facebook event
After a Facebook event called "Storm Area 51, They Can't Stop Us" went viral, with millions clicking "attending," the small towns near the highly classified US Air Force facility are taking preparations seriously.
Officials from the tiny community of Lincoln County, Nevada, are so nervous about the potential impact on their towns and people that they're trying to put emergency measures in place.
While millions of people RSVP'd to the September Facebook event, it's unclear how many, if any, will actually show up.
One official said, "On the county level we're prepared for two to three times the population of the entire county. 10,000 to 30,000 people are showing up... Our gas stations will run out of gas, our grocery stores will run out of groceries."