I'm a Diet Coke person. This is an immutable truth about me, as unchangeable as my height or my name. It is an unsentimental truth: The Delaware runs through Philadelphia; I'm a Diet Coke guy. I relish the sound of a can opening, the ahhh, the fizzzz when the drink meets cubes of ice. That shit is like ASMR to me. When I order Diet Coke at a restaurant and I am offered Diet Pepsi as a substitute, I grimace in displeasure. I'd much rather be drinking Diet Coke than any other drink.

I am a traditionalist when it comes to Diet Coke, which is to say: No, I have not tried the DIY Diet Coke trend that is going around right now, where TikTokers are encouraged to mix sparkling water and balsamic vinegar, because I do not want to DIY my Diet Coke. I prefer it the way God made it: cold, fizzy, gently acidic at the tip of your tongue building to a vigorous spark at the back of your throat.
I do not share this because it is interesting, but rather because it is ordinary. You know Diet Coke people. Your life is likely filled with them. We don't all talk about it a lot, probably because some of us are drinking Diet Coke right now, but the truth is we're specific and intense about our beverage of choice. We all share the correct ranking of sources of Diet Coke — in ascending order:
5. From the tiny cans
4. Poured into a cup from a 2-liter bottle
3. A regular plastic bottle
2. A regular can
1. From the McDonald's taps — what the hell do they put in their Diet Coke and why does it always taste better?
This week marks 40 years since Diet Coke was introduced in the US. The drink has had a long and storied history of connecting itself with popular culture — from popping up regularly in movies and TV shows to rap songs and whatever the hell is going on here.
Over the years, Whitney Houston, Matt Damon, Renée Zellweger, and Ben Affleck have all appeared in Diet Coke ads — the latter of whom has become synonymous with the brand.
How did this happen? How did a drink catapult itself to the middle of culture and create such intense loyalty? And what will become of it, now that fewer people are drinking soda than ever before?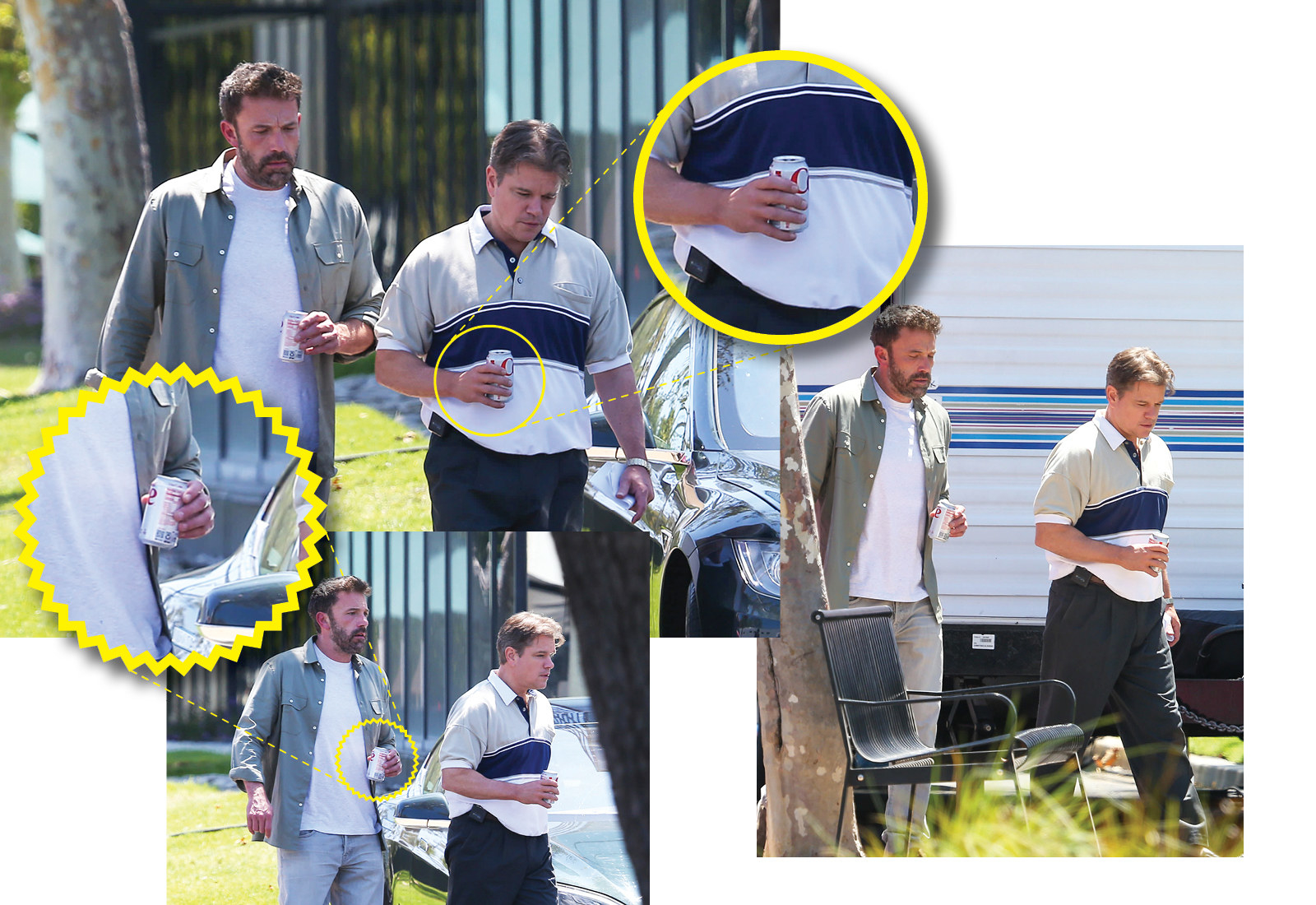 Diet Coke wasn't exactly a necessity. By the time it launched in summer 1982, Coca-Cola already had Tab, its flagship sugar-free soda and the top-selling diet soda on the market. Tab sales were doing well. But the company wanted to expand the market. Women were the majority drinkers of low-calorie sodas, and men hadn't embraced these drinks yet.
So in an effort to convince more men to drink its products, Coca-Cola did something it had never done before: It attached the Coke name to another drink that didn't share the original formula. Pepsi had done it with the launch of Diet Pepsi some decades prior, but for Coke, which had long hesitated to risk the name of its flagship product, this was a big deal. Diet Coke tapped famous men like Taxi's Judd Hirsch and hockey great Phil Esposito as the faces of the beverage. Careful not to exclude women from the marketing, its ads paired Whitney Houston with boxer Evander Holyfield. For Coca-Cola, a company that tended toward abstract ads featuring polar bears and choirs of nonfamous people, the Diet Coke brand was testing new waters.
It helped that Diet Coke's launch came during the same year that Coca-Cola bought Columbia Pictures, one of Hollywood's oldest and most storied film studios. Under Coke's ownership, Columbia landed massive hits like Ghostbusters and The Karate Kid. By 1988, Hollywood had fully fallen in love with Diet Coke. The New York Times noted that it was the film industry's "drink of choice" at parties.
When the '90s soda slump began and consumers began to abandon sodas, Diet Coke first sought to shore up diet soda's core base: women. In 1992, it shifted its slogan to be explicitly about calories — namely, "One Awesome Calorie." Then in 1994, Diet Coke rolled out what remains its most famous ad campaign, the Diet Coke Break. It featured women working in an office who gathered around a window to watch a hot shirtless construction worker. The ad's star, Lucky Vanous, became an instant sensation. People magazine named him one of the 50 most beautiful people in the world. Vanous told the New York Times that "neither I nor anyone else had any idea the commercial would cause this stir."
In the mid-'90s, young consumers were turning away from carbonated beverages, toward juices, teas, and sports drinks. Soda was losing the edge that it had held for decades. Diet Coke, by then over ten years old, was already the top diet drink even as soda's overall share of the beverage pie was on the decline. That's when the people behind Diet Coke came up with an ingenious plan to get the 18–34 demographic back. The plan was Friends.
In January 1996, Coca-Cola spent $30 million on an elaborate Diet Coke advertising campaign involving Ross, Rachel, and the rest of the gang. Friends was ascendant, and its lovable, relatable stars were bona fide celebrities who inspired haircuts, on their way to forever alter television. So Diet Coke hitched its wagon to the show.
The campaign involved product placements, but it didn't stop there: Diet Coke also sponsored 2,500 campus viewing parties. But the centerpiece of Diet Coke's Friends tie-in was the massive "Who's Gonna Drink the Diet Coke?" contest.
The stars of the show appeared in an ad campaign where the premise was that someone stole a Diet Coke from Rachel and Monica's apartment. Each week, a Diet Coke ad would air featuring a different character drinking the soda. If you found that character's name under the cap of your Diet Coke, you won a prize. It all came to a head in the episode after the Super Bowl, when we finally learned who stole the Diet Coke. (Rachel, obviously. Who else would it be?)
The campaign worked like a charm (though it was not without controversy). Sales rebounded, and the beverage claimed its position as a young generation's drink of choice. Beverage trends began to reverse, and for much of the following decade soda sales skyrocketed again. In 2011, Diet Coke even beat Pepsi for the No. 2 spot for the first time (behind regular Coke). But even as the drink reached this milestone, trouble was on the horizon: Americans began abandoning soda once again.
Earlier this summer, Diet Coke announced that to help celebrate the 40th anniversary of the drink, supermodel Kate Moss would be stepping in as the brand's creative director, overseeing ads and can design looks for the anniversary. The association between Diet Coke and fashion is well documented — the Guardian has called Diet Coke "fashion's favourite fizz," and previous Diet Coke creative directors have included designers Jean Paul Gaultier and Karl Lagerfeld. But turning to Moss was a particularly interesting move. It aligned with culture's shift toward the '90s and early 2000s, Moss's dominant era. People are smoking again and wearing low-rise jeans. Spiritually, it's 1996, and it seems like Diet Coke may be trying to get in on the revival.
But Moss was also a complicated choice. Her most famous quote, "nothing tastes as good as skinny feels," was once heavily criticized for inspiring eating disorders. Though Moss later came to distance herself from the statement, making her the face of the drink at a time when the idea of body positivity is becoming more popular was a narrow-minded choice at best, sticking closely to Diet Coke's classic branding and not seeking to expand its tent.
Then again, that tent has been shrinking anyway.
Diet Coke's 40th anniversary arrives at yet another precarious moment for the brand. In 2017, bottled water surpassed soda as the most popular drink in the US for the first time. The next year, Diet Coke attempted the most significant rebrand since its birth, introducing four new flavors and a new, colorful design that placed the beverage in direct competition with a rising LaCroix. The same year, the New Yorker lamented the decline of Diet Coke, from the drink of youthful vigor in the '90s to the drink of "soft-bodied plutocrats." Stories of Donald Trump installing a "Diet Coke button" in the Oval Office didn't help (Joe Biden had it removed after he became president).
These days, Diet Coke most often enters the discourse when we hear about a famous person's problematic DC habit. You remember the Ben Affleck soda fountain news cycle. Donald Trump allegedly drinks 12 cans a day, though he's not the only president to have an affinity for it — Bill Clinton had a can buried in a time capsule at his presidential library. On occasion, stories about being addicted to Diet Coke go viral, too.
It's hard to imagine Diet Coke asserting its place at the center of culture in ways it once did, partly because it's hard to imagine soda returning to the prominence it once had. Consumers are warier now. But Diet Coke people remain the most intense people you'll ever meet. We accept no alternatives. We make TikToks about it. We don't need your help. We're fine just the way we are.
In 2020, Coca-Cola quietly discontinued Tab after 60 years of its existence. I may be romantic about Diet Coke, and it may still be bringing in incredible profits, but I am under no illusions that it is immune from Tab's fate. Empires end. Giants fall. One day, Diet Coke may be a whisper of a memory. Should that day come, Diet Coke people will greet it with the necessary dignity: calm, stoic, and reassured in the knowledge that we will have engaged in unhealthy hoarding behavior to prepare for that exact moment. We don't just run out of Diet Coke. We prepare for the world after it. ●