On the Come Up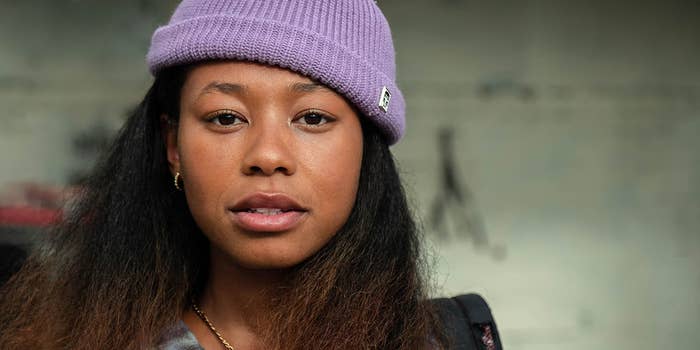 Angie Thomas's first novel, 2017's The Hate U Give, was a significant cultural moment, a bestseller that humanized the Black Lives Matter movement and issues of police brutality for a lot of readers. Its 2018 adaptation, however, largely failed to deliver on the accomplishments of the novel.
I imagine that Thomas is quite happy that the screen adaptation of her second novel, 2019's On the Come Up, won't meet the same fate. The movie, helmed by actor-turned-director Sanaa Lathan, is effective and charming and is sure to be a crowd-pleaser.
On the Come Up is the story of Bri (Jamila Gray), a 16-year-old living in Garden Heights — the same fictional Black neighborhood where The Hate U Give takes place — who wants to follow in her late father's footsteps and build a legendary local rap career. When she steps into "The Ring," the local rap battle arena, to earn her bona fides, she manages to become a local celebrity overnight. But it's when Bri releases a viral hit that she's forced to reckon with the possibility of having to abandon the people and the ideals that allowed her to succeed in the first place.
The film opens with Bri's mother, Jay (Lathan), a woman with a drug addiction, abandoning Bri and her brother — a traumatic memory that Bri revisits often. By the time Bri's a teen, Jay is sober but her daughter still wants little to do with her, whom Bri only calls by her first name. Bri's chief concerns are her best friends and her budding rap career. For extra cash, Bri sells Skittles at school, but a confrontation with a school police officer serves as a key storyline for her first hit.
While On the Come Up is aware of the big themes at the heart of the story — racism, sexism, overpoliced Black teens, Black girlhood, and misogynoir — the film mostly nods at these topics without making declarations on any of them or fully fleshing them out. Instead, Lathan is interested in Bri's specific story and treats it with sincerity and earnestness. The result is a delightful movie that gestures at social commentary without quite landing the punch.
Newcomer Gray is a standout and Lathan delivers a trademark moving performance, but it's Da'Vine Joy Randolph who shines brightest as Aunt Pooh, Bri's fierce and complicated aunt-manager. —E.A.
On the Come Up arrives on Paramount+ and in some theaters on Sept. 23.
I Like Movies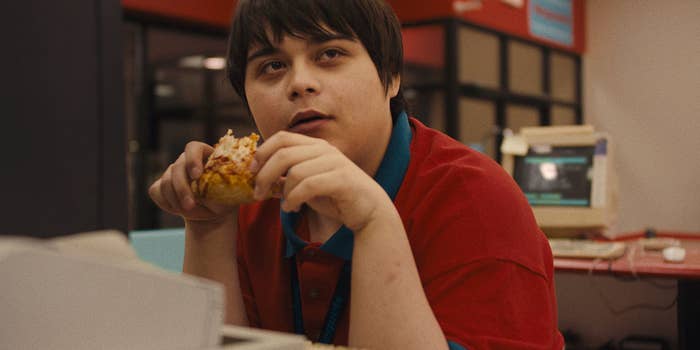 It's rare for a debut feature, let alone a Canadian debut feature, to make as much noise at TIFF as writer/director Chandler Levack's new film, I Like Movies, has. The sharp-tongued coming-of-age comedy set in 2003 has drawn attention from critics and audiences alike for its hilarious, yet tender exploration of a life on the cusp of something more, of the itchy desire to escape the margins and live a life closer to the center.
Lawrence Kweller (Isaiah Lehtinen) is a 17-year-old movie buff who desperately wants to go to NYU and become a filmmaker. As his mother, brilliantly played by Krista Bridges, reminds him, NYU is expensive, and so Lawrence gets a job at his local video store to help bridge the financial gap. There, he's forced to soften some of his harder edges, as his new boss, Alana (Romina D'ugo), gives him a crash course in how to be a better person.
I Like Movies is an homage to many of the classics in the genre, like Sixteen Candles and Ferris Bueller's Day Off, but more than anything, it's a love letter to movies. Not the cinema, not Criterion collections and rare director's cuts, but the kinds of movies you would pay $7 to rent at Blockbuster. Levack recognizes that millennial nostalgia for a simpler time extends to the experience of lingering over a shelf of DVDs, rather than the endless scroll we've become accustomed to on Netflix. And in Lehtinen, who had very little acting experience before this film, Levack has also found a rising star, someone who can capture the magnetism in a character who is at turns despicable and yet ultimately, we can't help but root for.
What she's captured with this film is that inexplicable joy that movies can trigger, especially in high school, so if you like movies, you'll love this one. —Amil Niazi
I Like Movies will be out in theaters later this fall.
Joyland
It's easy for the barrier-breaking descriptors to become the headline about Joyland — it's Pakistan's first-ever film in Cannes, and rarer still, it's a story that centers a transgender character in a Muslim country. But look beyond the expected "first-ever" noise and you will find an intimate and profoundly heartbreaking film about desire and the cost of secrets.
Joyland is set in Lahore and follows Haider (Ali Junejo), an unemployed man who depends on his wife, Mumtaz (Rasti Farooq), for income, all the while living in his brother's shadow. Haider may be the best uncle anyone can ask for, and a kind and helpful son, but it's not enough to hold off the jabs about his inability to keep a job. When he finally lands one at a local erotic theater as a backdrop dancer to Biba (Alina Khan), a trans performer, he lies and claims he's working as a theater manager to stave off the shame.
Biba is a force, on a mission to climb out of the intermission slot she's been given at the theater, and as she whips her dancers into shape, Haider is drawn into her orbit. Biba does not particularly care to expand Haider's rigid and conservative conceptions about the world, but her presence transforms him all the same. But as the weight of scandal weighs on Haider's life, Joyland delicately chronicles how patriarchy suffocates people without ever losing sight of the distinctly individual ways people can be smothered. —E.A.
Joyland does not yet have a theatrical release date.
Triangle of Sadness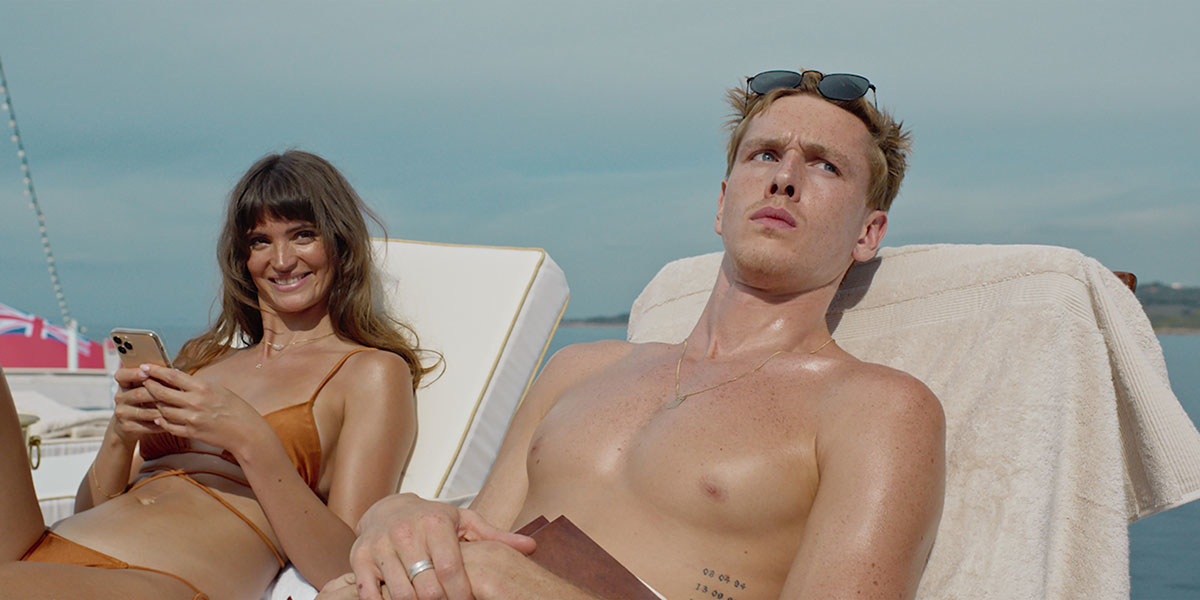 For anyone familiar with the Bravo series Below Deck, watching the trailer for Ruben Östlund's new film, Triangle of Sadness, will feel instantly familiar.
Everything about the yachtie lifestyle, from the impossibly rich and demanding charter guests to the over-the-top opulence of the boat itself, is a display of extremes. It makes perfect sense, then, that Östlund (Force Majeure) set part of his latest feature on a luxury yacht, as skewering the moneyed and those who aspire to it is what the Swedish filmmaker does best.
Triangle of Sadness is set in three different chapters all embodying the same ideas of inequality, aspiration, and degradation. In part one, Östlund interrogates the worlds of fashion and influence as two models, Carl (Harris Dickinson) and his girlfriend Yaya (Charlbi Dean), see their lives and careers splinter off in different directions. Each now has a distinct and evolving relationship with money that the other can't fathom, yet neither feels comfortable explaining.
The second part stars Woody Harrelson as Captain Thomas Smith, the steward of a cruise ship that brings together old money and new, influencers and scions. Guests onboard include Carl and Yaya, who have been invited on as influencers alongside someone who calls himself "the king of shit" because he's made his fortune in manure. Soon, the outsize demands of the guests send the ship into a literal and psychic spiral that results in a Salò-inspired, poo-covered nightmare. For those who are thankfully unfamiliar with the Pasolini film, it dealt with similar themes of excess, nihilism, and capitalism and is infamous for, among many other controversial things, graphic scenes featuring excrement.
The final chapter has the survivors of the ship's wreck stuck on a deserted island, as the downtrodden reveal themselves to be as equally cutthroat as their oppressors.
While Triangle of Sadness is far more heavy-handed than Östlund's brilliant debut, Force Majeure, it is still a timely and necessary critique of a cultural moment that remains so steeped in wealth and celebrity. —A.N.
Triangle of Sadness is in theaters on Oct. 7.
The Banshees of Inisherin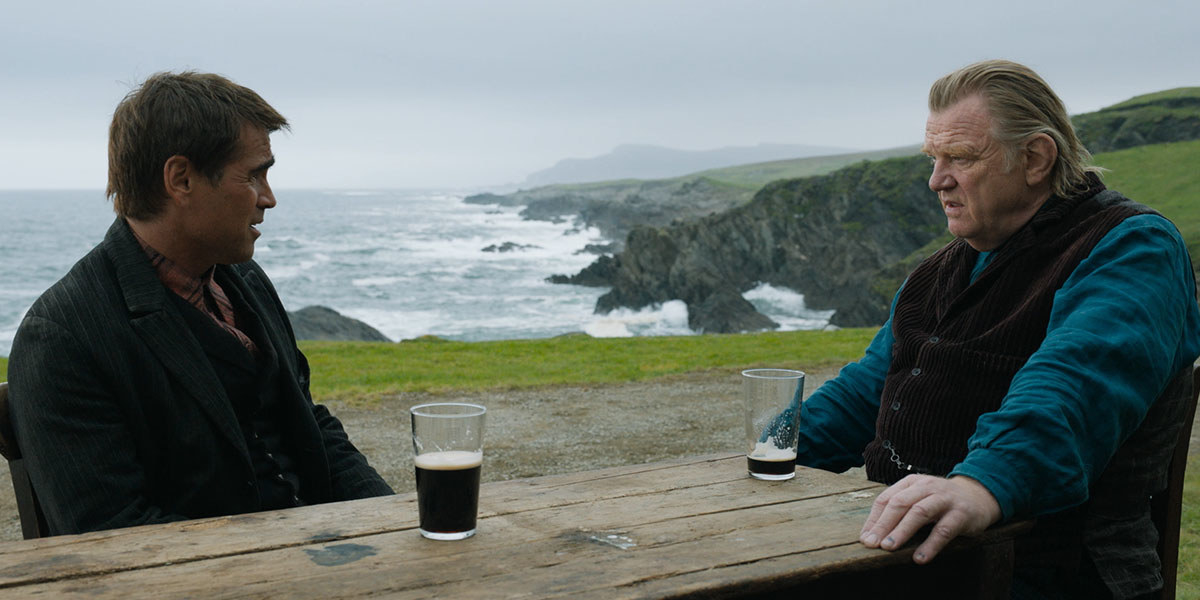 How would you react if, out of the blue, your best friend said he doesn't want to be friends anymore? No reason given, just the bonds of friendship severed?
That's how the latest film from Oscar-winning director Martin McDonagh begins. When Pádraic (Colin Farrell) pops by his old friend Colm's (Brendan Gleeson) house as he does every day, he's thrown when Colm doesn't come to the door. Pádraic can see that Colm is home — can even see that Colm can see him through the window — yet Colm just ignores Pádraic. By the time Pádraic gets an answer out of Colm, he still doesn't have much to go off of: "I just don't like you no more," Colm tells him.
What ensues is a hilarious, poignant, and devastating portrait of loneliness and friendship. Banshees is the fourth feature film from McDonagh, and it is easily his best. Here, he has found a perfect marriage between the profanity-laden witticisms that made him an accomplished playwright and the acuity of observation that made his previous films so acclaimed. The fictional island of Inisherin feels at once implausibly beautiful and overwhelmingly stifling, idyllic, and hellish, a place where there is nothing to do but shoot the breeze, and exactly the kind of town where refusing to shoot the breeze could snowball into a mess of arson and blood. But hey, it's something to do, right?
In Banshees, McDonagh returns to favorite collaborators, Farrell and Gleeson, a pair he directed in his beloved 2008 debut, In Bruges. Gleeson is fantastic, and Farrell is correctly touted as an early Oscar contender. —Elamin Abdelmahmoud
The Banshees of Inisherin is in theaters Oct. 21.
Aftersun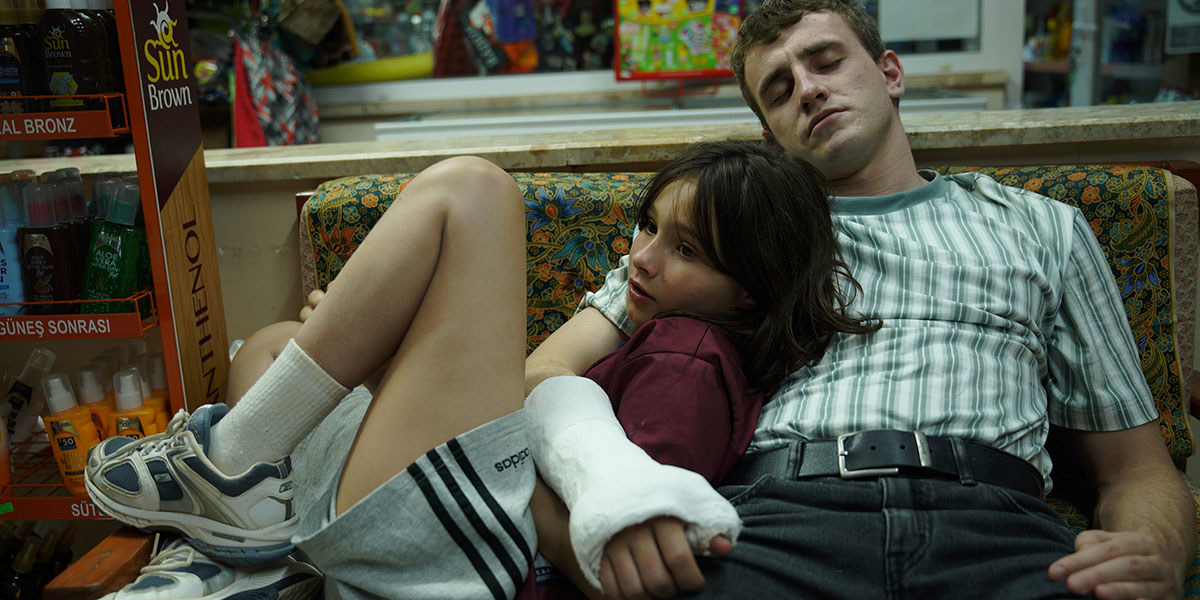 Paul Mescal is having an extremely good couple of years. Ever since his debut as Connell in the BBC adaptation of Sally Rooney's Normal People, the Irish actor has been earning rave reviews for everything he's been in, and Aftersun is no exception.
Playing a divorced dad, Mescal shines as Calum, a laidback, unassuming young man who brings his 9-year-old daughter, Soph, to a Turkish resort for a holiday. With a slow-moving plot that unfolds with ease, much of the weight of the film is on the performances Mescal and newcomer Francesca Corio give as father and daughter. It's their easy back-and-forth that imbues the movie with so much tenderness and poignancy.
Soph and her dad appear to be having a casual, fun vacation where nothing much happens and nothing much needs to. But as Calum's resolve starts to slip away, cracks emerge in the young dad's carefully cultivated facade, and things are not as chill as they seem.
Making her feature film debut here, director Charlotte Wells builds the slow tension in the film through small moments, the large shadows that small actions can cast, and, finally, through the hazy layers of memory that we see our past selves through.
As an adult, Soph is recalling and recasting this trip with her dad in her mind, and through this retelling, we get a glimpse into how children see their parents evolve over time, even though our opinions of them remain stuck in the past.
Where the film and its characters end up is both surprising and heartfelt and solidifies another banner year for Mescal. —A.N.
Aftersun is in theaters on Oct. 21.
The Good Nurse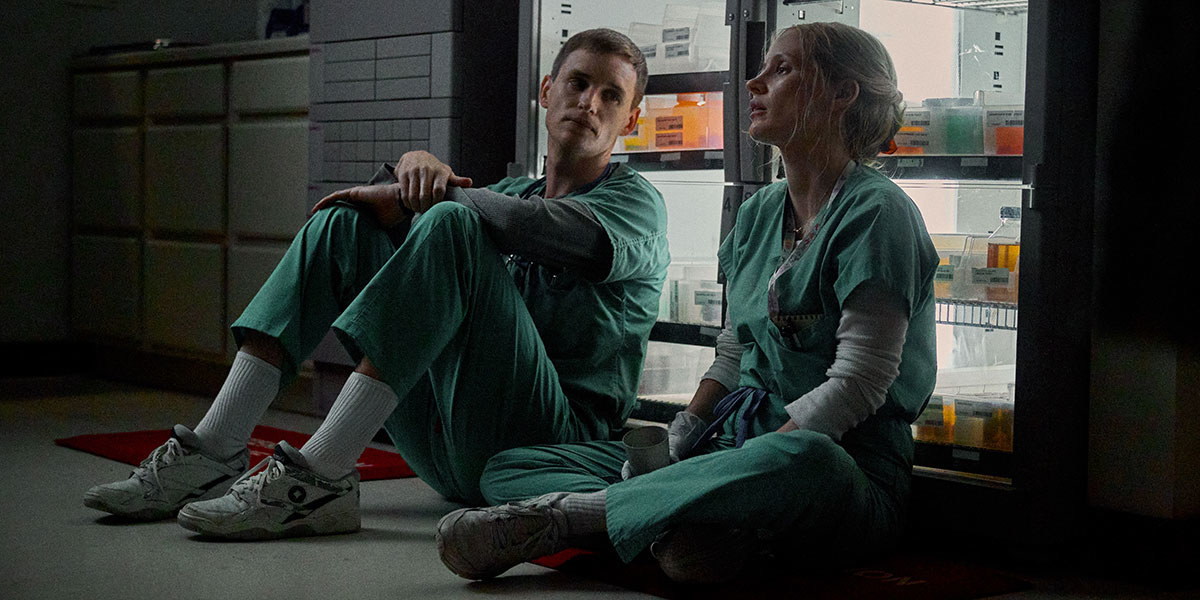 There are a lot of big names behind The Good Nurse: Its stars, Jessica Chastain and Eddie Redmayne, are both Oscar winners, and it marks the English-language debut for accomplished Danish director Tobias Lindholm. But all of this star power fades into the background during this understated but compelling drama.
On paper, The Good Nurse is a true crime thriller. An adaptation of the book by Charles Graeber, the movie is based on the true story of Charles Cullen (Redmayne), a nurse who admitted to killing 29 people and is suspected of killing hundreds more. Given the audacity of the crimes and the sheer body count — some experts believe Cullen is the most prolific serial killer in history — one might anticipate a breathless, gruesome film. Instead, Lindholm approaches the story much more humanely, centering on Amy Loughren (Chastain), the real-life nurse who became close friends with Cullen and was instrumental in piecing together his crimes.
We meet Amy as she discovers she has a serious medical issue that requires her to rest — something she can't quite do yet because she is weeks away from qualifying for hospital benefits. When Charles, a new nurse, starts at her hospital, he vows to have her back until she can get the help she needs. But as the pair's lives become deeply entangled, a police investigation suggests that perhaps Charles has secrets of his own.
In moments, The Good Nurse is chilling and fascinating. Redmayne and Chastain are expectedly spectacular, especially in the film's haunting climax. But Lindholm's understated directing is perhaps too quiet, failing to build tension at a sustainable pace. The film is keenly interested in the hospital system's complicity in Charles's crimes, but at times the focus on this dimension comes at the cost of not pushing deep enough into the friendship between Amy and Charles. If a film must hinge on the choice to turn on a friend, this neglect seems like a wasted opportunity. —E.A.
The Good Nurse will be released on Netflix on Oct. 26
Women Talking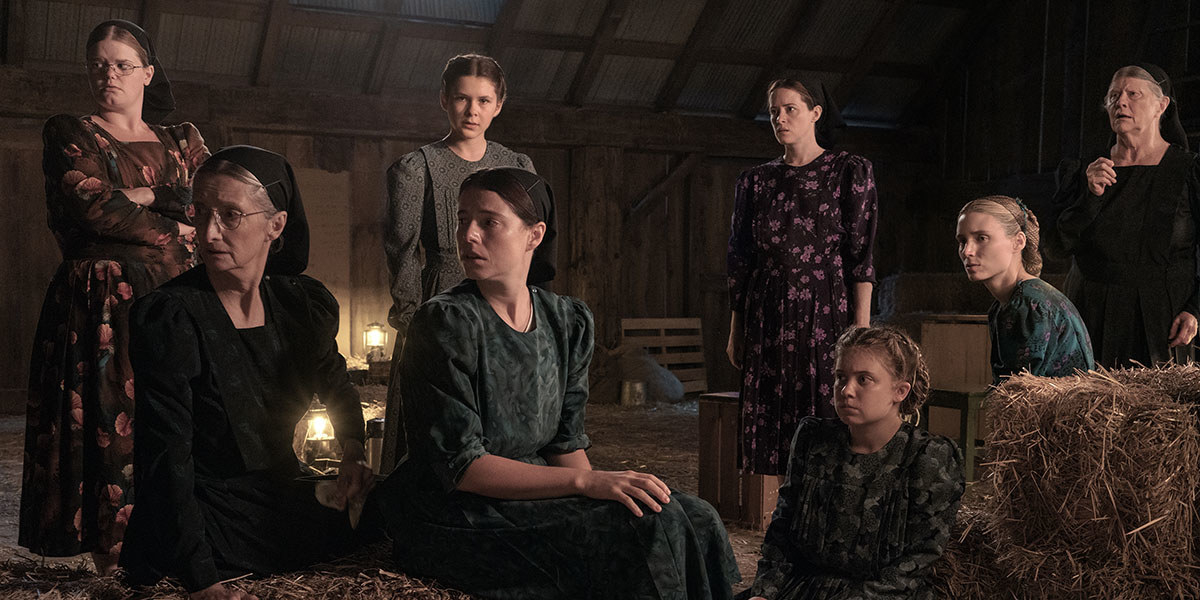 "This story begins before you were born." So begins Sarah Polley's Women Talking, an adaptation of the Miriam Toews novel of the same name. The narrator tells a child, "We had 24 hours to imagine what kind of world you would be born into." So we are prepared from the beginning: A transformation is about to take place.
Before long, we learn the circumstances of the "we," and what made them have to make such a high-stakes decision: Because men have been using cow tranquilizers to attack and sexually assault them, the women of a religious community (their faith is unnamed, but it is intended to be Mennonite) have to decide how to respond. After the men go into town to post bail for the attackers, the women have 48 hours to pick one of three options: to do nothing, stay and fight, or leave the community.
They decide to vote. Eight women gather in a hayloft to discuss the pros and cons of each. And as they do, Polley's script carefully makes room for helplessness, rage, optimism, grief, and possibility. Philosophical ideas are pitted against practical considerations — at what age, for instance, do boys become men, and is there any hope for the teenage boys who have been taught by their brothers and fathers?
Women Talking has an extraordinary cast. Rooney Mara shines as the levelheaded Ona, and Claire Foy is shattering as Salome, who is incandescent with rage. But it is Judith Ivey and Sheila McCarthy, as Agata and Greta, the elders of the group, who steal the show.
Functionally, Women Talking could've been a play; its setting in one austere location would lend itself to the stage. But Polley's touch never makes the film feel like artistic indulgence. Instead, by getting out of the way of the cast and letting them lead, this film feels confrontational in ways that are wholly necessary. —E.A.
Women Talking hits theaters Dec. 2 ●