Earlier this month, a man was killed at Aobadai Station in Yokohama, Japan. He was accused of molesting a woman.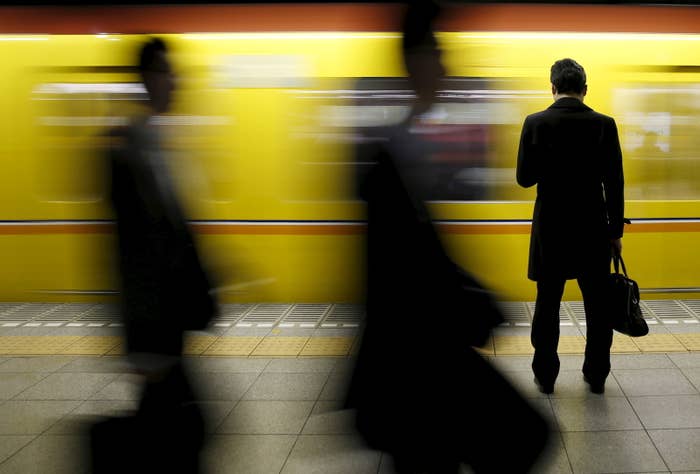 The man in Yokohama is one of two who died last month while running from train stations after being accused of molesting women on public transportation.
Sexual harassment and assault on public transportation has been an issue in Japan for decades now.
According to the White Paper on Crime issued by the Ministry of Justice, in 2014, there were 3,439 arrests on allegations of molestation — unwanted sexual touching — under the Anti-Nuisance Ordinance and 283 arrests under Japan's anti–sex crime laws.
In recent years, railway and subway companies in Japan have introduced women-only carriages in an attempt to curb sexual assaults on public transportation.
The carriages were first implemented in Tokyo in 2001 to "prevent women from molesters and drunk, male passengers on crowded night trains."
The Ministry of Land, Infrastructure, Transport, and Tourism has described the carriages as a "transportation service implemented by railway companies as part of consideration for women."
Women-only carriages have since spread across Japan, mostly operating during morning rush hours.
The threats still exist for women on trains, however. One high school student recently suggested badges with anti-molestation slogans.
The two recent deaths, however, have prompted a large number of Twitter trolls to suggest that there actually need to be men-only train carriages.
Some of those calling for men-only train carriages say the problem is that women are making false charges against innocent men.
The above tweet shows several excerpts from Shiranēshi, an adult fanzine comic about men "executing women in retribution for their crimes of false accusations."
A high school student in the manga attempts to falsely accuse a man of molesting her on a train to "see a man cry himself into sleep or extort money from him, for fun." However, she gets surrounded by all the men she has made false accusations about in the past; one of the men punches the student in her face as revenge.
People have commented on this tweet, some saying that the manga is "very refreshing" and that "women who've done the same should really, seriously, go through this experience."
It's been retweeted 24,000 times in the two weeks since the man died at Aobadai Station.
It's part of a larger narrative in which men — even if innocent — are at a great disadvantage when they are suspected of sexual assault.
Many say they fear that they will automatically be arrested once they are taken into the train station office to be questioned.
Under the Japanese criminal justice system, the conviction rate of a person under indictment is more than 99%, and acquittal is rare.
This fear of false accusations has led to the rise of an insurance plan that allows you to report your situation and call a partnered lawyer across the country via your smartphone when you are suspected of molestation. Up until last month, only a dozen or so men were joining this plan each month, but in May, it increased to hundreds.
One Twitter user took a photo of a badge that he made that reads, "I will beat anybody who falsely accuses me. If I die, we must die together."
Some trolls have suggested there should be a molestation train.
But it's not all trolls driving this debate. People have come forward recently to say the underlying problem is not the victims of sexual assault nor women making false accusations, but the men who are assaulting people and the doubts cast on women who file complaints.
It's also inspired a few men to come forward and speak openly about their own personal experiences of being molested on trains.
It's not just Twitter users who are concerned with the culture of sexual assault on Japanese public transportation. BuzzFeed News spoke with commuters at Shibuya Station who seemed divided about how to address the problem.
Mana and Yui, 14-year-old middle school students from Yokohama, told BuzzFeed News that carriages should be segregated completely .
"I think carriages should be separated, because we really need women-only carriages," Mana said. "My friend was molested in the past, and she said that she was scared. I also get scared when I get on a crowded train."
Yui said she feels uncomfortable wearing short pants during summer. "There were times when I was stared at a lot. That was scary," she said.
Yuki Kamata, a 21-year-old student from Osaka, told BuzzFeed News he doesn't completely disagree with having men-only carriages, but also feels like these carriages shouldn't have to exist in the first place.
"It solves false accusations, but I think the problem lies in molesting," he said. "It all depends on how much people are aware of this issue."
Kamata said that he worries about being falsely accused when he gets on trains.
"When I have my hands down and there are women in front of me or beside me, I sometimes feel that I'm in a risky situation. So I either put my hands up or cross my arms. I see a lot of men doing the same thing. I think it's problematic that Japan's allowing this kind of situation to happen."
He also said that he had been molested in the past.
"I was standing in a packed train in Osaka, and I felt a hand touching my private parts. It happened again and again, so I looked up to see who was touching. My eyes met with the person behind me, and that's when I thought, 'Oh, I'm being molested,'" Kamata said. "I didn't go to the police or tell anyone because I was afraid — I didn't want to see that person's face ever again — and I felt I needed to handle this on my own."
Mr. Fukuda, a 69-year-old retired man living in Tokyo, told BuzzFeed News that he avoids getting on crowded trains during rush hours, because he does not want to be suspected of train molesting, which he said almost happened to him twice in the past.
"One time it happened when the tip of my shoe touched another woman's shoe. Another time was when I was standing behind an elementary student. She thought I was pressing against her, so she kept on shoving me back; but we were on a crowded train," he said. "I don't think men-only carriages are necessary. We simply shouldn't molest, right?"