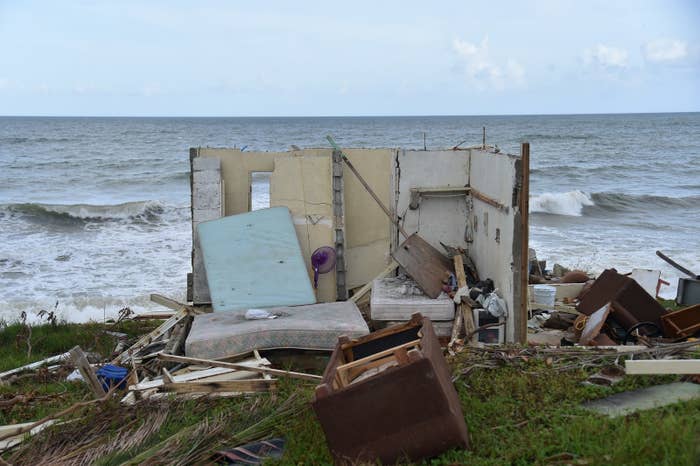 SAN JUAN — More than week after Hurricane Maria smashed through Puerto Rico, leaving at least 16 people dead, the island barely has reliable electricity, clean water, and telecommunications — all while suffering from security concerns. With the American federal government being criticized for a slow response, it has been up to the mayors of Puerto Rico to help the island and keep order and pressure on higher officials amid the devastation.

The metropolitan area of San Juan — which comprises the municipalities of San Juan, Guaynabo, Bayamón, Toa Baja, Carolina, Trujillo Alto and Cataño — is mostly still standing. There is still no electricity to speak of in the majority of those areas, except pockets of communities around hospitals that have begun to receive service from the Puerto Rico Electric Power Authority (AEE or PREPA). For residents of the island — who are US citizens — shock, despair, and questions of why are setting in. The moment feels like their 9/11, with people's lives changed forever.
Just on Friday, San Juan's mayor, Carmen Yulin Cruz, blasted the acting director of Homeland Security for calling the government response to the hurricane a "good news story" and saying she was "very satisfied" with the administration's "ability to reach people."
"Well, maybe from where she's standing it's a good news story. When you are drinking from a creek, it's not a good news story. When you don't have food for a baby, it's not a good news story... This is a people are dying story," Cruz said on CNN.
Lines have become the daily ritual around Puerto Rico, for gasoline, ATMs, food from restaurants that are only equipped for to-go orders, or even lining up on the main highways to gain access to what little cellphone coverage and internet is available. Most, if not all of these services, are tied to the gasoline and diesel fuel supplies and their sparse availability.
Most of the mayors blame the state government for the sluggish response.
Yabucoa, the municipality in southeastern Puerto Rico near where the eye of Maria made landfall, is also home to a very important port that brings in and distributes, according to the mayor, 33% of all the gasoline and diesel in Puerto Rico. In this crisis, the operation of this port has to be a priority for the government. Yet Rafael Surrillo, the mayor of Yabucoa, claims that he has had no help from either the state or federal government. Surrillo went to the Joint Emergency Operations Center (JEOC) located at the Puerto Rico Convention Center in San Juan Wednesday trying to get help.
"The problem is the port is not operational. There are two cargo ships waiting to come in and they haven't because the buoys (that lead ships safely to port) were lost. Another way a captain of a ship can be lead to safe harbor is through an aerial signaling system held upon towers. A part of that system was damaged, but the area was battered so much that it can't be reached by the ground. I was asked to see if we could use a helicopter to take equipment and machines to fix it so that cargo ships can finally come in. This port is the responsibility of the Puerto Rico Port Authority, but they haven't been able to arrive there," said Surrillo said in an interview with BuzzFeed News and other reporters.
Surrillo is open to receiving help in gaining access to helicopters from any source — even from private citizens — to gain access to the ships and their cargo.
Petroleum companies like Shell, American Petroleum and many smaller independent suppliers get their fuel and store it at the Yabucoa port.
"A lot has been talked about the ports in San Juan, Ponce, and Mayaguez, but the one in Yabucoa is where 33% of the fuel comes into the country. In the moments that we are living where fuel has become extremely necessary, not just for Yabucoa, but for the entire island I think this has to be dealt with haste," added Surrillo.
Surrillo said he's has no communication with the state government from his home town except with the Puerto Rico Aqueduct and Sewers Authority (AAA or PRASA), the public corporation in charge of supplying water to the entire population. It was the municipality, the mayor said, that supplied the PRASA pump in a nearby reservoir with a diesel power generator so that its residents could have access to clean water.
Only FEMA and the American Red Cross have been sending supplies and help, according to the mayor. One local private business gave the municipal government their diesel reserves to use.
The mayor of Adjuntas, and member of the ruling New Progressive Party (NPP), Jaime Barlucea, has also been at the forefront of helping out the residents of his municipality, located in the central western portion of the island, without waiting for the state government to reach them.
"We don't have potable water or food. There are landslides still occurring because the soil is unable to retain any more water," he told BuzzFeed News. "We have asked for help here.
Barlucea did say that "the National Guard already has a plan to distribute water, which I think is very well organized," and that on Wednesday he was scheduled to pick it up. On Thursday, he said, a rescue operation was scheduled for his area, and he said he talked to the Secretary of Public Security, Héctor M. Pesquera, and asked for a helicopter to do an aerial survey of the landscape. It's unclear if these initiatives happened because of communication issues.
The mayor also asked for a team of doctors to accompany him on his efforts to reach cancer patients in his municipality.
"After Irma, the governor went to visit me, and yes we have received support from the governor. From regional directors, no. From people with the authority to help us it has been a poor response, but from the governor of Puerto Rico, we have received the support," Barlucea said.
"But help? No. I have opened the roads. No one has helped us with that endeavor. That type of help where they deliver stuff to us, nothing. The first would be if they deliver the water, and they deliver the food," he added.
A week has passed and, according to the mayor, now it has been that they will receive any type of assistance. Barlucea is hoping that the government will come through with their promises.
Barlucea, whose area gets virtually no cell service, also told BuzzFeed News that he prioritized picking up the trash in his municipality to avoid health concerns. This problem that has been affecting many towns, including the capital city of San Juan, where trash has yet to be collected in several sectors of the city.
"My employees have to work. Any employee that fails to report to work will not be paid. Those that work for government are called to give a service," he said.
Adjuntas has also suffered from security problems, particularly looting. To address it he said he's working with the state and municipal police to establish 12 hour shifts of security patrols. Starting at 7:00 pm, the municipal police offer security in the town center, where many business are.
What these two mayors are facing is a pattern throughout the island — the mayors of the 78 municipalities on the island are begging the state for help.

Ramón Rosario, the state Secretary of Public Affairs and Public Policy, told BuzzFeed News that each municipality has been outfitted with a water tank. "In terms of food and potable water, the regional JEOCs have been established and the mayors have to solicit this help from those centers to bring aid to their towns," he said.
He said many of the mayors' requests are being sped up.
The local municipal governments have also been helping each other. Barlucea said he had helped to open roads for access to Utuado, one of the most affected municipalities by both Hurricanes Irma and Maria, and to Ponce.
On WKAQ Radio on Wednesday night, a resident of San Juan thanked Ángel Pérez, mayor of Guaynabo, for sending equipment to help his community as the municipal government of San Juan had yet been able to help them out.