Editor's note: We sent photographer Daniella Zalcman, whose photo essay on Standing Rock was one of the first to bring widespread attention to the cause, back to North Dakota in early December. We chose to show contributed images that the remaining protesters and the residents of nearby Mandan had taken as Polaroids alongside a portrait of the person quoted. This is intended to widen the perspective beyond that of an arriving journalist and to give everyone a chance to show their relationship to the land and camp. Some of the people have been watching this protest unfold for months; others arrived more recently.

—Kate Bubacz, senior photo editor, BuzzFeed News
My first trip to Standing Rock was an accident. I'd been working in South Dakota for the preceding month, interviewing Indian boarding school survivors for a long-term project. My last meeting was with a Lakota man named Travis who lived in Pierre. At the end of our conversation, he told me that he was heading to a pipeline protest that weekend and I should come along.

I didn't agree immediately — it took me an 800-mile roundtrip out of my way — but I arrived in Cannon Ball, North Dakota, early on the morning of Aug. 15, when construction on the final, contested section of pipeline was scheduled to begin.
Clashes over natural resources have long defined US–Native relations. But on this site in particular, centuries of conflict had coalesced into one symbolic fight — an arm of the government was giving a private corporation permission to route sweet crude here beneath the Missouri River, a major waterway, on land that had been promised to the Lakota in the Treaty of Fort Laramie. As far as the Lakota were concerned, this was their land, the site of their burial grounds and sacred spaces, and their main source of water. They saw the pipeline as a direct threat to their environment.

On my first day there in August, a small group of Lakota riders (including Travis) dressed their horses in traditional war regalia and charged the line of North Dakota state police who had formed near the entrance to the construction site. The action, which remained peaceful, was part of a traditional horse presentation and set the tone for one of the most diverse displays of Indigenous solidarity and Indigenous defiance we've ever seen.

Over the next few months, thousands of people amassed in the Standing Rock camp along the banks of the Cannonball River, with tribal representatives arriving not just from across North America, but from as far away as Norway, New Zealand, and the Amazon.

Having spent several years photographing the ways that the US and Canadian governments have tried to subjugate, marginalize, and assimilate First Nations peoples, it was frustrating for me to have to leave after a week.
I knew I had colleagues on the ground who were doing amazing work, Native and non-Native, and realistically I knew that my presence would have been completely redundant. I focused on other projects and commitments, but kept an eye on Standing Rock.
In early December, I heard that the Army Corps of Engineers hadn't granted the final permission required to complete the pipeline, and I knew I had to go back. While it didn't necessarily signify the death of the Dakota Access Pipeline, it felt like a bookend to my first trip — and an opportunity to show the ebb and flow of the movement as Standing Rock's chairman Dave Archambault II urged protesters to go home on Dec. 6.
To tell the story properly, I knew I had to do something different. I hadn't witnessed nearly enough myself to be able to string together a narrative — there is a comical contrast between my photos from August, defined by piercing blue skies and that intense grasslands summer heat, and my photos from December, when the same hillsides were blanketed in snow, with nothing to bridge the two. So instead, I turned to the residents of the Standing Rock camp, to the water protectors and local North Dakotans who had been living through this conflict for months.
These are their photos, and their words.
Chris Lujan, Taos Pueblo, New Mexico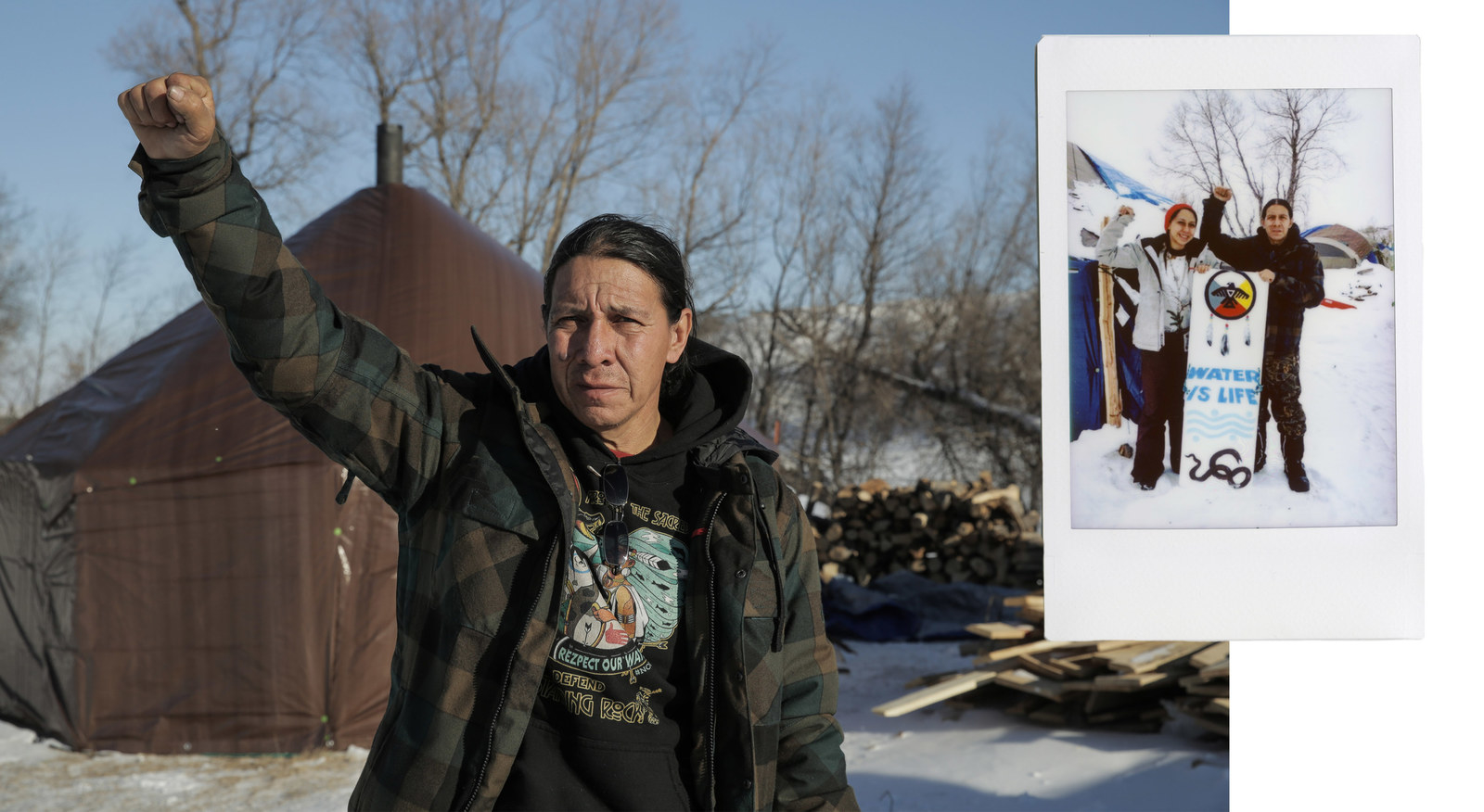 "The first time I came up here, I saw all these tents that had gone up and this windstorm came through that destroyed everything. I went back home and it was bugging me, so I figured out how to put a yurt together. I used to work in construction and I like to build things, so it was easy for me. I brought the first one up and got it set up in about two hours, and now I've made six here. They're warm and sturdy and can fit about six to eight people. I know a lot of people here want to keep those traditional teepees, but they're not so efficient— they're tall so there's a lot of heat loss. These will help people make it through the winter."
North Dakota Highway Patrolman Lt. Tom Iverson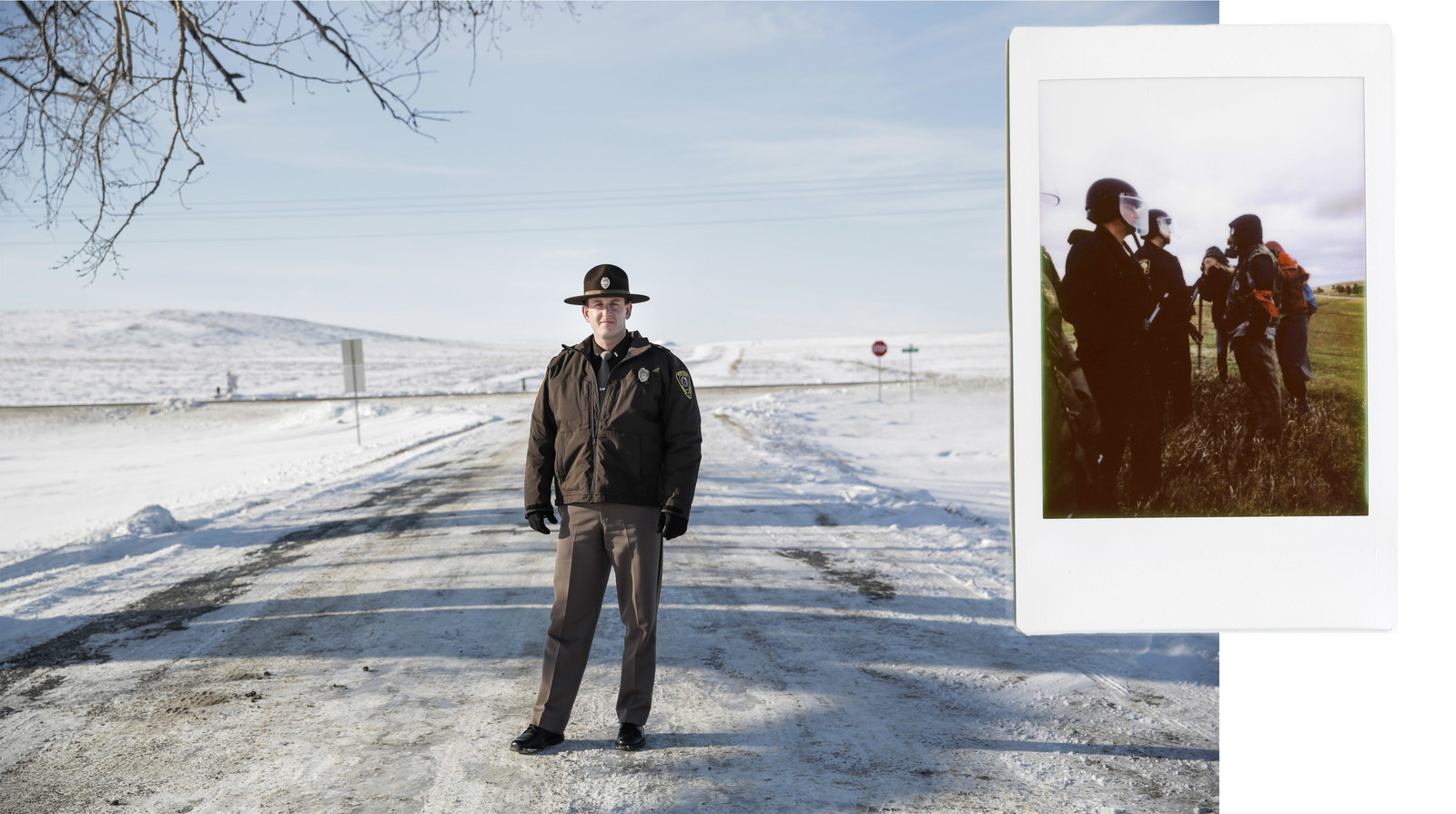 "I never want to discuss the protesters as one group. There are peaceful people, there are prayerful people, there are violent people. And I'm just here to worry about the people with violent intentions.
"We've been put in a position where we've been deemed the enemy. When we looked fire hoses, well, that was a bad optic. That made us look bad. But what could we do? Using water was a means to remove those agitators from that situation.

"It may look like we're here to defend the pipeline, but we're here to prevent confrontation.

"My hope is that the protesters will listen to the chairman and to their tribal leaders and go home and let the battle over the pipeline be fought where it belongs — in court, not on the frozen tundra of North Dakota."
Orlando Cruz, Santa Ana Pueblo, New Mexico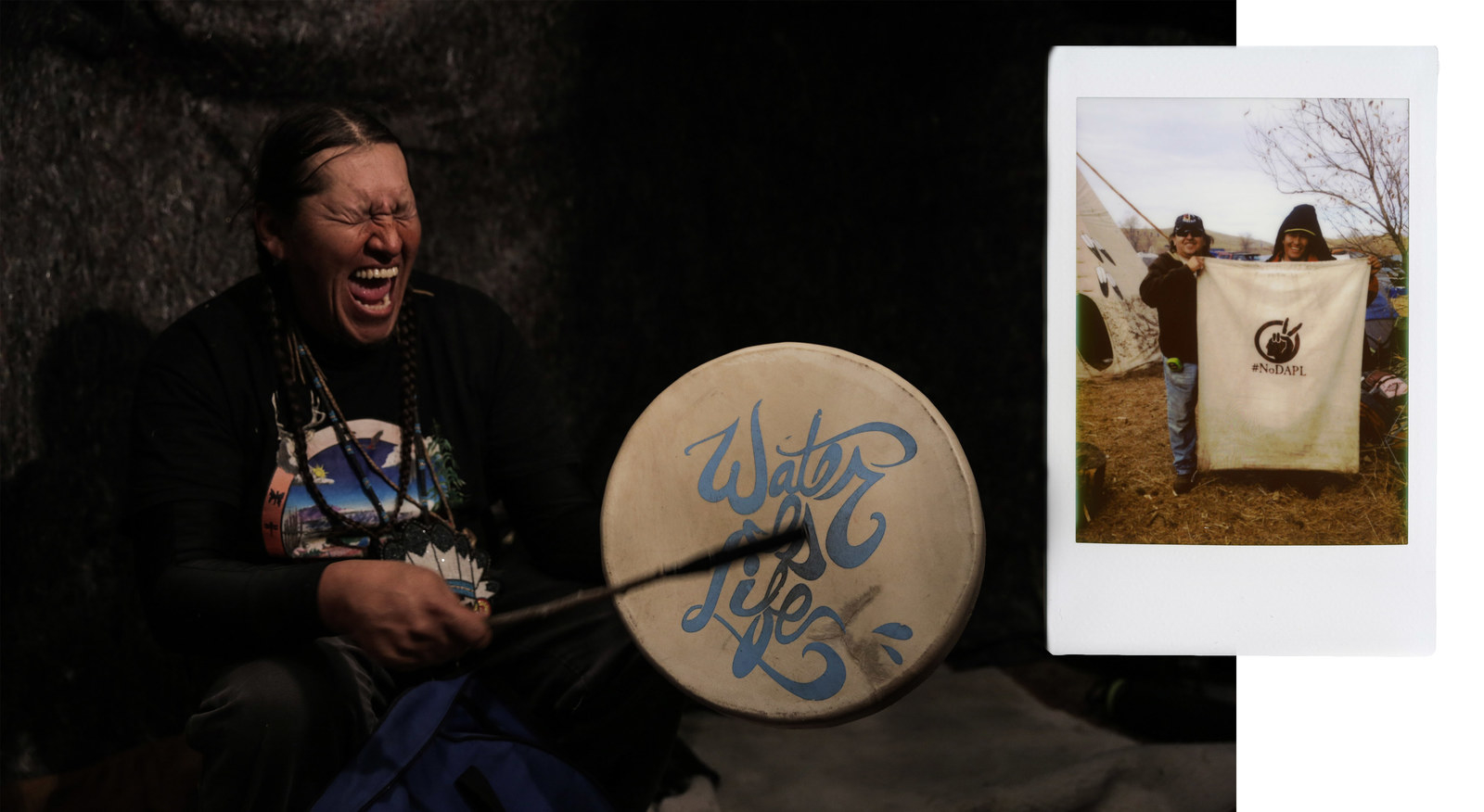 "Once I came through that gate for the first time, everything changed for me. We stopped at the sacred fire, and I busted out my hand drums, and I knew how I could contribute. I'm here to sing. That's what I do. That's what I'm good at. I was called here to sing for people."
Mary Bender, Mandan resident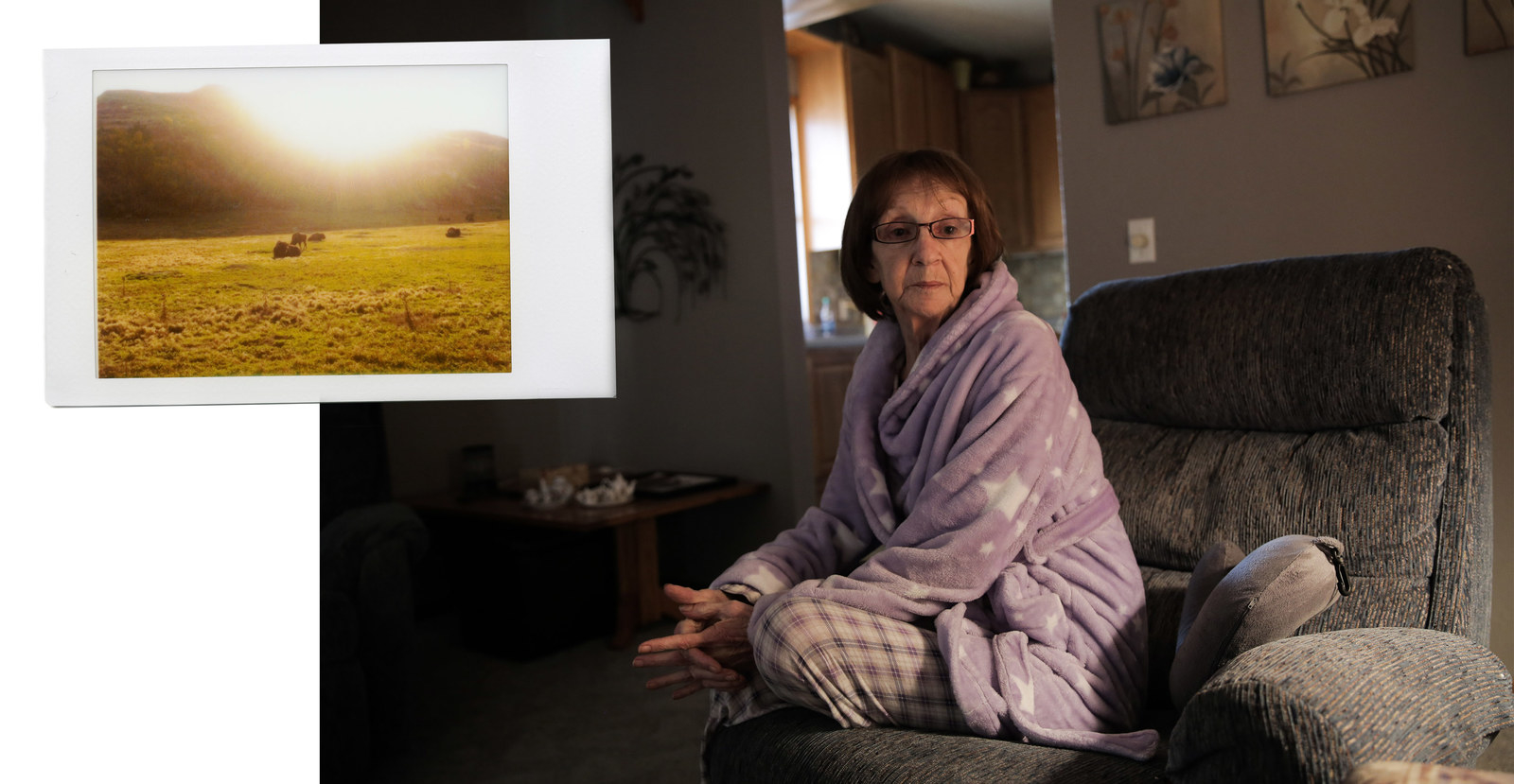 "These protesters don't even know what they're here for. Half of them are paid to be here. We don't want to fight the Indians anymore — we did that way back then. But they think they're entitled to go on the Army Corps of Engineers' land and just set up camp. They think they're entitled to go on neighboring farms and ranches and run amok. Their ancestors may have been here before my ancestors, but that doesn't mean anything now. Now we all are having to suffer.
"I can't stand to look at them anymore after what they've caused us.
"This is not who I was before. I would be mad if anyone would sit here in the house and make a derogatory joke about black people. Now I'm the one sitting here saying 'them damn savages.'
Benita Harry, Navajo from New Mexico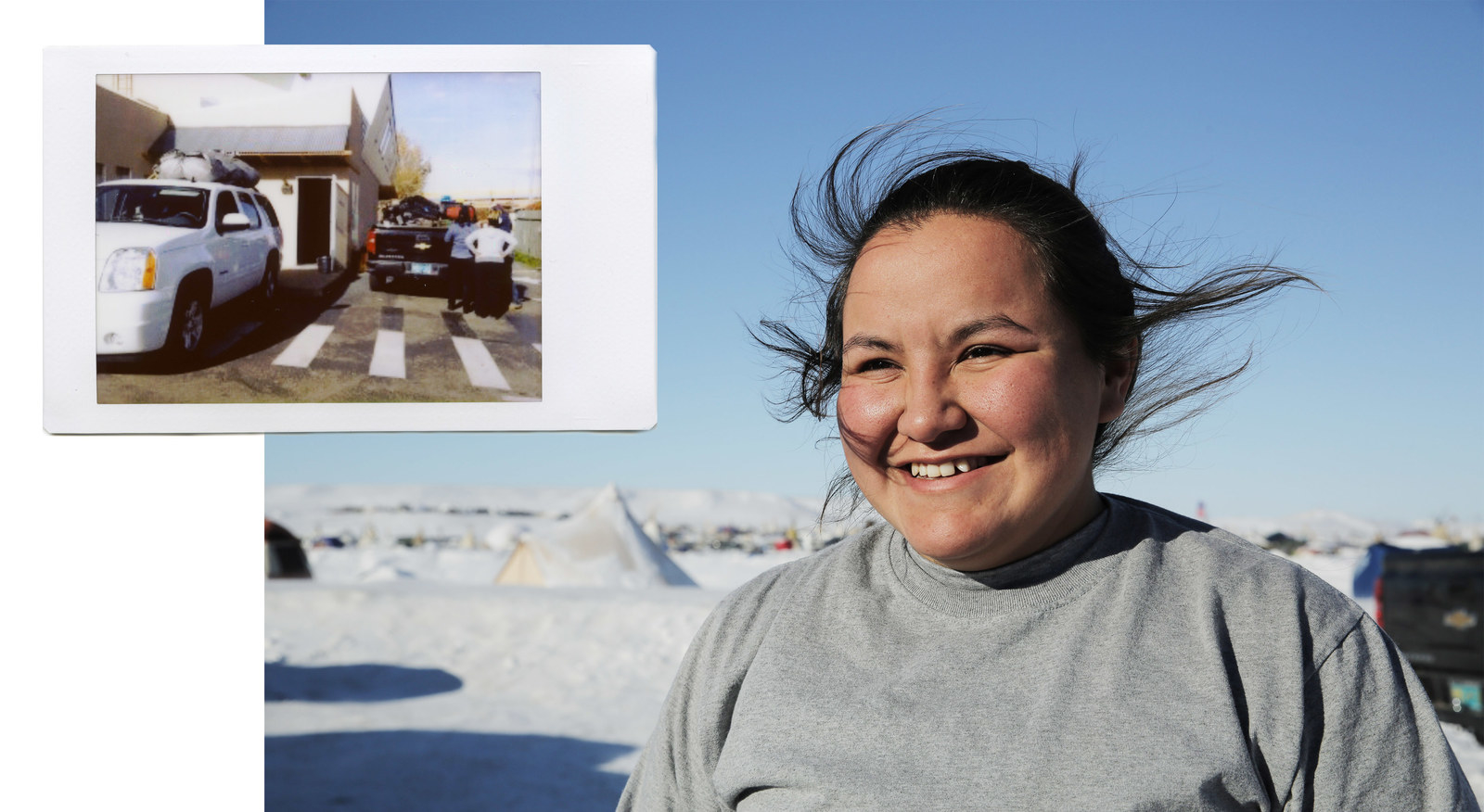 "I'm the president of the Native American Club at Western New Mexico University and a group of us came up here to bring supplies, blankets, clothes, food, things to help winterize the camp. We're only here for a few days, but I'd definitely come back. I want to learn more about what happens here."
Caydon Cymbalek, Mandan resident
"I think the pipeline is the safest way to transport the oil, and I think it'll go through eventually. Even if it breaks, it's going to be beneath the river, so it'll be fine. Those protesters are saying that it's on reservation land, but it's not. That bothers me."
Legun Coriz, Kewa Pueblo from New Mexico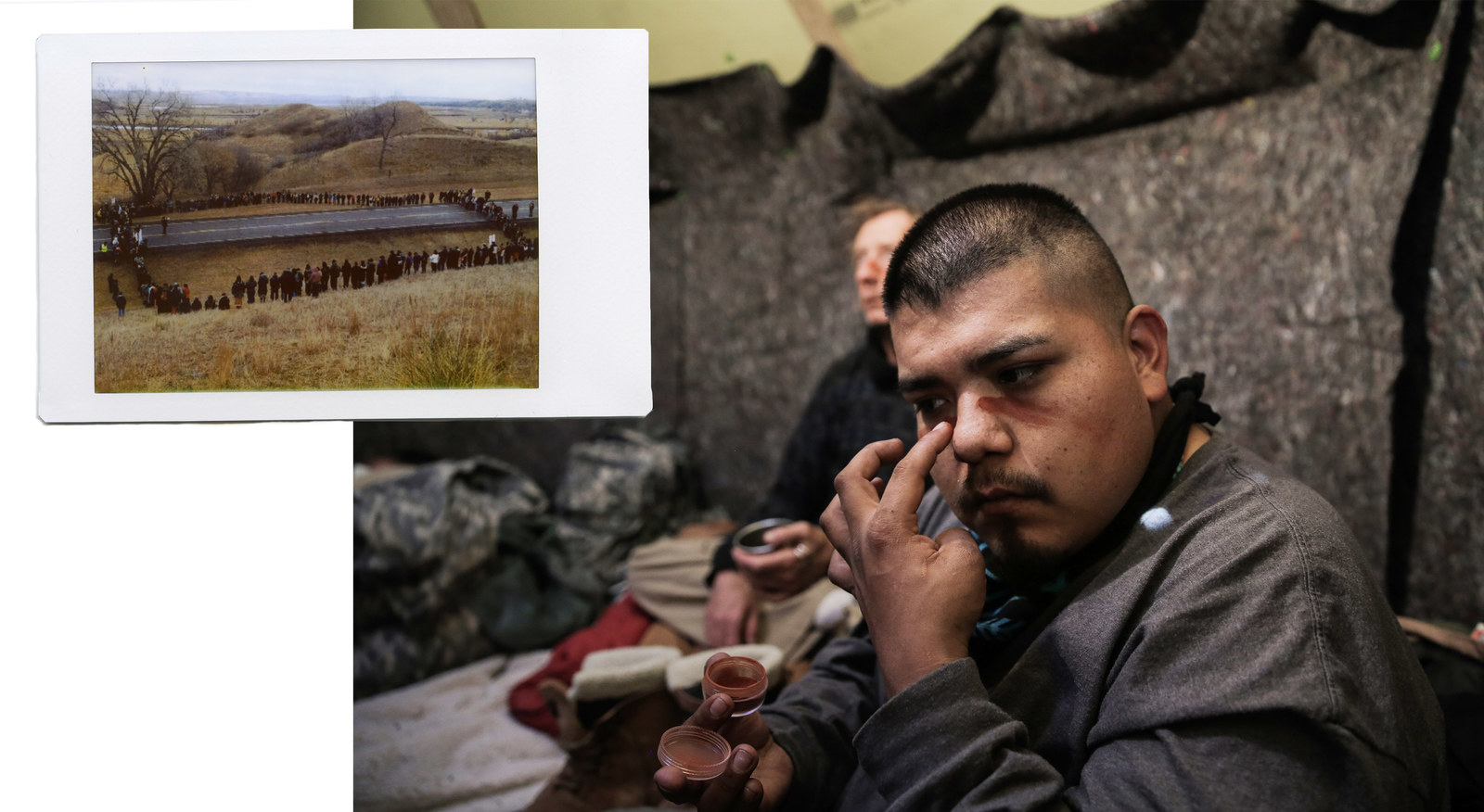 "I have four kids. I'm busy all the time. I didn't think I could make it up here. But all of a sudden I started seeing all these signs: It was always raining, I saw this amazing double rainbow, all of these things pointing to water. Every sense was telling me I had to come. And then one morning I sold a painting — it was exactly the amount I needed to get here — and I knew it was time."
Ahjani Yepa, Jemez Pueblo, New Mexico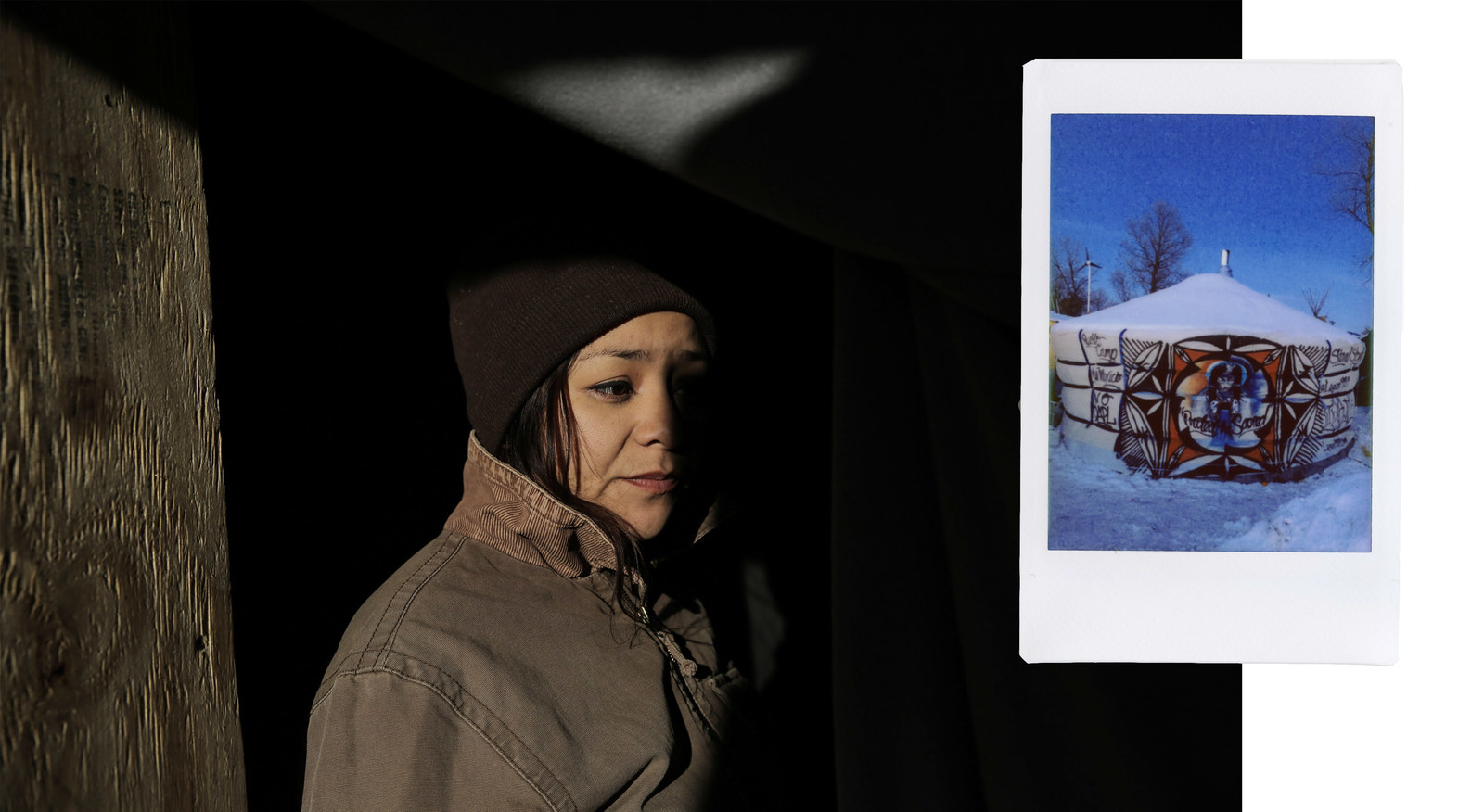 "A threat to one nation's sovereignty is a threat to all of us. If they can do it here, they can do it where we're from [in New Mexico]. I know how special our sacred places are, how much medicine and energy are held there — that's what connects us to where we're from and what makes us different. We have this connection to our land. And when I try to put myself in the shoes [of the Standing Rock Lakota], about what would happen if our places were being threatened in this way...well, it would be threatening our very identity.

"We all need to stand together. We've all experienced similar traumas. It's that solidarity with sovereignty. It's stepping up and saying that as Native people, we're still here.
"I left school. I was working on a degree in environmental science and sustainability at UNM. But it was more important for me to be here."
Jesse Nightwalker, Northern Cheyenne, Washington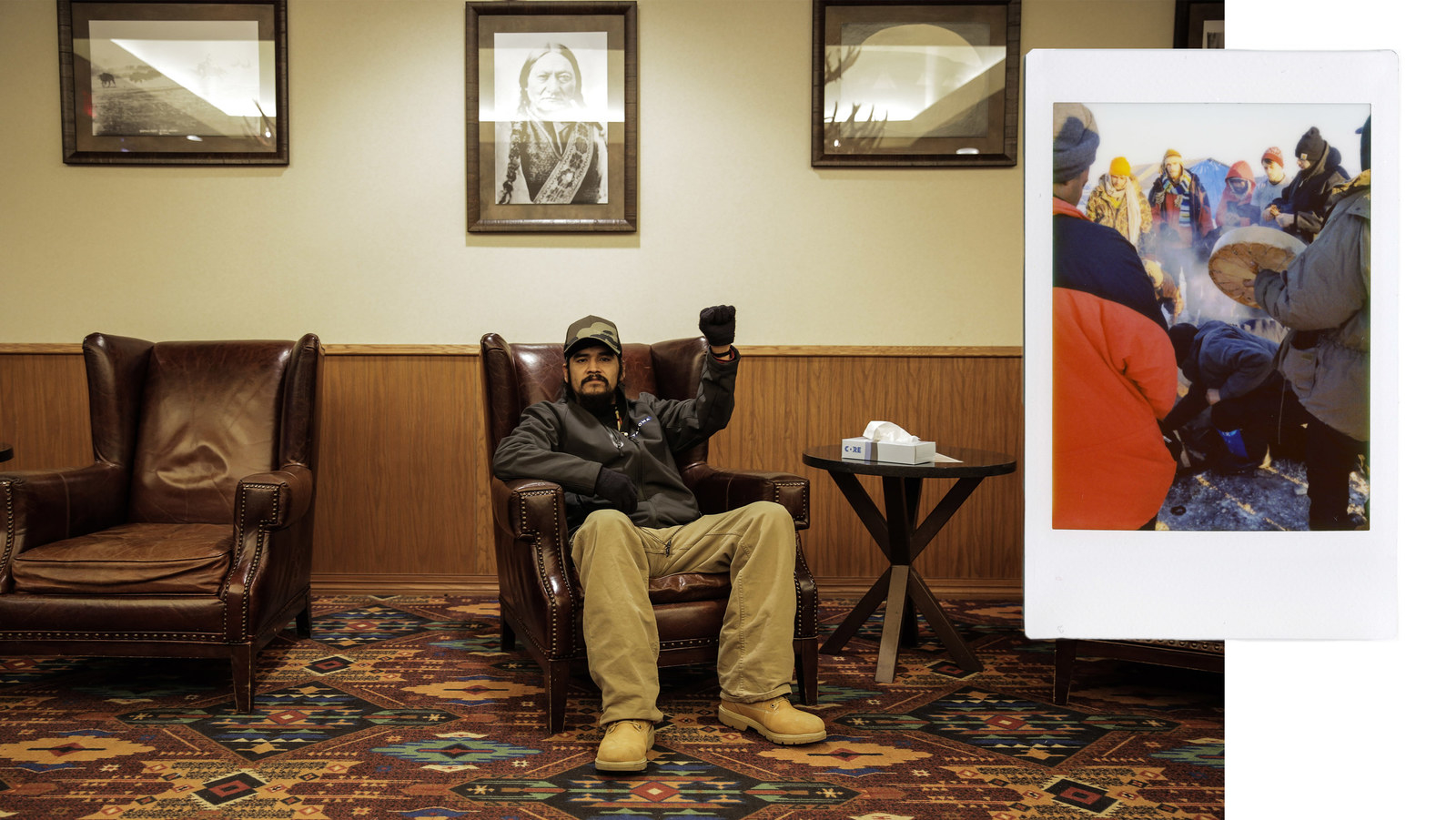 "I needed to be here, to stand in solidarity with the troubles of these Indigenous people. It's been eye-opening for me. It's been an awakening. I'd been participating in rallies back home, but to actually be here — this is very powerful. I came to bring back stories to my community about what this means, what it means to be part of this. They know there's a pipeline, but they don't really know what's going on. That's why I'm here."
Anthony and Stacey Esquibel, Mandan residents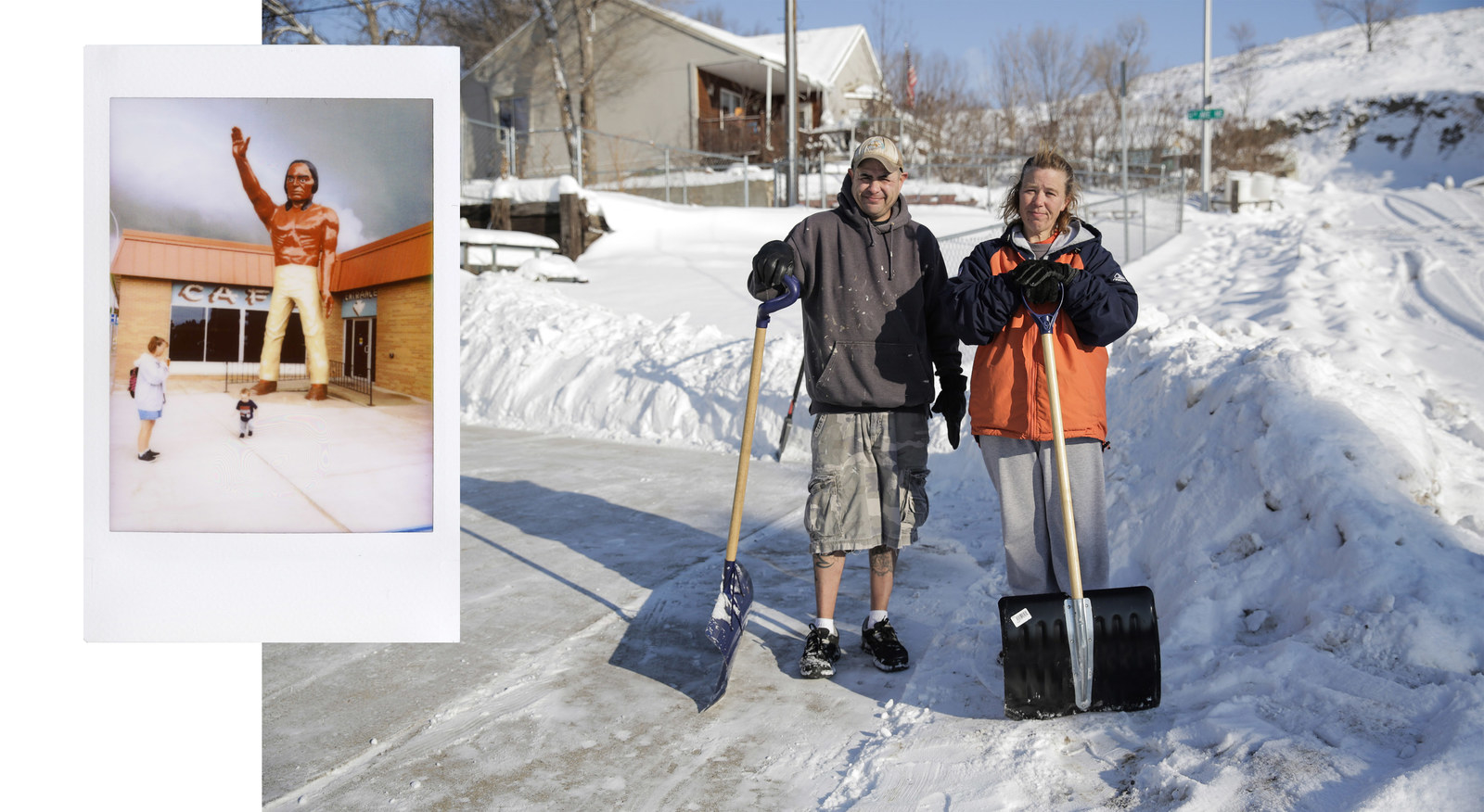 "I don't mind people protesting, but I don't like how it affects people trying to get to work or trying to get around town. One of the days they came in to protest in Mandan, I was trying to take my son to dialysis in Bismarck and it took us forever to get out because they were blocking off the roads. I didn't appreciate that.
"I fully support what [the protesters] are doing. I don't want to see pipelines near sacred lands. It's our water. We need to think about the next generation. Like they say, water is life."
Darren Stallcup, Blackfeet, California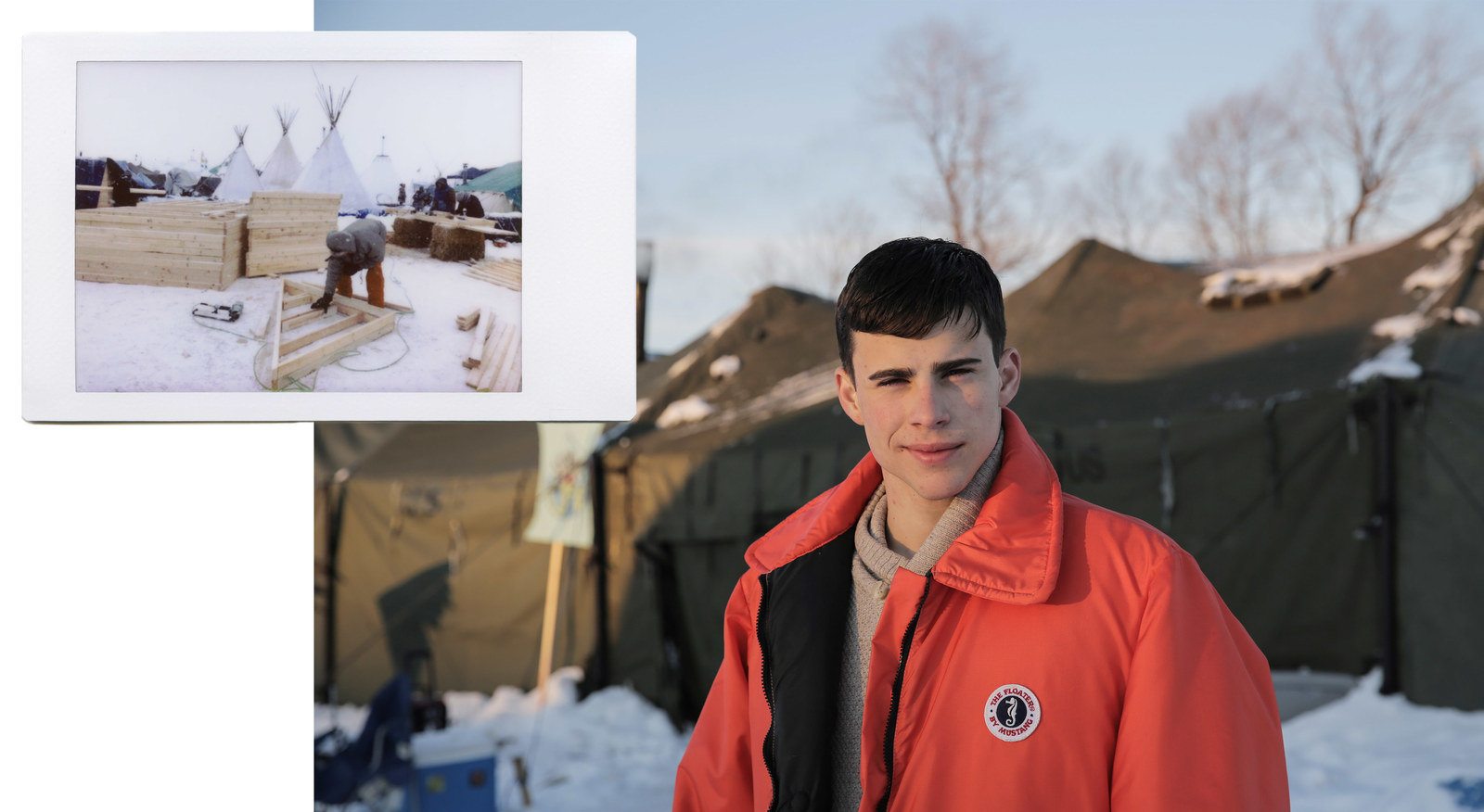 Biggie Umtuch, Yakama and Blackfeet, Oregon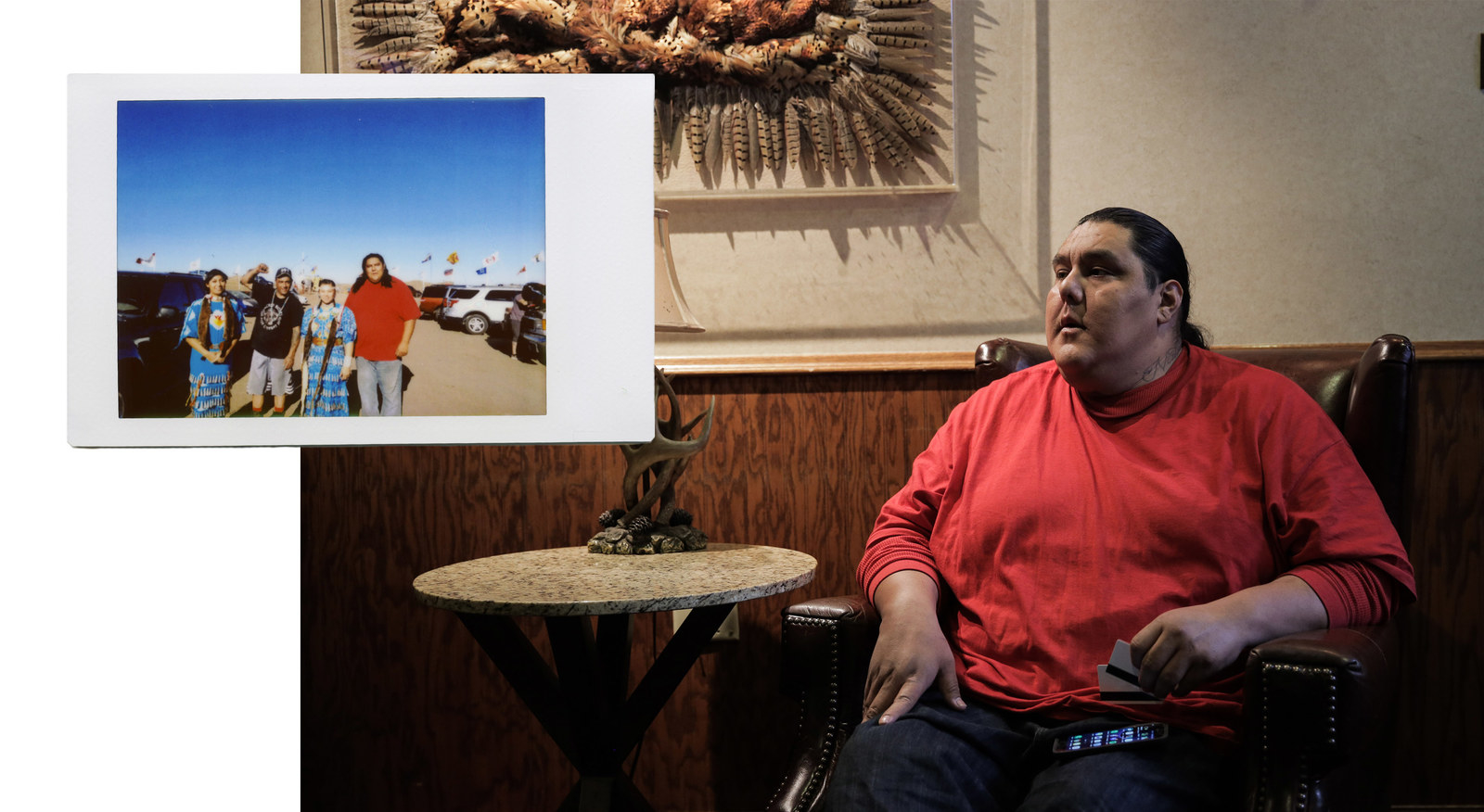 "In the beginning, this was about stopping the pipeline. But for me, it's turned into a spiritual awakening. We're all going to take this home. This is going to mean something to all the other pipeline fights. We're learning how to live like this together, sustainably, and we can take that knowledge home and help it spread."
Wes Howard, Texas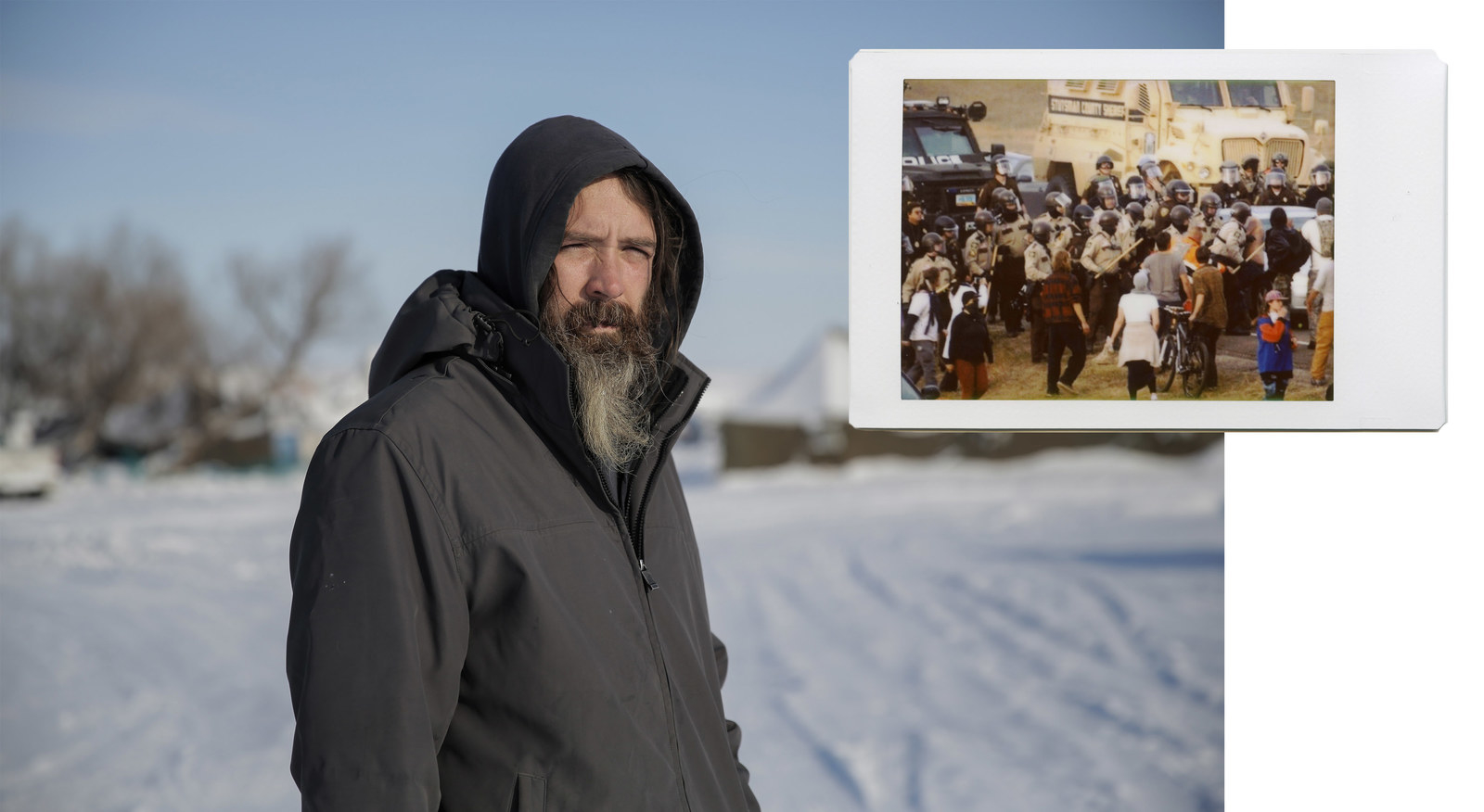 "I'm here because it's every human being's responsibility to stand up for our brothers and sisters when they need our help. And people here need help. I've seen police abuse first hand and I know if there's no evidence, it didn't occur. Without photos, it's just our word against theirs. So I'm here, and I'm taking photos. That's my job here."
Rodney Wabashaw, Santee Sioux, Colorado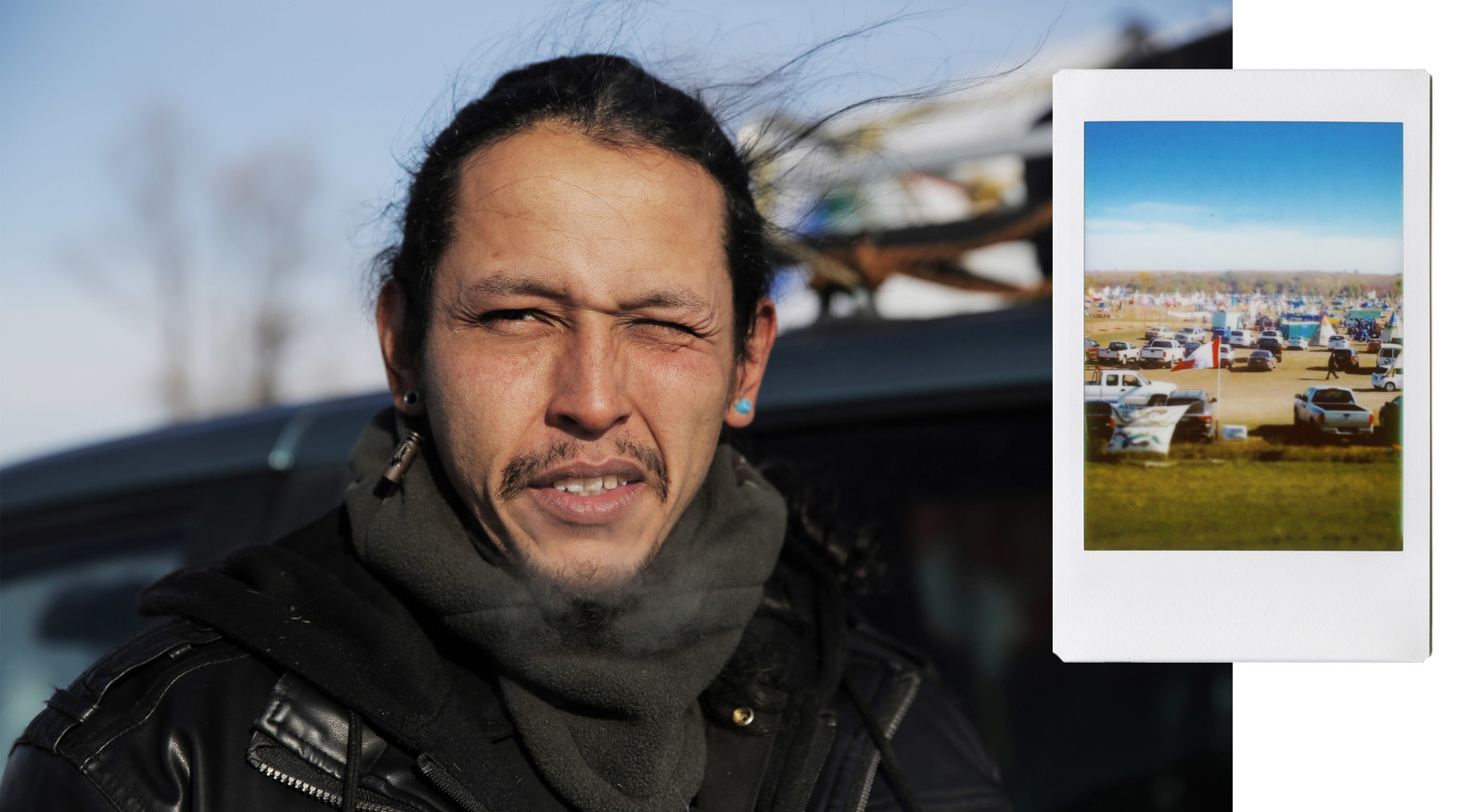 ""I quit my job, I sold my TV, I sold my coffee machine, I packed up my family, and we came. We had to be here. This is more important than all of us. And now it's something bigger, we're leaving here tomorrow and heading to the next pipeline protest [in West Texas]. We're warriors now."