At 9 a.m. on a Wednesday in January, 18-year-old Simone Biles was dancing in the middle of World Champions Centre in Spring, Texas, but no music was playing. Clad in black spandex shorts and a hoodie — all Nike, her corporate sponsor — the three-time world gymnastics champion was going through the motions of her new floor routine as Dominic Zito, the national team choreographer, stood on the sidelines, watching her as she sashayed across the mat.

Biles was the only athlete practicing in the 56,000-square-foot facility that was being built by the world champion's family. I had twice driven past a nondescript side door, which was functioning temporarily as the gym entrance, before I realized that it was the only way in. The front of the building, which now holds offices and a pro shop, was still under construction.
It was finally time for Biles to try the routine with the music. She stripped off her hoodie, revealing a racer-back tank top underneath. In the leotards she normally performs in, even sleeveless ones, you don't see the shoulder blades. You can't see the finer points of her strength, how she lifts her arms, activating all of the muscles in her back. All you can see are her impressive arms and shoulders, which are cut, defined, wide, tapering down into her no-hipped lower body.
Zito hit play on his laptop, and Brazilian music blared from speakers. The selection was the first indication that the long-awaited Olympic year had finally arrived. In 2012, Gabby Douglas arrived in London expecting to do well, but she wasn't the standout favorite. If she hadn't won the gold, it's unlikely it would have been seen as a shocking upset.
The same can't be said for Biles, who turned 19 in March. Since she aged into the senior ranks in 2013, Biles has broken or tied every record in women's gymnastics and has been called the "most talented gymnast ever." In 2015, she became the first woman to win three consecutive world all-around titles. That was also the same year she broke the record for most gold medals won by a female gymnast in a world championship competition. For Biles, going to the Olympics is not so much about winning as it is not losing the gold.
For Biles, going to the Olympics is not so much about winning as it is not losing the gold.
Biles is frequently compared to the likes of Michael Jordan or Michael Phelps: all-time greats whose legacies transcend their individual sports. This is unusual for gymnastics, which is typically treated as separate from the rest of the sporting world, as an athletic sideshow with uniquely young and small athletes and nebulous rules and corrupt judging. But Biles' superiority is so plain to see that even the uninitiated can understand it.
Today, she and her coaches are trying to crack an impossible-seeming question: How do you end the floor routine of one of the greatest athletes of all-time? What pose can possibly say all of that?
Zito told me that he was under orders from national team coordinator Martha Karolyi to create "something sexier" for the gymnast. When Biles first burst onto the scene in 2013, she was just shy of 16 with a mouth full of braces. But she will be 19 in Rio. Cute isn't going to cut it anymore.
According to Zito, her character in the routine is the Brazilian Carnival dancer with a flamboyant feather headdress: the passista. (This kind of pandering has a long history in the sport, from Czechoslovakian superstar Vera Caslavska performing to "The Mexican Hat Dance" in 1968 Mexico City to Romanian Cristina Bontas performing to a medley including "Yankee Doodle" and "The Star-Spangled Banner" in Indianapolis in 1991.) It was a character that the 4-foot-8-inch Biles seemed to be struggling to embody. Zito kept trying to get Biles to move her hips more in order to accent the fast percussive rhythms. "Shake your booty," he told her as she swung into the corner. Throughout the session, she often found herself slightly behind the beats, occasionally forgetting a step, and, once or twice, accidentally doing choreography from a previous year's routine.
"I'm dancing a lot more than usual," Biles told me later. "It's very fun and very tiring." As she worked on memorizing the dance steps, she nonchalantly ran from corner to corner instead of doing her normally powerful tumbling runs.
It was an odd experience to watch the world champion struggle at anything. I asked whether it felt as easy as it looked. "We're supposed to make it look easy," she told me, dancing around the question. "But did it feel easy?" I asked her again. Biles laughed. She's a bouncy presence on the gym floor and the sidelines. "I've watched myself, and I feel like it's been pretty easy," she admitted.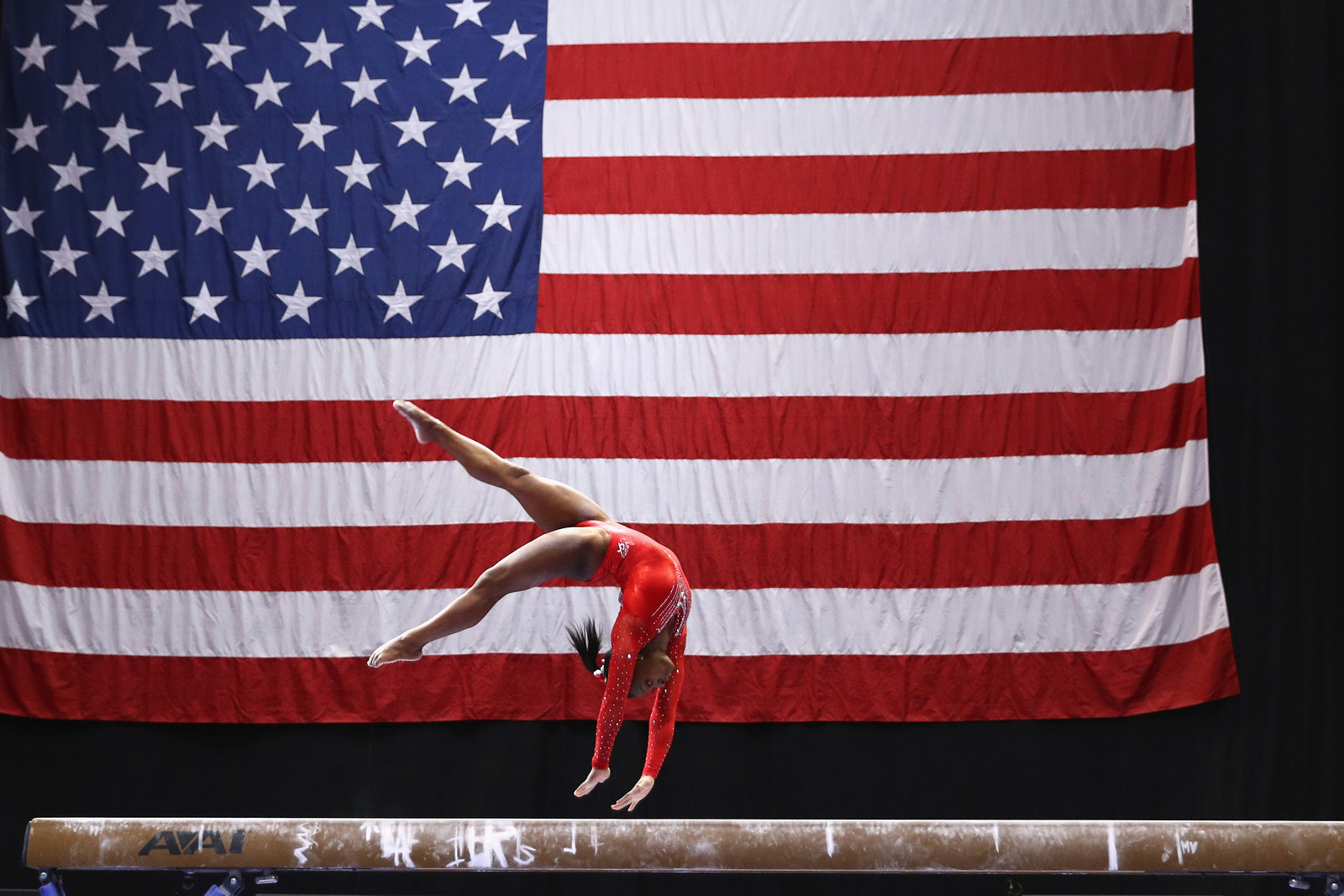 But that's not the whole story. There are things that are challenging for her in gymnastics; it's just that they don't relate to her physical prowess. Challenges like mental stamina ("Most people would focus on concentrating more and I can't do that," she told me. "It almost makes me overthink a lot of my things. I have to focus on not thinking"); the incredible expectations held by press and fans; and the so-called world champion's jinx, which has foiled many presumptive favorites before her.
Then there's the career-derailing potential of injuries and real-world mishaps, which is why after I explained that I was a native New Yorker with limited driving experience, Biles was in the driver's seat as we headed to the Subway down the street. Driving through the Texas rain in a black Cadillac CTS resembling any other teenager's (with random papers, crumbs, an empty water bottle here and there), her seat was pulled so far forward it was practically flush with the steering column.
As she ate her lunch — a chicken and cheese flatbread and a bag of SunChips stashed for later — I asked what she was thinking when she woke up on January 1, the day she and her mother, Nellie, typically write out goals for the coming year. "Nobody tell me about 2016," Biles answered with a touch of nervous laughter. This did not surprise me; the countdown clock at the Bileses' New Year's Eve party probably ticked loudest for her.
Nellie told me that her daughter had tried to delay their goal-setting talk that day. "She just avoided me like the plague," she said. But Biles couldn't avoid her mother, just as she could no longer avoid questions about the Olympics as she had in previous years. That morning in January, I watched Aimee Boorman, Biles' longtime coach, write out the 2016 competition schedule on a large, laminated calendar to be hung on the gym walls: the American Cup, Classics, national championships, the Olympic trials, and a whole month blocked out for training camps and then the games. Everything was oriented toward Rio — and all eyes were on Biles.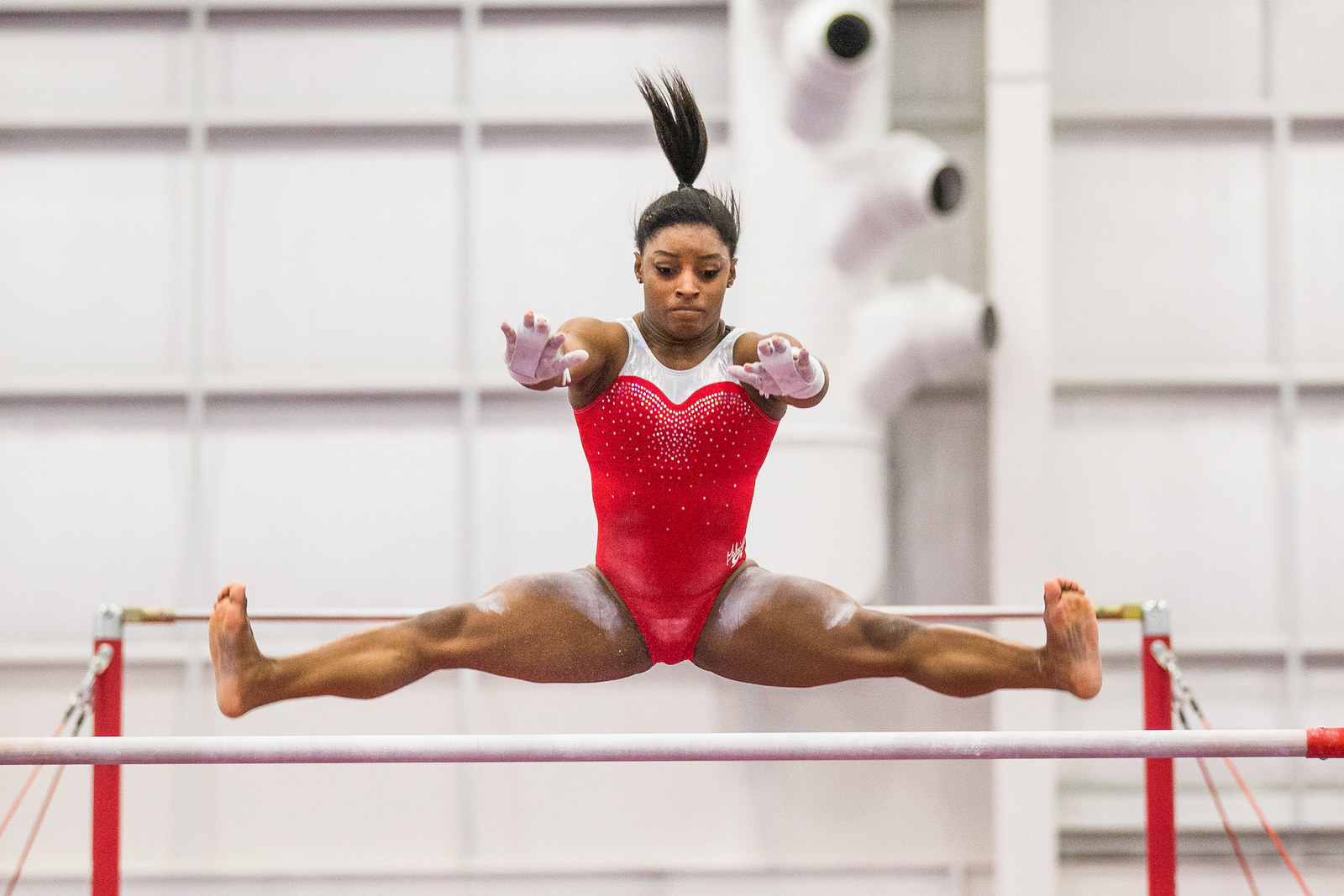 Most Olympic gymnast origin stories sound something like this: Little Sarah had so much energy, so she was enrolled in gymnastics class. Fast-forward eight to ten years and she's on the Olympic team.
Biles' background hews to this narrative — for the most part. As a youngster, she was extraordinarily rambunctious, climbing and jumping off everything. "I remember when she was in foster care, I would go in the house to visit them," her father, Ron Biles, told me at the family home, surrounded by their four friendly German shepherds and leftover balloons from their New Year's Eve party. "You had to walk up three steps into the house and Simone would jump from the top of the steps into your arms."
At that point, Ron and Nellie weren't yet Simone's parents. They were just her grandparents; Ron's daughter from his first marriage is Simone's biological mother, Shanon. Her four children had been taken from her and placed into foster care due to her substance abuse problems — something the family rarely talked about publicly until Simone's career took off.
Ron first learned about the situation when a social worker reached out to him in August 1999. Simone was 3, and her younger sister, Adria, was just 13 months old. He told the social worker to send the kids from Columbus, Ohio, to his home in Texas. He then had to speak to his wife, Nellie, about changing the composition of their family. He and Nellie had two high school–aged boys of their own; Ron asked her if they could bring his grandchildren into their home.
"I needed to pray about it," Nellie said, but she eventually agreed. "If it was reversed, I would expect him to reciprocate the right way."
In March 2000, Ron flew up north to bring them down temporarily. It would take a few more years for their mother's parental rights to be terminated and for the four children to be permanently resettled in Texas; the older two were taken by Ron's older sister while the younger ones went to Ron and Nellie. It wasn't until 2003 that Simone and Adria came back to Texas for good and were formally adopted. Simone, by then, was 6 years old.
Since the adoption, the girls have had minimal contact with their biological mother. "She speaks to Simone from time to time," Ron said. "We all went on a cruise in 2010 and I took my daughter along with me. It's a touch-and-go relationship. She still wants to be mother, and she's not."
Simone admitted that it is strange for her to be asked about that period in her life. "It's just kind of thrown at me and it's weird to talk about because I don't know much about it," she said. "All I know is Texas."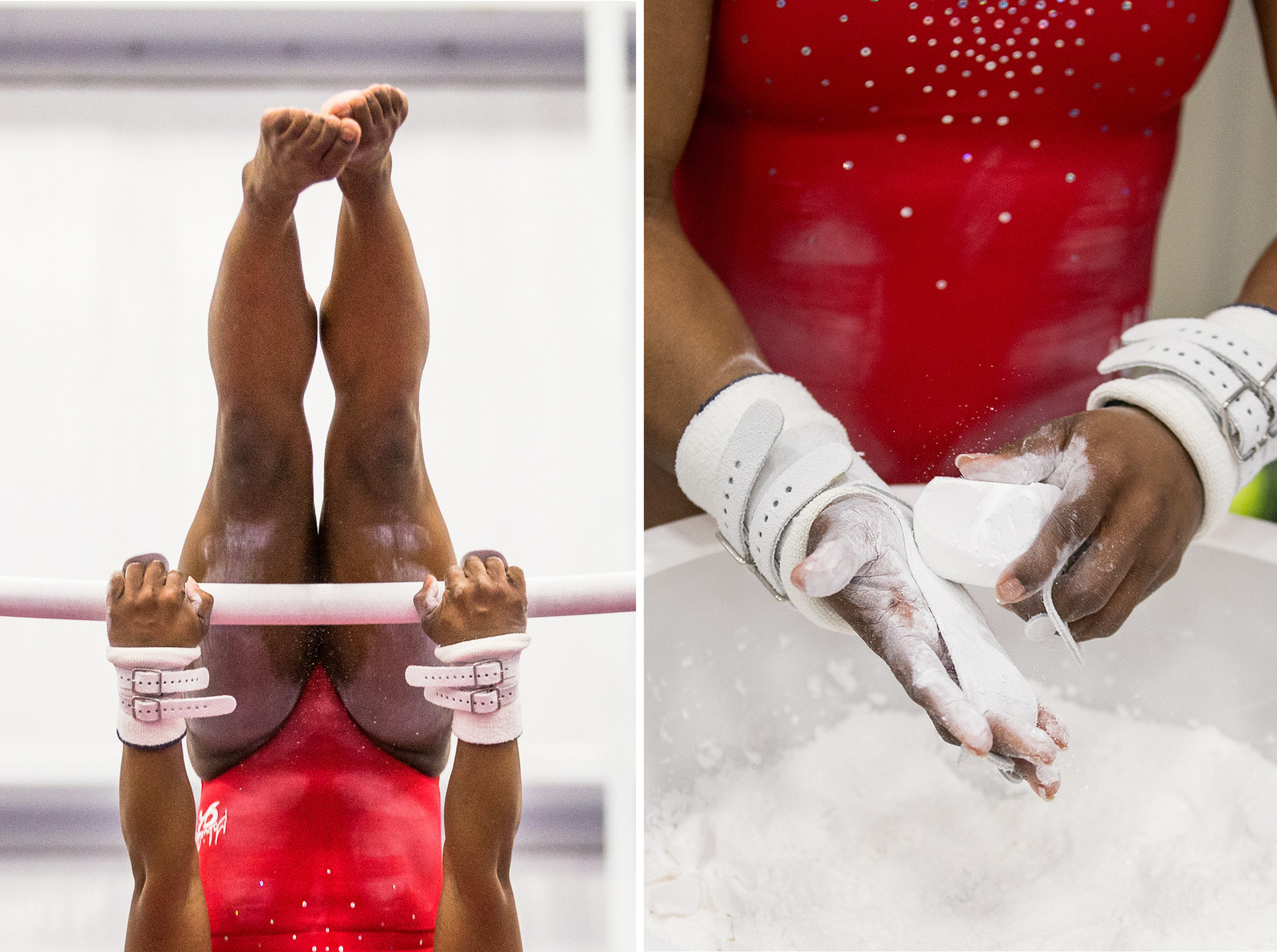 Texas is where the life Biles remembers started. It's also where she was first introduced to gymnastics, by chance, when she was 6 years old. She went on a day-care field trip to a gym and came home with a note for her parents that said she was talented and suggested they enroll her in lessons. While I have no doubt that those coaches noticed her innate gifts — fearlessness, coordination, strength — the note, Nellie surmised, was probably sent home with all of the kids who tried gymnastics that day.
Biles was soon thereafter pulled into the optional training program at Bannon's Gymnastix. "We said, 'This kid's got talent and we believe she's going to learn things really fast,'" Boorman told me in an interview for my book The End of the Perfect 10. But her ability to learn high-level skills quickly didn't translate immediately to strong competitive results. Biles, for all of her strengths, had some notable weaknesses. She isn't naturally flexible and couldn't find the right shapes on her leaps and jumps. She also didn't know how to control her immense power, often bounding up and back several feet after landing tumbling passes. And on bars — the most technical event in the women's repertoire — she lacked finesse. "I explained to her that on bars she does actually have to think," Boorman said. "She has to be [a] smart gymnast on bars because [it] doesn't come naturally for her."
Biles' ambitions were quite modest at first. When she and her mother sat down in 2009, when she was 11 years old and at the top level in the Junior Olympic system, all she wanted to do was qualify for regionals. "That was her big goal," her mom recalled. Biles made it to the regional championships where she placed 14th in the all-around. She did very poorly on bars, but won floor and placed fourth on vault, the two power events that have always been her strengths.
Biles' aspirations escalated incrementally. After making it to the final rung of the Junior Olympic program, she wanted to make the leap to elite, which is the level you watch at the Olympics. And once she was elite, she wanted to qualify to compete at the national championships. She was finally named to the U.S. junior national team when she was 15 and in the last few months of her junior eligibility. "We can't even say she had a junior career," Boorman pointed out. (Having the most impressive junior gymnastics career, though, is kind of like winning the preseason: It certainly isn't a bad thing, but doesn't necessarily portend much for the future. Biles lost the preseason but has won the regular season and the playoffs.)
According to Biles, her career really took off in 2012 due to an increase in training time. Unlike many of her peers, Biles had been enrolled in public school and only trained five days a week for approximately four hours per session. Her 20 hours per week paled in comparison to other elites, who typically squeeze in two workouts on most days for a total of 32 hours a week. But before starting high school, Biles made the call to homeschool so she could spend more time training. "My hours ramped up and we did beam and bars twice a day, which usually I had only done once a day," she said matter-of-factly over lunch, dispelling the idea that any sort of miracle had taken place at the end of her junior career that led to her sudden rise. To Biles, it was simple math: More hours in the gym meant better outcomes in competition.
Biles' first foray into international competition came in March 2013 at the American Cup in Worcester, Massachusetts. Frequently billed by NBC as the "most prestigious international competition held in the United States," the World Cup event is invite-only; the top all-around finishers at the previous world championships or Olympics are given first dibs on the eight invitations. But it was early in the season after the Olympics, when many gymnasts were resting or had retired, so Biles was given the chance to compete after the veteran athletes had declined.
I hadn't heard much about Biles before this competition. I had been focused almost exclusively on the senior field from which the Olympic team would be drawn, and a few promising juniors, like 2012 winner Lexie Priessman and Katelyn Ohashi, who, despite being the same age as Biles, had competed internationally several times.
But after vault, the first event in the competition, the focus in the arena shifted to Biles. She rocketed into the lead by performing the most difficult vault of the meet: the two-and-a-half twister that McKayla Maroney had done to perfection at the London Olympics the year before. Hers was not quite as high or as clean as the gold medalist's, but it was pretty damn close. Biles stayed in the lead until the balance beam, when she fell and Ohashi edged ahead of her. After beam, Biles almost charged back into the lead, showing the powerful tumbling that would become her trademark. Ohashi, however, also hit floor and stayed in first. Biles finished in second.
Biles' placement in her first senior international meet, however, was not what impressed me. When she did her double-twisting double somersault on floor, she finished the twists and rotations so high above the mat that you started wondering if she could stash an extra twist in there. Biles made you think that the crazy skills gymnastics-happy kids dream up while playing "the Olympics" with dolls in their bedrooms — elements like triple-twisting double somersaults — are actually possible.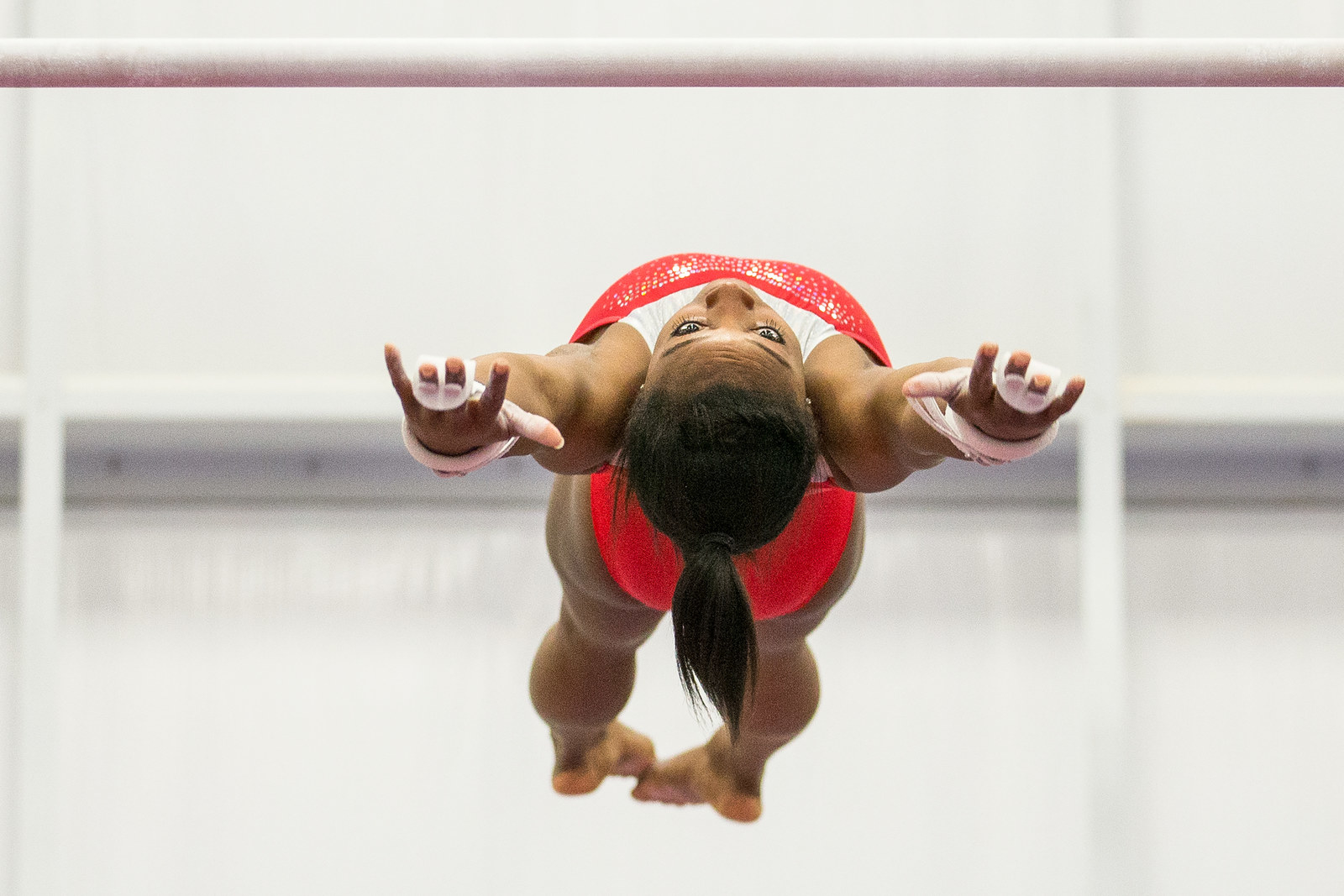 But despite all that, she didn't win the meet. Her innate, imagination-defying talent didn't guarantee success. After the American Cup, things continued apace for the next couple of months — Biles competed abroad in Italy and Germany, where she placed first and second respectively. Then came the 2013 Secret U.S. Classic.

This meet is a qualifying competition for the national championships. Gymnasts like Biles, who were already on the national team and prequalified to championships, use this lower-stakes competition to fine-tune their routines. Biles entered Classics as one of the top contenders for the title. This would be the first time she would be under any sort of pressure as a senior elite.
Biles went 0 for 3. She fell from the uneven bars, bobbled on the beam, and almost fell off. Next came floor, typically her best piece, where she fell to her knees after a full-twisting double back somersault. With that, Boorman pulled her from the last event, vault. "She just about tried to kill herself on her vault warm-up," Boorman said. "She could have done something that could've ended her career right then and there if I let her compete. I could tell that her mind wasn't where it needed to be."
Biles agreed with her coach's assessment of her mental state at the time. "I think I was just trying to live up to everyone's expectations that I kind of got lost in competing. I was just so stressed. I didn't know how to deal with a lot of it," she told me over lunch.
After that competition, when so much had been expected and she failed to deliver, Biles was devastated. "I knew she always had a passion for the sport, but then she was finding excuses — 'Well, I can't do this,' like doubting herself," Nellie said. Biles didn't believe she could be as good as everyone was expecting her to be.
Both her parents and coach thought that it was time for Biles to see a sports psychologist, a common suggestion for high-level athletes. "You just turned 16 and you have the whole world looking at you and they expect a certain level of performance from you," Boorman said. "You're not a normal kid, and you don't have normal kid problems."
"I was just so stressed. I didn't know how to deal with a lot of it."
Biles was resistant to the idea at first. "She said, 'You all think I'm crazy,'" her mother recalled. Eventually, she relented. She said that the psychologist has helped her manage her response to stress — especially her breathing — and how to communicate better with her parents and coaches, whereas before, she said, "I would just bottle it all up."
But perhaps Biles' true turning point came when national team coordinator Martha Karolyi invited her and Boorman to camp. Typically, national team members go to training camps at the Karolyi Ranch in Texas for about five days each month, where they work out with their coaches under Karolyi's watchful eye. But in 2013, between Classics and championships, it was just the three of them.
Karolyi had been interested in Biles' status after the disastrous performance at Classics and reached out to her coach. "Martha had them go to camp before nationals, just the two of them," Nellie recalled. After one day of training, the teenage Texan and the Romanian doyen had a talk. "That was the best thing that happened to Simone," her mother said of the individual attention she received from Karolyi in 2013. "She really embraces the things that Martha tells her. She was definitely showing an interest in her and telling her, 'You could do this.'"
After the private session at camp with Karolyi and regular appointments with the sports psychologist (which have sometimes included family members and Boorman), all Biles has done is win, win, win. First, she narrowly defeated the 2012 Olympic team gold medalist Kyla Ross for the national title. Then she went to Antwerp, Belgium, where she won the first of her three world all-around titles, again defeating Ross, who would, once again, place second. In the event finals, Biles added to her haul with the silver on vault, the bronze on beam, and another gold on floor.
Biles said she was surprised by her rookie-year victories. "It was very shocking that I won it," she told me of her 2013 world title. Her parents were even more flabbergasted. After all, the headiest short-term goal that Biles had told her mother at the start of 2013 was simply to make the national team. "Never did worlds enter that," Nellie recalled.
"You just turned 16 and you have the whole world looking at you. You're not a normal kid and you don't have normal kid problems."
Boorman, however, was not as shocked as her protégé or the Bileses were — nor, according to Boorman, was Karolyi. "I think Martha has known all along what her track was going to be," she said, which helps explains the extra attention Karolyi heaped on Biles, as well as the obvious pride that filled her voice when Karolyi spoke of Biles at the 2015 national championships.
When I mentioned to Karolyi that Biles had been rough around the edges as a junior, she interjected excitedly, "Right! That's exactly what it is." She seemed proud of the work that went into polishing the younger Biles. "We needed to make sure that she understands the difference of throwing skills and difference of being a world-class gymnast," she said.
"I think for me," Biles said, "the most fun competition that I've had was my first worlds." I wondered aloud if that was because there wasn't yet a lot of pressure on her. Biles seemed to concur. "Martha kept telling me, 'This is your time to make your name. It's OK to go out there and fall. You're making a name for yourself.' So I really had no pressure on, because nobody knew me at the time."
"Martha said it was OK to fall?" I asked. This did not sound like the Romanian coach known to esteem consistency above all else.
Biles laughed a little and backtracked. "She didn't say it's OK to fall, but you kind of just knew that if you went out there and made a mistake, that it's OK. I didn't have a name for myself yet, so just go out there and embrace the moment."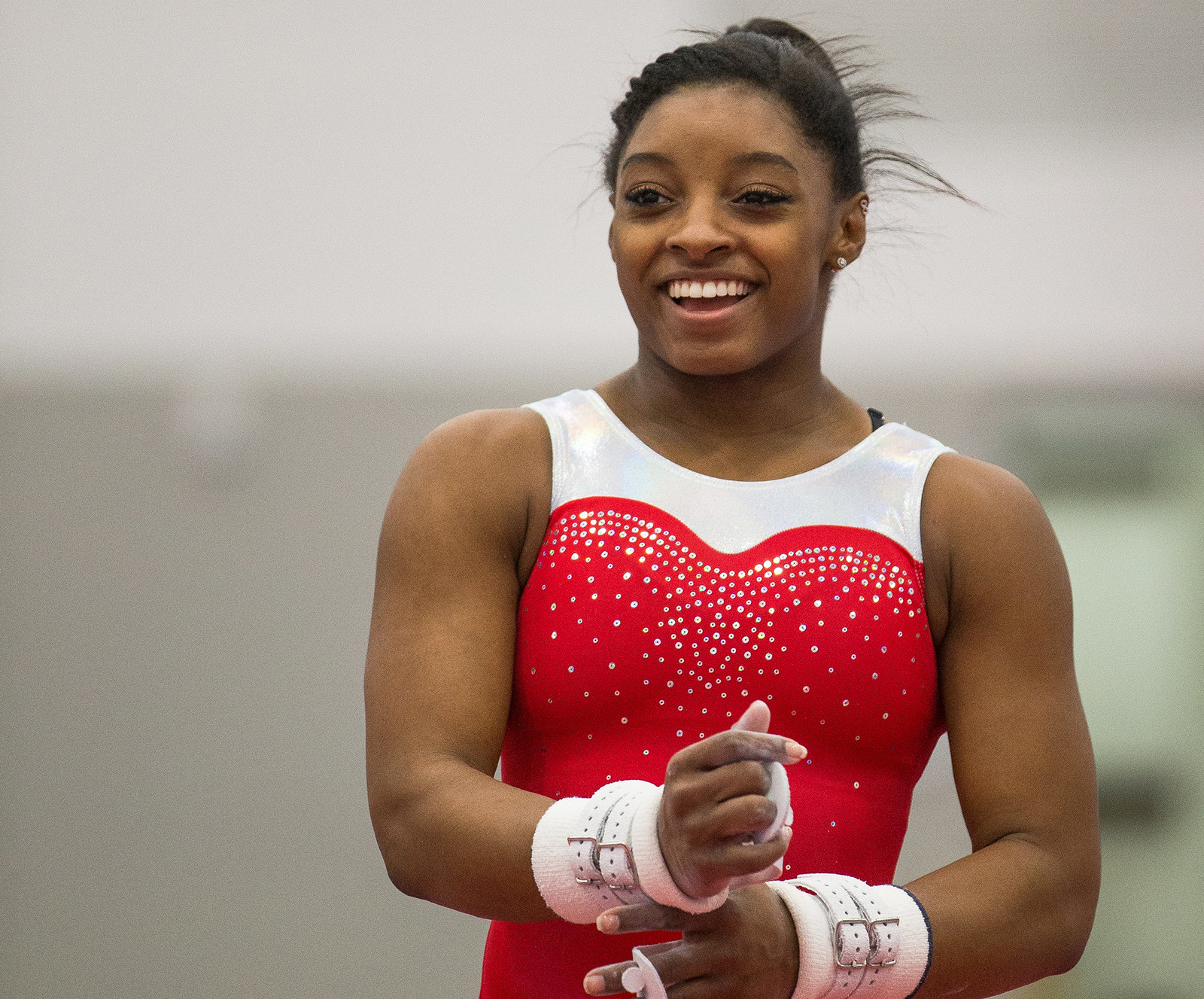 Something curious happened between 2013 and 2014: Biles went from being a contender for the title to the inevitable winner. No other gymnast need apply for gold; the rest of the field had all but ceded the title to her. I was at the 2014 world championships in Nanning, China, to do research for The End of the Perfect 10, and I watched Biles win the all-around in person. Nearly everyone I spoke to while I was there — from officials to judges to coaches, regardless of nationality — wanted to talk about the teenage Texan. They were flabbergasted by her abilities, by the seeming ease with which she performed the most difficult elements. What else can she do? Is there any way to stop her?

Short answer: No. Biles can't be beaten. It doesn't even seem that she can beat herself. When Biles walks into the competition, she often has more than a full point advantage over her nearest competitors. That's because, since 2006, gymnasts receive two scores: one for how well they do their routine (a score out of 10) and another that determines how difficult the routine is by adding up the value of the skills. The two scores are then added together, so you end up with scores like 14.667 instead of 8.9 or 9.5 or 10.
Biles can't be beaten. It doesn't even seem that she can beat herself.
Biles boasts the highest start values on three of the four events. On vault, she's usually up by half a point. Same for floor. And depending on the kind of day she has on beam — if she moves swiftly between elements, which boosts her bonus points — she can accumulate close to another half a point.
But this start-value advantage she has over the best gymnasts in the world doesn't fully account for the point spread in her victories. After all, at the 2014 national championships, she fell and still won by four points. Ditto in 2015 where she fell again and won by almost five points, ahead of her close friend and national team member Maggie Nichols, who went eight-for-eight at the competition.
What makes these victory margins possible is how cleanly she executes her routines (not counting the falls, of course). When she tumbles, she rotates easily, landing with her chest up and her arms overhead. On vault, she twists cleanly, her only deduction being a slight crossing of her feet and a step on landing. She does her full-twisting double back dismount from the beam with her knees together instead of pulling them apart for ease as other former champions have, and even nails handstands on bars, her weakest apparatus. When you add her above-average difficulty to her tidy execution, you get the two-, three-, four-, even five-point margins she's been winning by since 2014.
Even Douglas, whom Biles is relentlessly compared to — both are black American women who rank No. 1 and No. 2 in the world — scarcely stands a chance. The 2012 gold medalist made a remarkable comeback to elite competition in 2015 after a nearly two-year break from training. She hit all four apparatuses in the all-around final at the world championships, but the best she could muster was second place, a point behind Biles, who nearly fell off the beam, grabbing it with her hands when a front tuck went askew. Biles also landed out of bounds with both feet on floor, which is a mandatory three-tenth deduction. Taken together, those mistakes amounted to almost a point — or a fall — and yet Biles still emerged victorious, ahead of the Olympic champion.
"I was just glad that it was finally over and everybody got their three-peat. Everyone could finally put that out in the paper."
Though Biles had met everyone's expectations of becoming the first female gymnast to win three consecutive world all-around titles in 2015, the pressure had definitely gotten to her. "I was just glad that it was finally over and everybody got their three-peat. Everyone could finally put that out in the paper," she told me.
"Do you feel like they had their headlines ready?" I asked.
"Oh, yeah. They had it set before I even did it," she answered without hesitation. When I asked what the dominant emotion was after she'd won, she said it was one of relief. "That's what it feels like, a sense of relief. The whole world got the three-peat."
The pressure that Biles felt in at worlds will only increase now that the Olympics are upon us. After all, if she was feeling the heat at the world championships, which are typically watched by fans of gymnastics, what's going to happen when she has to contend with Olympic fans who pay attention to the sport only once every four years?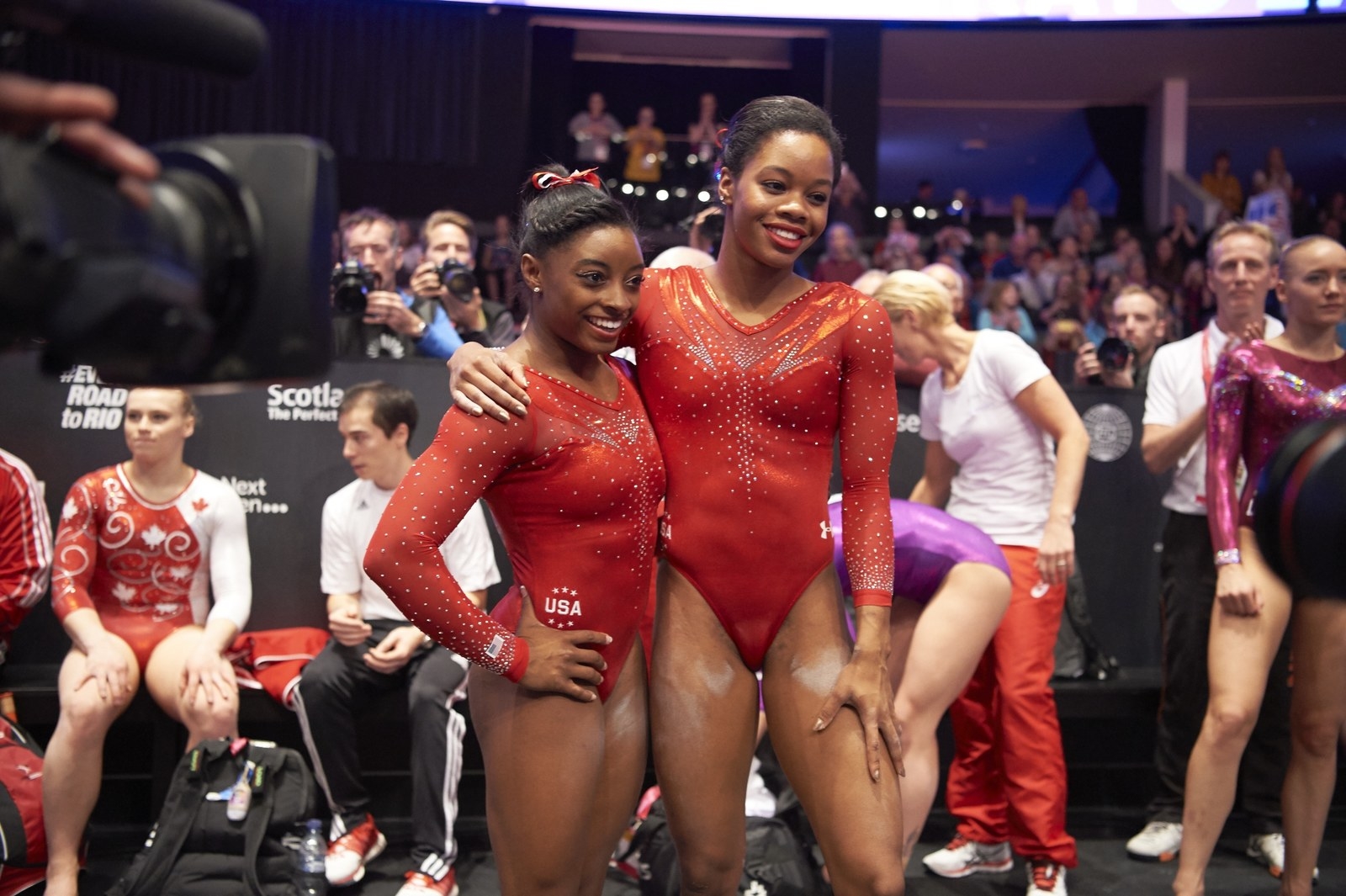 Adding to that pressure and scrutiny is the fact that she went professional halfway through 2015. Biles forfeited a full athletic scholarship to UCLA in order to make the most of the lucrative sponsorship opportunities that were to come her way as the odds-on Rio favorite.
In other sports, the moneymaking opportunities tend to come after college. Track stars can compete in the NCAA and then endorse products. Same for swimmers. But because most female gymnasts peak in their mid- to late teens, they typically can't accept an athletic scholarship and make money. Biles had to make a choice: Should she take the money while it's on the table or matriculate and become part of a college team?
A gymnast like Biles probably would've thrived in the NCAA — a path many elite gymnasts, including those with Olympic medals, choose. Judged according to less stringent rules and known for its exuberant fans, the NCAA is fun. Biles is team-focused, and in college gymnastics the team is sacrosanct. She also loves to cheer for the other gymnasts, domestic and foreign alike. During the all-around final, I could pick out Biles' voice from the din inside the SSE Hydro in Glasgow, the site of the 2015 worlds. She was cheering for Giulia Steingruber of Switzerland, a contender for an all-around medal. "Come on! You got it!" she yelled as the veteran Swiss gymnast was on the beam.
But she couldn't keep turning down all of the opportunities coming her way. "I can always still go to college," Biles told me, "but the window of opportunity of going professional is very [small] so I had to make a decision." She seemed pretty satisfied with her choice that day in January. That morning, I watched as she showed Boorman all of the booty Nike had sent her. In addition to the sportswear brand, Biles has inked deals with GK Elite Sportswear, United Airlines, Hershey's, Kellogg's, Procter & Gamble, and Core Power, a protein shake distributed by Coca-Cola. (Unlike 1996 Olympic gold medalist Dominique Moceanu — who alleged that her parents squandered her earnings building a 70,000-square-foot gym in Houston — Biles' parents insisted the gym was Nellie's idea and was built using her own investment.)
Boorman pointed out that for all the pressure Biles faces in the coming year, there's at least one thing she doesn't have to deal with: "As long as she's healthy, we know she's got a spot on the team." For the rest of the contenders, it's about fitting into the puzzle that is the U.S. women's Olympic team, trying to stay healthy, and beating out a bevy of talented gymnasts rising up from the junior ranks.
She also doesn't have to worry about upgrading her skills, as many of her teammates and rivals are doing. Instead, the goal is avoiding injury and burnout, something that befalls many gifted teenagers. "There's been lots of talented kids that have come through gymnastics through the years and they burn out because they just push," Boorman said. "They work so hard, so long, so early, that by the time they get to where they can be on the world stage, they're just tired."
So what's Boorman's plan for these pre-Olympic months? Boorman likened it to having been on a diet and lost the weight. "You just have to maintain where you're at," she said. "We're not going to up the hours, we're not going to decrease the hours. We're just going to hold steady."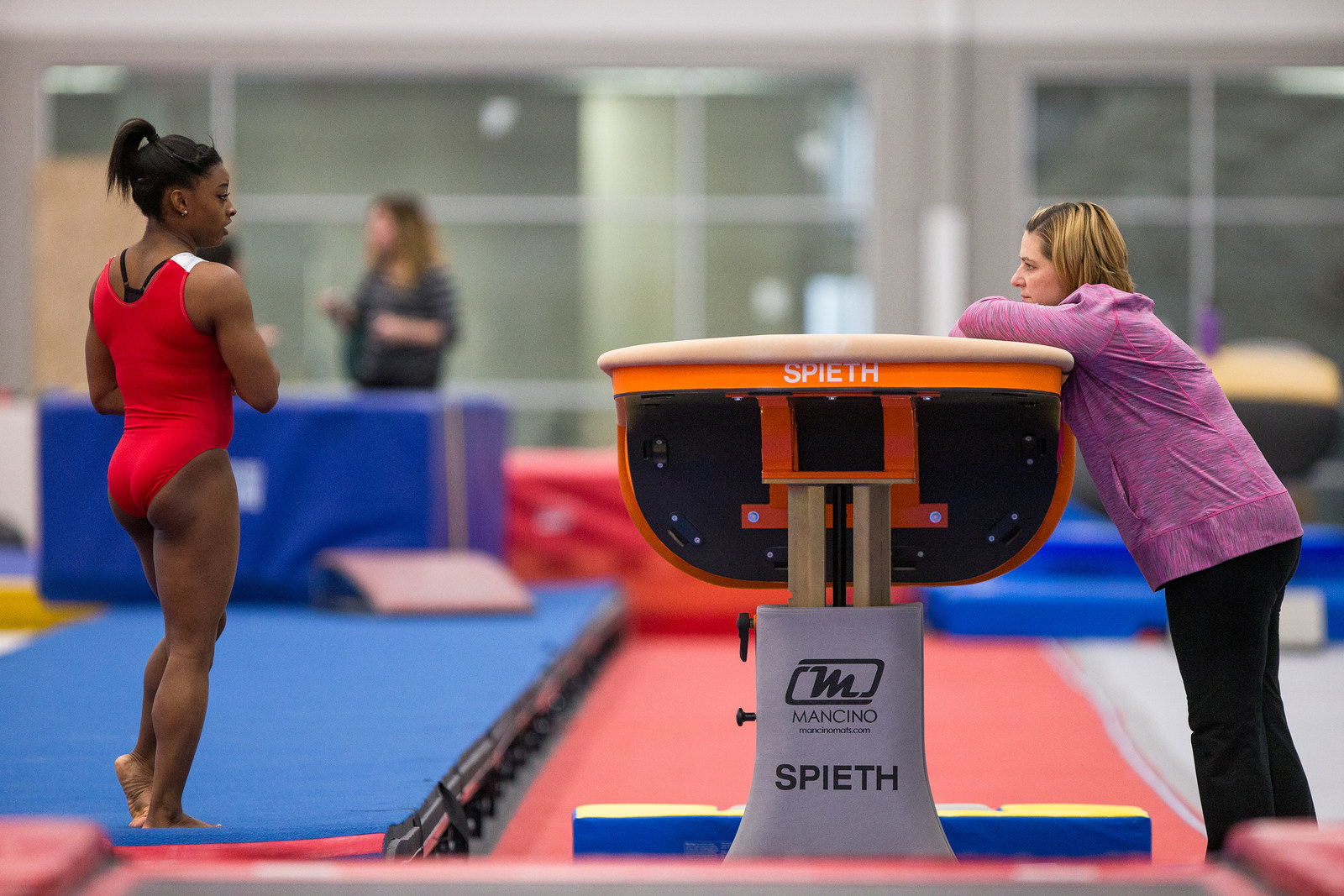 Holding steady, while smart, has a downside. "It's hard because she likes to try new things," her coach admitted. At that January practice in Texas, I watched Biles play around with new release combos on the uneven bars that the world is unlikely to see her do in competition. Terry Walker, who until March was one of the other coaches at WCC, also showed me clips he had recorded on his phone of her playing around with new tumbling passes onto soft Resi blocks of foam.
When I started to get excited at the prospect of seeing these skills in Biles' already jam-packed routine, he shook his head. Not worth it, he explained. Because her routine was already so difficult, swapping out one of her old, reliable passes for something new barely conferred more than a tenth of added value. And since they were new and unfamiliar, changing the passes would increase the odds that she might miss it in the decisive moment, when all of the Olympic pressure would be on her at the games in Rio.
The skills that Walker showed me were not the most impressive thing I had seen Biles do. A few years ago, Boorman posted a video online of Biles doing the unthinkable — a double-twisting double-somersault dismount from the beam. Biles usually performs the series with only a single twist. But in this video, Boorman had coaxed her into throwing an extra one in there, just for fun. The coach told me that you can't simply order Biles to do something. "It can't be your idea," Boorman said. She has to want to go for it herself.
Biles' independent streak is not new; it stretches all the way back to her early years in the sport. At a developmental camp, Boorman recalled, Biles was supposed to do 20 leg lifts on the bar during the physical abilities testing phase. "She did 10 and jumped down, and Martha came over and was like, 'Why did you get off the bar?' And she just said, 'I was tired.'" It was not an issue of ability — she was strong enough to keep going — but of will. "She just didn't want to do any more," Boorman said.
"Her personality does not fall into the mold of what you would expect an elite athlete to be."
Biles' personality is unique among elite gymnasts. Gymnastics bills itself as the "toughest sport in the world," and implied in that billing is that its athletes work longer and harder than those in other sports. It's rare to encounter a gymnast with an innate sense of moderation, one who knows when to push and, perhaps more significantly, when to pull back.
"I think that her personality does not fall into the mold of what you would expect an elite athlete to be," Boorman said. "She's dedicated and she's driven, but not to a degree that she's going to miss out on other things in her life." Biles is dedicated to gymnastics — she trains 32 hours a week, after all — but she's no zealot. And neither are her parents. "Martha wants the girls to practice all the time," her father said. "I'm going to take Simone on vacation as often as I can. They need to get away."
This attitude is in stark contrast to what you hear from other elite gymnasts and their families when discussing the sacrifices they've made for the sport. One of the most common complaints is that they're not able to go on vacations together since the girls rarely get more than a day or two off from training. Not so with Biles and her family, said Boorman. "She's not like, 'I will not miss a day of gym.' She'll be like, 'Can I please have two days off in a row?'"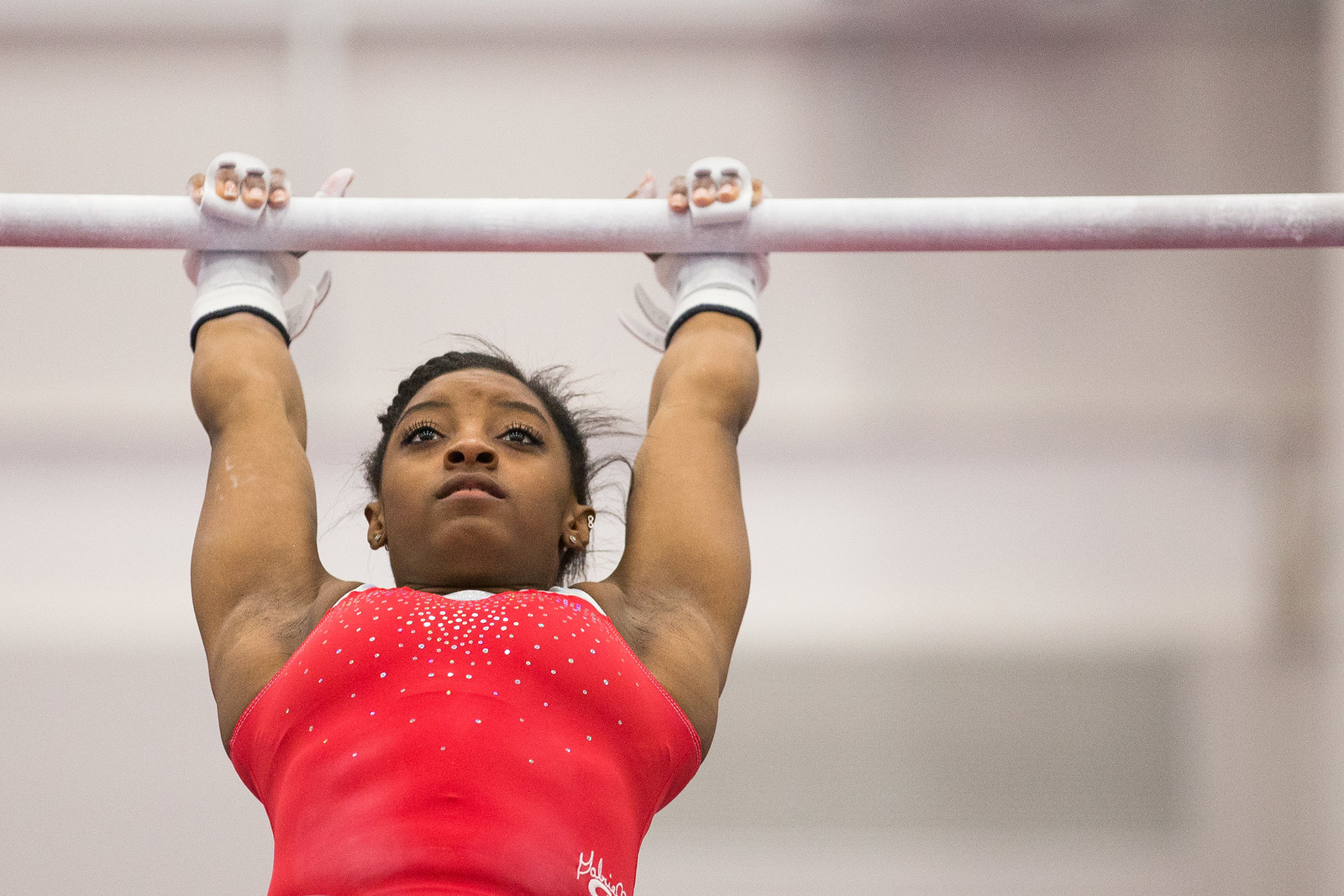 To think about Biles and the upcoming games in Rio is to feel simultaneously confident and insecure. Her fans don't have to fear that she'll be bettered on technical grounds: She's so dominant she can win with a fall. But that doesn't mean they don't have any concerns.
"People comment on my pictures, 'Stay healthy,'" she told me, referring to the notes fans leave on her Instagram — a pressure Dominique Moceanu certainly didn't have to face 20 years ago. She admitted their comments scare her a bit, but she doesn't share their anxiety. "I feel great. I've been healthy these past years. Don't jinx it."
At 2015 national championships, I asked Rhonda Faehn, the current senior vice president of the women's program, what the team would look like without Biles on it. What if she got injured? "I won't let my mind go that route," she said.
After all, Biles could be key to the U.S.'s success. A couple of months later, at the 2015 world championships, gymnastics blogger Lauren Hopkins pointed out how vital Biles' scores are to the current dominance of the U.S. program. "Between 2014 and 2015, the U.S. team improved their finals score by about two points. Of these two points, seven tenths came from Biles with the other 1.3 divided among the other four gymnasts," she wrote.
Biles won't speak so loftily about herself — she says things like, "If I make the Olympic team" — but even she seems to grasp how important she is to the U.S. program. During the choreography session, Boorman and Zito joked with her about representing Belize at the upcoming Olympics. Like the rest of her siblings, Biles is also a citizen of the Central American country where their mother Nellie was born and raised.
I pointed out that USA Gymnastics probably wouldn't agree to release her to compete. In order to change national affiliation, gymnasts face obstacles like being released by the last federation they competed for and waiting at least a year before representing the new country. The wait is even longer if your previous federation refuses to quit you.
"If I have kids, they'll probably claim those too," she joked. If USA Gymnastics has its way, there will be future generations of Bileses in spandex, flipping and twisting for gold.
But first, she has to stay healthy and make it to the Olympics. "They're already crowning her queen and so many things can happen," her father said.
One potential roadblock that everyone I spoke to was keenly aware of was the so-called world champion jinx. There's enough anecdotal data to suggest that making the leap from world to Olympic champion is difficult; in fact, the last female gymnast to do so was Ukrainian Lilia Podkopayeva in 1996. Boorman spoke to me about watching Shawn Johnson, the 2007 world champion, discuss her 2008 Olympic experience finishing second behind Nastia Liukin. "She was doing an interview about how at the Olympics, she was terrified. They showed video clips of her [and] she's like, 'I have never been so stressed out and nervous in my entire life.' I didn't realize it when it was happening, but when I watch the video now, I can see the fear in her eyes. She looked like she was about to cry."
Nellie also worried about the pressure her daughter would soon face. "I don't even want to be her," she told me. "If — not if, when she pulls it off, I'm going to absolutely break down and cry. It's just going to be a meltdown for me. I know what she goes through. It's just so much."
Biles, for her part, seems less worried, at least outwardly, about the media attention and pressure. In a conference call in March, she told reporters, "I've never been to the Olympics so I don't know what to expect. It's better for me, just like my first worlds. … My third worlds, I knew what it was like so I was like, Oh my goodness. But this is my first Olympics, and not knowing what to expect is good for me." It's a neat little mental trick she's trying to pull off, to find the common thread between the Olympics and her favorite competition to date in order to relieve some of the mounting pressure.
And it seems to be working. At the Pacific Rim Gymnastics Championships, her 2016 debut, Biles was absolutely stellar. She showed an upgraded vault, which will probably assure her the vault gold in Rio. Her bar routine — once her worst event — was effortless; her beam surefooted. Biles, who is often quoted as saying that she tries to "break the beam" when she competes, stamped the apparatus into submission. Each solid landing produced a reassuring thud. Her routine both looked and sounded secure, a treat for at least two senses. At the end, Biles stuck her full-twisting double back dismount with so much height to spare so you could imagine, at least for a split second, what it would look like with another twist in there.
Then there was her floor, the samba-inspired routine she first learned back in January. It had all of her trademark moments: the stratospheric tumbling, the stuck landings, the playful Marilyn Monroe–style femininity when she mimes an "Oh!" with her hand over her mouth. The edges of the routine had been smoothed out, just as they had been when Biles was a rough junior trickster. Biles hadn't quite yet reached passista levels of sultriness, but maybe you can only truly become one when you're dancing in Brazil. •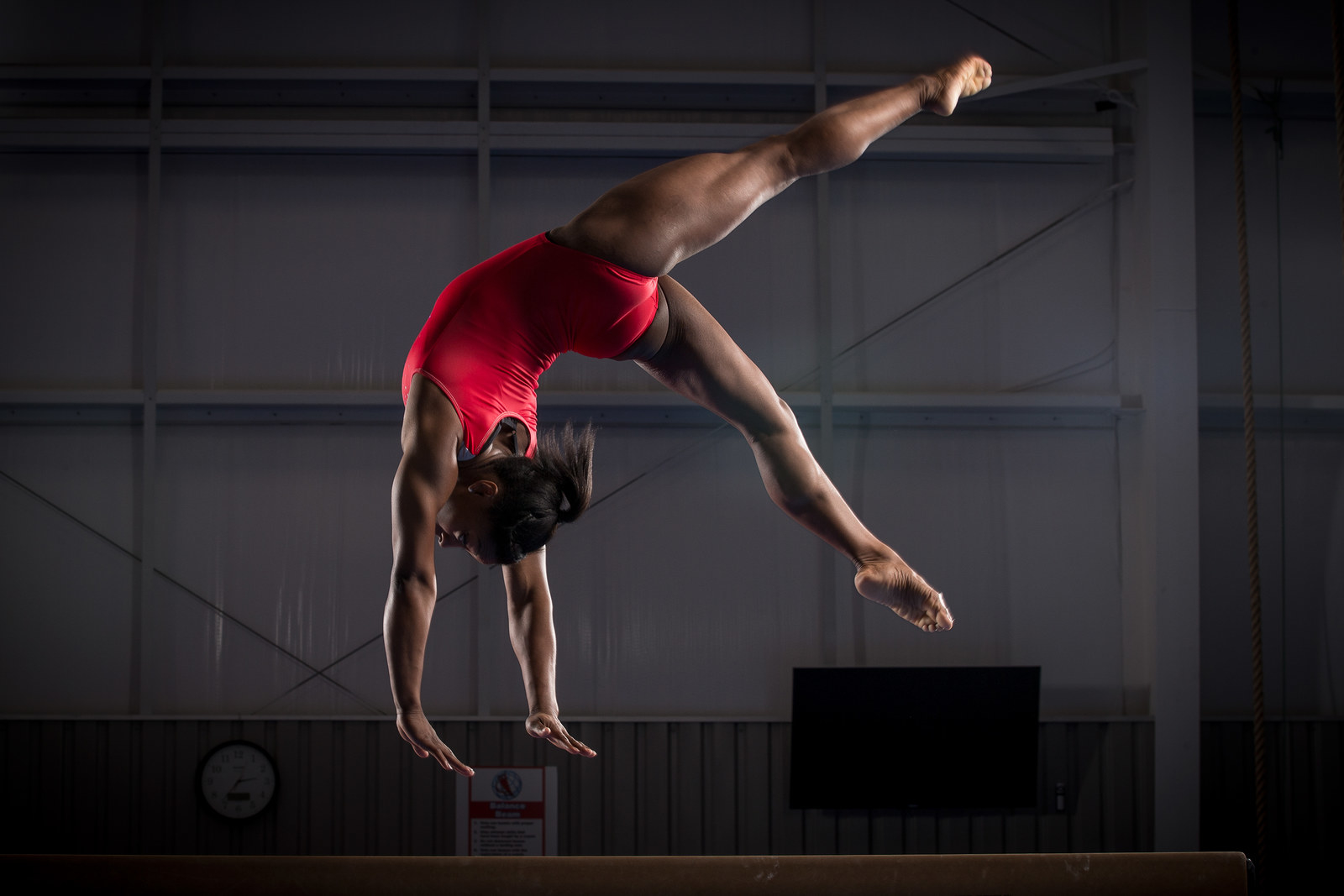 CORRECTION
A previous version of this story misstated how many years ago Dominique Moceanu competed in the Olympics.