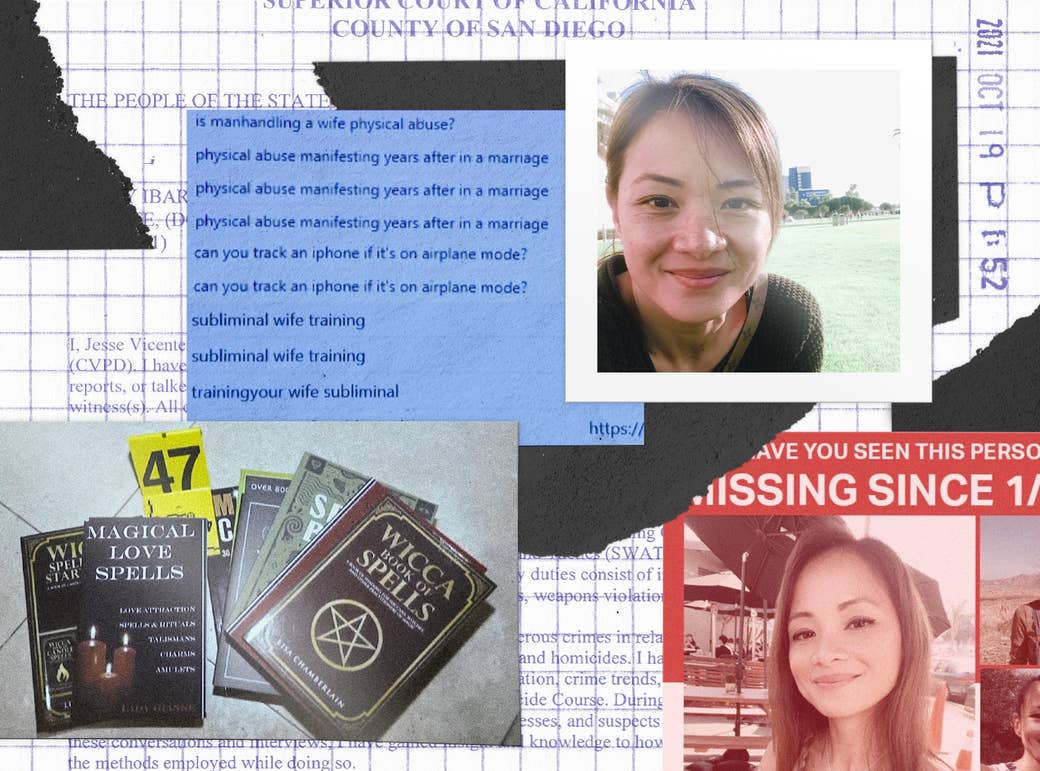 Bang.
The night was still and cold when the first bang shattered the silence of the Chula Vista neighborhood, on a street nudging San Miguel Mountain and far from the hum of San Diego traffic.
Bang. Bang. Bang. Bang.
A dog started barking, growing louder and more intense as more bangs rang out. Finally, a minute and 20 seconds after the barrage began, the eighth and final bang sounded. The dog became quiet.
Thirty minutes later, the neighbor's surveillance camera recorded the sound of the children playing outside. It was 10:30 p.m. and the temperature had dipped below 50 degrees. What were the kids doing outside at this hour, on a school night in January? the neighbor wondered.
Their mother, Maya Millete, a successful civilian contract specialist for the US Navy in San Diego, had been captured on a surveillance camera earlier in the evening on Jan. 7, 2021, ushering the children inside the million-dollar home she shared with Larry, her husband of 20 years.
But even with the noise and her children playing so late, she didn't come out. Maya was never seen again.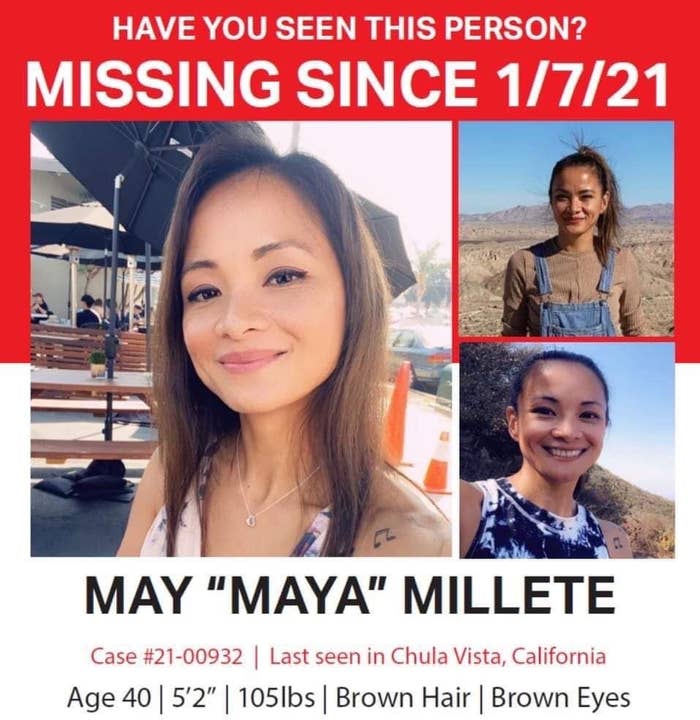 Initially, police investigated Maya's sudden disappearance as a missing person case. Her husband told them the couple had been having problems and that he believed she'd left him. But her family immediately suspected trouble: They organized volunteers to search the hillsides, called local hospitals, and brought in an investigator. It was the investigator who ran across the neighbor's surveillance camera that captured the bangs, which were never conclusively determined to be gunshots. None of the neighbors' cameras showed Maya leaving the house alive.
Larry's arrest on suspicion of Maya's murder was announced nine months later on Oct. 19, 2021, and to this day, her body has never been found. But police documents and court testimony have revealed the staggering amount of circumstantial evidence in the case: the phone call Maya made to a divorce attorney, the increasingly desperate messages that prosecutors said Larry sent seeking magic spells to harm her, the odometer that showed he drove hundreds of miles right after her disappearance that he allegedly couldn't account for to authorities.
When the case goes to trial, it will all contribute to the "corpus delicti," the Latin phrase meaning "body of the crime" — even though a body is not part of the evidence. "No body" murder cases depend on a totality of evidence to prove a crime took place, and though it may be less tangible than a traditional prosecution, they have an incredibly high success rate: About 86–87% of the defendants are found guilty, Tad DiBiase, a former federal homicide prosecutor who now studies and tracks "no body" murder cases, told BuzzFeed News.
"I think that's because prosecutors only take the strong cases to trial," DiBiase said. "They're not going to take a weak no-body murder case because the defense is so obvious: We don't even know if she's dead, right, let alone whether this guy had anything to do with it."
What happens in Larry's case remains to be seen; a trial has been set for Oct. 9. But based on the evidence shared by prosecutors so far, Superior Court Judge Dwayne Moring agreed there is a "strong suspicion of his guilt" during a preliminary hearing earlier this year.
And while Larry's defense lawyers have used the fact that no body was found to argue that Maya is still alive, prosecutors stressed that the 39-year-old mother would not abandon her children and the life she worked so hard to create.
"She did not just fall off the face of the earth," Deputy District Attorney Christy Bowles argued. "She lived for and adored her children. She would not and did not leave, voluntarily, her children."
Maya and Larry's romance began in paradise.
They met in Honolulu, where her family had immigrated from the Philippines. But instead of plumeria, the fragrance that surrounded their beginnings as a couple was from the french fries at the McDonald's where they worked as high school students.
They married young, at age 19. He joined the Navy and they eventually relocated to San Diego, where she continued her college education. After graduating, she began a career as a civilian contractor; when Larry's military service ended, he too became a civilian contractor, working in the optometry department of the Naval Medical Center San Diego. They had three children and bought a five-bedroom house in an upscale neighborhood in Chula Vista, a 30-minute commute from their jobs in the city.
It wasn't lavish wealth, but they'd come a long way from McDonald's: They drove expensive cars and traveled. Maya owned designer handbags and jewelry; Larry had a massive gun collection, including seven assault rifles, three shotguns, and five handguns. Police would later find a photo on Larry's cellphone of the couple's 4-year-old son standing on a table surrounded by firearms.
Maya was devoted to her children and thrived at work. She enjoyed hiking and the outdoors, singing and playing the guitar. She loved music, and tattoos of musical notes cascaded across her shoulder and collarbone. At some point, however, she stopped loving Larry.
She had at least one affair, which Larry suspected and tried to stop, testified Mathew Grindley, an investigator for the San Diego County district attorney's office. In the year leading up to her disappearance, the couple argued and reconciled, but ultimately, Maya decided to finally end the marriage that she found toxic.
"I want to be happy, and happy is not with you," reads a handwritten letter addressed to Larry that police found on a bookshelf in their primary bedroom. "… I've been gone mentally and emotionally for a very long time, which you failed to notice until I found the strength to initiate physically leaving."
"Let me find my peace; I cannot find it with you," the letter concludes.
The letter was dated Aug. 29, 2020, and police aren't sure whether Larry ever read it. If she found peace, it was only in death: Prosecutors allege that Larry killed her on Jan. 7, 2021.
Throughout 2020, according to communications and other electronic history presented by prosecutors in court, Larry made increasingly desperate efforts to "save" his crumbling marriage and dominate his wife — to make her love him, be submissive, and above all, stay. Family, friends, and investigators testified at the preliminary hearing that he changed the lock on their safe, tracked her movements, diverted money from her personal bank account, accessed and monitored her credit card and emails, text messages, and social media accounts — sometimes even sending messages himself from her accounts, pretending to be her or, more brazenly, identifying himself.
The couple briefly separated in early 2020; she moved in with her brother and sister-in-law, but returned to Larry about six weeks later.
But according to her sister-in-law Genesis Tabalanza, he kept close tabs on her. He secreted one of their children's phones in her car so he could track her movements and even followed her himself, including to her workplace, where he once confronted her and a male coworker when he saw them sitting together in the man's truck, she said. That was the day that, Genesis added, Maya returned with Larry to the Tablanzas' apartment, packed up her things, and moved back home.
Larry didn't just allegedly follow Maya to work — he actively interfered with her job, one former boss testified. In early 2020, Larry emailed Maya's boss at the time, Derek Sopp, requesting that he move one of Maya's male coworkers to another division.
"I'm trying to help May get her bearings back and focused," Larry wrote, according to an email presented in court. "I think it would help her reset herself, and our relationship as well."
In another email, Larry allegedly wrote that she had "gotten a little too personal" with the coworker and that "it's putting quite a strain on our relationship."
As a result, Sopp testified, she resigned and took a job elsewhere, saying she "wanted to try something different" and that "it would be best for her marriage."
In a series of texts to her brother Jay-R Tabalanza on Aug. 12, 2020, which were shown in court, Maya described Larry's behavior as "toxic and mentally abusive."
"He NEVER lets me be by myself. He checks all my emails, messages, messengers, FB posts. … He even checks my VENMO app. And then what? He'll just tighten the reins more."
Grindley testified that in late 2020, Maya sent messages to Larry demanding that he stop playing subliminal messages on devices that were allegedly installed around the house. Genesis said Larry told her that these included messages he had recorded like "I love you" or "Love me" hidden in the background of the white noise.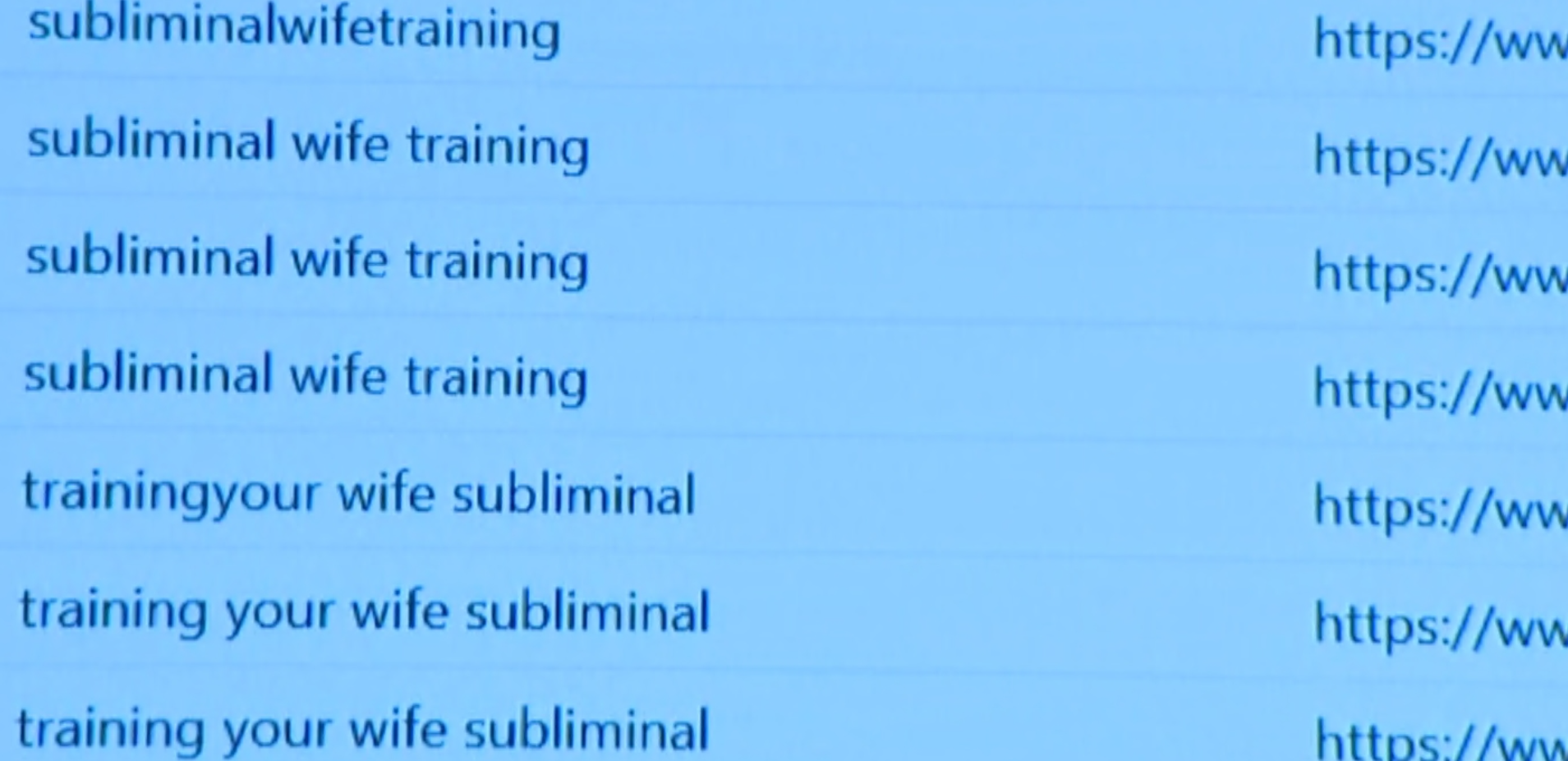 Chula Vista Police Detective Lorenzo Ruiz testified about Larry's internet search history, showing screenshots of the searches that included "subliminal wife training," "training your wife subliminal," and "training your wife subliminally to suck cock."
The most alarming, perhaps, were Larry's requests to spellcasters.
James Rhoades, an investigator for the district attorney, testified that between September 2020 until her disappearance, Larry sent more than 1,000 messages to a number of different online spellcasters, paying $1,154.05 on more than 70 spell purchases. Larry also allegedly ordered a love wanga, dolls that according to one astrology retailer website "summon the forces of the night, supernatural forces … that could work in behalf of the person who possesses it." The love wanga specifically promises to help "a past lover to return or a present lover to commit." Police also found books about magic spells — one was titled Magical Love Spells — during a search of the Milletes' home.
According to court documents, Larry sent messages at least once a day to psychics, spirit channelers, and white light practitioners to purchase spells and/or ask for help to make Maya obey him, fall back in love with him, and, as he grew more desperate, incapacitate her — through injury or illness — so that she would have to rely on him.
Rhoades showed some of these messages in court during the preliminary hearing:
"I would like a powerful love spell to bind my wife, May Millete, to me forever. To have her love me unconditionally like I love her."
"If you are able to cast a spell to cause bodily harm or cripple without killing."
"Is there a spell you can cast for May to be dependent on me and weigh her down?"
Meanwhile, their marriage continued to fray. Prosecutors played in court a video they said Maya had secretly recorded of an argument she was having with Larry in October 2020, in which her husband seems to confront her about having an affair with a coworker. "So that's enough for you to wish death on me, all the time?" she asks her husband in the video.
The messages took a darker turn on Dec. 27, a week before she was last seen, when one said, "Please Punish May and incapacitate her enough so she can't leave the house. It's time to take the gloves off."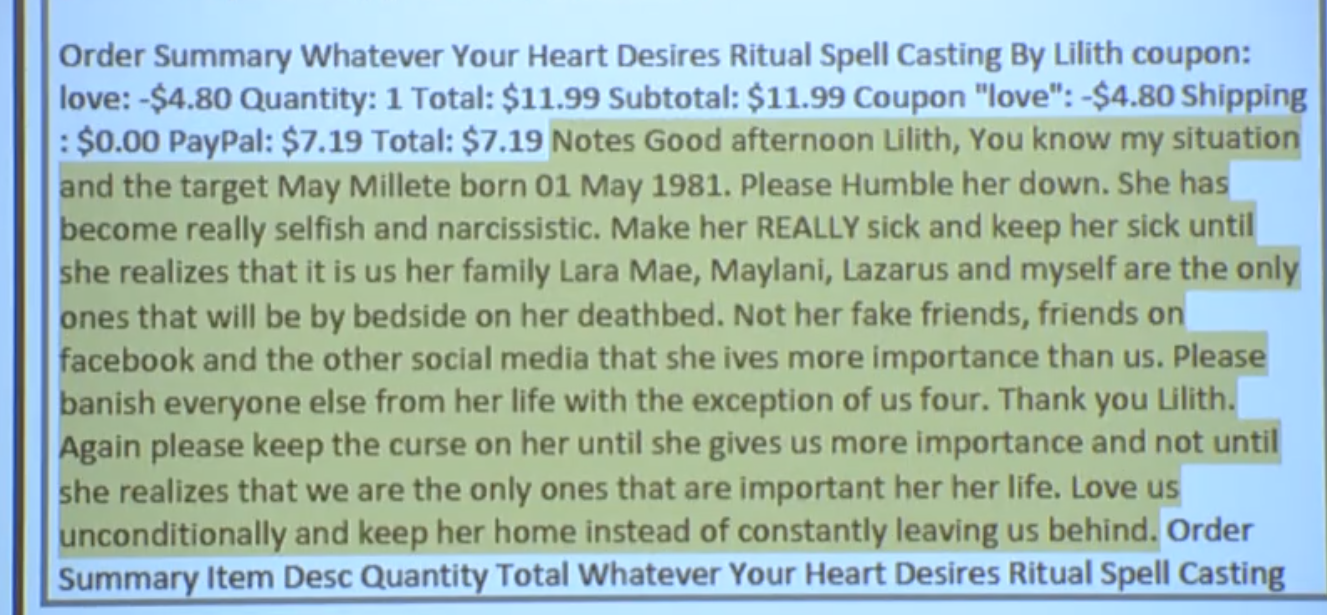 "If something happens to me, it's gonna be Larry," Maya told her sister, Maricris Drouaillet. She testified that she shared this during a conversation with her family during their New Year's Eve vacation in Glamis, California, when she revealed she intended to leave Larry and asked them to lend her money for a divorce attorney.
"Get ready: I'm gonna file for divorce, and it's gonna be messy," Maya said, according to Maricris. "It's gonna be a messy divorce."
As the family was celebrating amid the sand dunes, Larry's messages for spells allegedly became even more specific, revealing that they were riding dirt bikes in the desert and asking, "Can you hex to have her hurt enough that she will have to depend on me and need my help. She's only nice to me when she needs me or sick. Thanks again. Maybe an accident or broken bone."
Days after their return from the trip, Maya messaged Maricris and another sister asking to borrow money and to help sell some of her jewelry and designer Louis Vuitton handbags. Larry controlled their finances and she was strapped for cash, Maya told her sisters.
"I need to borrow 10K for divorce attorney," Maya wrote. "Can I pawn you guys my Rolexes? Also can you take some of my LVs.. the ones he won't notice as missing or not being declared?"
Maya allegedly had reason for concern: Larry had once choked her until she passed out, she confided to one friend, according to police.
Larry himself alluded to assaulting his wife in an internet search that included "is manhandling a wife physical abuse?" and "physical abuse manifesting years after in a marriage," according to Grindley, one of the district attorney's office investigators.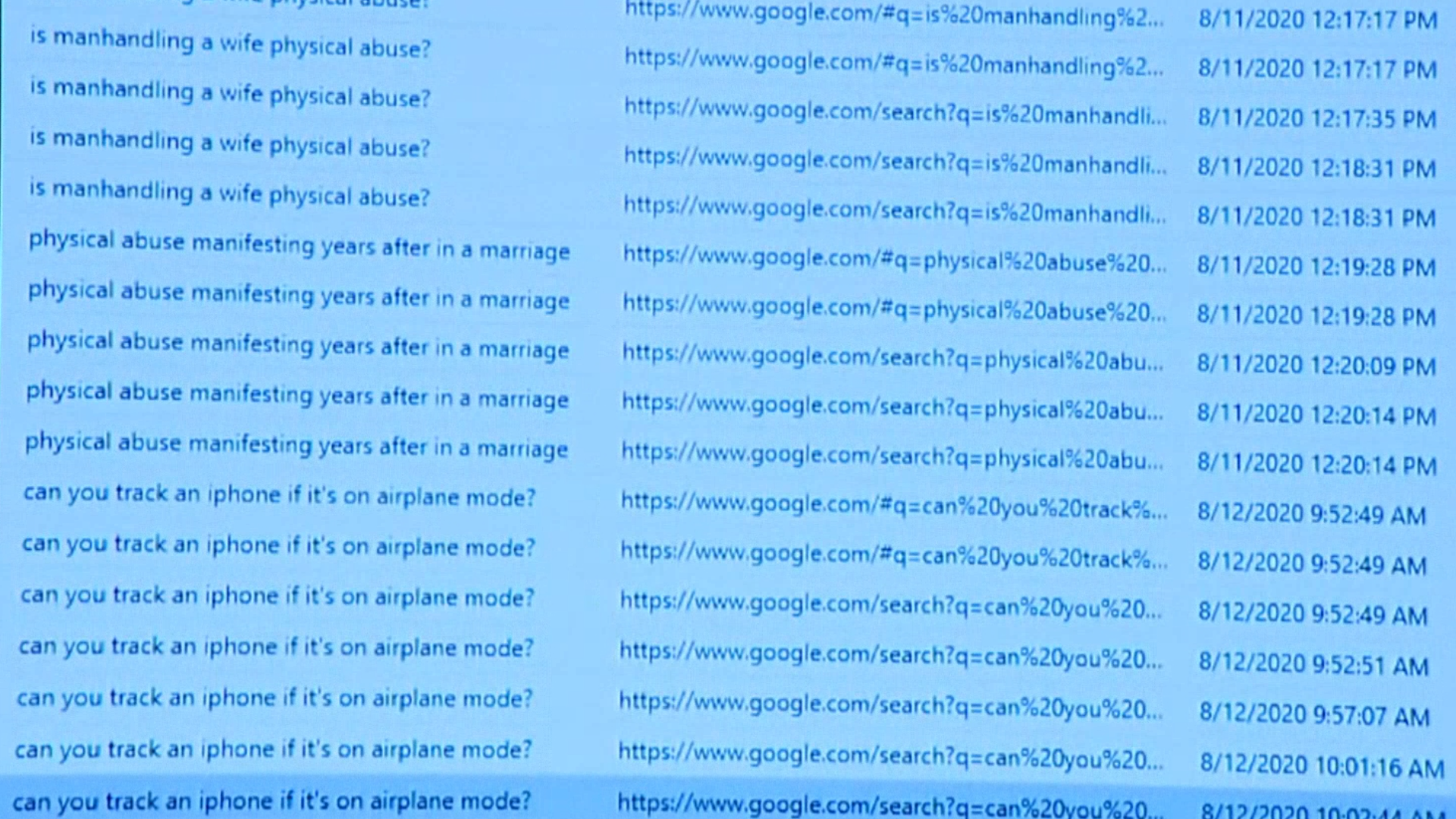 Grindley also said that a few weeks before her death, on Dec. 16, Larry had searched the internet for flunitrazepam and its brand name Rohypnol, commonly referred to as a "date rape" drug, and other sedatives. "Common over-the-counter meds to incapacitate adults" was another search.
When asked by Larry's defense attorney whether Grindley believed Larry was poisoning his wife, he said "yes."
"I can't factually say he was poisoning her," he said. "I can see other evidence that backs up."
That includes messages Grindley found from Maya to Larry and posts on her private social media account that Larry was giving her vitamins that made her drowsy and that she refused to take them anymore.
Larry's messages to the spellcasters were becoming increasingly "violent," Rhoades testified.
"I'm desperate to calm her down."
"Make her sick and keep her really sick."
"My wife May is adamant about getting divorced. She's saying we're over and she's done trying."
"Thank you, please don't abandon me. She just tells me she wants to co-parent. Not as husband and wife."
"She's out of control and pushing, I think she wants me to snap."
On Jan. 6, he called in sick, telling his supervisor he was "mentally, physically, and emotionally spent." His boss could see why: Larry had shared a screenshot of a text message he received that day from his wife.
"I DON'T WANT TO BE YOUR WIFE ANYMORE," Maya texted Larry. "I'm filing whether you like it or not. I should have left a long time ago and this time I'm not going to look back and say that again."
On. Jan. 7, in the last call Maya would ever make, she scheduled an appointment with a divorce attorney for the following week, on Jan. 12. She didn't want Larry to know yet — the family would be celebrating their daughter's 11th birthday in Big Bear that weekend, and she didn't want anything to spoil it.
Meanwhile, Larry was texting his boss, "I'm not right" and "I'm about to lose it," Grindley testified.
And then, in a message sent at 3:02 p.m., he allegedly told a spellcaster:
"I'm shaking inside ready to snap."
Maya's last known communication was at 8:15 p.m. on Jan. 7, when she shared an ad with her family on Facebook Messenger.
After writing spellcasters every day for months, Larry sent no messages on Jan. 8. On Jan. 9, prosecutors said, he asked a spellcaster for all hexes to be lifted on Maya — but requested that further hexes be placed on the man he believed to be Maya's boyfriend.
Early on Jan. 8, at 6:35 a.m., Larry's phone was turned off — and it stayed off for 12 hours, until 6:33 p.m; he said he simply forgot it at home.
Larry had a busy day. At around 6 a.m., a neighbor's surveillance camera captured the family's black Lexus SUV being repositioned in the driveway. Although it was already parked with its back to the garage, a driver can be seen pulling it forward and then backing it in closer to the garage, at an angle that blocks the view into the car and the garage.
Larry later claimed that he was loading tangerines and trail mix because he was taking his 4-year-old son to the beach — on a chilly, foggy winter day. The SUV pulled out of the driveway at 6:45 a.m. and didn't return home until just after 6 p.m. that evening. Police later calculated that the vehicle had been driven about 444 miles that day.
The driving distance from the Milletes' house to Solana Beach (where Larry had claimed he'd gone, but could not accurately identify on a map, according to police) was under 40 miles. If he'd actually gone there, that would still leave 350 miles — approximately the driving distance to Phoenix — unaccounted for.
Specific satellite navigation details about the 2015 SUV's route were not available, but a police search of its infotainment system found that two and a half hours before his 6 p.m. arrival, Larry had entered his address for directions to get home.
That evening, Maya's younger brother, Jay-R, came by the house. He didn't know about the series of bangs or Larry's unusual movements, but he was concerned that he hadn't heard from his sister, he testified. His niece answered the door and told him that Maya had "been locked in her room for 11 hours now and she hasn't fed us."
Larry told Jay-R he had just gotten home from work — a lie.
Maya's father, Pablito Tabalanza, visited the house on Jan. 9 because Jay-R told him "something bad happened." In court, he testified through an interpreter that Larry had called him more often during 2020 than usual and wanted him to help persuade Maya to stay with him.
At the house, Larry told Pablito that Maya was in the locked bedroom and didn't answer when he knocked. Pablito asked Larry if he had a key. There was no need to search for it: Larry had it in his pocket and unlocked the door. The fact that the room was empty was perhaps less surprising than the fact that Larry had a key; only Maya was supposed to have access to that bedroom, Pablito said.
Later that night, Maya's sister Maracris — not Larry — was the first person to report Maya missing. Larry never joined any of the search parties over the following days and months; he maintained that she was still alive and had selfishly left on her own.
"May, my wife, had expressed interest in leaving the family," he wrote in a September 2021 court declaration seeking to block his in-laws from having visitation with their grandchildren. "She has been intoxicated more frequently, out drinking with friends and with her relatives."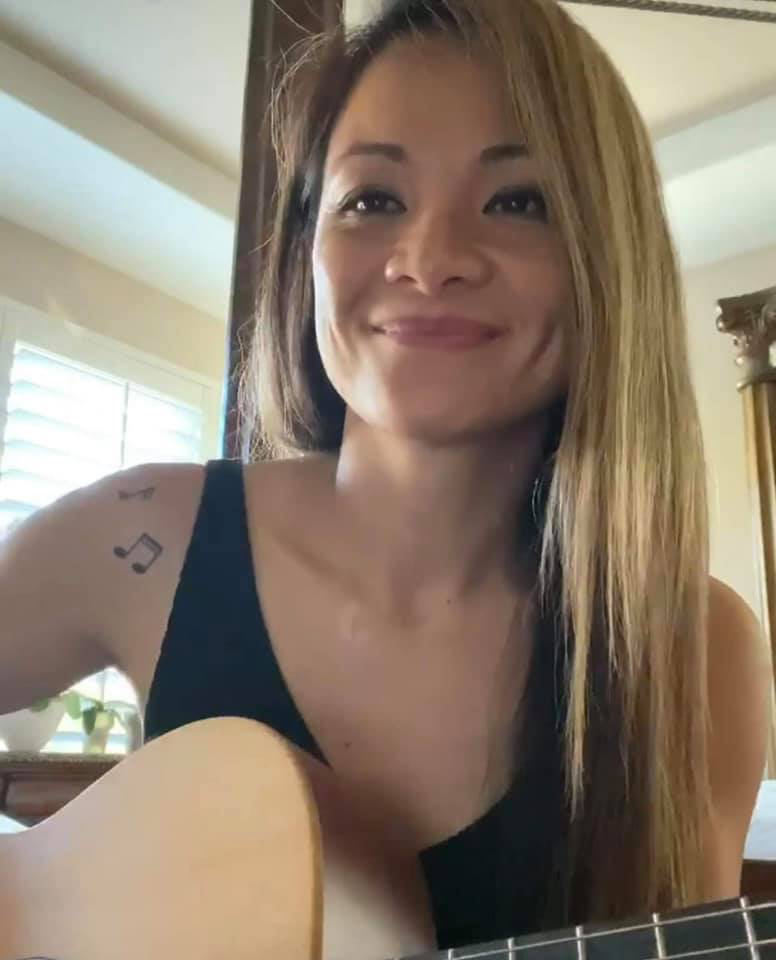 Despite her family's view that Maya would not abandon her children, career, and material possessions, police at first seemed to believe Larry when he said she chose to leave because of their marital problems, according to an investigator who worked with Maya's family.
Billy Little Jr., who began helping the family search for her several days after her disappearance, told BuzzFeed News the police at first accepted Larry's story about what happened: "Sometimes they get tunnel vision: 'They were having family problems. She took some money, she left town, whatever.' They start listening to that narrative, and then they close their mind. And they don't see the stuff that you and I would find to be obvious. And they're not willing to listen."
With an urgency that Little and the family believed lacking in police, he got a head start on the case. He knocked on the Milletes' front door, showed his identification, and Larry let him in and gave him a tour of the house. (Larry would later claim in a court filing that Little posed as an agent with the Naval Criminal Investigative Service [NCIS] and entered his home under false pretenses.) There, Little found a hole in the wall next to Maya's bedroom door that he said had been "freshly repaired." Police later photographed the patch themselves and shared the image during the preliminary hearing.
"Let's say the door is locked and you wanted to break in the door or get through the door. You could punch through that hole, reach through the other side, and unlock the door from the other side," Little speculated.
Little was the first one to ask neighbors to share the footage obtained by their surveillance cameras, including the series of bangs, and shared his discoveries with police, he said.
Police executed their first search warrant of the Millete home on Jan. 23, two weeks after she was reported missing. Should police have acted sooner? Even Jay-R, though alarmed and anxious about the lack of communication from his sister, was reluctant to intervene at first, feeling it would be "intrusive" to press Larry, the man he considered a brother for two decades.
But a closer look at what happened before her disappearance raises clear suspicions, Judge Moring said at the preliminary hearing. To believe Larry's story that Maya ran away, the judge said, "the court would have to be convinced that Ms. Millete abandoned her life, which included three young children, whom she adored, an ailing mother, siblings with whom she was incredibly close, ownership of a million-dollar home, a six-figure income from a thriving professional career, personal savings and wealth in the form of stocks, expensive purses, and jewelry, extremely close relationships with friends, and her newly purchased beloved Jeep Wrangler."
"There is a marked contrast in the defendant's actions before Ms. Millete's disappearance and afterward that provides a strong suspicion of his guilt," the judge said, before ruling that Larry would be tried for murder.
Her family and community conducted massive searches for Maya until nearly the fall of 2022. They created a website, HelpFindMaya.com, dedicated to the search efforts. Slowly their efforts shifted away from active searches to prayers. They held a vigil in her honor to mark the one-year anniversary of her disappearance, and a hike on the second anniversary on the trail near Maya's house where she so often hiked herself.
#HelpFindMaya became #JusticeForMaya. On Jan. 25, 2023, the day a judge ruled that Larry would be tried for Maya's murder, the Facebook page once dedicated to finding her posted the news with a short caption:
"One step closer to #justice." ●

Don't forget to subscribe to our true crime newsletter, Suspicious Circumstances, to get true crime deep dives delivered straight to your inbox every week. Sign up here.