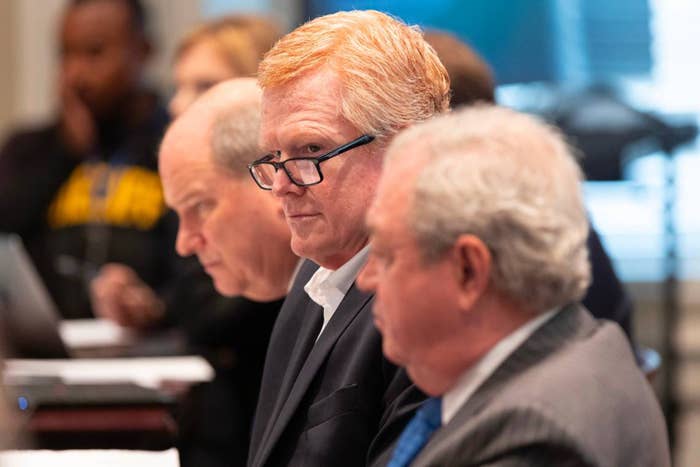 In closing arguments before a jury found Alex Murdaugh guilty of murdering his wife and son, prosecutor Creighton Waters referred to him as a "family annihilator."
"The defendant is the person on which a storm was descending," Waters said, referring to the imminent exposure of Murdaugh's lies and financial crimes.
"Those pressures mount," he said, "and someone becomes a family annihilator."
It was the first time in the trial that prosecutors had used the term, and many observers and commentators were unfamiliar with it. Forensic psychiatrist Park Dietz first used it in the 1980s, but these days, experts generally refer to "familicide" for family mass murder.
These killings generally fall into two categories, Louis Schlesinger, professor of forensic psychology at the John Jay College of Criminal Justice in New York, told me. "One is the 'despondent' familicidal offender. This is somebody who's very depressed, kills his family to save them from living in this horrible and cruel world. And he does this as sort of an act of mercy and very often kills himself or tries to kill themselves."
A "paranoid" familicidal offender, in contrast, "sees his family in a proprietary way, an ownership way. And very often the murder itself is triggered by jealousy — perhaps the wife was with somebody else, that type of thing — and he just kills everybody as a form of punishment," he added.
The he/his pronouns are intentional. "What you're gonna find in general with respect to murder: This is a male thing," regardless of whether it's a single or mass murder, Schlesinger said. "Do women kill? Of course, but it's predominantly by and large men."
I asked Schlesinger whether the profile is different between a murder-suicide and a killer who doesn't harm himself after he's killed his family. (Murdaugh himself allegedly arranged for someone to kill him three months after the murders so that his surviving son could get an insurance payout. But the shooting only resulted in Murdaugh being injured.)
"Very often they'll say, 'I wanted to kill her and myself, but after I killed her, I just didn't for some reason.' That's because the emotion is released on the victim, and there's nothing left for himself," Schlesinger said.
The murders also often happen in a brief period of time, with a killer acting while everyone is at home, Schlesinger said. Still, he cautioned against overgeneralizing. "These are unique cases with different circumstances and facts and dynamics. And so it's very hard to draw a 'profile.'"
Here are five of the most well-known US familicides. The circumstances are unique — especially in the List case — but the killers, like Murdaugh, each responded to a "gathering storm" by taking their families' lives.
Michael Haight, 42, fatally shot his wife, 40-year-old Tausha Haight; her 78-year-old mother, Gail Earl; and the couple's five children — 4-year-old Gavin, 7-year-old twins Sienna and Ammon, 12-year-old Brilee, and 17-year-old Macie — before killing himself on Jan. 4. Just two weeks earlier, on Dec. 19, 2022, a caseworker from the Utah Division of Child and Family Services had visited the Haight home as part of a newly opened investigation into allegations of child abuse by Michael Haight, according to records obtained by the Deseret News, and Tausha filed for divorce on Dec. 21. According to the caseworker, Tausha said that Michael had previously "threatened to commit suicide or 'make her life hell' if she left him."
Chris Watts, then 33, strangled his wife, 34-year-old Shanann Watts, and then used the same blue blanket to smother their two daughters, 3-year-old Celeste and 4-year-old Bella. He dumped the girls' bodies in oil barrels in a facility where he worked and buried their mother in a shallow grave nearby. After first claiming that Shannan and the girls had disappeared, Watts then said he had strangled her after seeing her kill their daughters. Watts eventually confessed to murdering his whole family, telling police he had been having an affair with a coworker and told Shannan he didn't love her anymore. She responded by saying, "You're never gonna see the kids again," and he said he "snapped" and strangled her. Watts pleaded guilty to murder in November 2018 in a deal with prosecutors to avoid the death penalty and was sentenced to three consecutive terms of life in prison.
John List and his wife, Helen, were both 46 when he fatally shot her; his 84-year-old mother, Alma; his 16-year-old daughter, Patricia; his 15-year-old son, John; and his 13-year-old son, Frederick. The family lived in a mansion just 16 miles west of Manhattan, but List, an accountant, had been fired from a series of jobs and the bank was about to foreclose on the home. In a confession letter he left for his minister, List, a devout Lutheran, said that the potential for his children to be on welfare "was just more than I thought they could and should endure."

List was methodical, even taking a lunch break between the killings. He lined up the bodies of his victims on sleeping bags on the floor of his home's ballroom (except for his mother — he noted in a chilling postscript in his confession that "she was too heavy to move"), turned down the thermostat to 50 degrees, fled across the country, and lived under an assumed identity for nearly two decades. He was famously captured after a May 1989 episode of America's Most Wanted covered the case, displaying an uncannily accurate forensic sculptor's impression of how he would have aged. He died in prison in 2008 at the age of 82.

(For more about the case, including heartbreaking interviews with the victims' friends and neighbors, check out NJ.com's gripping nine-part podcast about the case, Father Wants Us Dead.)
Anthony Todt was called a "destroyer of worlds" by the judge who gave him four life sentences for murdering his 42-year-old wife, Megan; their 4-year-old daughter, Zoe; and their two sons Alek, 13, and Tyler, 11, in their Disney vacation home. (He was also found guilty on one count of animal cruelty for killing the family dog, Breezy.) Police found the badly decomposing bodies of the family when they were serving a federal arrest warrant for Todt, who was being charged with healthcare fraud related to his struggling Connecticut physical therapy business. Before his arrest on Jan. 13, 2020 — weeks after killing his family — Todt had apparently been living at home with the corpses.

Todt told differing accounts of the killings, originally confessing to smothering and stabbing them but later shifting the blame to his wife. Todt had told police that he intended to kill himself too, saying, "everybody needed to die in order to pass over to the other side together because the apocalypse is coming."
Christian Longo was sentenced to death (later commuted) for killing his wife, MaryJane, 34, and three young children — Zachary, 4, Sadie Ann, 3, and Madison, 2 — and then dumping their bodies along the Oregon coast. Longo, then 27, fled to Mexico, where he was arrested a month later. Like other family annihilators, Longo was mired in debt, struggling to maintain an extravagant lifestyle without the means — besides credit card debt and stealing — to support his spending. Like Watts and Todt, Longo implicated his wife in the murders, claiming she drowned two of their children and tried to smother Madison; enraged, he strangled her and then killed Madison because he "thought of her as dead at that point."

Longo's story became an ouroboros: When in Mexico, he pretended to be Michael Finkel, a disgraced journalist who had fabricated much of a feature story for the New York Times Magazine. Finkel later worked with Longo to write a book about his life, True Story, which was made into a forgettable film starring James Franco as Longo.

Don't forget to subscribe to our true crime newsletter, Suspicious Circumstances, to get true crime deep dives delivered straight to your inbox every week. Sign up here.