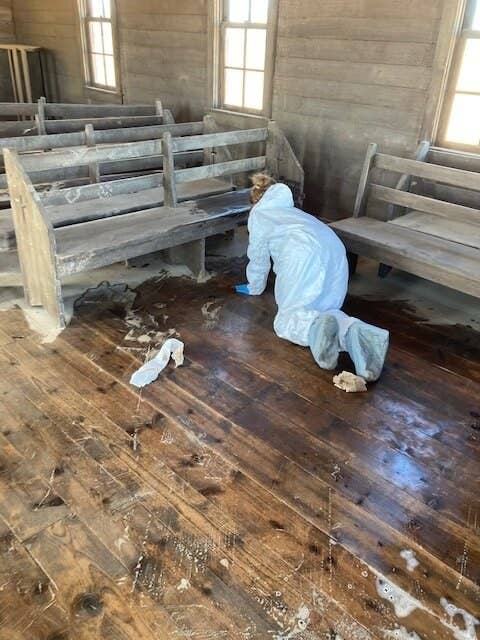 True crime followers know exactly what happens when someone is murdered: Typically, police unspool crime scene tape, homicide detectives and crime scene technicians survey the scene and collect evidence, and the coroner's office transports the body for an autopsy.
But then, everything that remains from the victim is the responsibility of the family or property owner to clean up — a horrific thought, especially for people who have already endured so much trauma and tragedy.
Many hire professional crime scene cleaners to do the job for them, like Spaulding Decon, the company founded by former cop Laura Spaulding, or National Crime Scene Cleanup (NCSC). I reached out to both companies and spoke with Spaulding and two staffers at NCSC: Gabby Martin, head of content marketing and media, and senior crime scene technician Mike Andrews.
Andrews was involved in the cleanup on the Rust set after Alec Baldwin fatally shot cinematographer Halyna Hutchins — and wrote in an NCSC blog that the paparazzi even confused him for Baldwin: "All I know is that being yelled at with questions about the shooting and having photos taken of me while I was working to remove the biohazards from the set is a day I'll never forget," he said.
Honestly, I'll never forget the fascinating, horrifying, and surprisingly heartwarming things I learned in my interviews with these crime scene cleaners.
(And if you don't want the somewhat gory details, stop reading now and we'll see you next week!)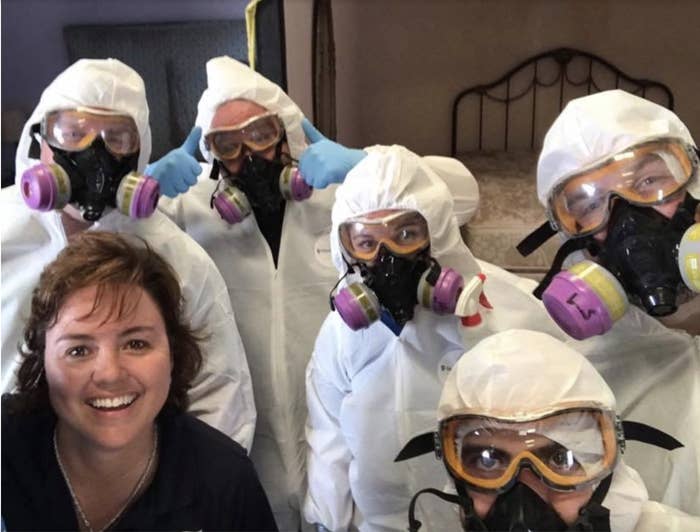 How did you get into this business?
Laura Spaulding, Spaulding Decon: While working the scene of a double homicide [as a police officer], a family member of the deceased approached me and asked, "Who is going to clean this up?" I had been working in law enforcement for 8 years and no one had ever asked me this question before. All I knew was that law enforcement did not, contrary to popular belief. I went home to do research and quickly realized there was a need for this service and very few companies provided it. At that moment, I decided this was something I could do and something that would bring me joy. No one should ever have to clean up their loved one's remains. I wanted to give victims' families the opportunity to grieve peacefully without the burden of cleanup.
Mike Andrews, senior crime scene technician with NCSC: My buddy is a manager for the NY branch to the National Crime Scene Cleanup Association and told me they were hiring and encouraged me to apply. I put in an application and believe I was hired based on my experience in construction. Since then it's been wild... helping others is a daily motivation for me to continue going, despite the mess and the trauma.
At what point do you come in to the process? Do you interact with the police at all, or are you first contacted by the families?
Spaulding: Situations vary; however, more often than not, we are called on to the scene after the coroner's office has retrieved the body and police have already performed their investigations. There have been times when we have arrived and the body was in the process of being removed, but for the most part we only deal with the cleanup and biohazard material that is left from the deceased.
Gabby Martin, head of content marketing and media for NCSC: So typically, a crime scene occurs; a bystander or family reports it to the police; the detectives or investigators respond, document, and collect evidence; then they move to close the crime scene. It's a process that takes roughly 24–72 hours, although in some states it can take up to a week. Sometimes law enforcement calls us on behalf of the families, or they refer families to call us. Other times the scene is closed and families are left with the remnants… in which case they search online for a solution and they find us.
How do you work with the families? Is there a "grief counseling" element of your job?
Spaulding: Our company was founded on empathy, and that is the very core of our existence. We lead with empathy and want to be as resourceful as possible to the families. In addition to cleanup, we also have a partnership with a mental health organization which allows us to offer our customers four free therapy sessions and unlimited texting for a month. This is available to our customers as well as our technicians. We strongly believe in taking care of our mental health first and foremost, as that is a priority in order for us to do such a difficult job time and again.
Andrews: Lots and lots of tears. Sometimes the property owner/landlord is on the property and the family is not, though typically it's frazzled, confused, sad, and depressed family members. Grief-stricken, angry family members are common too. Thankfully, many come up to us and express their gratitude, and the feeling that you've been able to inspire hope in them during such a dark — probably the worst — time in their life is really what keeps me going every day. No exaggeration.
You certainly have to be part counselor — you have to be empathetic, open to listening, patient, and kind. You need to be sensitive, but you also need to be able to detach from the situation and your surroundings. You need to take the role of a counselor without completely replacing one, if that makes sense.
What is your typical process for a crime scene cleanup?
Spaulding: When we receive a call, we gather as much information as possible in order to assess the scene. We provide an estimate and we help our customers file a claim with their insurance company, as more often than not, many of these cleanups are covered under their homeowners insurance policy. Once that has been taken care of, we come to the scene with our equipment, protective gear, and special cleaning solutions. We do a very thorough job cleaning any surface that has come into contact with body matter, especially fluids that can seep through surfaces. More often than not, we find ourselves removing drywall, carpets, tile, you name it.
Martin: My company takes [Occupational Safety and Health Administration], [Department of Transportation], and local and state protocols very seriously. After all, an error that seems minor can actually create a serious issue that exposes everyone on site to a life-threatening illness or circumstance. That is why all cleaners are certified, licensed, and trained to do these types of jobs through OSHA.
That means having a plan to minimize exposure to all and any dangers at the site. A supervisor comes up with a plan to deal with contaminated areas, the supplies appropriate for the job, the level of PPE required, and what actions to take if someone is exposed (or suspects exposure).
We arrive at the scene in an unmarked work van (to respect the privacy of our clients — naturally we wouldn't want our neighbors to see a murder cleanup company when the incident is so fresh) and enter the home in PPE. A family member may or may not be there — in which case, like you asked earlier, they are usually crying, distraught, frazzled, and not in their [usual] state of mind. Yes, we respond by trying to be their backbone and reassure them that they aren't alone in what they're going through, answer any questions they may have, and provide them with a sense of hope, comfort, and stability. We are there to help them during their time of need.
Depending on how the occurrence happened, we may need to remove wall panels, flooring panels, ceiling panels — especially if they are saturated with biohazards. Carpet is the worst because bio usually always seeps through the carpet fibers into the flooring beneath — and if there's wood floors beneath the carpet then they can seep through the wood as well. The bio can get down into the foundation even — and yes, that will need replacing. It's a lot of physical labor and demolition.
We also try to keep as many valuables in the home by decontaminating them with foggers loaded with EPA-registered disinfectants. We strive to use the top-of-the-line disinfectants that are environmentally friendly and do not cause allergenic reactions, so the premises can be entered as soon as the restoration is complete.
The biohazards have to be properly contained in biohazard containers and properly labeled and color-coded. We also need special licensing on our work vans to transport them.
Once the job is completed, we work with the insurance companies directly for payment. There's no reason why these families should have to pay — they're already going through enough. We are here to help them.
What is the general goal of a crime scene cleaner — to make the place spotless or just clean up the blood/biological matter?
Spaulding: The main goal is to return the home to its original state prior to the occurrence. Primarily we want to give the homeowner a home to return to. We know we can't erase the pain they are experiencing, but at least we can erase the scene from their home. We know this is an increasingly stressful and painful time for them and we want them to have that time to focus on their families and their healing.
Martin: Our ultimate goal is to restore the premises to take one thing off the family's plate and to ensure that the highest level of public health and safety is protected and upheld.
Have you ever found something that the police "missed" before they released the scene back to the families?
Spaulding: There have been instances where police have concluded an outcome to a situation and we have come in after and found other items that could lead them in a different direction with their investigation. We always report when that happens. We do our due diligence but we are not investigators, so our assessment is only speculation.
Martin: Yes, unfortunately, more often than you'd hope. One very harrowing recent one happened in Long Island, New York. It was an alleged suicide. The police responded to the scene and found an elderly man that had apparently committed suicide in his living room. When we responded to the scene, we got to work, but noticed that where the blood had pooled was inconsistent with a regular suicide cleaning. As opposed to the blood being projected in one area of the room, it coated the room at all different angles, which suggested to us that the scene had not been thoroughly processed. We immediately called the police and noted how the blood pooled on the walls, and they reprocessed the scene to discover that, although a gun had been close by, the TV had been left on, and the trauma had occurred while he was sitting in the chair. There was no gunpowder residue on his hands at all. When you fire a gun, the blast leaves gunpowder residue on the hand of the gunman for up to 72 hours. The son was investigated and discovered to have gunpowder consistent with the ammo and gun used at the scene. The son had killed his father to try and cash in on his life insurance policy. He was charged with murder and entered a plea deal for 15 years in prison with eligibility for parole.
What have been your most challenging crime scenes to clean up? Why?
Spaulding: The most challenging crime scenes are the ones that involve children. It is heartbreaking any time an innocent child's life has been taken. As a parent myself, it hurts to see other parents grieving the loss of a child. We have cleaned up suicides and experienced firsthand the families' reactions, and it is devastating.
On the plus side, we have received many letters from [YouTube] viewers who were contemplating suicide and decided otherwise because they watched our process and didn't want to put their parents through that. That part is rewarding. If we can stop at least one person in their tracks from making a tragic decision, then it was worth it.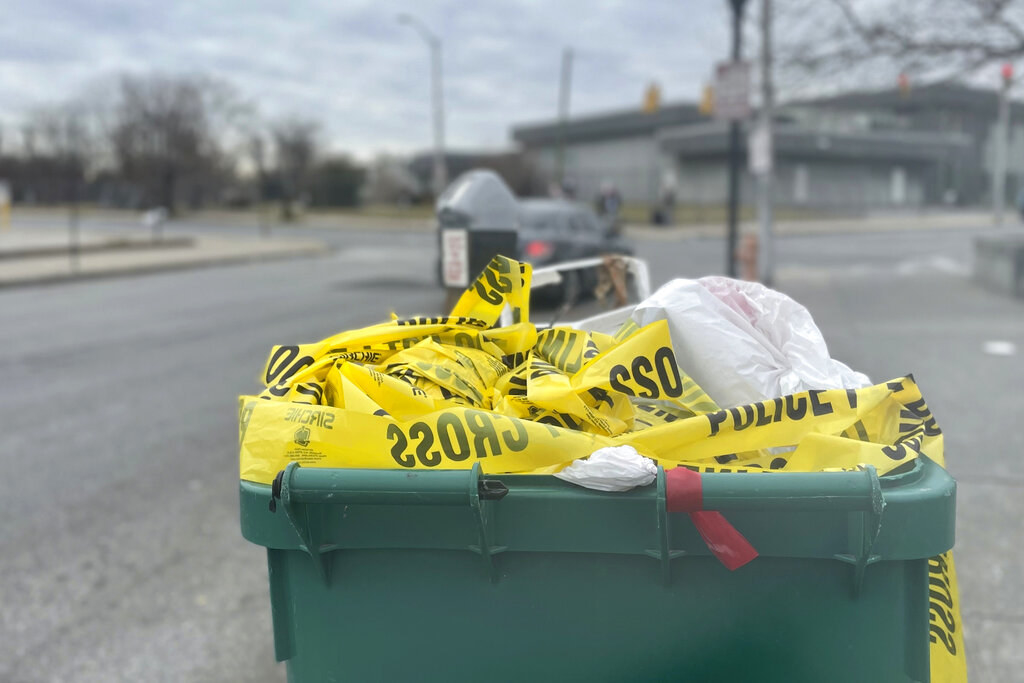 Andrews: Most challenging one had to be cleaning up after the windmill cleaner that got stuck on top of a windmill stack and died. We had to take additional OSHA courses just for that job — courses on properly suiting up and climbing tall structures. It was challenging to clean and especially challenging to make sure I was properly rigged with the hooks and lines to keep me protected while I climbed up the structure to clean the top — where the incident occurred and bio was. It's also a tightly confined space — not much room to move around. We don't recommend this job if you're claustrophobic.
Is there a specific case that haunts you the most? If so, why?
Spaulding: There are several but this one particular case took place in my neighborhood. It was a large, beautiful luxury home … This family had just moved into the neighborhood and the husband decided to walk up to the attic and end his life with a shotgun to the head. This scene had so much matter that the walls were covered in blood from top to bottom. It essentially looked like a scene from the movie The Shining. We were picking up brain matter, an eyeball from a vent, and other biohazardous content for days. I guess it surprised me as someone looking from the outside in. Many people assume that wealthy families are the happiest and free of stress. No one is exempt from pain.
Martin: The one that haunts us the most was a call by a landlord that suspected a decomposition odor and a possible unattended death in Texas. ... The landlord called paramedics, who discovered that the man was actually still alive. He had been bedridden for so long that his bed sores and excrement had attached him to the mattress… He died at the hospital, due to sepsis.
Your blog for National Crime Scene Cleanup about the Alec Baldwin shooting is so fascinating! How long were you at the scene and what exactly did your work entail?
Andrews: We were at the scene for about a full day. It wasn't the most labor-intensive cleanup — just swathing down the floors with an antimicrobial spray, light scrubbing, and properly disposing of the small amount of skin and flesh left behind. The set was tense and many were choked up about what had happened. The FBI was also present and keeping a close eye as they completed their investigation.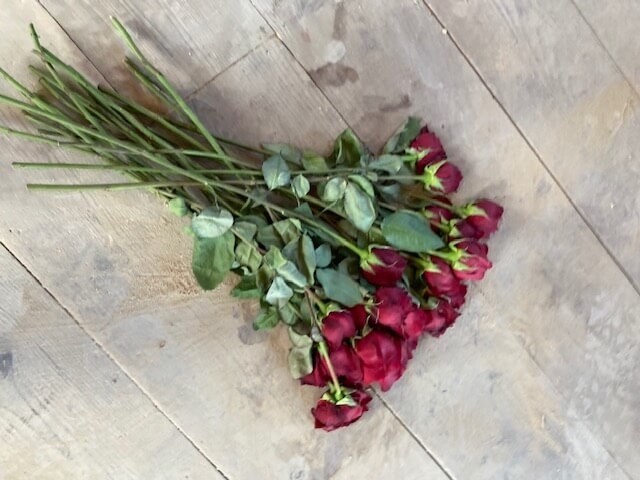 Don't forget to subscribe to our true crime newsletter, Suspicious Circumstances, to get true crime deep dives delivered straight to your inbox every week. Sign up here.