Teyonah Parris may have broken ground as the first black actor on AMC's game-changing series Mad Men, but she's not a household name. At least, not yet. However, if her latest slew of roles is any indication, it won't be long before Parris joins the ranks of some of the boldfaced names with whom she studied at The Juilliard School, where she attended alongside Adam Driver, of Girls fame, in between Samira Wiley and Danielle Brooks, stars of Orange Is the New Black, and oh — Nicole Beharie of Sleepy Hollow was a classmate too.
"It's just so many great folks and we all support each other and lift each other up," the twentysomething actor told BuzzFeed News, sitting on a couch in her hotel suite at the Four Seasons in Beverly Hills. "It's really special."
This talented bunch is enjoying a moment — and Parris is taking so many shots she can't help but score.
She stars as the fame-driven Coco Conners in one of this year's most highly anticipated films, Dear White People, which expands into theaters nationwide on Oct. 24. She's Missy Vaughn, who brings refinement to the Calloway family in the comedy series Survivor's Remorse, which premiered Oct. 4 on Starz and has already been renewed for a second season. She's Wanda, "the random black best friend" in the rom-com spoof They Came Together. And she'll also appear in the second half of Mad Men's final season, where she plays Don Draper's former secretary, Dawn Chambers, newly promoted to head of personnel at Sterling Cooper & Partners.
With all these high-profile projects being released in rapid-fire succession, Parris' ascent has gone from 0 to 100, real quick. But it'd be a mistake to call the South Carolina native an overnight success.
"Everything just kind of happened now, and it was a bit of a shock for me as well," Parris said of the coincidental timing, even though some of her projects were filmed one to two years ago. "It's been exciting, and it hasn't been an overnight situation at all."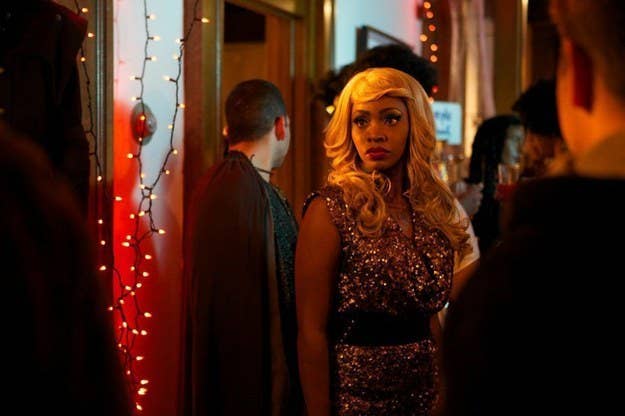 Two years ago, the incisive concept trailer for Dear White People left people thirsty for the full film. Billed as "a satire about being a black face in a very white place," it raised 166% of its crowdfunding goal, and it finally sees a nationwide release this week. Parris realizes the movie's title might read as polarizing, but she's been quoted before explaining that the film is more about identity than race.
"People are like, 'Ahh, it must be about X, Y, or Z," Parris said. "I think when people see it, they'll realize that it's a much more human story and it just so happens to be being told by four African-American people."
She continued, "I think no matter who you are, at some point in your life you've probably said, 'OK, well, who am I and where do I fit in?'"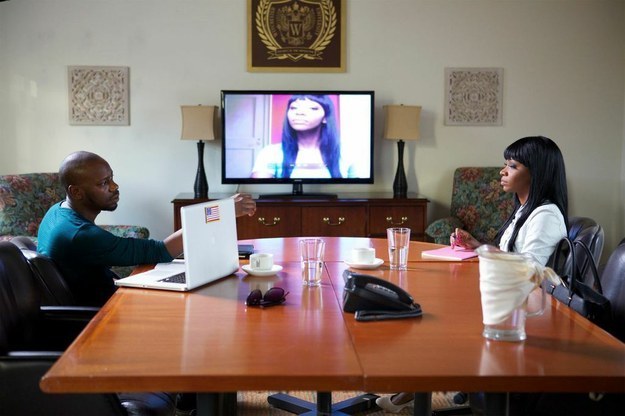 Parris' character, Coco, has to answer that question for herself when a reality show producer visits the campus of her Ivy League college. Coco sees an opportunity to translate her vlog into much bigger success, but the measures she resorts to in order to capitalize are complex, if not downright upsetting.
"Coco – she's a funny girl," Parris said, with a huge laugh. "I mean, at the end of the day, she sees something she wants, and she goes for it. And we might not agree with how she does it, or where she's coming from, but I can identify with that ambition – not necessarily the means she used to get what she wants, but I do think she will be a quite polarizing character.
"You'll either love her or you'll hate her and maybe a little bit of both. Hopefully a little bit of both."
The acknowledgment that Coco will elicit different interpretations — and thereby evoke different emotions — from the audience speaks to the quality of Parris' acting. Coco could easily have been the bitch of the bunch. But Parris went further.
"I think that's what was fun, is making her human, because we all do have levels to who we are and sometimes it changes within a day," she said. "You know, we're never always one thing, so that was what was exciting, collaborating with [writer/director] Justin [Simien] and really trying to make her three-dimensional and have a real layered story to tell. So I hope we did that."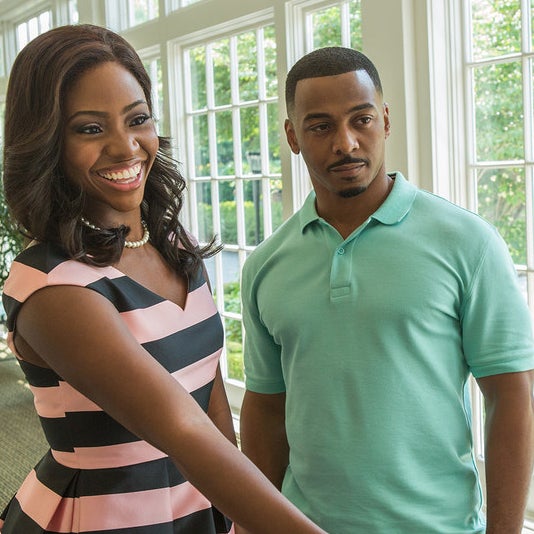 Teyonah Parris (left) as Missy Vaughn, with onscreen husband RonReaco Lee (Reggie Vaughn) in Starz' Survivor's Remorse; Parris as Wanda in They Came Together.
While Parris could not have asked for a better break than the role of Dawn on AMC's Mad Men, she jumped at the chance to craft a new character on a show being built from the ground up. On the Lebron James–produced Starz comedy Survivor's Remorse, Parris' character, Missy, is married to Reggie, who is managing the career of his cousin, NBA star Cam Calloway. Cam's new multimillion-dollar contract takes the entire family to Atlanta, and while Missy is unhappy about the move, she uses her education, culture, and class to start making a name for herself and her husband.
"A lot of people who haven't seen the show yet are like, 'Oh, is she like a real housewife?' Umm, no," Parris said. "And that's why I loved her, because she's not a kept woman, she's very smart, cultured. ... I'm not gonna say she's leading the family, but she's very capable of taking charge when he's doing other things."
She was also happy to portray a couple with a healthy relationship on screen, complete with a bit of a love scene in the Oct. 18 episode.
"Oooh god!" Parris said, as she erupted into laughter. "Yes, my first ever on camera! Oh my gosh. I was sweating bullets, but it wasn't even that bad."
Keeping in mind the show takes an honest look at the life of a young, rich basketball player, Parris insisted that seeing her in a nightie is mild in relation.
"I don't want anybody to think it's that bad, 'cause it's really not," Parris said, still blushing. "Because in the first two episodes you see completely naked gals, so don't get excited, people — you will not be seeing any kinda body parts except an arm and a leg!"
Survivor's Remorse initially had just a six-episode order. But in only its second week, Starz decided to renew the series for a second season and extend its first season to 10 episodes. The cast is rounded out by Tichina Arnold (best known as Pam on Martin) and actor-comedian Mike Epps, as well as talented actors RonReaco Lee, Jessie T. Usher, and Erica Ash. One glance at Instagram shows them dancing together, cracking jokes, and taking endless selfies, and Parris said being on that set was the most fun she's had on a project yet. The chemistry of the ensemble is, in Parris' words, what "makes the show rock."
"It was so fun and such a different environment than being on Mad Men, where the material is a lot more delicate, so to speak," she said. "This show and the characters on this show, there's nothing they won't say or address; they just kinda put It out there, no filter. It is premium cable so you will see some thangs! And I'm enjoying that part of it."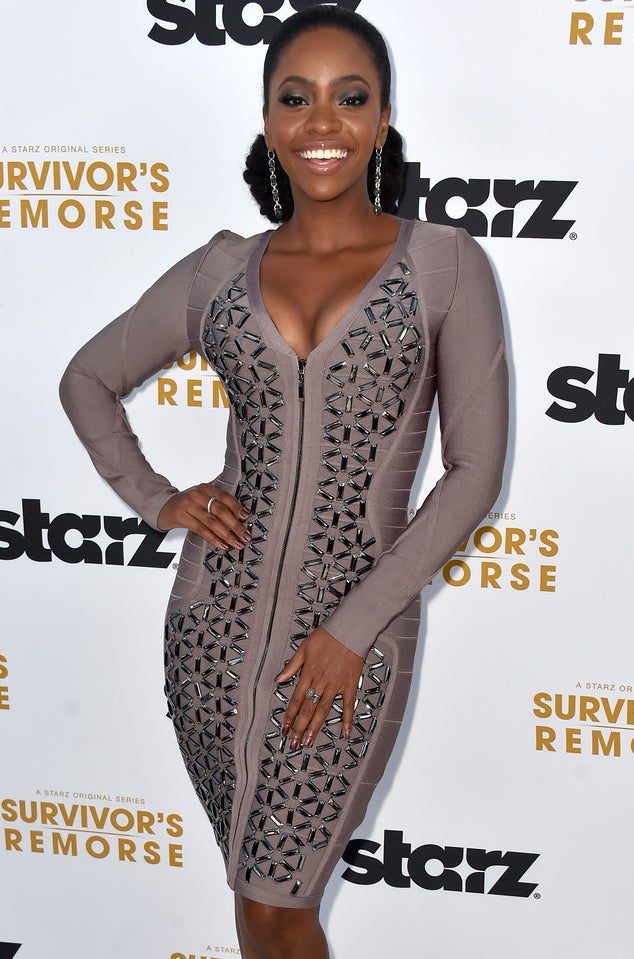 Parris killing it on the red carpet.
You cannot avoid Parris' face on a small or large screen these days, but she also dominates the blogosphere and social media, featured as every natural hair girl's "hair crush," and generally just being a red-carpet slayer. Glamour comes easily to the former model and beauty queen, who started winning pageants in elementary school.
"Mind you, this is like South Carolina pageants and modeling," said Parris. "It's like the mall, Oh, somebody's come to Macy's and all the kids can sign up and do this, school pageants… that."
But she won them, and it whet her appetite for more:
"Listen, it was fun! I loved stuff like that," she said. "I got to be the center of attention, but then I wanted to talk, I was like, [sucks teeth] Well, I can't really talk doing this, so that's kind of when I fell into drama in middle school, and ever since middle school sixth-grade drama class I've been a part of acting, all the way to now."
When she fell in love with acting, she fell hard. She elected to leave home to study performing arts at a boarding school, the South Carolina Governor's School for the Arts and Humanities, a launching pad that prepared her to earn a spot at a school with a 7% acceptance rate.
"It was the most amazing experience. I had to grow up so fast, so much so that when I got to Juilliard, the part about Juilliard that was daunting wasn't like, Oh, I'm away from home, or Oh, I'm in college, it was the city itself," said Parris. "I'm a country girl from a country world with trees – let's go climb trees, play with the dogs and the boys and the bunnies – so the city was overwhelming."
But it was there in New York, at The Juilliard School, that Parris learned a harsh reality she'd need to carry into the "real world," aka the starving artist period.
"I remember being in school and all of the students were up in arms because our artistic director had added some other class or some stuff we didn't wanna do, and we were like, 'How can you add more? We're already here from 8 a.m. to 1 a.m. and you're giving us more?'" said Parris. "And I remember going to him on my own and speaking to him and he literally said, 'The world doesn't stop because you have too much to do. You'll have to figure out a way to do it all.'
"I just remember being so put off by him saying that — They just don't understand; teachers are ridiculous — and then I got in the real world, and I realized, Oh, this bill is still due, you still have to go to this audition even though you have no money for a MetroCard, or your car broke down or whatever — the world does not stop because you have too much to do."
Parris banged her head against this reality during a period in L.A. where the phone wasn't ringing as quickly as when she was still in New York and the responses from casting directors weren't as positive. The stress of it all culminated in a moment of emotional hysterics, where she found herself bawling in her "hoopty-boopty." The next week, Parris said, she got the call for Mad Men. It's the show that allowed her to attend the Emmys this year, reuniting her with former schoolmates Brooks and Wiley, whose show OITNB was nominated as well, a full circle moment for them all.
"To be where we are now and just working and excelling in the field we wanted to be a part of really feels amazing and remarkable," Parris said. "And to have been at the Emmys with these two young ladies that I went to school with... and wearing sweats and look a hot mess and have no money and are just struggling... and to now be at the Emmys nominated with our respective casts, it was so fun and it just felt sooo good."
Survivor's Remorse airs Saturdays at 9 p.m. on Starz. Dear White People premieres in theaters nationwide Oct. 24.