You Can Buy The Laptop Bill Clinton Used To Send The First Ever Presidential Email
Bonus: The email Clinton sent was to outer space.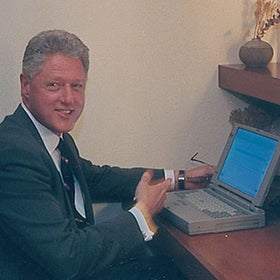 In November of 1998, Bill Clinton used this Toshiba Satellite Pro laptop computer to send the first official email from a sitting president of the United States — and now you can buy it.
The inaugural email correspondence between Clinton and astronaut John Glenn is included with the computer:
Both of these emails are preserved on the laptop's hard drive and backed up on the included floppy disk, and remain accessible via the AOL application on the computer.
The current bid is set at $11,000.