What About Larry King?
After the on-air resignation of RT's Liz Wahl, the question is what the broadcast legend whose shows appear on the Kremlin-funded network will do next.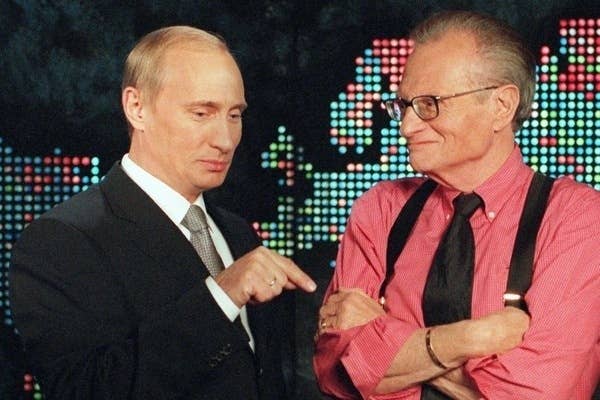 You might not know it, or maybe just forgot, but cable news legend Larry King appears on RT — the Kremlin-funded television network.
After Russian troops entered Ukraine last week, first journalists derided the network's coverage of those events. Then a spate of very public dissent began at the network. It started with Breaking the Set host Abby Martin's off-script rant against "Russia's military occupation of Crimea" and culminated with anchor Liz Wahl's on-air resignation.
So what does King think? RT America, the network's U.S. version, carries two of King's talk shows (a Thursday night talk show, Politicking with Larry King, and Larry King Now, which also airs on Hulu).
BuzzFeed requested comment from King via email regarding the following questions:
What are Mr. King's thoughts on the situation in Ukraine?

Does he condone Vladimir Putin's action's in the Crimea?

What does Mr. King think about the on-air resignation of RT anchor Liz Wahl?

Will Mr. King's recent interview with the Dalai Lama be aired on RT? If not, is there a reason?
Neither King, nor his representation, has responded.
King told the Daily Beast Thursday that he did not have a problem with his shows appearing on RT.
"I don't work for RT," he said. "It's a deal made between the companies…They just license our shows."
"If they took something out, I would never do it," he told the Daily Beast. "It would be bad if they tried to edit out things. I wouldn't put up with it…As long as they don't, as long as they're carrying stuff critical of them, I've got no problem with it." Attempting to distance himself, he added: "You may not like what Russia's doing now, but I'm really a party removed."
Although King is not employed by RT, he has an equity stake in Ora.TV, the production company that licenses his shows to RT. King also appears in an ad campaign for RT.
RT has handled its hosts' dissent differently. Addressing Martin's rant, the network claimed that "RT journalists and hosts are free to express their own opinions." The network announced they would send Martin to Crimea to see the situation for herself; Martin declined.
The response to Wahl was much different. "When a journalist disagrees with the editorial position of his or her organization, the usual course of action is to address those grievances with the editor, and, if they cannot be resolved, to quit like a professional," RT said in a statement.
The 80-year-old King has been working in broadcast journalism since the 1950s. From 1985 to 2010, he hosted Larry King Live on CNN. Piers Morgan took his spot on the network.
Before leaving CNN, the host told the network that he was impressed with Putin's charisma.
"I had an affinity with [Putin]," he said. "You try to get that with a lot of guests, but I really had it with him…he has qualities that have nothing to do with politics … they change a room."
"There are certain people that come into your life and you like them," he added.
CORRECTION (3/7/14): Larry King's shows are licensed for a fee to RT by the company Ora.TV, in which King holds an equity stake. An earlier version of this post described King's employment status at RT incorrectly.
Update (March 7, 11:58 a.m.): Statement from OraTV to BuzzFeed via email:
"RT is Ora.TV's licensed cable television distributor for Politicking and Larry King Now. Ora.TV's producers are solely responsible for the content of our shows, the content and quality of which we believe speaks for itself."