Watch Another Glenn Beck Theory Implode Before Your Very Eyes
A rumor turns into a Blaze exclusive, which turns into a fully debunked falsehood — all in the matter of hours.
Last night, terror expert Steve Emerson told Fox News host Sean Hannity that Abdul Rahman Ali Alharbi, the Saudi national who was a "person of interest" in connection to the Boston Marathon bombings, would be deported on Tuesday.
This morning, Glenn Beck's news network TheBlaze got on the case — aggressively.
Citing sources, Beck reported on his radio show Thursday morning that Ali Alharbi was connected to an important Saudi family and was being deported for "security and related grounds."
Beck, dismayed by the lack of mainstream media pickup of their story, urged listeners to spread it on social media while they kept after government officials for more information.
Then, at around 10:45 a.m., Cheatwood announced on the air that one of his reporters had told him that the government was now considering not deporting Ali Alharbi. Beck declared victory:
"Hopefull, we've just shut the engines down on a jet. That didn't happen after 9-11. We've learned since 9-11. The government, apparently, hasn't."
Unfortunately for Beck and The Blaze, to story was inaccurate. First, a senior law enforcement official told BuzzFeed that the rumor was false.
"We do have a Saudi in ICE custody...He is not related in any way to the investigation into the bombing. He's not in any way related to this investigation."
As of 3:53 p.m. the rumor was still The Blaze's top story, but it had a sidebar headline that read, ICE OFFICIAL RESPONDS TO BLAZE REPORT: 'CATEGORICALLY FALSE'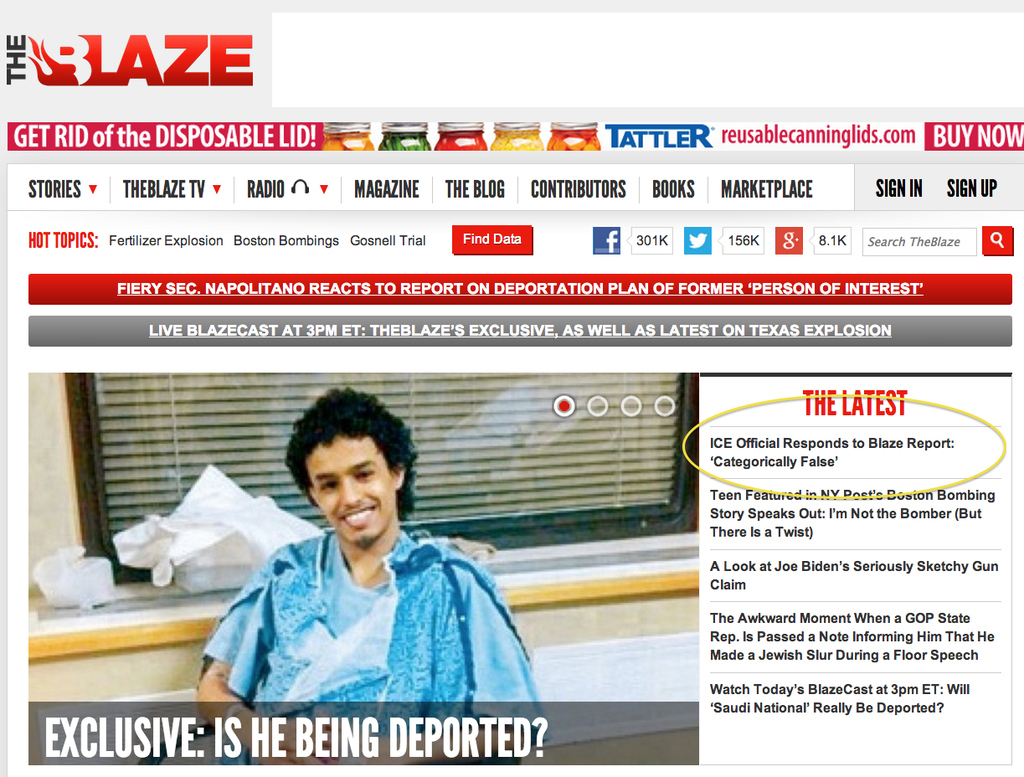 The Hill then confirmed with administration officials that the rumor was false, as did CNN's Jake Tapper.
Just speculation, but this GIF probably represents most of TheBlaze employees right now: