Twitter-Loving Judge's OWS Ruling Is Full Of #LOLZ
Occupy Wall Street protester Malcolm Harris saw his bid to stop prosecutors from subpoenaing his Twitter records shut down by Manhattan's geekiest judge, Matthew Sciarrino Jr.
Yesterday, Reuters reported that OWS protester Malcolm Harris' challenge to a subpoena seeking three months worth of his Tweets was ruled against by Judge Matthrew Sciarrino Jr. in the most Twitter-y way possible:
Sciarrino's ruling - which featured a handful of hashtags such as, "That motion is #denied" - could bolster similar subpoenas that prosecutors have served on Twitter seeking records from other Occupy protesters.
Below is a copy of the hilarious hashtag filled ruling obtained by BuzzFeed earlier today: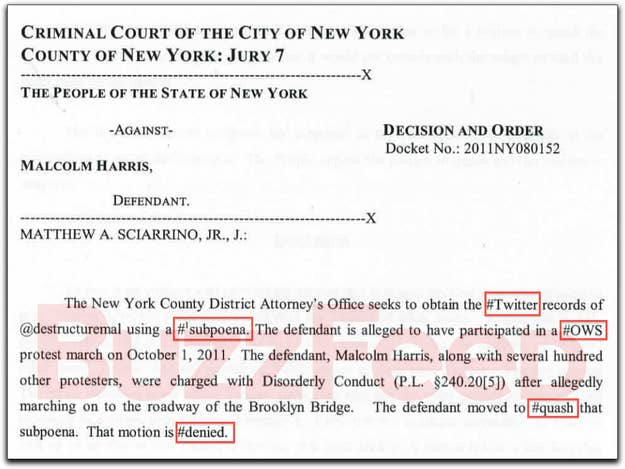 Check out Sciarrino's footnote:

Very instructive.
This isn't the first time judge Sciarrino made headlines by mixing social media with the criminal justice system. The New York Post reported in 2009 that Sciarrino was transferred from Staten Island to Manhattan after "friending" the wrong people on Facebook:
A Staten Island judge has been quietly disciplined for using the site to "friend" lawyers who were scheduled to appear before him, The Post has learned.

Courts officials decided to move Staten Island Criminal Court Judge Matthew Sciarrino, 41, to Manhattan after some of the lawyers he linked up with on Facebook complained, sources familiar with the matter said.

Sciarrino is known to work with a laptop at the bench, but sources said that was for legitimate purposes such as computing sentences, looking up statutes and managing calendars.