Obama Threw Some Serious Shade At MSNBC's Chris Matthews And Everybody Missed It
Looks like the president probably took a shot in friendly territory.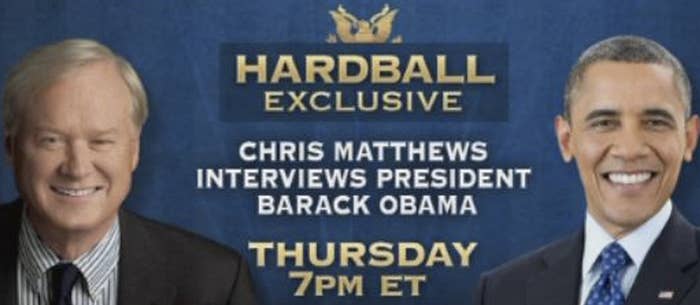 During his interview with MSNBC's Chris Mathews, President Obama told the MSNBC host that he believes the media prefers to focus on negative stories because "that's what gets attention."
Obama specifically cited the critical reaction of "some so-called progressives" to accusations that the White House or Democrats had directed Internal Revenue Service to target certain conservative groups.
By the way, Chris, I'll point out there's some so-called progressives [PAUSES] and, you know, perceived to be liberal commentators, who during that week were just were outraged at the possibility that these folks, you know, had been, at the direction of the Democratic party, in some way discriminated against Tea Party folks. You know, that is what gets news. That's what gets attention.
But let's talk about that pause the president took. Just take a look at how that pause went down and try to guess who on earth Obama could possibly be talking about:
And by the way, he does run the IRS. He runs the Treasury Department. He runs the United States government, and he is accountable for it, and this is nonsensical that he's more outraged about Benghazi than the IRS.
Yeah, Obama was probably talking about Chris Matthews.
Watch the exchange in its entirety.