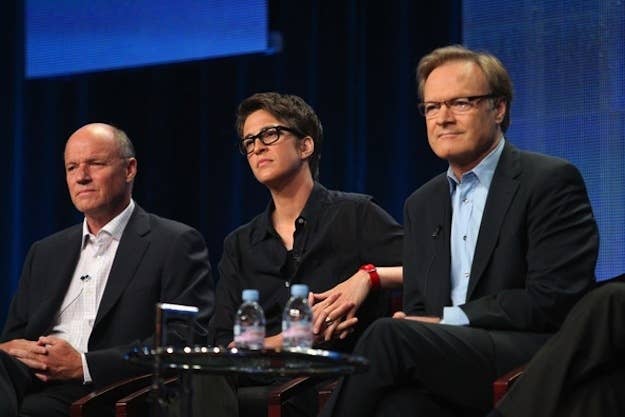 The cable-news ratings battle between Fox News and MSNBC has been getting very interesting since Barack Obama's reelection in November.
MSNBC's back-to-back prime-time opinion shows, The Rachel Maddow Show and The Last Word with Lawrence O'Donnell, topped both Fox News and CNN for the coveted 25–54 demographic during the week of Dec. 3. That gives Phil Griffin's network the number one ranking in the demo for four of the first five weeks since the presidential election. Adding to the impressive numbers is the fact that the MSNBC shows outperformed their Fox counterparts despite having guest hosts fill in for Maddow Dec. 5 through Dec. 7.
Fox News still dominates prime time, thanks mostly to the ratings behemoth that is Bill O'Reilly, but the cracks are showing there, too.
Roger Ailes' juggernaut can't go on pretending like MSNBC isn't a real threat to their standing as "number one in cable news." Here's why:
1.
After years of rubbing their ratings dominance in the faces of their competitors, Fox News is showing signs of toning down the public bragging.

A foxnews.com URL from 2009 touting a seven-year stranglehold on ratings was removed after BuzzFeed reported that the over-the-top announcement was still active.
2.
Fox News has one true superstar — and he will be eligible for his full Social Security benefits before the 2016 election.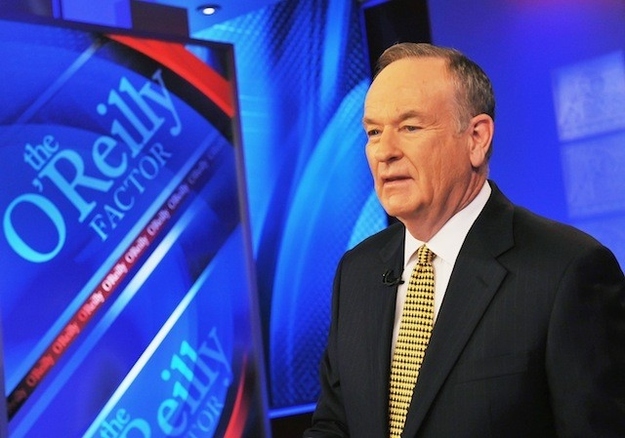 Bill O'Reilly, 63, is the only Fox News personality who regularly appears on The View, chats with Letterman and Leno, and hangs out with Jon Stewart. Rachel Maddow, MSNBC's marquee name who does all of these things too, will turn 70 in 2044.
Unlike MSNBC's prime-time lineup, the drop-off in ratings after The O'Reilly Factor throws to Hannity on any given night is dramatic. The inevitability of losing O'Reilly in the near future is something the higher-ups at FNC don't seem prepared to confront.
3.
Fox News has a weak bench.
MSNBC's method of cultivating a farm team of contributors for future hosting gigs has proven to be a successful strategy in the cable-news wars. It has produced a franchise player and ratings leader in Rachel Maddow, and the first winning foray into weekend political programming with Maddow protege Chris Hayes. Alex Wagner, Steve Kornacki, and Melissa Harris-Perry also travelled the same path — from contributor to guest host to helming one's own show — and now MSNBC contributor Ezra Klein is rumored to be the next member of this minor league system to get called up for a hosting gig.
Things couldn't be more different over on the other side of the remote control, where Fox News doesn't appear to have any future stars — or much diversity — in their current rotating cast of supporting characters. Below is the name of every person who guest-hosted a Fox News prime-time show during 2012, according to data compiled by Media Matters for America:
Martha MacCallum, Shannon Bream, Dana Perino, Juan Williams, Greg Gutfeld, Tucker Carlson, Rich Lowry, Liz Cheney, Monica Crowley, and Laura Ingraham.
The potential for a big-time host evolving out of the names listed above is slim. Greg Gutfeld and Dana Perino already have their own shows on Fox, cohosting The Five. Tucker Carlson had chances at CNN and MSNBC to become a cable-news star, and Laura Ingraham's short-lived This Just In will be remembered forever thanks to YouTube.
If this group represents the network's B team, it could mean big trouble for the future of Fox News, because...
4.
Fox News' prime-time lineup is getting stale while MSNBC keeps things fresh.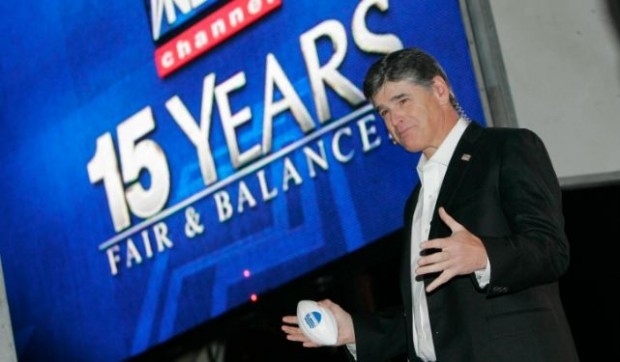 The Fox News prime-time shows are still getting great ratings, but when was the last time you remember Bill O'Reilly or Hannity really influencing the conversation on the right? How about Greta making headlines about anything?
MSNBC stays in the conversation and makes headlines thanks to hosts who are active members of the tweeting class and a cast of supporting characters who are native to the Internet and social media. Fox's lineup of Reagan-era conservatives, who have shown little interest in what bloggers have to say, are proving to be less influential to the #tcot as the face of conservative America gets younger and more libertarian.
5.
Would you buy any of the stuff they're selling during the commercial breaks? Maybe the batteries?
A commercial break during the Dec. 17, 2012, broadcast of Hannity.