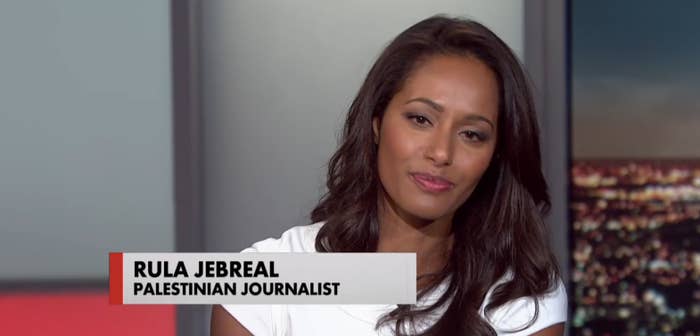 Rula Jebreal, the MSNBC contributor who on Monday's broadcast of Ronan Farrow Daily criticized the network for not giving the Palestinians enough air time and then tweeted that her upcoming appearances had been canceled, was invited back on Tuesday night to "hash it out" with Chris Hayes.
During the segment, one viewer noticed something different about her usual chyron bio:
BuzzFeed has yet to hear back from MSNBC about Jebreal's paid contributor status with the network.
You can watch Jebreal's All In segment below:
MSNBC has released a statement regarding the matter:
"Regarding the claim of cancelled appearances: Jebreal's pre-booked daytime appearance on Tuesday was bumped to accommodate the re-airing of Chris Hayes' exclusive interview with Tariq Abu Khdeir, a 15 year old Palestinian American beaten by Israeli forces. Jebreal was a guest on "All In" with Chris Hayes on Tuesday night.

While we don't publicly discuss contract specifics, Jebreal's contributor deal with MSNBC officially ended last month when she said she wanted to pursue new opportunities. We've welcomed her back on MSNBC several times since. Her voice is one of many Palestinian voices on MSNBC."
An MSNBC spokesperson also told BuzzFeed that Jebreal was referred to as "Palestinian Journalist" because that's how she self-identifies, adding that she was labeled incorrectly as an MSNBC contributor on Monday's Ronan Farrow Daily broadcast due to a production error.