Man Cited By Scott Brown's Campaign As Supporter Sends Democrats Racist, Misogynistic Letter
"I deeply resent your email to me requesting support for the Fascist [sic] c—s you represent," the letter reads. A spokesman for Brown: "We completely disassociate ourselves from this individual."
A man once touted by Scott Brown's team as a supporter of his Senate campaign sent a profanity-laced letter to the New Hampshire Democratic office last week, in response to a fundraising email from sent to him by the party.
Charles C. Benzing, a bus driver who had been cited as a Brown supporter in a July 9 press release, addressed the letter to a New Hampshire Democratic Party official who sent the fundraising email. The letter is dated July 16.
In the letter, Benzing uses extremely misogynistic and racist language when referring to Democratic Party leaders Jeanne Shaheen, Gov. Maggie W. Hassan, and Reps. Carol Shea-Porter and Ann McLane Kuster: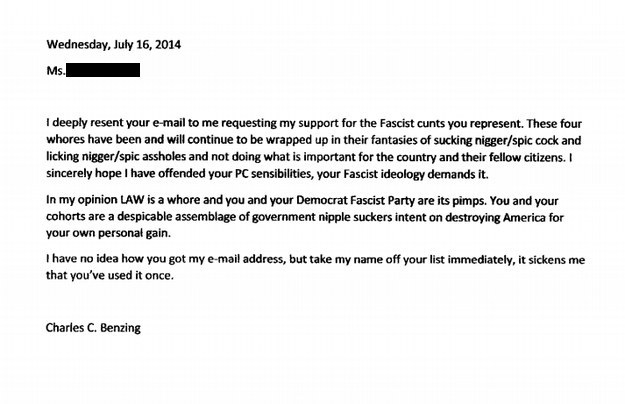 When contacted by BuzzFeed by phone to confirm that he was the author of the letter, Benzing replied, "The one about them being a bunch of fascists? Yeah, that's me."
In early July, Benzing's name was included in a press release from the Brown campaign listing of former and current elected officials, activists, and supporters that had formally announced their support for the former Massachusetts senator's effort to defeat Shaheen in 2014; the campaign sends out lists like this with some frequency. Benzing last year led an effort to de-unionize a group of bus drivers.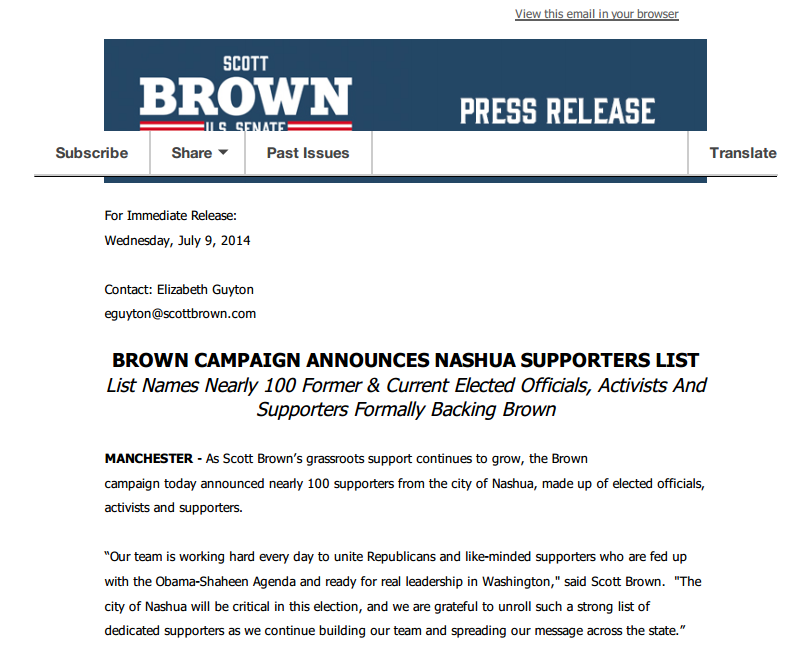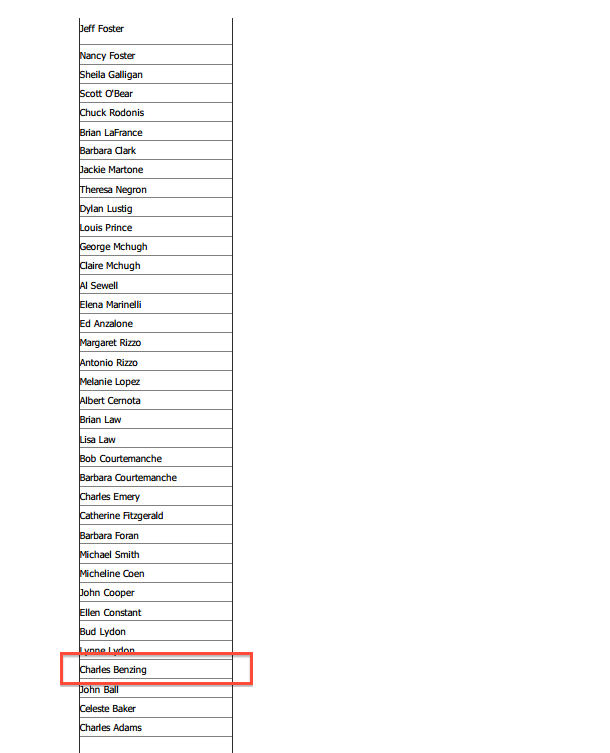 New Hampshire Democratic Party Communications Director Julie McClain verified the authenticity of the letter, telling BuzzFeed, "It is offensive and sickening that Scott Brown would flaunt the endorsement of someone who would use such disgusting language to describe our state's female elected leaders. There's no excuse for this."
When reached for comment, Brown's campaign manager Colin Reed told BuzzFeed, "This is deeply offensive language. We completely disassociate ourselves from this individual."