Larry King Calls CNN's MH370 Coverage "Abysmal" While Ripping Networks' Use Of "Breaking News"
The longtime CNN host goes off on the "suits" at the network.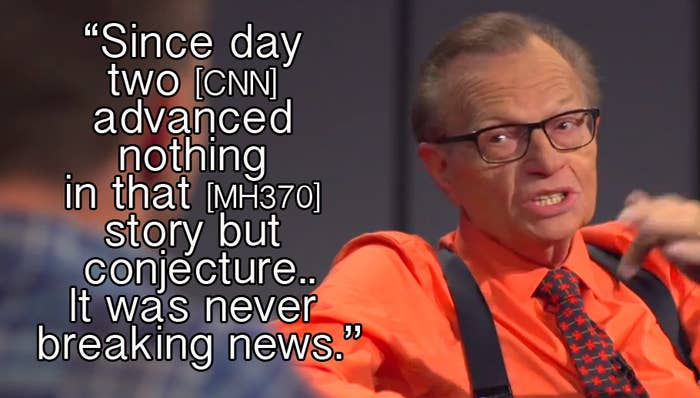 Cable news legend Larry King had some choice words for Jeff Zucker's CNN and the network's non-stop coverage of missing Malaysian jetliner MH370 during an interview with The Rubin Report :
"Since day two they advanced nothing in that story but conjecture. It was breaking supposition; breaking speculation. It was never breaking news.
When asked by host Dave Rubin how he would have dealt with the situation if still at the network, King said, "I would have insisted, 'Let's do other things.'"
King was keen to blame executives for the current state of cable news, calling them "suits" and "accountants" who didn't "come up in broadcast," highlighting CNN as "a perfect example."
"The other day, while CNN and some other cable news networks were doing airplane coast to coast, wire to wire, 10 people in Washington were killed in a mudslide. There were three Americans on that airplane, 10 Americans died in a mudslide in Washington, no coverage. The G8 conference in Russia was canceled, rescheduled for Belgium with Russia left out — no mention. An enormous occurrence in Houston of an oil slick that destroyed hundreds and hundreds of miles of water — not covered. The president of the United States is in the Netherlands, he's talking to China, about trying to get China to at least stay neutral in the Russia situation — no coverage. Now that is abysmal."