Don't Worry MSNBC, Cable News Ratings Will Soon Be Irrelevant
The metric of the future will be web traffic, and the sooner the cable news networks realize it, the better.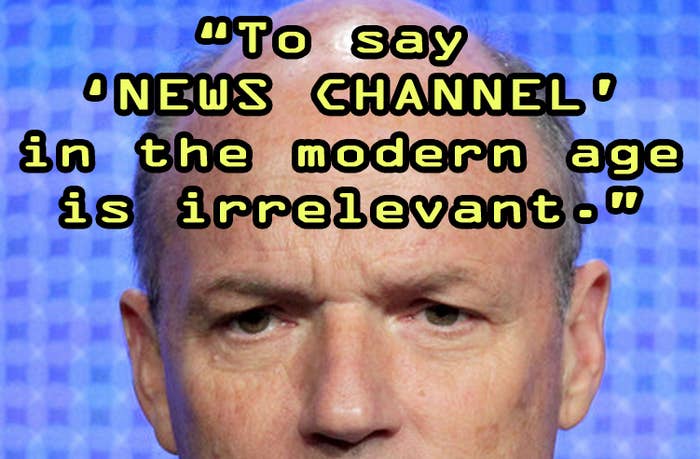 The ratings funk that MSNBC has been experiencing recently got much worse in May with the cable news network hitting a six-year ratings low, dropping to 4th in the Neilsen TV ratings horserace behind courtroom spectacle specialists HLN. Even Rachel Maddow, consistently the network's highest rated host, posted some of the poorest numbers since her show debuted four years ago.
Luckily for them, the days of Nielsen TV ratings serving as the end-all, be-all metric for cable news success are numbered.
As a younger demographic increasingly customizes its media consumption — moving away from TV and onto the internet — they will expect live news video to be streaming on their laptops and mobile devices, or else. And as that happens, the four-way cable news wars will continue to give way to a much broader competition on the web, pitting CNN against the Washington Post, Fox News against Breitbart, MSNBC against ThinkProgress, and so on.
All three of the biggest cable news networks are seeing growth online but they're preparing in very different ways for web traffic's inevitable rise as the Holy Grail of audience metrics.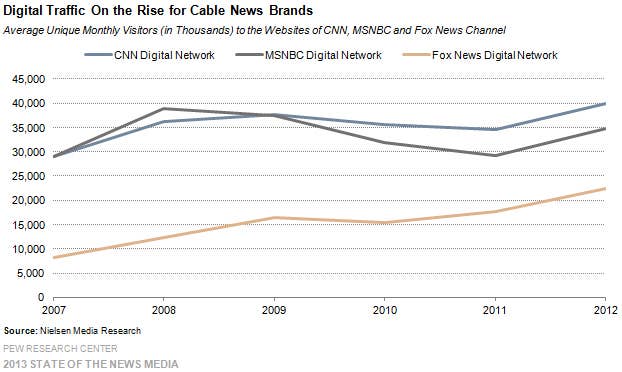 MSNBC has a few major obstacles in its online future, most notably The Huffington Post's growing web-only cable-like video network HuffPost Live, but the network has been making moves that could position them very nicely in the progressive political news scene.
Because of the split between NBC News and Microsoft, traffic for MSN.com, MSNBC.com and NBCNews.com will be inaccurate and confusing for a while, and when all is settled we will see MSNBC.com's traffic numbers drop dramatically. But MSNBC's unabashed move to progressive political news and opinion means the network, with its corporate war chest and NBC connections, could dominate the the left-of-center world of online politics.
Starting with hiring Richard Wolffe as the site's executive editor in 2012, MSNBC began to telegraph its plans to overhaul its online presence. Their recent hiring spree that saw the network poach Mother Jones reporter Adam Serwer, Talking Points Memo's Benjy Sarlin, and The Washington Post's Suzy Khimm, proves that, unlike Fox, MSNBC has the intent to lure proven online journalists away from well-known ideological blogs and publications. Add the fact that MSNBC plans to assign these writers to particular show blogs, ala Steve Benen of the successful Maddow Blog, along with the opportunity to contribute on-the-air reporting and analysis to those shows, and you can see a future where MSNBC continues to chip away at their financially hamstrung progressive competition.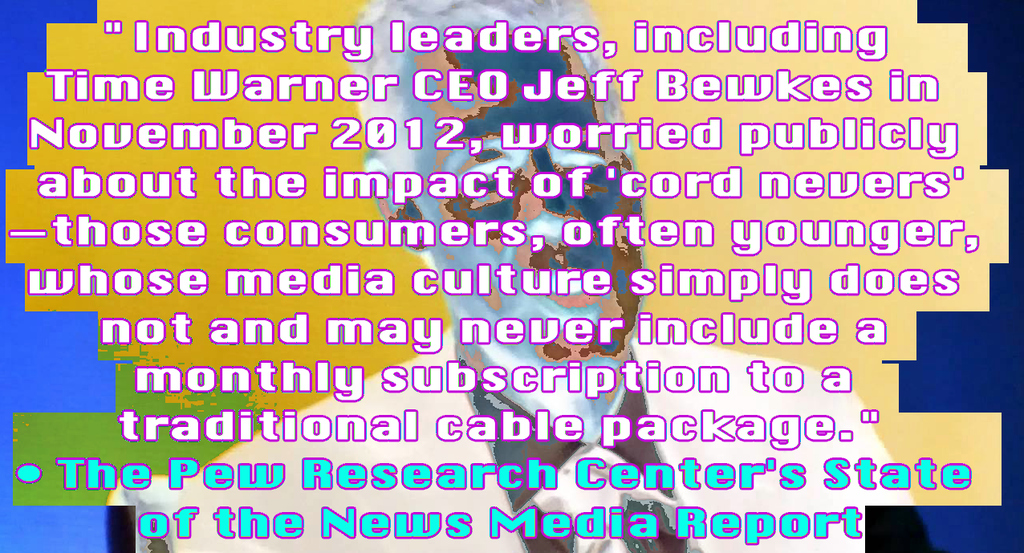 Over at Fox News, the online strategy seems to be fairly routine with not much hope for experimenting. The video content available on Fox's show pages feature around four clips per episode and the archive goes back about a month. The netwok has a fairly uninspired YouTube channel and their Fox Nation brand does its best to upload quick-hit clips to the video sharing site, but both channels are updated so infrequently they seem like an afterthought rather than part of a strategy. On the live streaming side of things, both FoxNews.com and CNN.com have a cool feature that allows cable subscribers to log in and watch whatever is currently on the air. Fox News has more than eighty options while CNN's approved cable providers are limited to nineteen.
The real trouble Fox is going to going to run into in the online world is when they discover that MSNBC and CNN are no longer their only competition. Like it or not, Fox News, like MSNBC, will probably never be seen as a straight shooting news outlet. With their cast of predominately conservative hosts and commentators, the stigma of bias on what stories they decide to report on, and how they report on them, will always be there. More libertarian-leaning outlets like Glenn Beck's TheBlaze and the Breitbart empire, establishment sites like The Daily Caller, and other right leaning blogs native to the internet employ the younger generation of conservative news breakers and opinion makers, and they take up a lot of oxygen in the online conversation. Fox could throw a bunch of money at the cream of this crop in an attempt to bring them into the New Corp family, but these unruly scribes, especially the younger, more libertarian folks, might find the rigid structure imposed by Roger Ailes to be something they'd rather not bother with.
CNN, with its well-known brand name, abundant journalistic resources, and a vast library of video clips available on its website, make it a convenient spot for a news junkie to endlessly peruse content. Additionally, the network's use of YouTube as a third party option for distributing previously broadcast content on a regular basis proves that, unlike MSNBC and Fox News, CNN is dealing with the fact that when a video clip goes viral, it's usually on YouTube. (CNN has partnered with BuzzFeed to produce "social videos" for a YouTube channel.)
Unfortunately for CNN, its larger programming strategy to become a sort of entertainment news network puts them in a very crowded field on both TV and online. With terrestrial television, CNN's goal to scale down hard news in order to give programming time to sports, celebrity news, etc., puts them in a whole new fight for eyeballs since folks flipping through channels looking for Angelina Jolie can go to E! network, or get their sports fix on any number of ESPN channels available on the cable box. Same goes for the web. With the option of having every niche genre of news being covered by multiple outlets, sometimes exclusively, who's gonna turn to CNN when they can peruse all the Hollywood gossip stories on an outlet devoted solely to that beat?
The catch here for each of these networks is that they're all weighed down with lots and lots of stubborn old-school media folks who are in very influential positions and under the spell of an advertising world that dictates the pace of their industry's evolution, regardless of the realities that exist in the relationship between consumers and new technology. These powerful folks, content in their ways, will fight tooth and nail any attempts to change the familiar methods that revolve around the Nielsen TV rating system and risk leaving an opening for natives like the TYT network, HuffPost Live, and TheBlaze to become the norm for news junkies seeking political debate and opinion.