Fans of Morning Joe might have noticed that the "brewed by Starbucks" tagline that has been a part of MSNBC's popular morning show since 2009 has not been used since the end of August. Also noticeable was the giant orange straw protruding from host Joe Scarborough's iced drink this morning. Orange straws are typically a sign of a Dunkin' Donuts beverage.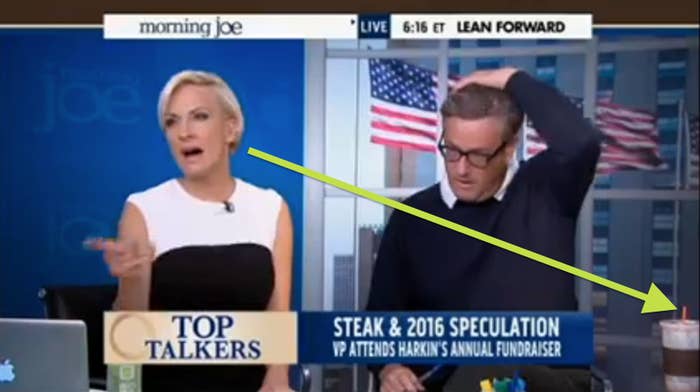 Oh, and look at that actual Dunkin' Donuts hot coffee cup off to host Mika Brzezinski's side.
Below is Starbucks CEO Howard Schultz appearing on the program in 2011, where he announced a renewal to the partnership and the social initiative aspects of the deal.
A spokesperson for MSNBC did not immediately respond to comment on this story.
UPDATE: An MSNBC spokesperson confirmed via email that the formal partnership ended several weeks ago, adding; "MSNBC and Starbucks had a successful partnership for more than four years and we're looking forward to working on new projects together in the future."