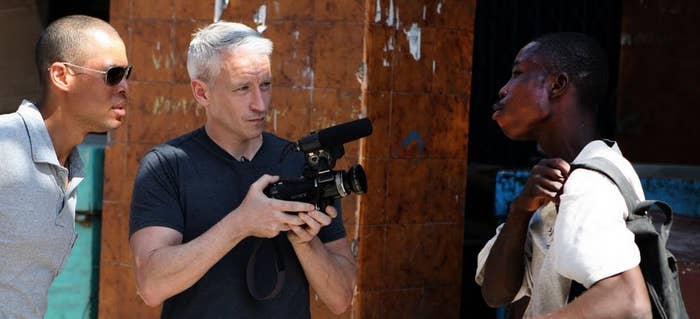 Earlier this month CNN all but declared the end of the cable news talk show host as we know it when president Jeff Zucker announced that Larry King's old 9 p.m. time slot would be divided up by CNN Films. Instead, taped projects featuring the proven talents of Mike Rowe, America's Most Wanted's John Walsh, and journalist Lisa Ling will air in the hour.
The Hollywood Reporter noted that Zucker told a crowd of advertising pros and media types that the network no longer believes the Larry King format is "viable"
"There are just too many outlets with not enough big gets for a pure talk show to thrive any longer," Zucker said.
Although Zucker went on to assure everyone that his network's "breaking news" brand would still be giving priority — news anchors will be bumping the new format should any news CNN deems big enough come across the wires — the announcement effectively changes the requirements, talent-wise, for prospects who expect a chance to compete in CNN's primetime schedule.
Now that Zucker thinks the era of the host-behind-the-desk setup is over at 9 p.m., what makes 8 p.m. or 7 p.m. any different? If the new 9 p.m. works, isn't the next logical step to redesign all of CNN's prime time so that it resembles the unscripted taped programming coming soon from the new hires? It's hard to imagine CNN not flipping the rest of its primetime programming if the new style starts defeating MSNBC's Rachel Maddow in the ratings on the regular.
Luckily for Zucker, his current primetime team is not only capable of handling this kind of change, they have an excellent chance of thriving under the new format.
Anderson Cooper certainly has all the tools needed to create award-winning taped content — and he does a very good job of it already for CNN. When he's not covering "breaking news" or hosting AC 360, Cooper's other special projects for CNN can almost be seen as a kind of less-produced version of what Zucker's new wave of programming is bringing to the table. The closest thing CNN has to a franchise player, Cooper's ability to broadcast exceptional live news from the anchor's chair, handle a big interview, and create programming that fits in with CNN new vision make him a safe bet to stay in prime time.
Things are less cut-and-dry when it comes to OutFront's Erin Burnett at 7 p.m.

Although a gifted broadcaster, both in the anchor's chair and on location creating entertaining taped packages, Burnett, unfortunately, doesn't really go out front as often as you'd expect with a show called OutFront. The show, which debuted in late 2011, never made much of an impact on the cable news scene, and the ratings, which had been limping along since the beginning, took a bigger hit when MSNBC cut the 5 p.m. broadcast of Hardball, putting Burnett in direct competition with Chris Matthews' lone scheduled broadcast.
In February, before CNN struck ratings gold with their nonstop MH370 coverage, OutFront recorded CNN's lowest average of total primetime viewers in over two decades, down 39% from the year before. Even during the MH370 ratings bump, Burnett's average in demo was behind Cooper's AC360 and the rotating cast of hosts who held 9 p.m. together as Piers Morgan transitioned out.
Those kind of numbers make OutFront an extremely vulnerable primetime cable news show, but especially vulnerable at a network that just declared the cable talk show formula that was in place for almost thirty years to be dead. However, if CNN were to end OutFront as we know it today, it could turn out be the best move for both CNN and Burnett.
A wide open 7 p.m. would allow CNN to rearrange their schedule in order to create a seamless flow of programming as more of the taped content makes its way into the broadcast schedule. For example, moving Anderson Cooper (or Don Lemon, or Jake Tapper, et al) to 7 p.m. would open up a three-hour block for the network's new-style shows to run uninterrupted. CNN will need to create a nice chunk of continuity like that if the Rowe/Ling/Walsh-style is going to have a chance of keeping viewers around.
As for Burnett, her original mission statement for OutFront was to "get out of the bubble." Watch the first trailer for OutFront (below) and you can see the vague promise more of the on-location reporting in the style of Anderson Cooper than the show has actually produced in its two-and-a-half year existence. Why not return to that vision for the show? Burnett seemed to be enthusiastic for this kind of work at one point. Instead of canceling OutFront, CNN could take the show's name and Burnett's talents, get her out of the studio, and transform her show into the very new style programming Zucker has embraced.