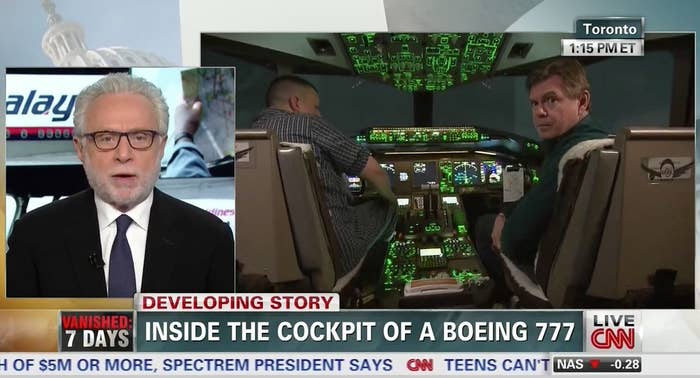 CNN's nearly non-stop coverage of missing Flight MH370 shows no signs of letting up. Friday's coverage even featured correspondent Martin Savage showing how one would shut off the transponder in a Boeing 777.
An airplane's transponder allows air traffic controllers to know where a jet is and where it is headed. According to the 9/11 Commission report, the 9/11 terrorists turned off transponders in three of the four hijacked aircraft. It has been reported that Flight MH370's transponder stopped transmitting data before it disappeared.
CNN, broadcasting from the cockpit of a Boeing 777 simulator, aired this exchange:
WOLF BLITZER: That's the transponder that sends signals to ground control stations telling where the plane is, all sorts of very important information. First of all, show our viewers how easy it is for a pilot, or someone who gets into that cockpit, to turn off the transponder.

MARTIN SAVAGE: Sure...
Savage then gave instructions on how to turn off the jet's transponder. Later in the afternoon, Savage repeated the instructions to host Don Lemon:
SAVAGE: "You would never turn it off in flight. but if you had to, if you wanted to, here's how you do it."
CNN is not the only media outlet using this information to feed the public's obsession with the story of the missing jet. The Wall Street Journal posted a YouTube video called "Malaysia Air: When A Transponder Gets Switched Off" on March 13 and the Straits Times embedded an animated video in an article titled, "Malaysia Airlines MH370: What is a transponder?" that, like the WSJ video and the CNN segments, gave instructions on how to shut off the transponder.
When asked for comment on the ethics of providing potentially dangerous information to the public, a spokesperson from Dow Jones and The Wall Street Journal told BuzzFeed, "This is a purely explanatory video on the importance of transponders to planes. The Journal has led the way in the reporting of the missing Air Malaysia jet and we are very proud of our work."
CNN has yet to respond to BuzzFeed's requests for comment.