Anonymous Is Hacking Government Sites In China Now
Chinese authorities have confirmed that the network of hackers known as Anonymous successfully compromised several government websites last month.
The attack was initially reported via Twitter by @AnonymousChina: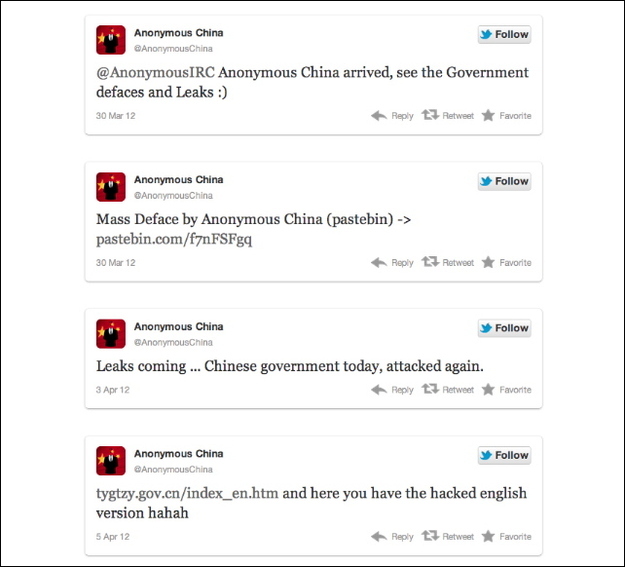 Here's the official statement from China's Ministry of Foreign Affairs:
"First of all, China's Internet is open to all, users enjoy total freedom online. China has gained 500 million netizens and 300 million bloggers in a very short period of time, which shows the attraction and openness of China's Internet. Secondly, the Chinese government manages the Internet according to law and regulations. Thirdly, certain reports prove again that China is a victim of internet hacker attacks."
CNN notes China's other Internet woes:
The mass attack comes less than a week after the country suspended comments on China's most popular micro-blogging sites, Sina's Weibo and Tencent's QQ.
The two-day suspension was necessary to "clean up rumors and other illegal information spread through microbloggings," according to state-run news service Xinhua.
Authorities also closed 16 websites and detained six people for allegedly spreading rumors of "military vehicles entering Beijing and something wrong going on in Beijing," a spokesperson for the State Internet Information Office told Xinhua.
China's internet was rife with rumors last month of an alleged coup attempt after the shock dismissal Communist Party politburo member and Chongqing party chief Bo Xilai. Cyberspace discussions on Bo's fate have since been censored.