I've had several conversations that go something like this: A friend and I are talking about the books we've loved lately, and she says, "Oh, we read that in my book club last month." Or "we're reading that in my book club now," or "we're supposed to read that in my book club this summer," or "someone in my book club loved that book but I haven't read it." And I smile and nod breezily, in the hopes of implying that I, too, have a book club where I get together with some of my besties once a month and drink wine and laugh merrily about literature and our husbands. That's what happens at book clubs, right?
I mean, I wouldn't know. I'm not actually in a book club, and apparently, that puts me in the minority: A majority of women over 25 who read at least a book a month are in at least one book club, according to a 2015 survey by BookBrowse.com. That's at least one book club. Some are in multiple book clubs. I imagine them flitting from merry literary gathering to merry literary gathering. Maybe this one is all their friends from college, and that one is all their friends from yoga class, and then there's one that they were invited to by a friend and it's all that person's friends.
I guess my longing for a book club is just part of that most human of paradoxes: not really wanting to be a member of the club, but wanting to be asked.
I know other women in Los Angeles who are in book clubs. Many of them have been in these book clubs for years, and they mention them casually to me, in a way that makes me embarrassed at how much I want them to ask me to join. Because of course I could never ask to be invited to join a book club; it's like asking someone point-blank if you can be friends. And who does that? Sad, desperate, lonely people. Right? I have friends in LA, I remind myself, I have friends whom I love and am close with, but I've never really been a joiner or had a long-standing group of friends I did everything with, and when I have, it's been circumstantial: a few women who all just broke up with their boyfriends, say. Groups of friends can be overwhelming; I prefer hanging out with people one on one, or at most, there can be three of us. So I guess my longing for a book club is just part of that most human of paradoxes: not really wanting to be a member of the club, but wanting to be asked. And surely, I've exaggerated, in my head, the number of my friends here who have book clubs. They can't all have book clubs — can they?
My mom, who lives in Boston, has been in a book club with the same five or so women for almost 30 years. They meet on the first Monday of every month at a different member's house, and everyone brings food, and each fall they decide what books they're reading the following year. The only requirement is that they have to be in paperback, but there are several English teachers among them, and their tastes lean to the literary. When my brother and sister and I were little, my mother would leave dinner for us in the freezer for my dad to heat up on the one night a month she wasn't home. I guess somewhere in the back of my mind, I always assumed this would be me, too: a cozy group of women I was friendly with but maybe not necessarily best friends with, but whose opinions of A Visit from the Goon Squad I'm intimately familiar with.

That has not happened, though to be fair, it's not like I haven't tried. Right after I graduated college and moved to New York, my cousin's wife's sister, who was a few years older than me, invited me to join her book club as a "welcome to New York" gesture. It was very kind of her to include me; everyone in the group had already started living what I thought were impossibly perfect literary New York lives, which is to say most of them had MFAs and lived in cute apartments in Park Slope and the West Village. We read Ann Patchett and Jonathan Franzen and Louise Erdrich. I felt like I was trying on a New York life that I hadn't quite earned, and then I moved away for grad school, and left the book club.
My next attempt was when I joined a citywide Jewish graduate students' organization in Philadelphia, and offered to host a book club. The idea seemed appealing: Going off of my brief experience in New York, having your own book club seemed like a mark of adulthood, a rite of passage that I felt, at 23, like I was ready for. I had one or two meetings in my small living room in Center City; no more than two other people showed up for either one, and I quietly abandoned the experiment.
Having your own book club seemed like a mark of adulthood, a rite of passage that I felt, at 23, like I was ready for.
Then, a few years later, around 2008 or so, I was back in New York and working at the New York Observer, and two of my colleagues and I decided that we should have a New York–themed nonfiction book club — essays, mostly. We drew up a list of what we decided were essential New York texts: Joseph Mitchell's Up in the Old Hotel, Colson Whitehead's The Colossus of New York, Tom Wolfe's Radical Chic, Fran Lebowitz's Metropolitan Life, James Thurber, Nora Ephron, Charlie LeDuff, E. B. White, Dorothy Parker. We would meet once a month at Tarallucci e Vino, the all-day Italian café a couple blocks from our office at 21st and Broadway, and talk about writing about New York. This is the book club that I now look back on with the most fondness, and even so, we lasted only a couple of meetings and a couple of books until it seemed like too much trouble, with everything we had going on at work, to continue.
The next attempt was, I think, roughly around the same time or perhaps just after, because I had a Tumblr I was updating regularly and had made a bunch of friends on there, and I suggested that we do a Tumblr book club whose New York contingent would also meet in real life. I chose the first book, Ethan Canin's America America, which had come out recently and gotten good reviews, and seemed like just the right kind of contemporary literary fiction that we should be reading. And as soon as I started reading it I knew we would have a problem. I did not like the book, and based on what I knew of the other potential members, they probably would not like the book either, and indeed, when we met on a sunny afternoon in the backyard of Flatbush Farm, the restaurant and bar on Flatbush Avenue in Park Slope, everyone there kind of looked around glumly and announced that they'd either read the book and hated it, or hadn't even been able to get through it, and we never met again. From this group I learned the importance of choosing a book that at least one person has read, or it comes so highly recommended that you'll at least have a spirited discussion about it.
After that one, I looked at my track record — three book clubs attempted, three book clubs failed — and resolved that at the very least, I would not start a book club again. So when I moved to Los Angeles four years ago and my friend invited me to join her book club a few months later, I thought, Aha, finally! It seemed to have perfect symmetry with my first attempt at joining a book club; I'd moved to a new city, where I was trying to make friends, and here was someone swooping in and generously allowing me to join in. At first I was an enthusiastic member: I filled out the spreadsheet the organizer sent around, saying what I'd bring for the potluck, and I faithfully bought the books we were reading each month. If I couldn't start a book club, I could at least be a good member of one.
But then I was out of town for a couple meetings, and then there were a couple more meetings where I tried to read the book and just couldn't care enough to even finish and so it seemed pointless to go to a meeting where I didn't really know people to talk about a book I hadn't even read, and then a couple meetings were way too far away from my house, which in LA is the evergreen excuse to not go to something. (The rule of thumb seems to be that it's perfectly fine to bail if it's one or more of the following: rush hour, in the Valley, on the Eastside [if you live on the Westside], on the Westside [if you live on the Eastside], in Pasadena, if you have another event you absolutely must attend before or after on the other side of town, if the area around the host's house is permit parking only, or if you've just had the craziest week.) Then the organizer emailed me and said that it would be really nice if I could host the next meeting, and I felt so guilty about my sporadic appearance that I said okay.
I'm sorry, or maybe I'm actually proud, to say that this was not only the nail in the coffin for my membership in the book club, but I think it might have been the nail in the coffin for the entire book club. A few days before the Sunday afternoon I was to host at my house in Hollywood (Very central! No permit parking!), a promising eight people had RSVP'd. As the day approached, I made my preparations: I told my husband he would need to vacate the premises for a couple of hours, and even though people said they were bringing food, I went to Trader Joe's and stocked up on wine and crudités and hummus and cheese and crackers and one of those big plastic containers of meringues. I fretted about whether I would have enough for my guests to eat and drink. I emailed everyone the day before to confirm they were still coming, and everyone responded that yes, of course they were still coming! So when Sunday came and a couple people emailed in the morning to say that, unfortunately, they weren't going to make it, I still showered and blow-dried my hair and put on makeup and an outfit that felt cute but not like I was dressed up, and I set out all the food on the coffee table. My husband remarked that I had really gone all out.
Around an hour before people were supposed to start coming, I got another couple of texts, including one from the book club organizer, telling me that they were so sorry that it was so last minute but they weren't going to be able to make it either. But I got all this food, I wanted to text back, but of course you can't argue with a sick child or a thing that went long or whatever, and then finally one person showed up. We'd met a few times, me and this woman, but we weren't close friends — certainly not close enough where we would, under normal circumstances, be sitting together in my living room in front of a platter of crudités — but here we were, and so we sat and made what I can only describe as small talk about our jobs and the few people we knew in common. After half an hour or so, she asked if anyone else was coming, and I responded somewhat desperately that at least two other people had not canceled and so they should be showing up, and then finally, 45 minutes in, another member showed up, incredibly apologetic, bottle of wine in hand, and also slightly confused that it was just me and this other woman in my living room. We decided we didn't have to talk about the book, which none of us had liked anyway, and proceeded to gossip for another hour, and I told them how I thought it was so rude of everyone to cancel at the last minute and by the end we had decided, defiantly, that we were going to become actual friends, the three of us. The organizer eventually sent around an email that seemed to be a halfhearted attempt at another meeting, and no one responded. The three of us never did end up hanging out. And I resolved to never join a book club again.
Maybe, after all this time, I've finally grown to view my "failure" at not being in a book club as something that I'm not necessarily proud of, but I'm not ashamed of either.
Maybe, after all this time, I've finally grown to view my "failure" at not being in a book club as something that I'm not necessarily proud of, but I'm not ashamed of either. I guess you could say I've come to terms with it. And so, a few weeks ago, when I was at a friend's birthday dinner, and she suggested to me and a couple of the other women there that we start a book club, I considered it for a moment. In that moment, I had a sudden, compressed vision of how it would go: initial enthusiasm that, after a couple of mediocre books and a meeting or two where no one showed up (or meetings where I decided I'd rather lie outside on my hammock than drive to a meeting on the Eastside), would soon give way to guilt, and eventually apathy. I smiled — I felt rueful, but also like I finally, finally really knew myself — said, "You know what? I think I'm good. But… let me know if you do start it. I'd love to know what you're reading." ●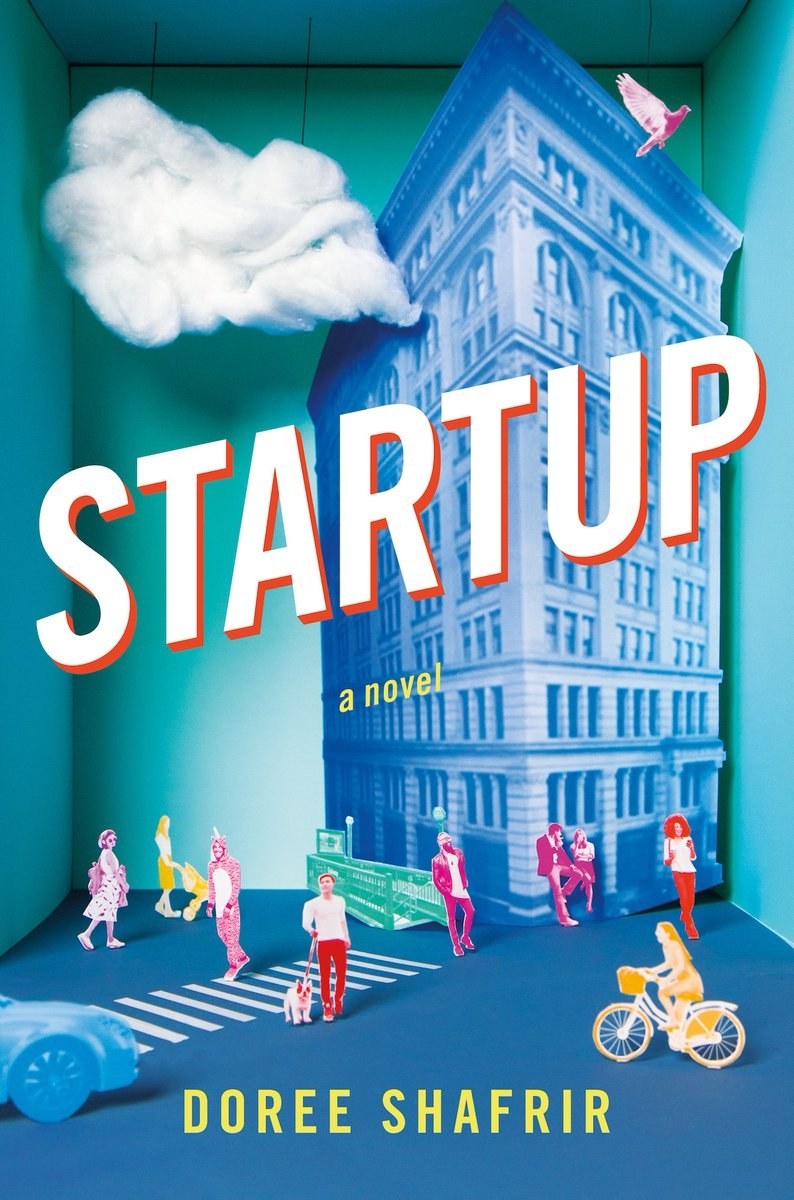 Doree Shafrir is a senior culture writer for BuzzFeed News. She grew up outside of Boston, went to college in Philadelphia, lived in New York for nine years, and now lives in LA with her husband Matt Mira, a comedy writer and podcaster, and their dog Beau, a rescue mutt of indeterminate origin.

To learn more about her new novel, Startup, click here.