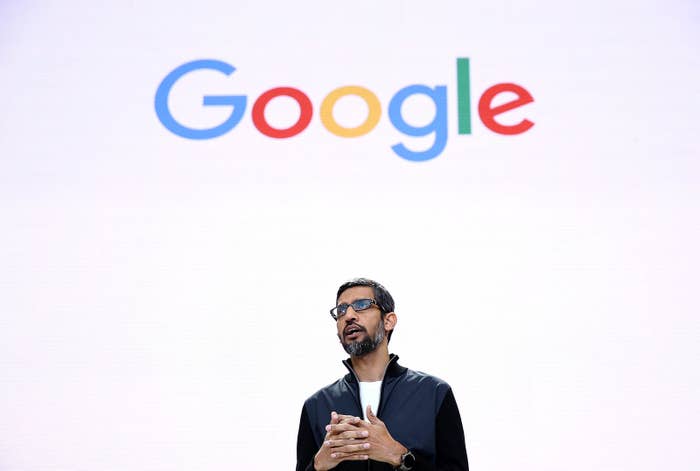 A class-action lawsuit filed today against Google in California Superior Court in San Francisco alleges that the company systematically discriminates against its female employees by paying them less than their male counterparts. In addition, the lawsuit claims that Google "assigns and keeps women in job ladders and levels with lower compensation ceilings and advancement opportunities than those to which men with similar skills, experience, and duties are assigned and kept."
Filed on behalf of three ex-employees — Kelly Ellis, Holly Pease, and Kelli Wisuri — the lawsuit's class encompasses any woman who worked at Google in California in the last four years. Plaintiff lawyer Jim Finberg, in an interview with BuzzFeed News, estimated that class "could be in the tens of thousands." Finberg added that filing the lawsuit in California, as opposed to filing a federal lawsuit, was strategic: "The California Equal Pay Act was amended twice in ways that make it somewhat more favorable than the Federal Equal Pay Act. On a technical level, the California statute says 'equal pay for substantially similar work,' and the federal statute says 'equal pay for equal work.'"

Google attracted increasing public scrutiny over the last few months. Last week, the New York Times reported that an internal Google spreadsheet of self-reported employee wages showed that women at five of Google's six job hierarchy levels are paid less than men. In August, Google engineer James Damore's memo against the company's diversity initiatives, which was circulated within the company, went viral; Damore was fired. Damore's memo and firing came against the backdrop of Google's ongoing refusal to comply with orders to release its pay data, going back two years. In January, the US Department of Labor sued the company for its compensation data; in April, a Labor Department representative testified that "we found systemic compensation disparities against women pretty much across the entire workforce," and still Google declined to release its pay data. In July, a judge ruled that the Labor Department's request for data was overly broad. Now the Labor Department either has to appeal, or be satisfied with the more limited data set that the judge ruled Google must supply.

If the lawsuit survives a motion to dismiss and goes into discovery, Google will be forced to provide reams of documentation about its hiring and pay practices. One of the lawsuit's most damning allegations is that Google's failure to pay men and women equally is willful because the company knew or should have known about its pay disparities but failed to equalize salaries.
The three plaintiffs all worked on different teams at the company, but had similar stories of being paid less than their male counterparts, shunted into less prestigious (and therefore lower-paying) roles, and denied promotions. Ellis worked for Google from May 2010 to July 2014 as a software engineer, and her pay disparity, she alleges, started when she was asked what her base salary at her previous job had been, and was offered the same amount. (Several states and cities, including San Francisco, have since passed laws banning the practice of asking for job applicants' previous salaries.) Not only that, Ellis was put in Level 3 on Google's Software Engineering ladder — which the company typically assigns to recent college graduates. Ellis had graduated in 2006 and had four years of backend engineering experience.
Within a few weeks, the lawsuit alleges, Google hired a male engineer — who had also graduated in 2006 — onto Ellis's team, but placed him at Level 4, where he was eligible for "substantially higher salary and opportunities for bonuses, raises, and equity" than Ellis was as a Level 3 engineer. By the time Ellis was finally promoted to Level 4, her male counterparts had also been promoted, "ensuring she could never catch up on the gender pay gap."
The complaint also alleges that women at Google were pushed into frontend engineering roles, which were perceived as less technically rigorous than backend engineering roles — even though the skills needed for both jobs were "substantially similar." But frontend engineers were paid less, while backend engineers, according to the complaint, were fast-tracked for promotion. The suit says Ellis eventually resigned because of the sexist culture at Google.
The second plaintiff, Holly Pease, worked at Google for over 10 years in a variety of engineering management roles in the Mountain View and Sunnyvale offices, receiving excellent performance reviews during her time there. By the time she became a senior manager, most of the employees she managed were on the "technical" job ladder, as was the only other senior manager in her group — who also happened to be a man. But Pease was placed and kept on the nontechnical Business Systems ladder, "with lower compensation and opportunities for upward mobility." She was later denied the opportunity to transition to a role on the technical ladder.
After Pease returned from a medical leave (the lawsuit doesn't specify when or how long the leave was), the only position available to her was a nonengineering role in physical security. She accepted the job and continued to get high performance reviews, but claims she resigned in February 2016, "due to the lack of technical and engineering opportunities available to her and other women at Google, the denial of compensation commensurate with her skills relative to similar men, and the stalling out of her career at the company."
The third plaintiff, Kelli Wisuri, started working in sales at Google's Mountain View office after her company was acquired in October 2012. Despite her 2.5 years of sales experience, Google put her at Level 2, the lowest level available for permanent full-time employees, while, the suit alleges, placing male employees with similar qualifications and experience into Level 3 or higher. In addition — like Pease, who was put on a less lucrative and prestigious ladder than her male counterparts — Wisuri was put into the Sales Enablement ladder, which was salaried, and not the Sales ladder, which was paid on commission. Enablement jobs, therefore, have "considerably less compensation potential than Sales jobs." In addition, almost all of the Sales teams Wisuri worked with were men — but about 50% of the employees on the Sales Enablement ladder were women.
The lawsuit claims Wisuri resigned in January 2015 "due to the lack of opportunities for advancement for women at Google."
By making the suit a class action, the plaintiffs have substantially increased Google's potential liability: The plaintiffs are asking for back wages, interest, and liquidated damages for everyone in the class.
In a statement provided to BuzzFeed News via email, Google spokesperson Gina Scigliano wrote: "We work really hard to create a great workplace for everyone, and to give everyone the chance to thrive here. In relation to this particular lawsuit, we'll review it in detail, but we disagree with the central allegations. Job levels and promotions are determined through rigorous hiring and promotion committees, and must pass multiple levels of review, including checks to make sure there is no gender bias in these decisions. And we have extensive systems in place to ensure that we pay fairly."
In response, plaintiff lawyer Finberg pointed to the Department of Labor investigation and the New York Times story, and added, "Certainly the information we have obtained from dozens and dozens of women at Google tells us that despite what might be Google's intentions, Google does not pay women as well as men who perform similar work."