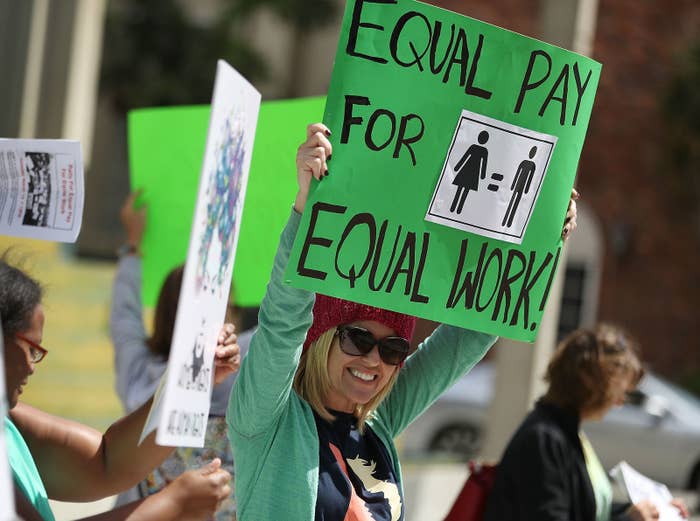 The tech sector in Los Angeles has grown in the last decade — but women who work in the field here have been falling behind. According to data compiled by LiveStories based on the most recent American Community Survey, the gender pay gap in tech in Los Angeles has worsened. From 2006 to 2010, women in tech in LA made 97 cents for every dollar men made, one of the highest ratios in the country. But by 2015, women in tech in LA were only making 82 cents for that same men's dollar — a drop of 17%.
That's still higher than the 80 cents for every dollar that the average woman in the US makes. Still, not only has no other occupation in the area become so much less equitable so quickly according to the survey data, but this also places LA among the worst places in the country for income parity in tech. In an industry dogged by pay disparity issues — in addition to several well-publicized sexual harassment and gender discrimination lawsuits — it's troubling that, at least in LA, this disparity has grown. (LiveStories' data encompasses the City of Los Angeles, where Facebook, Google, Snap and YouTube all have offices. Santa Monica, which also hosts a number of tech companies, is not included.)

It's particularly surprising since, as a recent study by Hired.com showed, the wage gap is lowest at seed stage companies. According to the study, "Smaller companies have more institutional transparency into the salaries of everyone on the team, which can ultimately negate possible gender pay disparities."

But tech jobs aren't just at small startups. According to the Bureau of Labor Statistics, jobs in this sector include a wide swath of professions — computer scientists, computer programmers, web developers, and database administrators, but also actuaries and mathematicians.
The most recent year for which American Community Survey data is available is 2015. That's also the year that California passed a Fair Pay Act, mandating that men and women be paid equally in the private sector starting Jan. 1, 2016. Employers are also barred from pay disparities that stem from differences in past salaries. It's possible, given the new law, that the pay disparity in LA will decrease in the coming years. But with companies like Google resisting orders to reveal pay data, it may take some time before we know.