When the author Michael Chabon was 11 years old, two events occurred that would have outsized influence on his life and work: His parents separated, and only one person showed up to the first and only meeting of the Columbia Comic Book Club. Chabon, who by then was living with his mother in Columbia, Maryland, had taken out an ad in the local paper inviting people to a multipurpose room at a local mall, where he intended to charge attendees $1 for membership. At the mall, his mother left him to run errands, while Chabon waited for others to arrive. Finally, one young boy around his age showed up with his mother — and promptly left, telling Chabon that the dollar was too steep an admission fee.
Today, Chabon is 53 and one of the most venerated and successful living writers in America, a brilliant storyteller with a litany of nerdy interests (comics, rockets, science fiction) that he weaves into his books in a manner that seems effortless. He wrote his first novel, Mysteries of Pittsburgh, while in the MFA program at the University of California, Irvine; his professor, the late author MacDonald Harris, sent it to his agent, who promptly sold it, and it became a bestseller. Chabon was 24. His second novel, Wonder Boys, was made into a critically acclaimed (if commercially underperforming) 2000 film by Curtis Hanson. In 2001, at the age of 37, he won the Pulitzer Prize for The Amazing Adventures of Kavalier & Clay, a book about superheroes and comics that is credited with bringing a literary sensibility to genre fiction. He has written comics, children's books, essays, musicals, song lyrics, and a viral GQ essay about taking his 13-year-old son to Paris Men's Fashion Week; he is the chairman of the board of the MacDowell Colony, an artists' colony in New Hampshire. His new novel, Moonglow — a fictional memoir about Chabon's family — has already been nominated for the Carnegie Medal of Excellence, and was called "elegiac and deeply poignant" in Michiko Kakutani's New York Times review. He has four children and a happy marriage and a beautiful Craftsman home in Berkeley, California, and a full head of salt-and-pepper hair. You kind of want to hate him.
He is a true, unrepentant nerd, who has only ever been looking for his people.
But it is hard to hate him. On a sunny morning in October, Chabon and his wife, novelist and memoirist Ayelet Waldman, pulled up to the Brown Sugar Kitchen, a popular soul food restaurant in West Oakland known for its cornmeal waffles, in a tiny sky-blue Fiat. That was the first clue that he might be achingly unhateable, because driving a Fiat when you are a world-famous author proclaims, I am not one of those guys who is obsessed with a fast, status-y car. That is a thing that a macho guy with something to prove would be into, not Michael Chabon. Instead, Michael Chabon is a guy who hasn't gotten over the Comic Book Club meeting — he is a true, unrepentant nerd, who has only ever been looking for his people. Of that ill-fated club meeting, Chabon has written, "In my heart, to this day, I am always sitting at a big table in a roomful of chairs, behind a pile of errors, lies, and exclamation points, watching an empty doorway. My story and my stories are all, in one way or another, the same, tales of solitude and the grand pursuit of connection, of success and the inevitability of defeat."
Waldman — who is tiny, with curly auburn hair piled on top of her head, and glowing skin — introduced herself and said she'd be sitting at the nearby counter doing work. Chabon — taller, and wearing a blue-and-white flowered shirt, dark jeans, black leather boots, and black-frame glasses — has a friendly, down-to-earth charm. After we were led to our table, he gave the owner, Tanya Holland, who he has been friends with for years, a hug. (Chabon wrote the introduction to the restaurant's cookbook, which was published in 2014.) A resident of neighboring Berkeley, Chabon is a longtime Oakland booster — his 2012 novel Telegraph Avenue takes place mostly in the city — and as we waited to place our order, Chabon gave me a brief history of the neighborhood. "This is still so…" He trailed off, gesturing vaguely around his head.
"Industrial?" I suggested. The restaurant is on a busy main street lined with junkyards and auto body shops, though I'd spotted a couple of telltale signs of gentrification on my way over — a coffee shop, twentysomethings on fancy bicycles.
"Mmhmm," he said. West Oakland was bifurcated by the construction of the nearby freeway, and in the grand, sad urban tradition of neighborhoods being decimated by highway construction, it never really recovered. "It ripped out the neighborhood part of it and left this part," Chabon said. "So now if you live here, you have to drive so far to get groceries and all that kind of stuff."
It's not surprising that Chabon would feel a strong connection to Oakland — he's a champion of the underdog, of the misunderstood, of the neurotic. And Oakland is an underdog city, a place that hasn't quite gotten its fair shake. Perhaps that is part of the reason why, in a moment when the white novelist seems no longer quite so ascendant, he has avoided the smugness of Jonathan Franzen or the clueless bluster of Lionel Shriver in a sombrero. That said, his sole effort at a truly multicultural Great American Novel, 2012's Telegraph Avenue — a sprawling story about a black record store owner in Oakland and his wife, a very pregnant midwife — did not resonate with readers in the same way his previous work has. In Slate, Troy Patterson wrote that "Chabon has often been a softie; here, his chin-up optimism about the human race proves mostly ingratiating and totally unsupportable in light of what we know about real-life humans. His heart bleeds where you might want him to get some bile up; the man is too nice to attempt anything on the order of social satire."
He's a champion of the underdog, of the misunderstood, of the neurotic.
Moonglow, Chabon's 13th book (in addition to novels, his works include a comics anthology, a serialized novel, a book of short stories, and an essay collection), is an epic family saga framed as the life story of Chabon's grandfather, as told to him via a series of deathbed conversations in the last week of his life. It is also Chabon's first novel in nearly 20 years to be written in the first person. (He wrote a draft of 2007's The Yiddish Policemen's Union in the first person, but abandoned it.) And in the same way that he's played with genre in his previous work — The Yiddish Policemen's Union was inspired in part by his love of hardboiled detective novels — Chabon sees Moonglow as a way to challenge received wisdom about memoir. The idea for the book was sparked by the discovery, in an old issue of Esquire magazine, of an ad for a missile made by the Chabon Scientific Company, whose headquarters were at 60 E. 42nd Street in New York. Chabon tried to learn more about this company, which did not seem to actually be connected to anyone in his family, but came up short, save for finding a defunct phone number for it in an old Yellow Pages.
In Moonglow's author's note, he writes, "In preparing this memoir, I have stuck to facts except when facts refused to conform with memory, narrative purpose, or the truth as I prefer to understand it. Wherever liberties have been taken with names, dates, places, events, and conversations, or with the identities, motivations, and interrelationships of family members and historical personages, the reader is assured that they have been taken with due abandon."
It's probably safe to say that many people who read that author's note will assume that Chabon's story is more or less true. But it is not, at least by a standard definition of "facts" — but Chabon argues that by being almost completely fiction, the book manages to get at essential truths about himself that memoir would not have been able to access.
"Most memoirs are scrupulous and careful and really are trying to just remember what they did and said and heard and felt. They're confined and they're limited in a way and nothing like what I'm talking about, I don't think, can ever emerge," he said. He put one of his poached eggs over the cornmeal waffle, and took a bite. "When you're creating something totally fictional, avowedly fictional, you end up creating something that has a life of its own in a way that you never could have anticipated or planned for."
"When you're creating something totally fictional, avowedly fictional, you end up creating something that has a life of its own in a way that you never could have anticipated or planned for."
In some ways, then, Moonglow is a return to Chabon's roots as a writer; his first two novels, the coming-of-age Mysteries of Pittsburgh and his second novel, Wonder Boys, are both semi-autobiographical and told in the first person. After Wonder Boys was published in 1995, a review by longtime Washington Post critic Jonathan Yardley would change the course of Chabon's career. The review, which was effusive in its praise for Chabon, nonetheless concluded with a warning: "Though Chabon has demonstrated a keen understanding of other people's minds and lives, thus far his preoccupation has been with fictional explorations of his own. It is time for him to move on, to break away from the first person and explore larger worlds. His apprenticeship is done; it has been brilliant, but the books as yet unwritten are the ones in which we will learn just how far this singular writer can go."
Chabon has said that this review pushed him to think bigger, to challenge himself — and write in the third person. Previously, he felt that genre writing was too limiting. In a 2005 New York Review of Books essay, "On The Mysteries of Pittsburgh," Chabon wrote of struggling to reconcile wanting to write science fiction with wanting to write something "with reach": "Welty and Faulkner started and ended in small towns in Mississippi but somehow managed to plant flags at the end of time and in the minds of readers around the world. A good science fiction novel appeared to have an infinite reach — it could take you to the place where the universe bent back on itself — but somehow, in the end, it ended up being the shared passion of just you and that guy at the Record Graveyard on Forbes Avenue who was really into Hawkwind."
But after Yardley took him to task for limiting his scope, The Amazing Adventures of Kavalier & Clay was born, in part, out of this desire to show that he could write a book that felt like he could combine his love of comics and fantasy with his literary sensibilities. "He really scorched the earth for a long time," Chabon said of Yardley. By writing Moonglow as a novel in the style of a memoir, he said, "I'm kind of flipping the bird to that, again. You want autobiographical, I'll give you autobiographical! This is first person."
The grandfather in Moonglow — who is only ever referred to as "my grandfather" — is the protagonist of the book, even though it's told in first person through the eyes of his grandson, Mike, who is putatively Chabon. Although, of course, not.
"In a weird way, it's a memoir of not my life, but my imaginative life, like a history of my imagination and also my experience of marriage and family, having children, even though the marriage in the book's not like my marriage, and the parent–child relationship, that's a stepdaughter and a stepfather," he said. "Yet, still, I felt so much. I was reading it to submit it for the last time, and Ayelet was reading the last time, too, and we just started talking about, like, it's weird how it feels like that grandfather's really me in a lot of ways."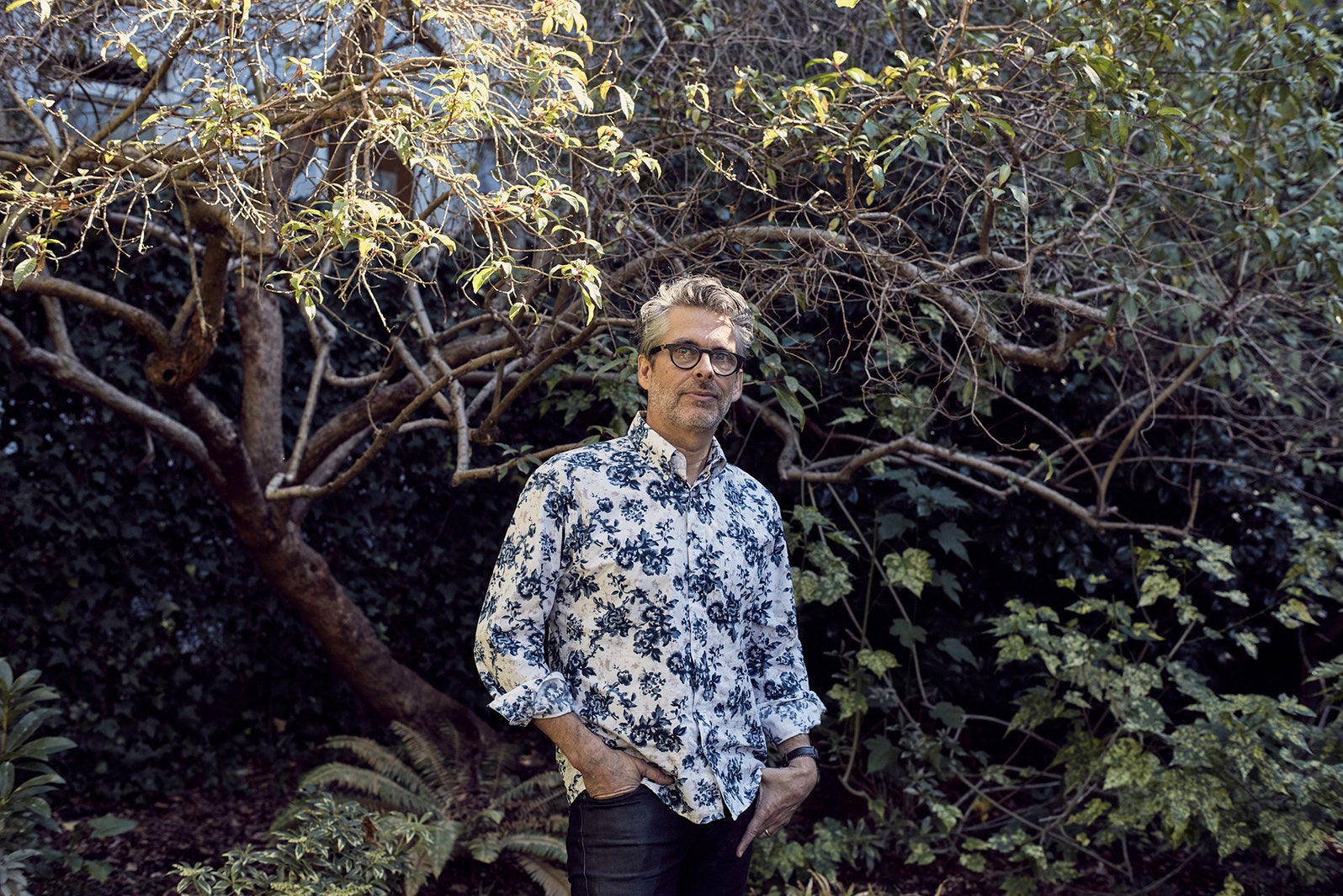 After we left the restaurant, Chabon and Waldman drove home together in their Fiat, and I followed. When I got to their rambling Craftsman, Chabon was outside with their five-month-old black Labradoodle, Agnes. He suggested we go for a walk.
Every few yards, Chabon would find a stick, put it in Agnes's mouth, and watch as she blithely let each one clatter to the ground. "Can you please just hold on to that? You're supposedly part retriever," he said. "What's your problem?" Agnes wagged her tail.
Soon, we approached a small, wooded island with a poop bag dispenser attached to a tree. Chabon seemed hopeful that here, amongst the leaves and the branches and the dogginess of the area, Agnes would finally fulfill her destiny. Briefly, she seemed interested in a piece of wood on the ground, and Chabon was heartened.
We stood in the clearing for a few moments. "I'm wondering if I can take this leash off here or if you're going to be a bad girl and run away." Finally, he sighed. "I don't want you to get hit by a car like your predecessor." In the end, he did not remove the leash, and we made our way back to the house.
In the kitchen, Waldman was walking around with a kind of neck brace with ice packs in it. "I was getting frustrated with Gmail, so I put this on," she said. "This is a cognitive behavioral technique where you bring down your body temperature when you feel like you're going to throw your computer across the room."
"Did it work?" Chabon asked.
"Yeah, it actually did," Waldman said.
In Moonglow, when the grandfather first meets his future wife — a refugee from Europe whose entire immediate family, except for her 5-year-old illegitimate daughter, was killed by the Nazis — he is captivated, and puzzled. Their initial encounter takes place at a casino night at their synagogue. When they meet, she zips up his fly, in an act that is tantalizingly taboo. When he sees her a week and a half later, at a dinner at the home of a prominent member of the synagogue, that version of the grandmother — flirtatious, reckless — is nowhere to be found:
"My grandfather was troubled and fascinated by this alteration from the girl of ten days before. Had the flirtatious gamine in the Ingrid Bergman sunglasses been a pose adopted for the evening, while this shapely vessel leaking sadness approximated something closer to the truth of her self? Or was it the other way around? Maybe neither version was the 'truth.' Maybe 'self' was a free variable with no bounded value. Maybe every time you met her, she would be somebody else."
It turns out that the grandmother (as she is referred to throughout the book) is a deeply troubled woman who is institutionalized for part of the narrator's mother's childhood; his mother is sent to live with an uncle. The grandmother's mental illness seems to stem in part from losing her entire family in the Holocaust, but the rest of the family struggles to survive in the face of her incapacitation. The obvious parallel — particularly if Chabon sees himself not, in fact, as the narrator of the book, but as the grandfather — is to Waldman, who has written publicly about her struggles with bipolar disorder.
"She's a lot crazier than I am, let's be clear," Waldman said. "I am not that crazy, but I am mentally ill. I have a mood disorder. Being married to me is hard. Being married to a woman with mental illness is really challenging, and it's been a challenge for Michael for the past 23 years."
Chabon's longtime friend, Lemony Snicket author and fellow San Francisco writer Daniel Handler, said that "he's kind of trafficking into deeper emotional territory" in Moonglow. "It's very vulnerable."
Typically, no one in the family asks permission to write about another member of the family.
According to Waldman, the grandmother's character evolved as Chabon revised the book. In the first draft, "he just kind of glanced on it. Then he did this incredible rewrite where he was just like, 'Who is this woman, and why am I writing about her?'" When Waldman read the next draft, it all clicked. Chabon asked her if it was okay for him to be writing a character loosely based on her. Typically, no one in the family asks permission to write about another member of the family. "We don't ask that question. Our attitude always is, 'You get what you get.' That's what it means to be the child, spouse, parent of a writer. But he asked me, which he's never done before, and I think if I had said to him, 'I can't be exposed like that' then he could have changed it, but of course I didn't."
"I think it's definitely part of what drove him to write this book," Waldman said. "Or at least what made it terrifying and juicy and important is that he needed a place to express what it's been like for him all these years to be married to someone like me."
Chabon seemed uncomfortable with this characterization. "I don't think anything really drove me to write the book," he said. "I mean, unconsciously — I mean possibly. But that's the thing about unconscious impulses. They're kind of mysterious." Still, he admitted that he used his own marriage for inspiration. "When I was trying to depict the marriage between these two people, and in particular how the grandfather contended with it and felt about it, I unquestionably drew on my own experience. Whether that was why I wanted to do it or whether that drove me to do it, I couldn't really say."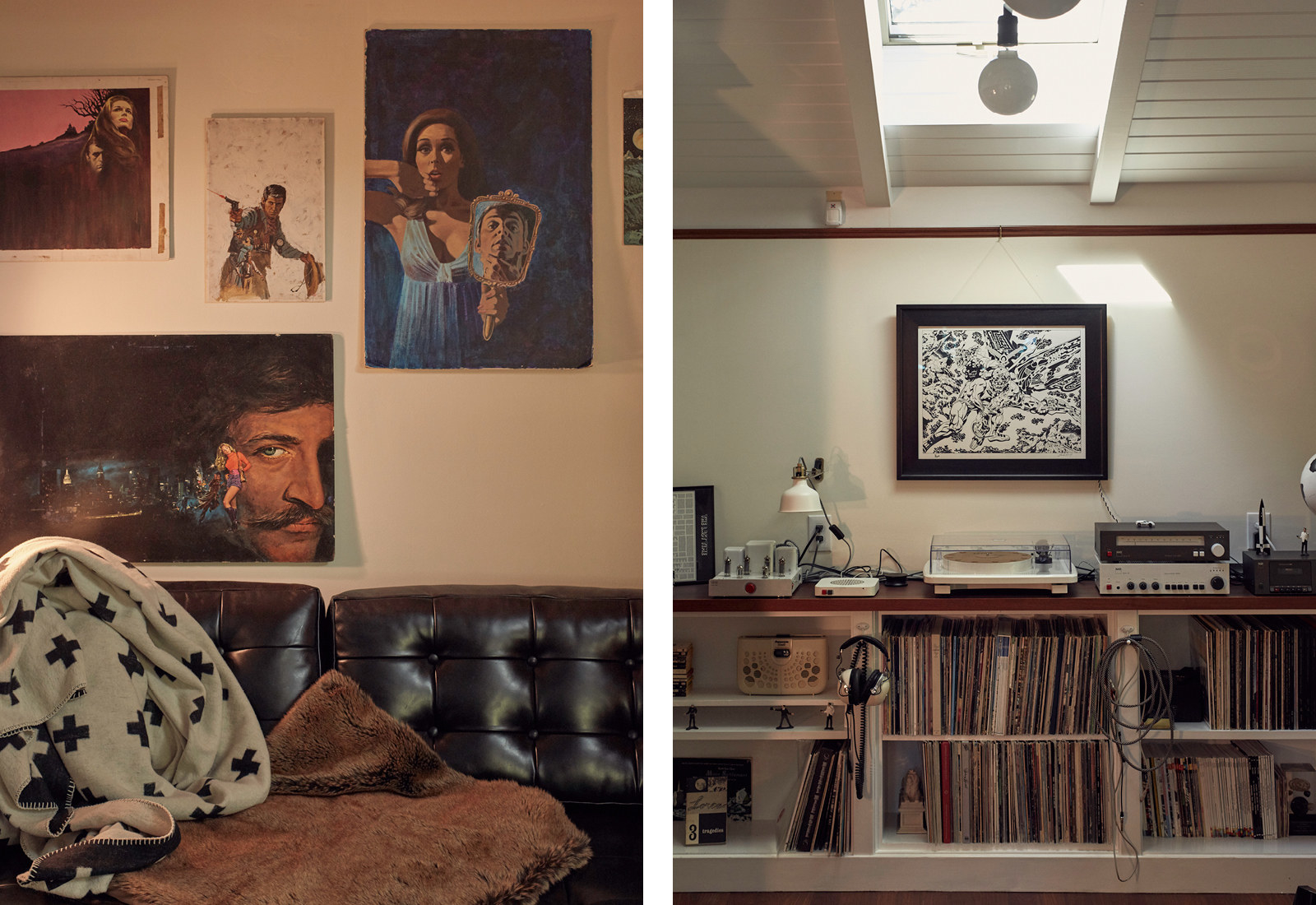 A good quarter of the backyard of the Chabon-Waldman household is taken up by a wooden playset — swings and a curvy slide topped off by a treehouse. Behind the playset is Chabon's wooden-shingled office, a cozy, one-room space that also serves as a physical embodiment of Chabon's obsessions: comics, science fiction books from the '50s, Judaica, an old typewriter, framed vintage magazine covers, action figures, and a big book of tarot — research for his current project, a children's book. This is where Chabon comes every night between 10:30 and 11 p.m. to write, until 4 in the morning. Agnes has a crate in here, and she'll usually follow him out and curl up while he works. He wakes up around 10 or 11 a.m., when Waldman's day has already been in motion for hours; she finishes work (for years, they shared Chabon's office, but now she has her own office inside the main house) around 2 or 3, and they usually spend the rest of the day "more or less together."
Some creative couples keep a respectful distance. Chabon and Waldman would be on the opposite end of this spectrum, wholly intertwined with each other. They are in constant communication about what they're working on with each other. "Sometimes, maybe if you're having a hard time getting going, it's like, 'Does this sound okay?' Usually the first draft is less about editing, just encouragement," he said.
"The one thing we can't do for each other is be fresh eyes, because we're there from the very inception," Waldman said by phone the next day. "We get our hands dirty in each other's work a lot." She then relayed a story about Chabon editing a draft of one of her manuscripts on paper around seven years ago. Then the members of her women's writing group came over and saw the marked-up pages. "It was just a sea of red. Lots of this note that he gives me all the time, which is 'DB,' which means 'do better.' My equivalent note for him is just 'yuck.' I write 'yuck' everywhere. They were horrified. None of them could ever imagine dealing emotionally with that. But that's what we do for each other all the time."
Creative and romantic intimacy seem inextricably linked for them.
She paused to tell Agnes to stop eating the yard ("I had to pull a leaf out of her ass yesterday, covered in shit, and I realized it's because she's basically consumed the entire yard piece by piece"). "We have this huge part of our marriage and our intimate relationship that has nothing to do with children, and nothing even to do with coupledom. It's really great. It keeps things exciting, and fresh, and it gives us a place to connect that's outside the traditional realm of marital intimacy. That's one of the secrets to why we've been married for so fucking long." But the two — creative and romantic intimacy — seem inextricably linked for them. They're currently editing a book of essays about the Israeli occupation, and have also optioned a ProPublica article about a Seattle woman accused of making false rape allegations whose rapist was later caught by detectives in Colorado; they're working on the script for a TV show based on that article together.
Chabon has a reputation in the Bay Area and beyond for being an incredibly generous reader and booster of writers and books. "He's endlessly supportive of the San Francisco writing community," Daniel Handler said. "I know he's helped people edit their work, he's helped people publish their work, he's helped people promote, and he's helped by being in the interviewer's chat, just to shine a light on a writer that might not otherwise be getting attention."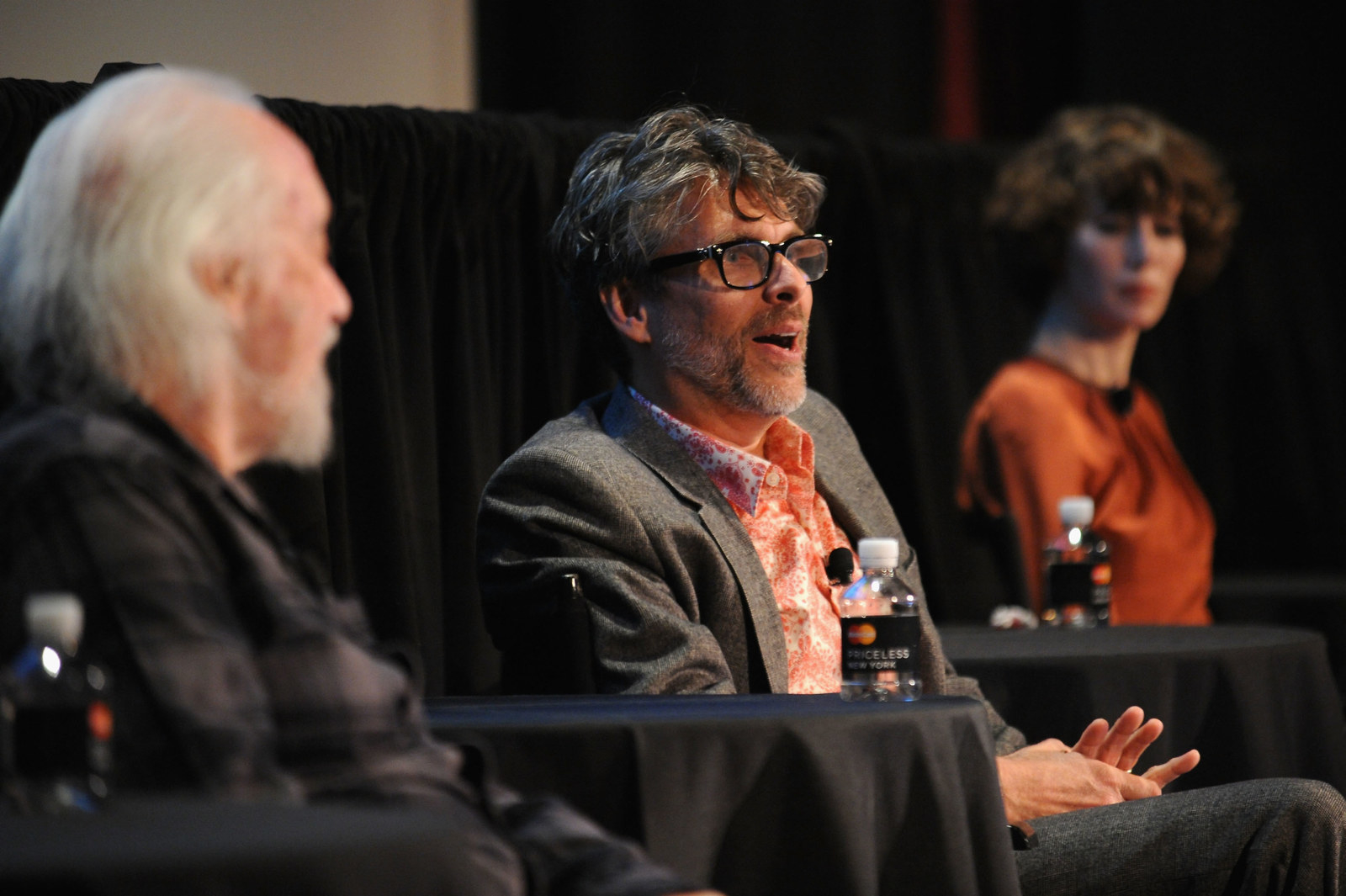 In 2001, the San Francisco-based novelist Andrew Sean Greer was the little-known author of a book of short stories, and he was supposed to be opening for Chabon at an event at the San Francisco Main Library — but Chabon never showed. When he got home, "there was a message from Ayelet on my answering machine saying, 'We forgot about the event, it was my fault, I never told Michael about the event, and we have to take you out to dinner at Chez Panisse,'" Greer said. Chabon subsequently hosted several events for Greer's next book that, according to Greer, "made an enormous difference. So many people came because of him."
The novelist Ann Patchett, who met Chabon at MacDowell in "1995 or 1996," now owns Parnassus Books in Nashville (in addition to being a bestselling author). She recalled how "incredibly kind" Chabon was when he visited her store to promote Telegraph Avenue. As a bookstore owner, she said she now understands "that all writers are judged not by how nice they are to the people in the audience, but how nice they are to the bookstore staff. And he was exceptionally nice."
He is also, as Waldman put it, "incredibly stubborn, and incredibly tenacious." Once, she and Chabon went to a dinner party, and he immediately zeroed in on a combination lock on their hosts' coffee table. "He looks at the lock, and he says to our friend Lisa, 'What's the deal with the lock?' She said, 'I know the combination, but I can't seem to get it open. It never works.'" For the rest of the evening — "before dinner, after dinner, the whole freaking time" — Chabon tried to get the lock open. Finally, he succeeded. "Lisa was like, 'Yeah, well, that's great, but dude, it's a combination lock and it doesn't do me any good if you get it opened once.'" (After hearing an anecdote like this, it's easy for one to surmise why the superhero created by the comic book artists in Kavalier & Clay is called the Escapist, inspired in equal parts by the magician and escape artist Harry Houdini, and Superman.)
"He's never doing what's fashionable," Waldman said. "He's always just doing what sparks his interest." That, said Waldman, extended to Telegraph Avenue, which she characterized as "one of his great unheralded masterpieces." She continued, "He engages with the emotional life of an African-American midwife in a way that's so believable and authentic and nuanced and complicated. I know that there are some writers who feel like unless they're actually fucking an African-American midwife they couldn't write that character, but he did it, and I think he did it beautifully because he approaches writing women now in the same way he approaches men, with a humble openness."
Cultural appropriation in publishing had been a long-simmering topic before the author Lionel Shriver appeared at a book festival in Australia wearing a sombrero and declared, "Taken to their logical conclusion, ideologies recently come into vogue challenge our right to write fiction at all." For his part, Chabon said that he felt that cultural appropriation "really only was something I felt like I needed to think about when I was working on Telegraph Avenue, as soon as I decided I was going to be writing big chunks of the book from the point of view of African-American characters. I did think about it." But in terms of appropriation on the whole, Chabon said, "I don't think it's an argument at all. I think it's just a form of censorship, clearly. It may be well-intentioned censorship, but that's the case with a lot of censorship. The people who are trying to do the censoring have good intentions." And when he did consider questions of cultural appropriation when writing Telegraph Avenue, he said, "I probably spent about two minutes on it."
Indeed, he said it would be a fallacy to assume that writing from the point of view of a black woman going through labor is different than writing from the perspective of the white, Jewish grandfather in Moonglow. "All I have is my imagination, and my capacity for sympathy and empathy," he said. "It wasn't any easier to write [the grandfather] than it was to write Gwen, or any harder. Even when you're writing a character who's heavily autobiographical or close to you — it just feels the same to me. It doesn't feel any different. It's just as hard, or just as easy."
Chabon is deliberately unaware of many of the Twitter maelstroms that have emerged around this topic, because he is not on Twitter (he has an account, but has only tweeted twice). "I can't tweet," he said. "I don't understand why." Occasionally, he said, he has "a little thought" about a tweet and tells Waldman, who is very active on Twitter. "She'll be like, 'meh.'" He prefers Instagram, where he posts frequently. "I actually enjoy the community, the people I follow," he said. "Some of them are people I know, but there's also a lot of people that I don't know except for Instagram. There's a real connection I feel." But perhaps most important is that, as he put it, "people are just nicer on Instagram."
What Chabon's fiction is obsessed with are hapless fathers, deadbeat fathers, cheating fathers, but most of all, absent fathers.
Unlike Waldman, who appears to welcome controversy, Chabon is conflict-averse, and seems ill-equipped to deal with the fast-moving, contentious nature of Twitter. He also has no desire to write fiction about the current political climate. "I'm very slow to grasp and understand complex situations, and also what the emotional truth of a particular situation might be, whether it's in my personal life or a really complex situation going on in the wider world," he said. "I need to ponder, I need to be able to look back and see things in hindsight... I can think of things about Donald Trump, but that's not enough for me. I can't just go with that."
What Chabon's fiction is obsessed with are hapless fathers, deadbeat fathers, cheating fathers, but most of all, absent fathers. Whatever it is that he's working out there, he's manifesting something very different in his real life, with his real children. And Chabon has been obsessed with wanting to be a good father since the time he was a teenager. "My idea was pretty simplistic at the time," he said. "I would never have been able to put it in language like this. I would have wanted to be present in my kids' lives, as present as their mother, and to do the work whether that's cooking dinner or housework or when they're babies, all the work of babies' diapering and nap and getting up in the middle of the night and all that stuff, just to do my share I perceived even at that point as being 50%. That is still my ideal, my vision, but of course what I didn't know was how hard it is. I had no idea just how hard that work is. Also, I didn't know, because it's so hard, how many mistakes I would make, how much failure there is involved in it just on a daily basis really — always falling short of the mark or feeling like you're falling short of a mark."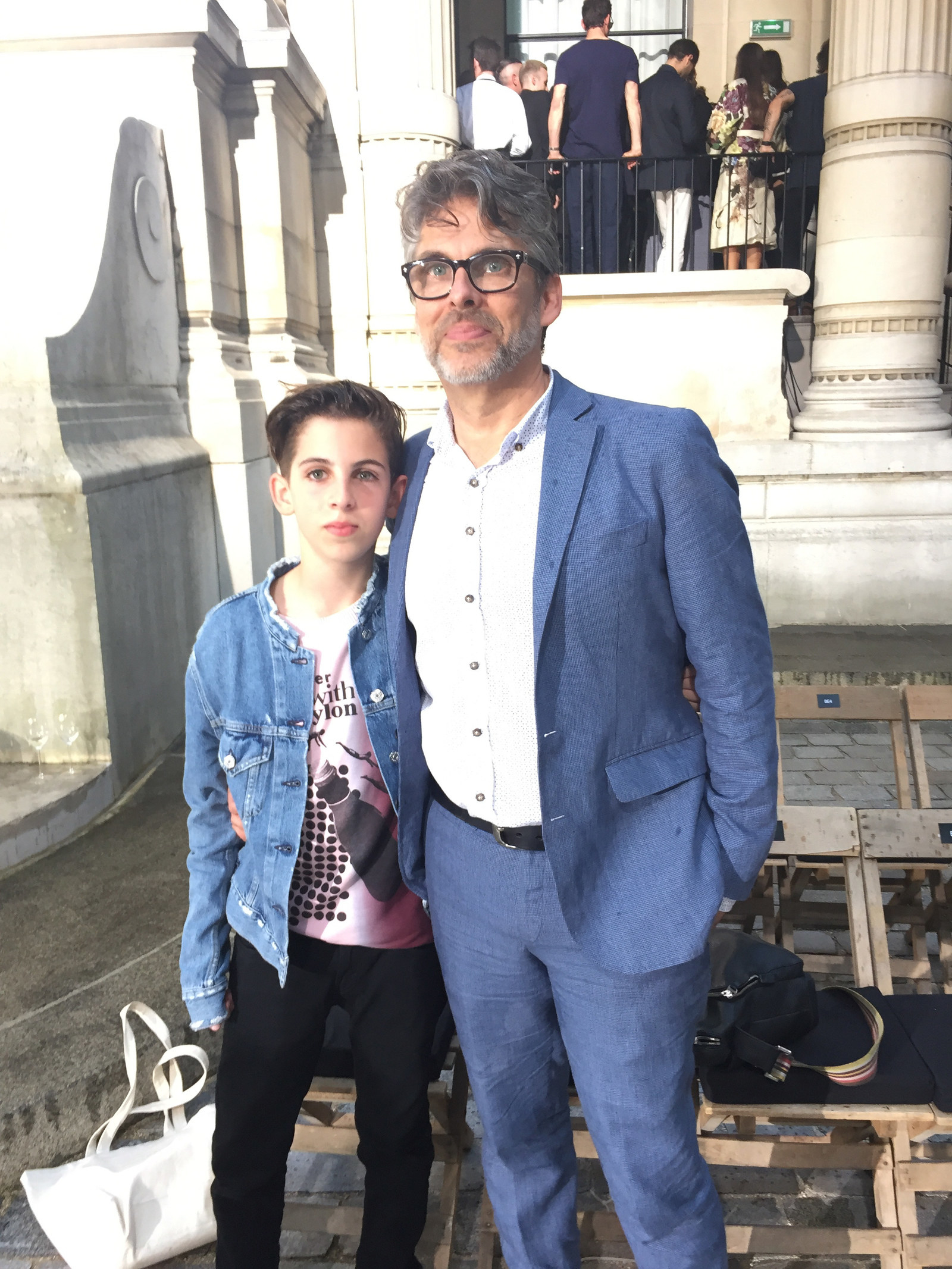 In September, GQ published an essay Chabon wrote about going to Paris Men's Fashion Week with Abe, the youngest of his four children. (Sophie, the oldest, is a senior at Wesleyan; Zeke is a freshman at Bard; Rose is a junior in high school.) He has been a bestselling author for nearly 30 years, and yet he said that the experience of how that essay spread was "incredible, so unprecedented in my career."
The essay is a beautiful, heartfelt distillation of fatherhood. Very few men have spent fashion week with their 13-year-old sons, and yet there was a relatable poignancy to the piece — about what happens when it's clear that our children don't need us in the same way that they used to, and become their own people who have interests and obsessions that differ greatly from ours.
The essay ends with Chabon realizing that Abe has finally found his people, and highlights what Chabon has been thinking about nearly his entire life — that we all need to find our tribes, and often it takes some longer than others. Waldman said she has long viewed Chabon's relationship with his kids as another manifestation of his desire to have his own tribe. "We had all these children so that he could have more members of his club," she said. Chabon and the kids were into Doctor Who years before it became popular in the US (the license plate of one of their cars is a reference to the time machine in Doctor Who), and "they would go to these comic book conferences, or to Renaissance Faires all decked out, the five of them, in these costumes, whether it be Doctor Who or steampunk shit that they were really early to. It was so adorable to watch them, from the time they were tiny, they were just ready, eager member of this team, this club, this car full of nerds."
As he writes in GQ:
You are born into a family and those are your people, and they know you and they love you and if you are lucky they even, on occasion, manage to understand you. And that ought to be enough. But it is never enough. Abe had not been dressing up, styling himself, for all these years because he was trying to prove how different he was from everyone else. He did it in the hope of attracting the attention of somebody else — somewhere, someday — who was the same. He was not flying his freak flag; he was sending up a flare, hoping for rescue, for company in the solitude of his passion.

"You were with your people. You found them," I said.

He nodded.

"That's good," I said. "You're early."
The story itself was a challenge, Chabon said, starting when they arrived in Paris. "I'm not a journalist. Having to take notes and always be on, paying attention to the things that seemed like they were germane to what I was there for — that was stressful," he said. "I got through that, and then the writing of it was so stressful just because again, it's not my usual purview. Also, I'm trying to both truly figure something out, truly try to make this full, honest effort to try to understand something that I truly don't understand, and do it in a way that's respectful of my kid that doesn't intrude too much on his privacy or present him in some way that I felt like he wouldn't want to be presented — to be conscious of all that and trying to really get at something about him, and then to obviously do it well and write well and all that stuff, it was so hard. It was one of the hardest pieces. I started over and over again trying to find the right lead, trying to get in."
Chabon was surprised, he said, when the essay went viral. ("I mean, I know a lot of people read GQ, but most people do not read GQ.") He heard from people he hadn't heard from in years. Gay teens messaged him through his Instagram account. Abe was approached about doing fashion writing himself. "When it started to happen, I just couldn't believe it," Chabon said. "I didn't know, almost, what to make of it. I had to go back and re-read it."
More than 40 years after the failure of the Columbia Comic Book Club, Chabon has found communities and clubs where he wasn't even looking for them.
It perhaps stands to reason that someone whose primary social media platform is Instagram wouldn't necessarily be familiar with the experience of going viral — of all the dominant social media platforms, Instagram is the one that feels the most insular; there's no easy way to share someone else's post, and most "sharing" is done by simply commenting with someone else's username. And it's not a written medium. Still, Chabon's surprise and wonder at going viral in 2016 seemed in no small way to be the appropriate culmination of a lifetime of feeling like the outsider. Having a bestselling novel has, of course, its own potency, but there is a rush to going viral that he had never experienced before. More than 40 years after the failure of the Columbia Comic Book Club, Chabon has found communities and clubs where he wasn't even looking for them.
"People keep talking about the ending, the ending. I was like, 'What the fuck's with the ending?' Then I went back and re-read, and I was like, 'Okay, I see now what they're talking about. But in my case, I'm just like, how the fuck do I end this thing? What is it all about?" He paused. "There was that sense of, I'm just gonna go with this because I think this is right."