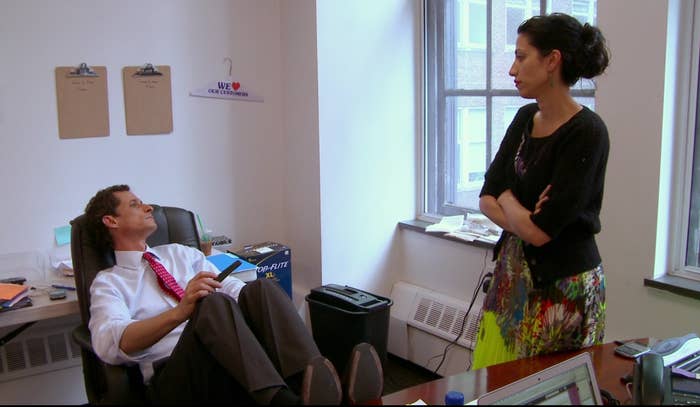 There's only so much a political wife can take, and yesterday we learned the limits of Huma Abedin, Hillary Clinton's right-hand woman and long-suffering wife of New York's sexter-in-chief, Anthony Weiner. This time, Weiner — who seems pathologically unable to stop sending dick pics to random women he meets on social media — was caught sending a picture of himself in his underwear while lying in bed next to his and Abedin's 5-year-old son. To Abedin, who has stuck by her man in the face of truly humiliating scandals (including learning that her husband's nom de dick pic was Carlos Danger), involving her child in his photographic escapades was a bridge too far. This time, there would be no press conferences telling the world she was continuing to support her husband. This time, she has announced their separation.
This time — as my friend Ann Friedman (who interviewed Abedin on her Call Your Girlfriend podcast several months ago) tweeted, "stuck on a plane on the ohare runway & may never breathe fresh air again but it's ok because Huma is free and can breathe for all womankind" — women cheered. And indeed, when the news came out that Abedin was finally — finally! — kicking Weiner to the curb, it did seem like the cohort of well-educated, fashionable, successful women who have read Abedin's profiles in Vogue and watched with admiration as she accompanied her boss around the world had breathed a collective sigh of relief. It was a victory for anyone who has ever thought their wonderful female friend was way too good for her ne'er-do-well husband. What heights will Abedin be able to reach now that she's free of the ice hockey-playing albatross that's been around her neck for six years?
If you've seen Weiner, the recently released documentary about Weiner's failed 2013 New York City mayoral campaign, you know how incongruous his marriage to Abedin looked from the outside. When his campaign began, Weiner was still responding to questions about his first sexting scandal, in 2011. That scandal was when he accidentally tweeted a picture of himself in his underwear that he meant to send to a 21-year-old woman in Seattle via direct message. And so, his campaign is initially framed as his redemptive, triumphant comeback. (In 2007, I profiled Anthony Weiner myself for the New York Observer in anticipation of a 2009 mayoral race, which he chose not pursue.) But from the beginning, the film serves to highlight the differences between Weiner and his wife. Weiner is brash, immature, hot-headed, narcissistic, short-sighted, and possessed of a wholly unjustified hubris; Abedin is cool, calm, collected, sophisticated, elegant, beautiful, soft-spoken. A 2007 Vogue profile described her as a kind of Olivia Pope figure: "It's the morning after the second set of Democratic debates. Huma Abedin has had three hours of sleep and four cups of coffee, but her black Prada suit is wrinkle-free, her skin is flawless, and her long, luxurious hair is blow-dried into the kind of bouncy waves you see mostly in shampoo commercials." This is a woman who gets it done.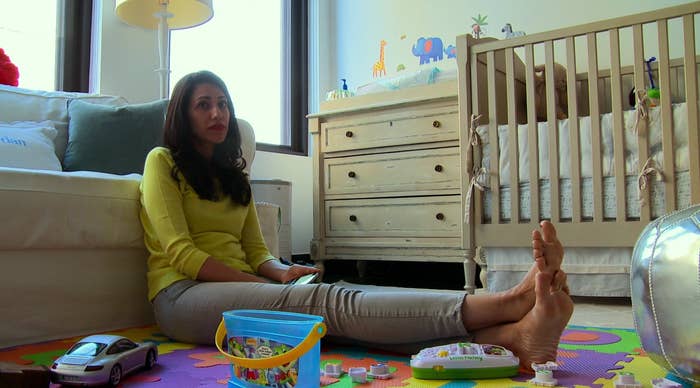 And yet. Many scenes in Weiner show Abedin silently watching her husband with a look of undisguised contempt on her face. Still, she stands by him throughout the entire film. At a Women for Anthony fundraiser, Abedin says confidently and convincingly that she believes in her husband, and that "no one will make New York safer, stronger, and more secure than my husband Anthony." When the applause dies down, Weiner gets up in front of the crowd and says, in a reference to Abedin always staying behind the scenes: "I feel like when people saw Charlie Chaplin in the talkies for the first time. Like, that's what she sounds like!"
Weiner's dissembling — he's constantly lying, then admitting he lied, but then also leaving some things out, and then admitting he left things out, and then wondering why people care so much — is exhausting for a viewer; I can't begin to imagine what it was like to live with that day in and day out. But the political wife is between a rock and a hard place. Stand by your man, and you're subject to speculation about why you put up with his bullshit; leave him, and you're not only unforgiving, but you've also just broken up your family. Whether you see yourself as a feminist or not, there's still no right answer. And of course, in part because Abedin works for Hillary Clinton, it's all too easy to draw the parallel between Hillary sticking by Bill and Abedin (until now) sticking by Weiner. Just last month, Vanity Fair published a story headlined "How Is Huma Abedin Still Married to Anthony Weiner?"
Her decision to finally leave, then, has echoes less of Hillary (who of course is still married to Bill) than of Silda Wall Spitzer, the ex-wife of disgraced former New York Gov. Eliot Spitzer, who was caught as a regular customer ("Client #9") of what was described as a "high-class prostitution ring." Initially, Silda stood by Eliot, who resigned as governor. Her bridge too far was discovering that her husband was having an affair not with a prostitute, but with a much younger political operative named Lis Smith — who in turn gave Eliot the boot two months before he allegedly assaulted a woman at the Plaza Hotel, who promptly fled to Russia when the news came out; the woman, who was allegedly a $5,000-per-night escort, later retracted the accusation.
Today, Silda Wall Spitzer is the director of a private equity firm that invests in environmentally friendly companies. She got a very, very nice divorce settlement from her ex-husband. And post-divorce, she's quietly become a political force in her own right, as the Wall Street Journal wrote in May in a story headlined "Silda Wall Spitzer Carves Her Own Path in Politics." The same story notes that a Clinton spokesman said, "Mrs. Clinton appreciates her support and friendship." (How much should we read into that brief statement? Who knows!)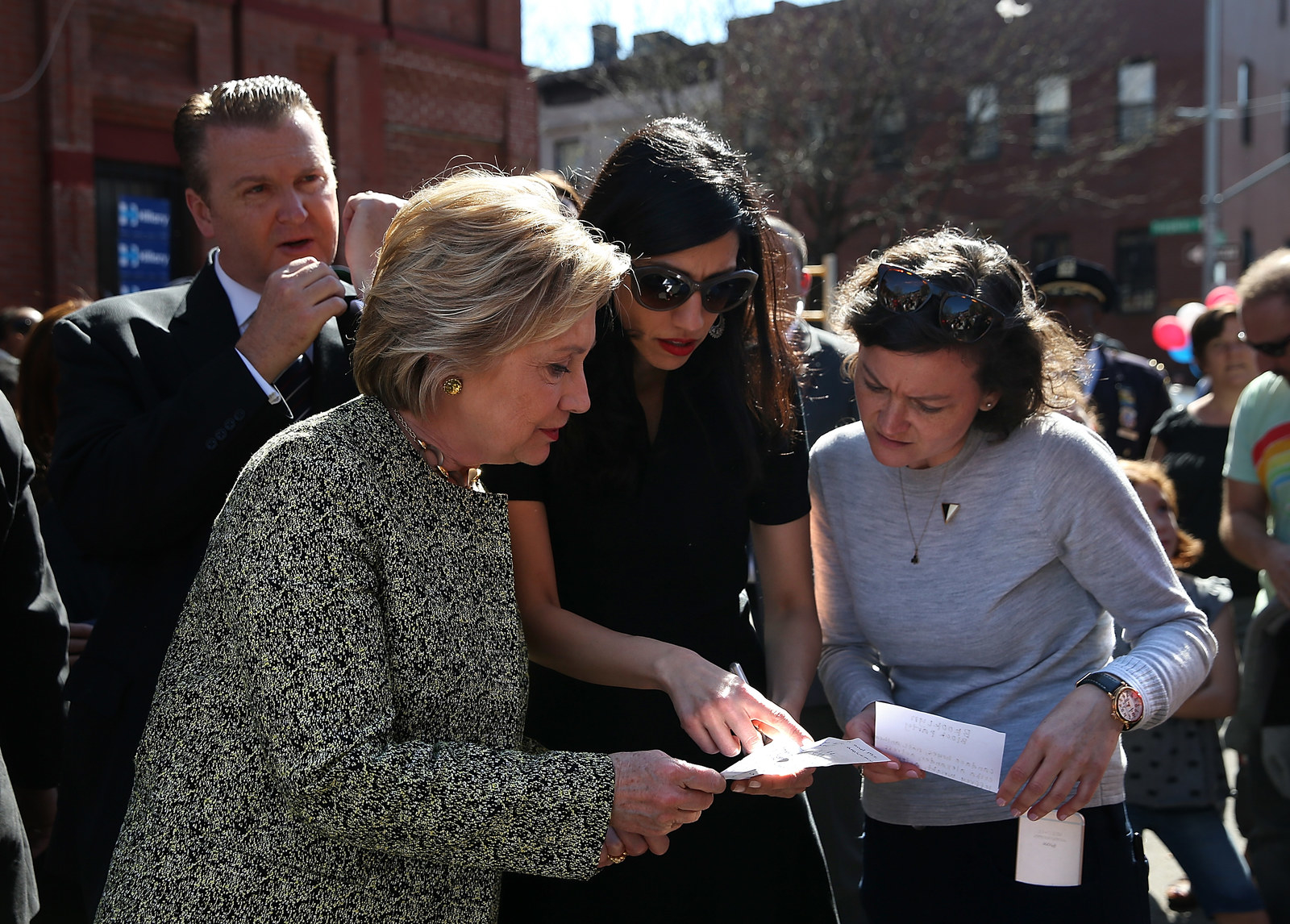 Recently, a new, glowing profile of Abedin came out in the September issue of Vogue. It disposes of the documentary and Weiner himself in a couple of paragraphs; the rest of the story is concerned with how vital she is to Hillary Clinton's campaign: "Powerful, glamorous, and ubiquitous, Abedin is in many ways the engine at the center of Clinton's well-run machine, crucial and yet largely out of sight," and concludes that "it is widely assumed that if Hillary Clinton is elected president, Huma Abedin will be her chief of staff."
There's no way that Abedin could have predicted exactly when more revelations about her husband were going to come out, but there's no doubt that she knew she needed to both do damage control from the documentary and reassert her position of power. As William Cohan pointed out in a January Vanity Fair piece, it's a fiction that Abedin is "notoriously private" — "Like many other political operatives, she appears in the media when it suits her agenda" — and Abedin has long turned to Vogue when she needed a story about how she's both great at her job and looks great doing it. What the Vogue profile makes more than abundantly clear is just how much more Anthony Weiner needed Huma Abedin than Huma Abedin ever needed Anthony Weiner.