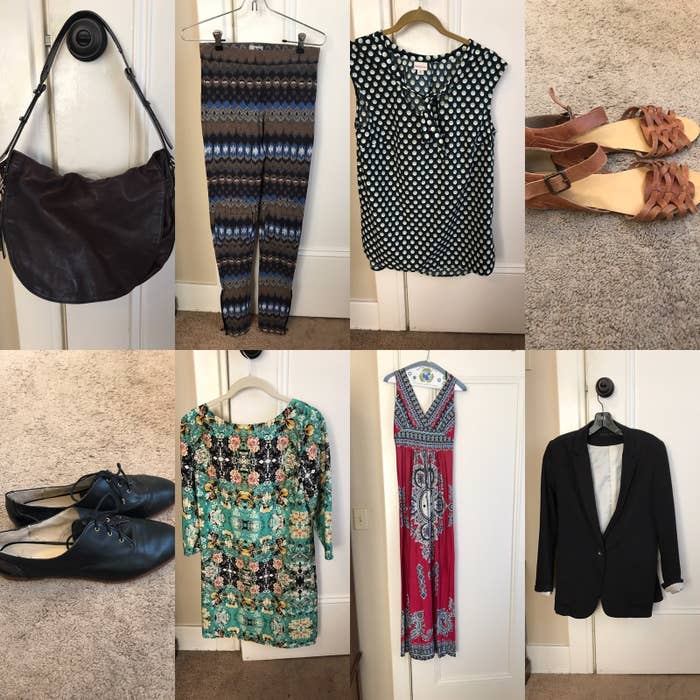 I never read The Life-Changing Magic of Tidying Up, but I've nonetheless been in a somewhat manic purge of much of my wardrobe in the last few weeks. I felt like I had suddenly looked at my closet and thought: Who do all these clothes belong to? My clothes made me feel like a stranger to myself; they represented a previous version of me. Usually my wardrobe updates happen gradually, which is how I've ended up with a closet full of clothes I no longer wear and a few outfits that I wear constantly, but this time, instead of also getting rid of the old stuff gradually, I needed all of it out of my life immediately.

I've bought and sold used clothes, shoes, and bags on the internet for the better part of the last 15 years: first on eBay, then Etsy, and more recently on apps like Poshmark, Tradesy, ThredUp, and the Real Real. I liked the relative anonymity of those platforms — yes, I had a username, but the people buying my used Lululemon pants (a big seller, believe it or not) were, thankfully, strangers — but stuff took awhile to sell. I've also sold clothes to local brick-and-mortar stores like Buffalo Exchange, although the stress of standing there while a stranger judges your sartorial choices and then offers you $3 for a shirt eventually got too stressful. So this time, I turned to Instagram.
Over the last few years, Instagram has developed a robust grassroots marketplace of used women's and children's clothing, especially. Accounts have been selling clothes on Instagram since at least 2013, when the then-new direct messaging feature debuted, making it much easier for sellers and buyers to connect. While the introduction of business profiles, as well as apps such as Like2Buy and Spreesy, have made it easier for brands and stores to sell directly from Instagram, I was more interested in the ins and outs of how individuals sell used clothing on Instagram.
But I also didn't know anyone personally who sold clothes on Instagram, and I felt ambivalent about turning my personal account into a virtual flea market. The couple of articles I read about how to sell your clothes on Instagram suggested starting a separate selling account, but I already had close to 7,000 followers and it seemed too time-consuming to try and build a new selling account from scratch (especially since this is, theoretically, temporary). Would people judge me for selling clothes to friends, instead of just giving them away? Would they judge me for having too many clothes? Would they judge me, period?
I decided to do an experiment: I would post the same items simultaneously on Instagram and Poshmark, where I had sold around 50 things (gradually, over the course of a year and a half), and see where they sold more quickly. And even though it was a completely different platform, I also took some things I learned from my Poshmark selling and applied it to my Instagram closet. Everything was clean and in decent condition. I posted multiple, well-lit pictures of each item, from different angles. I tried to describe the condition of the item accurately, and take close-ups of any flaws. I listed the size and whether the item runs large or small. (What I didn't do: use acronyms like P2P, aka the "pit-to-pit" measurement on a shirt, or EUC, aka "excellent used condition," that I figured most of my followers wouldn't know.)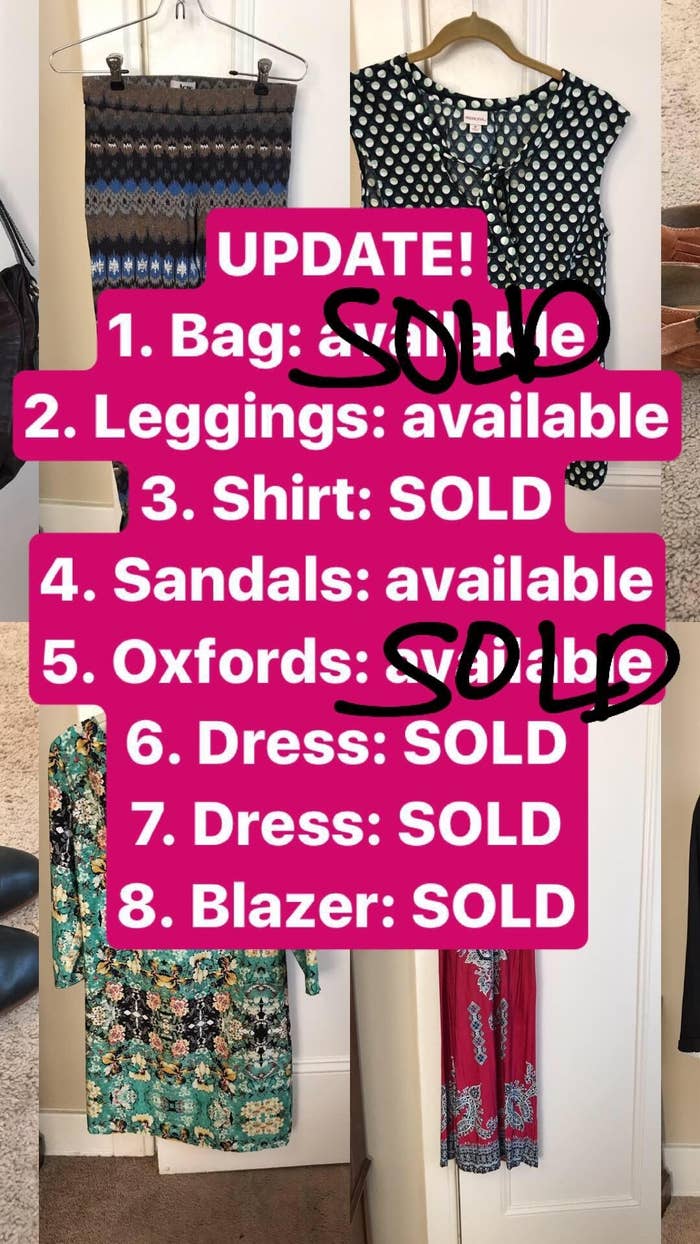 Most important: I priced everything to move. I wanted to make *some* money back, but I saw everything I was selling as a sunk cost: I wasn't wearing these clothes, and earning even $10 or $20 was better, in my opinion, than having them sit in my closet unworn — even if items had originally cost much more. I decided that anything I didn't sell, I would donate to a local charity. (I'd read too many articles about how most donated clothing ends up in landfills for this to be my first choice, and I ended up donating a substantial portion of the proceeds from my sales to Harvey relief efforts anyway.)
I posted multiple pictures of each item on my Instagram Story, since it seemed like, based on my anecdotal research, Instagram shows your story to more people than it does any one of your posts. I also made a collage of the pictures of every item and posted that as one image on my regular Instagram, along with very short descriptions and prices, and directed people to my Story to see more. I used the hashtags #shopmycloset and #instacloset on my posts — although it seemed like all of my sales came from people who were already following me, not people who were wading through the thousands of posts with those hashtags.
Over three weeks or so, I posted a total of 40 items — a mix of shirts, dresses, pants, shoes, and bags. Everything except for three shirts, two pairs of shoes, and two pairs of pants sold. And everything sold on Instagram, except for a bag and a pair of sandals that sold on Poshmark.
I was including shipping in my prices, and I quickly learned that while I could easily send small, light items such as shirts via first-class mail in pineapple-patterned mailers that I bought on Amazon ($13.99 for 100), heavier items such as shoes and bags had to go via Priority Mail — which initially was almost as much as I was charging for the items themselves. After the first weekend of selling, I began charging $5 to $10 for shipping on heavier items. Everyone who messaged me about an item paid me via PayPal or Venmo almost immediately, and I shipped everything the next day.
There's an element of trust inherent in any online transaction on the parts of both the buyer and seller. But when you use a platform like eBay or Poshmark to sell to strangers, both sides have a degree of protection, in theory. Instagram, of course, offers no such protection — if someone claimed they didn't receive the package, or that something wasn't in the condition I said it was, they had to assume that I would refund their money and I would have to assume they weren't lying. In part because of that, I was reluctant to post anything too expensive — for that, I'd rely on a more traditional platform that theoretically offered me some protection against fraud.
As my closet has thinned out over the last few weeks, I was embarrassed to realize just how impulsively I bought most of my wardrobe — and how little of it I actually wore regularly. I enjoyed shopping, and I never felt like I had a problem, exactly, but I certainly never shopped mindfully. I was fortunate enough that I hardly ever thought about what I needed in my closet; instead, just the fact that something was cute and reasonably priced was enough. Which was how I'd ended up with a closet full of clothes I barely wore. It made me feel wasteful, too — I didn't even want to start calculating how much I'd spent on these clothes.
So I'm changing my ways, shopping more deliberately, and collecting the things that catch my eye on a private Pinterest board. I love shopping and clothes — I don't want to lose that pleasure — but I also want to feel like what I'm buying is something I will truly get a lot of use out of. I might be paying a little bit more for everything up front, but the cost per use will theoretically be lower. And hopefully, this time next year, I won't have anything I want to sell on Instagram.
Parts of this post were adapted from my TinyLetter, Finding Doree.