One weekend in November, Steve Madden was sitting in the greenroom at a brand-new Nordstrom in Torrance, California, waiting to go downstairs for a personal appearance to promote his eponymous shoe line. Wearing his typical uniform of baseball cap, long-sleeve henley T-shirt, jeans, and black boots, his body has the top-heavy triangular shape of someone who spends most of his free time at the gym. Madden, who is 57, does around one of these so-called PAs per month, shuttling to malls across America in private jets to do meet-and-greets with fans. As he waited, his team indulged his wildly ricocheting topics of conversation, from discussing the music his kids listen to (Meghan Trainor, Fifth Harmony, One Direction) to the 1958 Yul Brynner movie The Buccaneer.
Downstairs, the line of people waiting to meet Madden stretched around the entire shoe department. A 21-year-old woman named Alexa Tokich, there with her friend Jenna Morgan, also 21, showed off her Steve Madden shoes and bag. "I love Steve Madden," she said. "He's so insanely talented." Morgan called the decision to come meet him "not negotiable — my friend texted my other friend about it, and I said, 'We have to meet him.'"
If you are a "Steve Madden girl," you are probably in your teens or early- to mid-twenties; you don't have a ton of money to spend — you rarely pay more than $100 for a pair of shoes — but you are about being, as fashion magazines like to put it, "on trend." You like buying a pair of shoes for the club and a new pair for a first date and a pair for work and another pair to keep under your desk at work.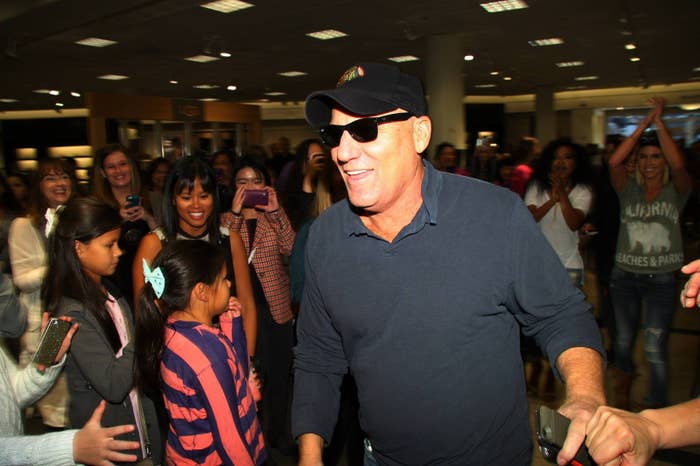 Madden has a well-honed instinct for what the Steve Madden girl wears and what she is willing to spend her money on, which has been the case since he started his company in 1990 with $1,100 in the bank, selling samples of a clog he had designed called the "Marilyn" out of the trunk of his car. Since then, he has managed to sell more women's shoes in this country than almost any other brand. In addition to the Steve Madden–branded lines, his company now owns, among others, Betsey Johnson, Dolce Vita, Report, and Brian Atwood, and produces shoes, handbags, and belts under license for companies ranging from Elizabeth and James to Superga to L.E.I. In 2015, the company — whose 350 corporate employees are headquartered in the same Long Island City complex they've been in for years — had net sales of $1.4 billion, a slight increase from 2014 and more than double what it did in 2010. Today, Steve Madden has nearly 120 retail stores (including outlets) in the U.S. and more than 250 international stores, including a strong presence in the UAE, Mexico, and China.
But all those sales have come at a cost. Madden's precipitous rise in the '90s led to a financial scandal that eventually earned him nearly three years in federal prison and a portrayal in The Wolf of Wall Street. And he still can't shake the perception that some of its designs are blatant knockoffs of more expensive shoes or handbags. Perhaps because of that, Madden himself has never gotten the recognition he thinks he deserves from the fashion establishment — even as he's achieved success by going around it.
At Nordstrom, Madden sat in front of a backdrop with the company logo on it while everyone got their minute or two with him: First a store photographer shot a photo, and then he signed a reusable shopping bag with the company logo on it. Some people also asked him to sign shoe boxes, or the soles of shoes. Some asked him to sign their phone cases. On all of them, he wrote the same thing: "Be where your feet are," a quote meant to evoke mindfulness and staying present.
One woman set down a box of shoes she'd just bought, and Madden opened the box and took out one of them: a mule. He turned it around in his hand lovingly, almost caressing it. "I spent a lot of time with this shoe," he said, almost to himself. "When I started the company 25 years ago, I had a shoe like this."
At the end of the PA, Madden walked the floor, talking to staff and looking at the shoes on display — both his and his competitors'. "It's good to see the people who buy the shoes," he said. "They feel like they're meeting their favorite author. It makes people feel like part of the brand."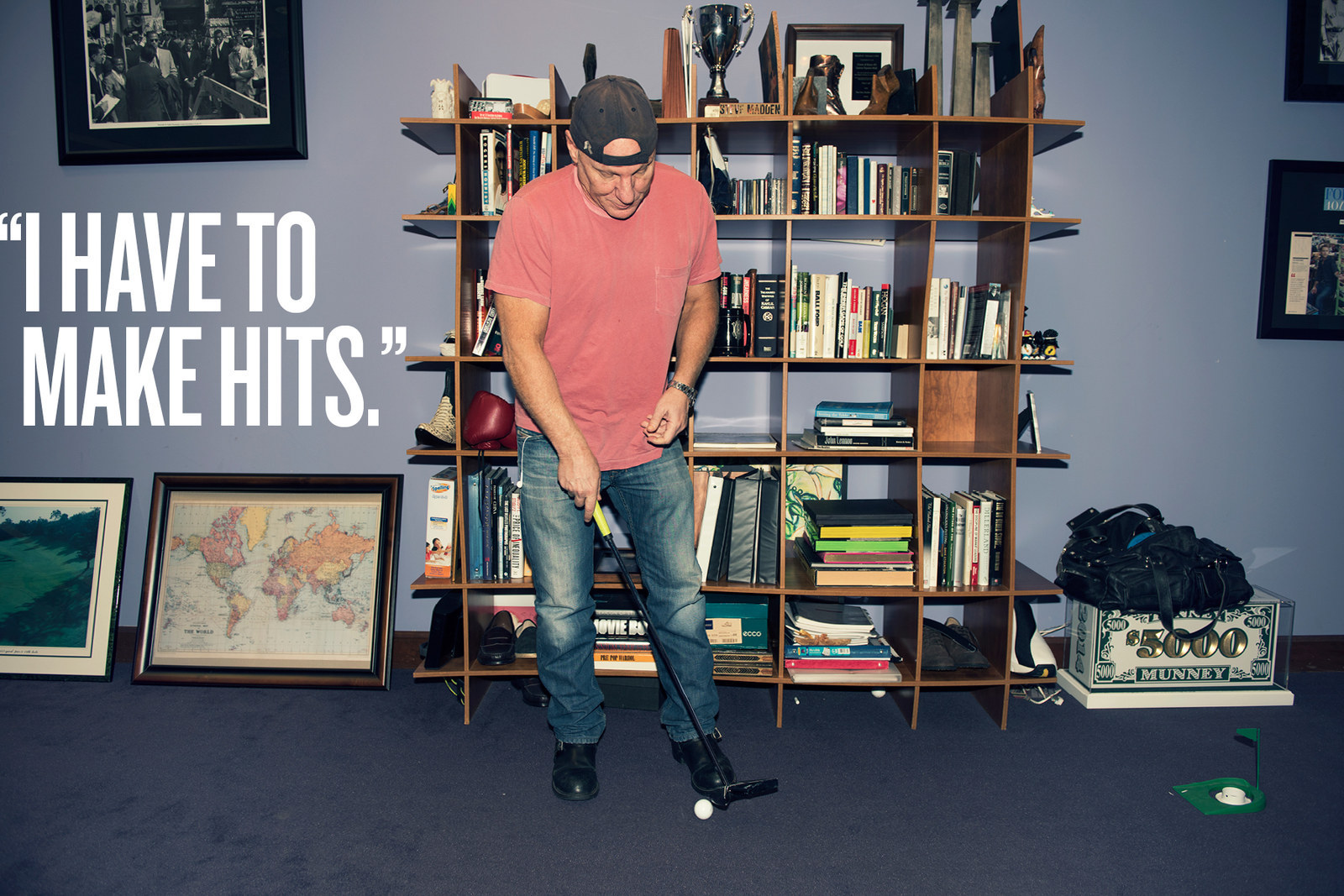 A few weeks later, as Madden and I sat in the darkened Midtown showroom of Freebird — a Steve Madden line of boho Western-themed shoes whose prices are mostly clustered in the $200–$300 range — Madden told me how he thinks about his shoes. "Like, I'm so concerned about how they'll do. Almost like a guy making a movie, you know? As opposed to let's say, Christian Louboutin or one of those guys, where they just design their line. They make a collection and everybody goes, it's fabulous, but there's no follow-up to see how did it really do. But with me, I'm more like a moviemaker or a record maker. How it does is so important. I just have a feel for it. I hope I'm right."

Madden has no formal training in designing shoes. He grew up in a heavily Jewish area on the South Shore of Long Island, the son of a Jewish mother and a Catholic father. During high school, he worked in a shoe store, but his post–high school education consisted of two years at the University of Miami, where he embarked on a high-flying lifestyle that included drinking, drugs, and gambling. He left college after a phone call from his father, who told him, "I'm not paying any more money for you to play golf and take Quaaludes." (Madden has been sober since 1989.)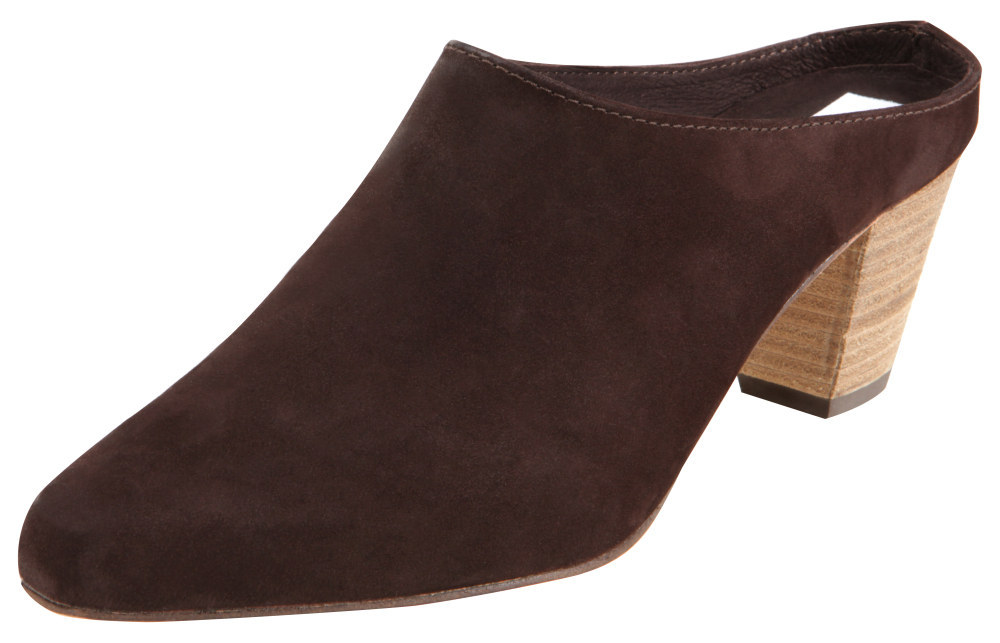 After dropping out in 1977, he went to work for Jildor, a women's shoe boutique in Cedarhurst, Long Island, and then for eight years for a shoe wholesaler, L.J. Simone, which sold shoes targeted at teenage girls. He started designing shoes himself at age 24, after the wholesaler had distribution problems. He's always focused on women's shoes — he says men's shoes are not as "exciting" — and he seems to revel in the idea that women's tastes are constantly evolving and changing. In some ways, that means the stakes are higher.
"I have to make hits," he said. "Like Harvey Weinstein, believe it or not. I mean, it's not enough for him to say, 'I made this film and they don't like it, too bad, I liked it and thought it was important.' No. He has to sell tickets!"
Luckily, hits came relatively easy for Madden. Thanks to his keen eye for trends and low price points, '90s high schools were overrun with his signature styles: a patent-leather Mary Jane and a chunky-heeled loafer. By the end of the decade, he'd not only opened several stores, but was turning a profit on tens of millions of dollars in sales.
But behind the scenes, Madden was engaged in some not-so-savory activities. One of Madden's childhood friends from Long Island, Danny Porush, was one of the founders of Stratton Oakmont, the brokerage firm made famous in The Wolf of Wall Street. In 1992, when Madden needed cash to grow his company, he went to Porush. Less than a year later — with only one store, its Soho flagship, open — Porush and his Stratton Oakmont co-founder, Jordan Belfort, took Steve Madden public. But unlike most of the companies that Stratton Oakmont took public — which usually ended up crashing after Belfort had hyped them up and sold his stock at a huge profit — Madden's company managed to thrive.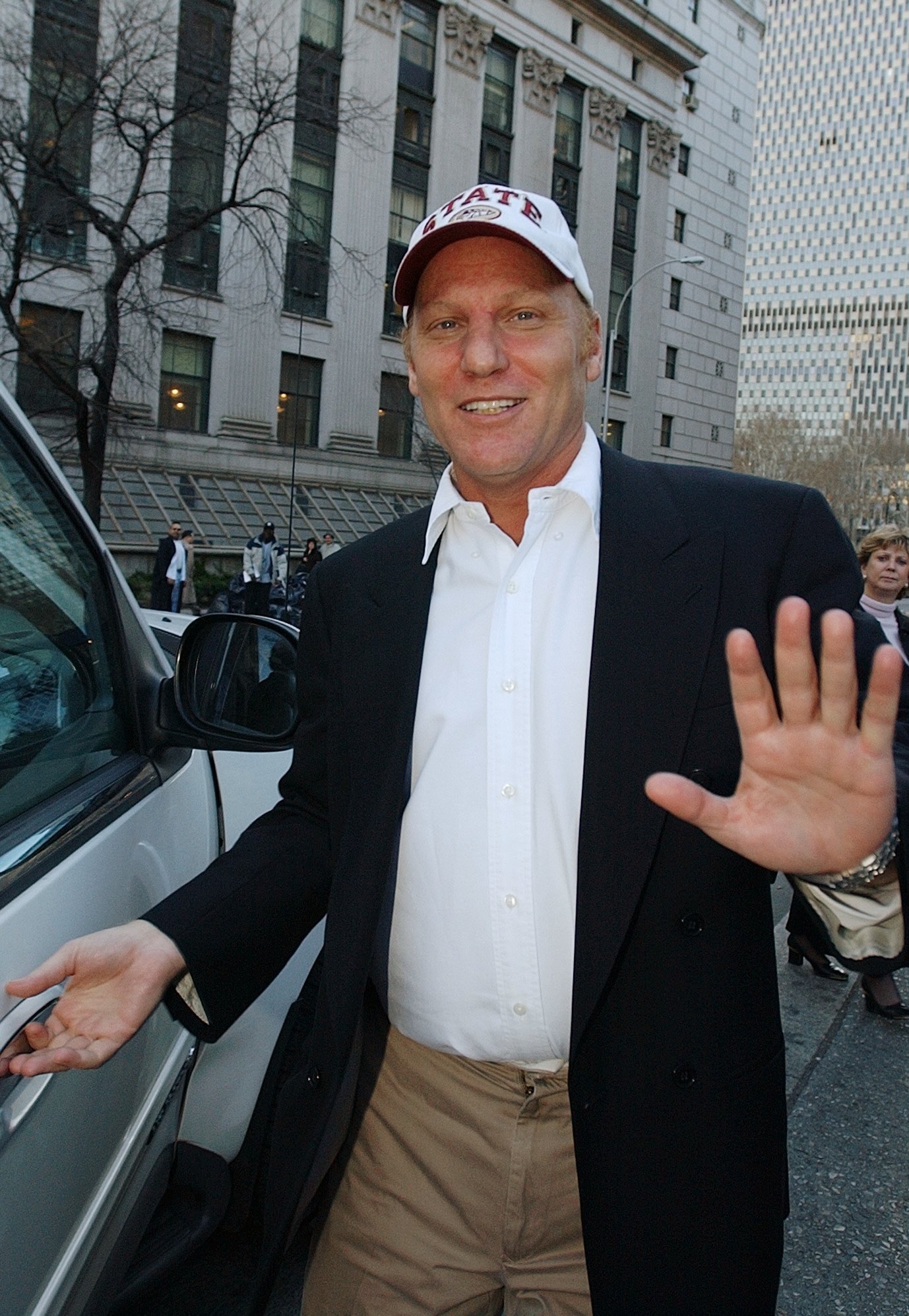 According to the 2000 SEC indictment against him, Madden conspired with Porush and Belfort to manipulate the 1993 IPO of his company. This kind of IPO manipulation was along the same lines of the other penny stocks that Belfort had taken public, but Madden had also secretly agreed to sell a majority stake in the company to Belfort and employ him as a consultant, even though Belfort had been banned from the securities industry. After being faced with long prison sentences, Belfort and Porush both flipped, but Madden refused to testify against his onetime friends — and ended up serving 31 months of a 41-month prison sentence. (Belfort and Porush each served 22 and 39 months, respectively, of their four-year sentences. For an excellent chronicle of the years leading up to Madden's indictment, as well as his belief that he wouldn't have to serve any prison time, read this February 2001 profile in New York Magazine.)
Today, Madden is matter-of-fact about his time, as he puts it, "away." Any trace of bitterness over everything that transpired seems to have been replaced with a more pragmatic attitude that the whole episode has, in fact, changed his perspective for the better.
"You could have shame over it, but it's out there, so that's embarrassing," he said. "So you might as well have fun with it, even though it was a devastating, heartbreaking experience, for sure. But I tell stories about it, I always talk about it. I talk about it to customers. People do make mistakes. People make mistakes and we have to learn how to forgive."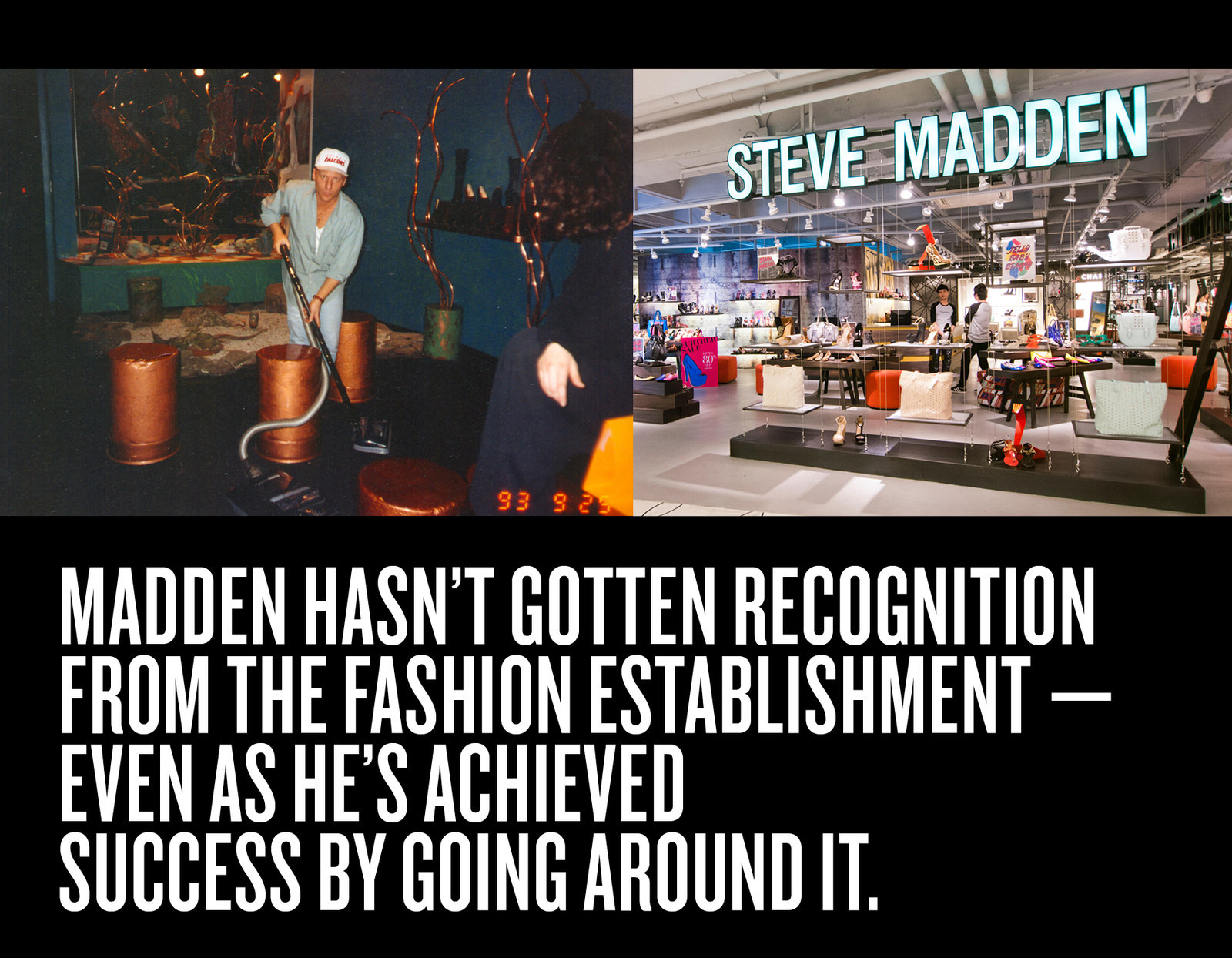 Despite Madden's composure about prison, his years there — he was released in April 2005 — marked a difficult time for the company. As part of his sentence, Madden was forced to resign as CEO and from the board of directors — although he stayed on as a "creative and design chief," meaning that he got paid a salary of $700,000 a year while in prison. The company replaced Madden as CEO with his childhood friend, Jamie Karson, who left in 2008.

"Oh, god, that was a real tough time," said Steve Madden President Amelia Newton Varela, who started in customer service in 1996. "Fashion was changing. At the time we were known for being a casual house, and there was a huge shift. Pumps were selling, and that wasn't something we were known for. So as we're trying to transition our products, Steve was away. Our leader was not here to help lead."
Once he was out of prison, he took on the title of creative and design chief — playing to his strengths. (The CEO since 2008 is a former investment banker, 39-year-old Ed Rosenfeld.) Even though the bulk of the shoes the company sells are produced in factories in Mexico and China, Madden also has a small factory in Queens that exclusively produces samples — a rarity among shoemakers in the U.S., and something that helps the company have a faster turnaround time than its competitors. He doesn't work off sketches, instead describing his vision to his design team and expecting them to execute it. "I'm a real shoemaker," he said.
According to Vice President of Design Rachelle Watts, who has been with the company since 1994, Madden is "very involved." "He's talking to us about things he loves or hates every single day," Watts said. "His impulses are what's made us so successful. He'll pick up a shoe and say, 'Let's try this with this bottom.' You sort of learn to read his mind — it's like little bits and pieces of the puzzle that, as we start building it in the factory, his expression will tell me if I'm on the right track or not. It's a very emotional process."
Yet Madden hasn't had quite as much success selling to women in their late twenties and thirties who not only have a little more money to spend, but see themselves as too sophisticated for his footwear. In 2000, the company launched Steven, a more expensive line that is geared toward a slightly older customer. But when your mandate is to go mass, it's hard to pass muster with someone who would rather save up for a pair of Isabel Marant booties than buy ones that look similar at a fraction of the price.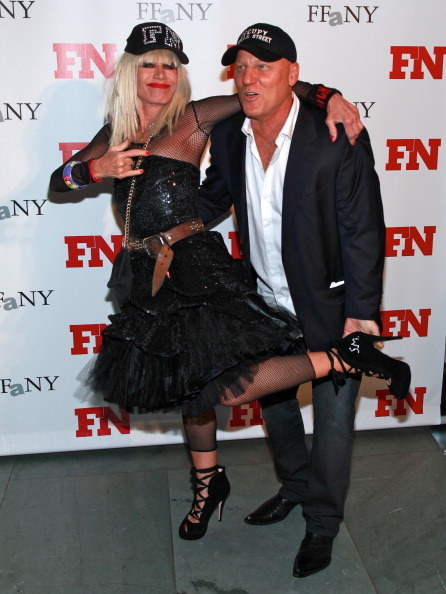 "We have a hardcore following — I would say it's 15 to 25," Madden said. "Hardcore. All over the country, they love our shoes. And there's a girl, maybe she's 35, and she wants some cool shoes, and she wants something great. Great value. That's the girl I'm talking about. We have her — we just want more of her. I feel like because we're so popular, that it sometimes can turn someone older off. Perhaps."
According to Footwear News Global News Director Katie Abel, the company's strength will always be its core brands — but its acquisitions of the last few years, particularly Betsey Johnson and Brian Atwood, are helping them understand this "girl" more. "I think they're learning a lot about some of these different markets through the acquisitions," she said. Over 40% of the company's sales now come from non–Steve Madden branded lines.
Madden seemed lukewarm on the Atwood acquisition. "Brian Atwood could use some of my ethos, frankly," he said. "He's so talented — he should be making more shoes that can hit more feet. Brian is really so focused on the wealthiest women in the world and the Oscars and stuff, and I think he needs to bring that sensibility and make it more democratic."
In addition, Madden has had to contend with the accusation that at least some of his empire has been built from other designers' creations. In the last five years, the company has been sued by Stella McCartney for allegedly ripping off her famous Falabella bag, by Balenciaga for copying its Motorcycle bag, by Jeffrey Campbell for copying the Lita boot, and by Alexander McQueen for a shoe that looked too much like the Faithful bootie. One of the lawsuits that seemed particularly galling to Madden was one that was filed by Skechers last July, for patent infringement on its "Go Walk" shoe.
"I'd like to sue Skechers!" he said, after telling me that the company has never filed a lawsuit against any other designer, despite being copied by "everybody, all over the world." Skechers' lawsuit against him, he continued, was particularly egregious because "they copy everybody. Their whole business is copying. They live to copy. They copy Toms. They call it Bobs and they give a shoe away. They are naked in their copying. Nike, Timberland, Toms. They copy everybody. One of my designers in one of my divisions used a bottom that [Skechers has] and they sued us. They have no honor, those guys."
I asked why he thought Skechers had bothered suing. "They just want publicity. They're just awful people. No honor at all. And they're very rich, very successful. They make good shoes, I'm not begrudging — but that's not cool. I always say, and this is the truth, you make shoes for 90 bucks, like I make — it's like a big pot, a stew. Gumbo. And you're stirring that stew. You're looking at Europe, you're looking here, you're looking there, you're designing, you're creating, you're seeing the market, and bam, it comes out Steve Madden. And that's the truth."

When asked if he ever wishes he could just focus on fashion as art, Madden seemed emphatic that the answer is no. "I like this. This is what I do," he said. "It makes me better. We're not self-indulgent, which is the biggest enemy of a creator."
But there's a level of both freedom and respect that comes with the territory of being allowed to be self-indulgent, and Madden is also mindful of that. He's never been asked to join the Council of Fashion Designers of America, a slight that he seems to take personally. (In 2013, he told the New York Times, "I'm not in the CFDA, but Puff Daddy is. And it's a joke.") He doesn't socialize with other fashion designers, telling me that his only friend in the industry is Kenneth Cole — another designer known for his mass appeal. And not getting the recognition he deserves has, he said, "always been a frustration."
He paused for a minute. "You know, then someone will throw in, like, Stella McCartney is suing me for a handbag that some vendor brought me. The truth is it's a billion-dollar company and the corporation is so big — we sell everybody, all over the world. So this stuff's gonna happen. We're basically — I mean, god, what we do, what the Steve Madden team does — we've been making shoes for 25 years. The most popular shoes in America! It's not copies. They're the most original shoes that there are."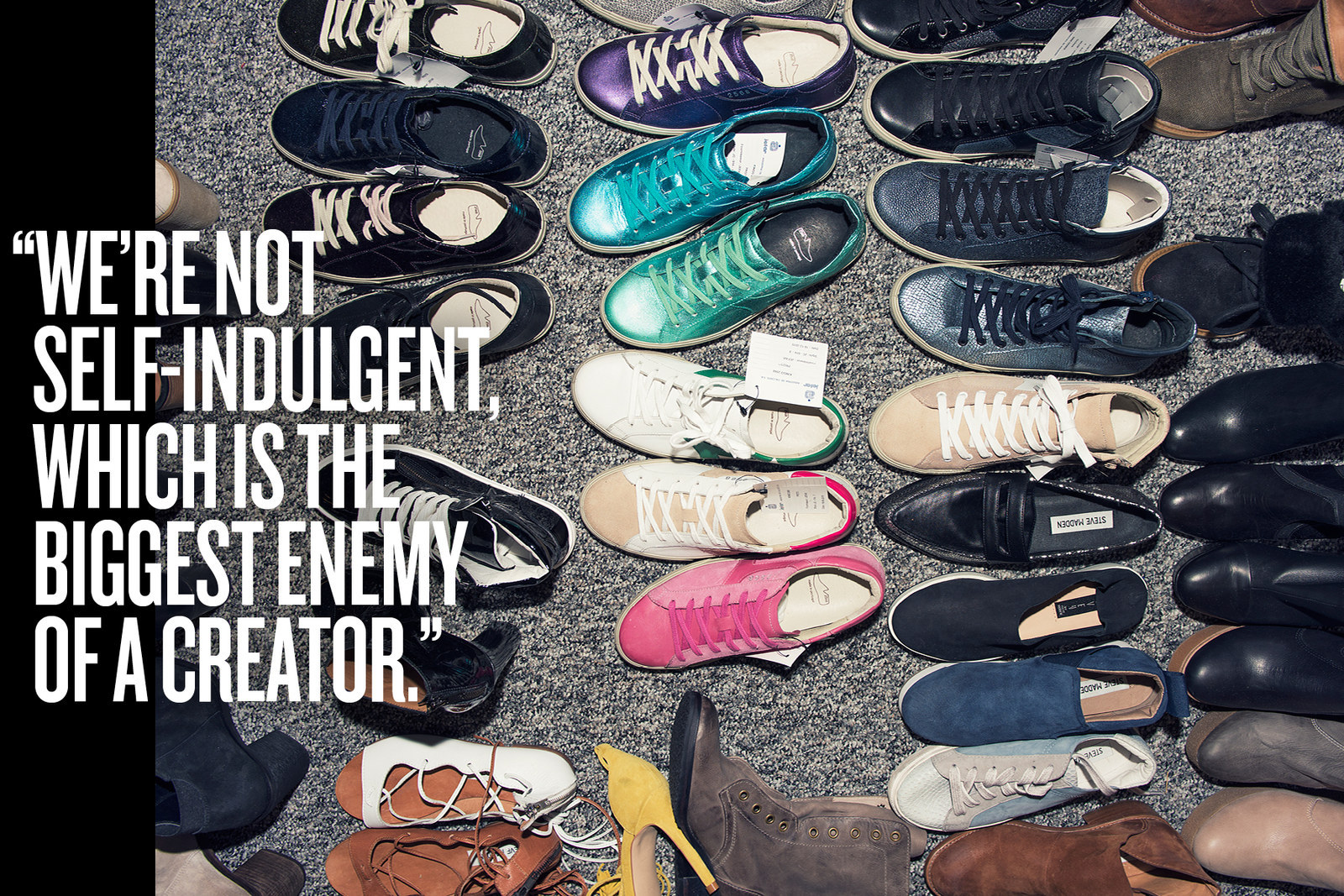 These days, Madden's life has changed substantially from the days when New York Magazine described him as leading "the sort of hip, expensive lifestyle you might expect of a rich, single, downtown New Yorker." He is involved in organizations like the Doe Fund, which helps the homeless and formerly incarcerated. "We have an incarceration issue in this country. We've jailed so many young people for drugs and it just messed up their lives. Tore up families. It's a big problem."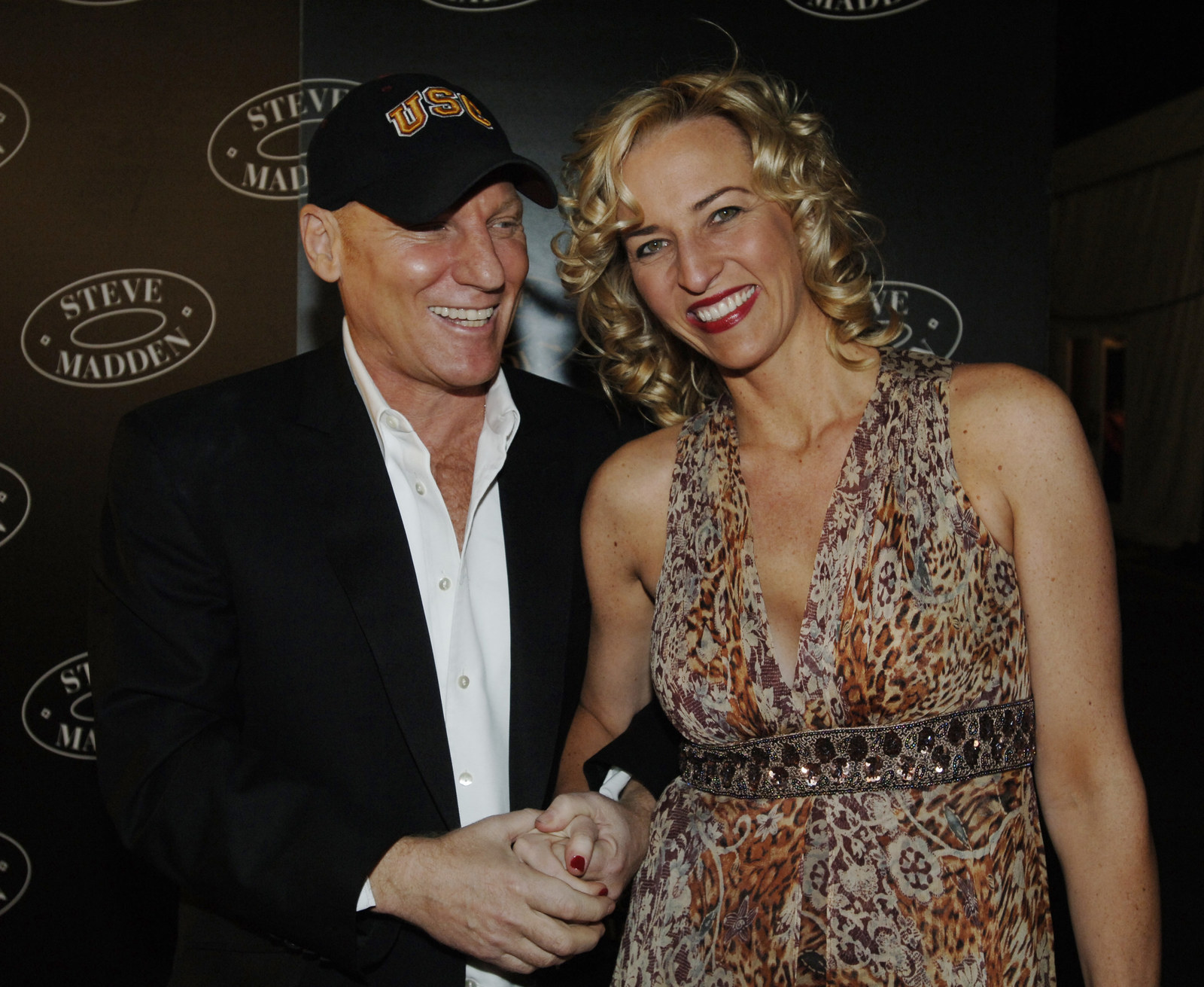 While in prison, his office manager Wendy Ballew began visiting him — at first, for business reasons — and he proposed to her while he was still serving his sentence. After his release in 2005, Madden was in a halfway house for a couple months, and they married soon after. They announced that they were divorcing early last year, and now share custody of their three children, 8-year-old twins Jack and Stevie and 2-year-old Goldie. "I wish I was still married," said Madden. "And I'm not saying it was my wife's fault — it was just one of those things, you know?" Still, he said, the experience of parenting has been "joyful."
He owns a townhouse in Midtown Manhattan, down the street from his ex-wife's apartment, but no other real estate (he sold a house he owned in East Hampton when he went to prison). "I'm thinking of renting a house on Atlantic Beach, on the South Shore of Long Island," he said. "I'd rather rent. I'd kill myself if I didn't use it. There's so much more that goes with owning a house — I'm just not ready for that. I have trouble buying towels; what am I doing buying a house?" But his only real indulgences, he said, are golf and flying private, and "a little art." He takes his son to Knicks games; he goes to parent-teacher conferences.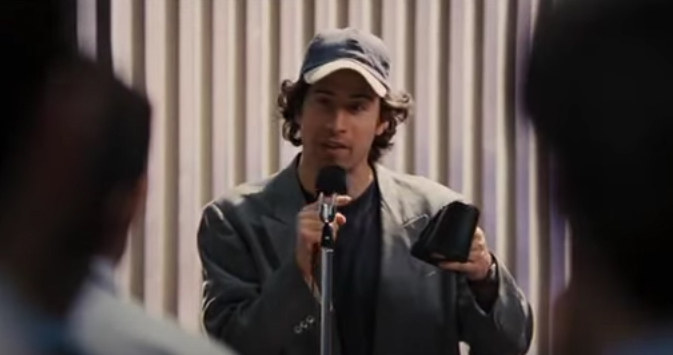 He is also sanguine about his portrayal in The Wolf of Wall Street, despite once calling it "too nerdy." (He was played by Jake Hoffman in the film.) "I wanted it to be terrible," he said. "But they treated me fairly." (In true flack fashion, Madden's publicist, the former gossip columnist Mitchell Fink, said, "You couldn't ask for better product placement.") Still, Madden said, he wants to tell his own story — and so has allowed Fink and director Ben Patterson to shoot a documentary about him, which is currently in postproduction.
More difficult last year was the death of his older brother John, whom he saw as a mentor and who served on the company's board of directors. "My brother's passing was very hard on me," he said quietly. "My brother and I were very close. It's been terrible. I think about him every day; I want to talk to him every day. I can't believe he's not here." He sniffled. "It's tough."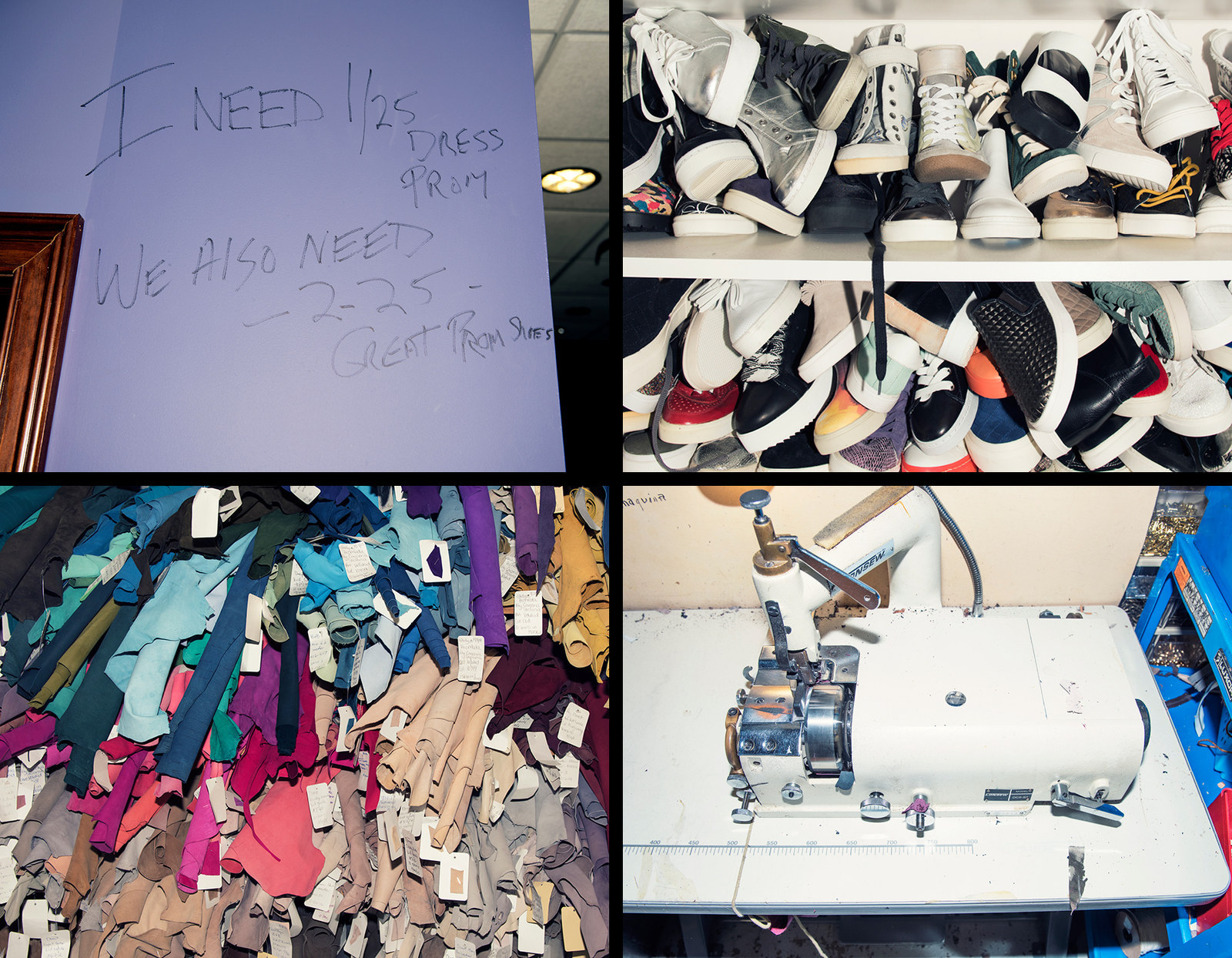 When Madden arrived at his company's Midtown Manhattan showroom one morning in December, a group of around 25 buyers and account managers sitting in a circle had already been discussing the dozens of pairs of shoes in front of them — gladiator sandals and peep-toe booties and wedges and espadrilles and sneakers — for an hour or so. It was the Monday after the quarterly New York Shoe Expo, and the group recounted what had "hit" the week before.
"Where's the Sweeney? What colors are we doing it in?"
"Black, sand, pink, and blue."
"It's $79. We're going to try to get it to $69. But let's be safe for now."
"I'm just saying for Dillard's [the Arkansas-based chain of department stores concentrated in the South and Midwest]... I don't think it's gonna sell. It's not special. I don't think it's that special for them. It's a different customer. You gotta be careful with all these leg wraps. I'm just speaking for Dillard's... how many leg wraps are we gonna have? You're gonna have like six leg wraps. That's an issue. That's crazy. I just think you can't have six — this is enough leg wraps. We can't have more than this."
Madden, in his standard baseball cap, henley, and jeans, pointed to a high-heeled sandal with a strip of fringe and a leg wrap called the "Sassey." (Not to be confused with the "Sashi," which has a tassel of fringe hanging from an ankle strap, or the "Sasssy" [three S's], a D'orsay pump with a pointed toe that is described as "perfect for running from the office to happy hour.")
"I don't even love that shoe, by the way, like everybody else does," Madden said.
"I don't know that everybody does love it," said one of his buyers. "It was a struggle to sell 'Sassey' but they did buy it."
The conversation shifted to what Macy's and Nordstrom thought of the shoe, and then on to Dillard's. Here, Madden had his own take. "When you think of Dillard's, you should think of, like, Charlene Tilton from Dallas. Remember that character? Everybody's too young to remember Dallas?"
Madden tended to follow the discussion for a few moments, then would get distracted and pick up another shoe. His attention soon gravitated toward a flat white slide, which he picked up and started turning over in his hands. "This is very fashion, very au courant," he said. He held it up next to a sandal that looked similar, except that it had a strap in the back. "For deep summer, when you look at these shoes together, this is, like, crunchy," he said, indicating the second shoe. "Then all of a sudden this becomes, like, the South of France." His team told him that they had gotten more orders for the "crunchy" shoe; only Nordstrom was interested in the South of France. "The quality is so important," he said. "I was thinking about that this morning. That shoe, just to harp on it, it becomes more of a woman's shoe as a slide."
"It seems like only Nordstrom's is on the slide. Everybody else is on that one," said company president Newton Varela, pointing to "crunchy." "So you know."
"The slide," said Madden, "is the right shoe."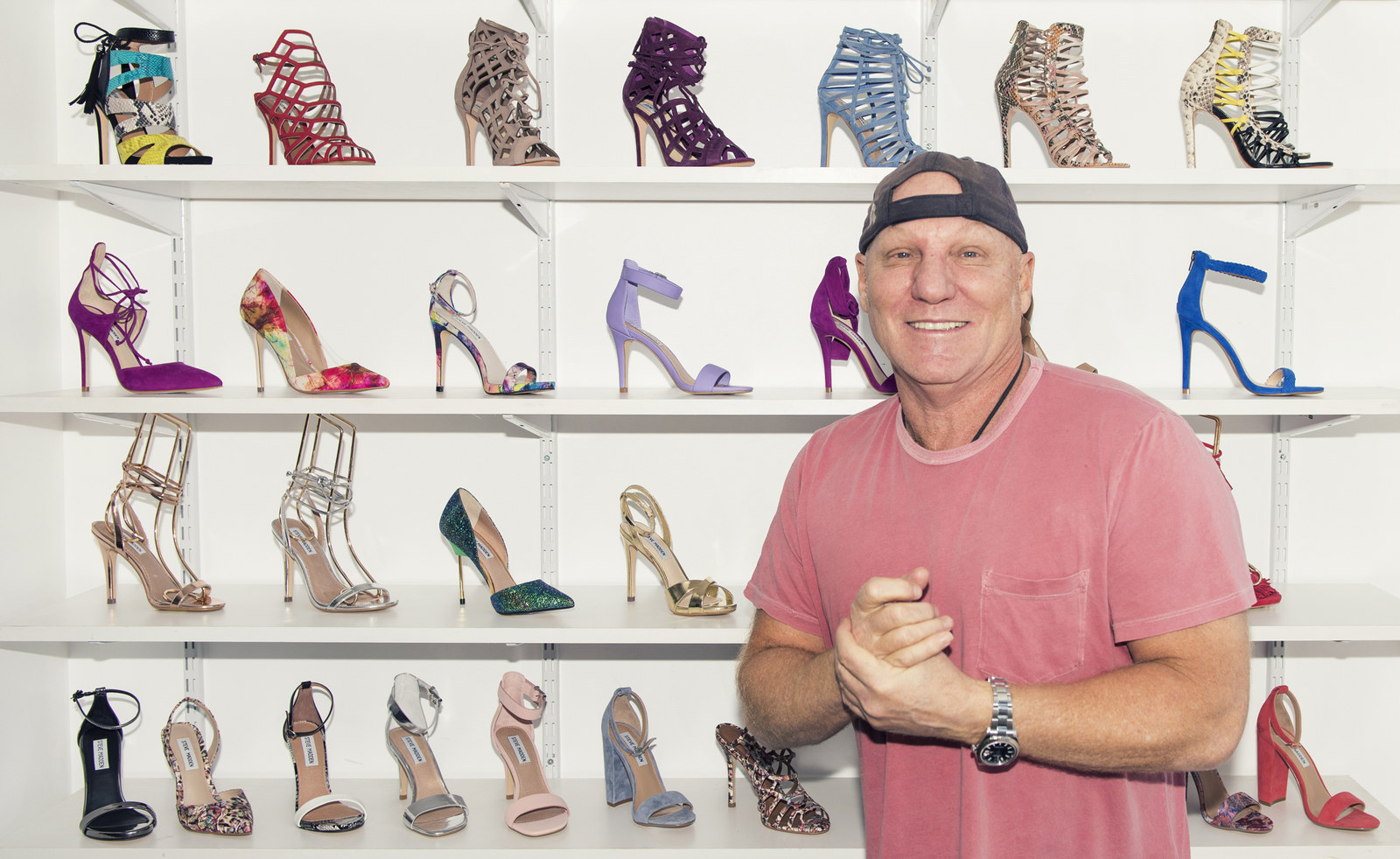 Want to read more stories like this? Sign up for our Sunday features newsletter, and we'll send you a curated list of great things to read every week!