Wyoming Senate Passes LGBT Anti-Discrimination Bill
Meanwhile, the Wyoming House approved a religious freedom bill last week that LGBT advocates say could allow discrimination.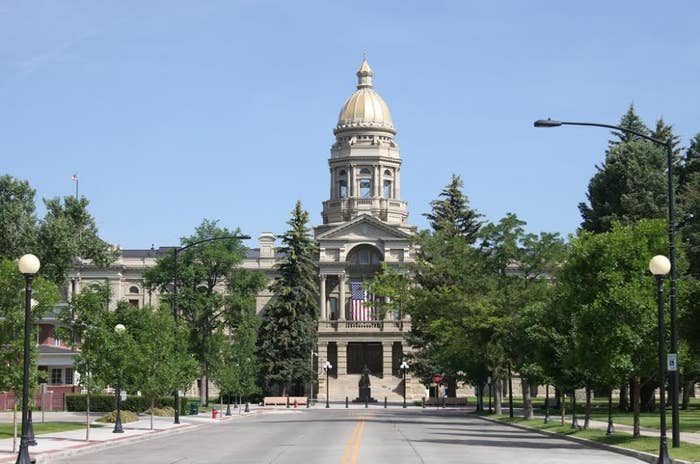 By 24-6 landslide, the Republican-dominated Wyoming state Senate passed a bill Tuesday that would ban discrimination on the basis of sexual orientation or gender identity in venues ranging from court juries and public schools to privately owned businesses that are open to the public.
The measure, which is supported by Gov. Matt Mead, will proceed to the state's house of representatives.
Jeran Artery of Wyoming Equality was thrilled with the vote despite provisions that exempt religious organizations, Wyoming Public Media news director Bob Beck reported minutes afterward on Twitter.
But the victory is complicated for some LGBT advocates, who have been alarmed by the rapid movement of a Religious Freedom Restoration Act (RFRA) bill in Wyoming. Such bills are sometimes introduced along a parallel track to anti-discrimination bills, as was the case in 2014 in Michigan. Many LGBT advocates believe a slew of religious freedom bills introduced in state legislatures across the country could allow broad discretion to discriminate against LGBT people on moral grounds — expanding the ability of Christian-owned businesses to refuse to serve same-sex couples.
Wyoming's RFRA bill, which cleared house on Feb 2 and now heads to the senate, says that government and agents operating under the "color of law" cannot burden someone's religious exercise or moral conscience.
"A Religious Freedom Restoration Act could provide a defense for a business that doesn't want to comply with a non-discrimination act because of their religious beliefs," Eunice Rho, advocacy and policy counsel for the American Civil Liberties Union, told BuzzFeed News. She said that the "moral conscience" wording of the bill in Wyoming is a "murky concept" subject to legal challenges. "There are all kinds of things people have a moral conscience about."
Religious freedom bills have been introduced the past two months in several states, including Texas, Georgia, Indiana, Michigan, Oklahoma, South Carolina — part of the pushback from opponents to marriage equality in the wake of marriage rulings and cases resolved or taking place in those and other states.
Alliance Defending Freedom supports religious freedom laws and has backed legal defenses of business owners who turned away LGBT same-sex couples on religious grounds.
But the group argues fears are overblown about the state bills, many of which it says merely reflect existing federal law. A group spokesperson, Greg Scott, said in a statement to BuzzFeed News, "None have anything to do with someone desiring to kick a person out of a restaurant or reject a generic product or service transaction based on someone's characteristics or stated identity, and falling back on religious beliefs as a defense."