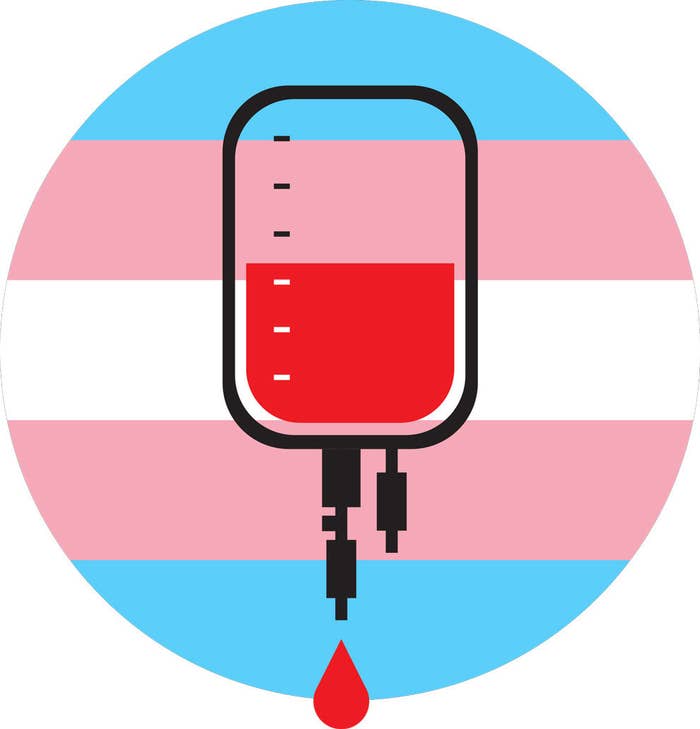 Last summer, Jasmine Kaiser tried to donate blood. Her intake started routinely — she underwent a screening, watched an informational video, and was on track to give a pint of plasma in exchange for about $30. But when she completed the orientation, the staff at CSL Plasma did not grab a tourniquet or needle.

Instead, an employee said "she would not be permitted to donate plasma because she is a transgender person," according to a lawsuit Kaiser filed in April accusing the company of discrimination.
The Florida-based CSL Plasma bills itself as one of the largest collectors of blood products in world, operating more than 85 donation centers in the United States — including the one Kaiser visited in Kent, Washington. Along with Kaiser's legal action, it faces another similar discrimination lawsuit in federal court in Minnesota.
The two lawsuits raise broad questions about federal regulations that govern blood donations for transgender people. The guidelines, first codified in 1983, are so nebulous for transgender people that blood donation centers and medical experts disagree about what they mean — and the federal government refuses to offer meaningful clarity. This creates a confusing hodgepodge of policies at centers around the nation.
Transgender women said this amounts to discrimination at blood banks, while the centers insist their hands are tied by government guidelines. By avoiding the issue, critics argue, federal officials are helping sustain a legacy of brutal, embarrassing, and unequal medical mistreatment for transgender people.
The Food and Drug Administration, which regulates the collection of blood and its components, is considering a new draft policy that deals with several aspects of blood donations, including how they apply to transgender donors. But 82 members of Congress sent a letter to the FDA this month saying they were "deeply concerned" that even the new language "sets the stage for discrimination."
While Kaiser was at the blood bank, CSL Plasma staffers told her that she was being given a "lifetime deferment" — an industry term that means a person is banned from donating blood forever. The company didn't stop there, the suit said. "The employee told Ms. Kaiser that CSL Plasma would inform other, similar donation centers about her lifetime deferment — the purpose and effect of which were to blacklist Ms. Kaiser from ever donating plasma anywhere."
Kaiser's lawyers said this amounts to a violation of a Washington state law that bans discrimination on the basis of gender identity in places of public accommodation. Kaiser wants compensation for the money she would have made by donating blood along with financial damages for "embarrassment, humiliation, emotional pain and anguish," the lawsuit said.
Kaiser's situation isn't unique — attorneys and LGBT advocates who spoke to BuzzFeed News said that blood banks turning away trans people is commonplace around the country — and her lawyers said that's why she wants to set an example.
"We filed this case because we are fighting ignorance, and we want to encourage other transgender people in this situation to stand up for their rights," Isaac Ruiz, a lawyer representing Kaiser, told BuzzFeed News. "There is no scientific basis for blacklisting transgender people from donating plasma."
"It is pure discrimination."
"Our policy is to designate by sex at birth." —FDA
Lawyers for CSL Plasma disagree, arguing in court filings last month that they are stuck in an impossible position between adhering to federal regulations and being sued for complying with those rules. Their briefs deny wrongdoing, blacklisting, or discrimination.

Federal guidelines do ban most people from giving blood. According to the American Red Cross, 38% of the U.S. population is eligible to donate. Potential donors can be banned temporarily or permanently for many reasons: They could be too young or too old, have a disease, engage in sex work, or report a history of using drugs intravenously. The list goes on.
But the most publicized — and most contested — ban applies to men who have sex with men. The FDA's guidelines, which were approved during the AIDS outbreak and updated most recently in 1992, said that among the people who "should not donate blood or blood components" are "men who have had sex with another man even one time since 1977." The rule was designed to stop HIV from spreading through the country's blood supply.
But this ban could also apply to transgender women.
That's because the FDA considers a person's birth sex to be their sex for their entire life for the purposes of donor eligibility, agency spokeswoman Tara Goodin told BuzzFeed News in January. "Our policy is to designate by sex at birth," she said. "That is all there is to it." Thus, a transgender woman is prohibited from giving blood if she has had sex with a man, regardless of whether that sex occurred before, during, or after her gender transition.
The rules get murkier from there. Consider the converse: A transgender man who has sex with men, though, is allowed to donate blood — because he was designated female at birth — which is seemingly contradictory to the premise of the ban.
Still, it's unclear how these rules could possibly apply to Kaiser. She's never had sex with a man, "either before or after her transition process," her suit said.
When BuzzFeed News asked the FDA about blood donations from several demographics of transgender people — including transgender women who had only ever had sex with women — Goodin said, "I ran this through several different people at the FDA, and the FDA cannot generally respond to hypothetical situations."
Needless to say, Kaiser and women like her are not hypothetical.
Madeline Deutsch, a medical doctor and director of clinical service at the Center of Excellence for Transgender Health at the University of California, San Francisco, said people should be assessed on individual risk factors and not formulas. But even according to the exact FDA policy, Deutsch said, trans people like Kaiser should not be uniformly refused under FDA rules.
"If you want to play their own game and argue on their own grounds, a transgender woman who is exclusively lesbian is not a man who has sex with men," Deutsch explained. "She should not be banned under the guidelines."
Still, she acknowledged, "I think the way they are currently being interpreted, it would appear that all transgender women are being categorized as men who have sex with men and banned from donating blood."
Which Kenneth Mayer agrees is not a scientifically justifiable interpretation. A professor of medicine at Harvard University and the medical research director at The Fenway Institute, a research and policy center that focuses on LGBT people and HIV, Mayer told BuzzFeed News, "A transgender woman who has never had anal intercourse with a man is not at high risk and should not be deferred."
CSL Plasma did not reply to several requests from BuzzFeed News to comment on Kaiser's lawsuit or the similar suit in Minnesota. But in court records, lawyers insist the company did not violate any laws.
The company's lawyers do acknowledge turning the women in both cases away. According to CSL Plasma's reading of the FDA guidelines, all transgender women should be deferred from donating blood for life.
"CSL's policy is consistent with the FDA's current position and existing recommendations that transgender females should be deferred from donating blood and plasma," the company said in both federal lawsuits.
The American Red Cross — arguably the best known blood donation organization in the United States — reached a conclusion vastly different than CSL Plasma. Although some transgender individuals may be deferred, according to spokeswoman Karen Stetcher, the organization's blood banks "do not outright defer transgender individuals on the sole basis of being transgender."
When pressed five times over the past six weeks on whether CSL's reading of the federal rules are correct — whether all transgender donors are banned from giving blood — the FDA refused to answer the question.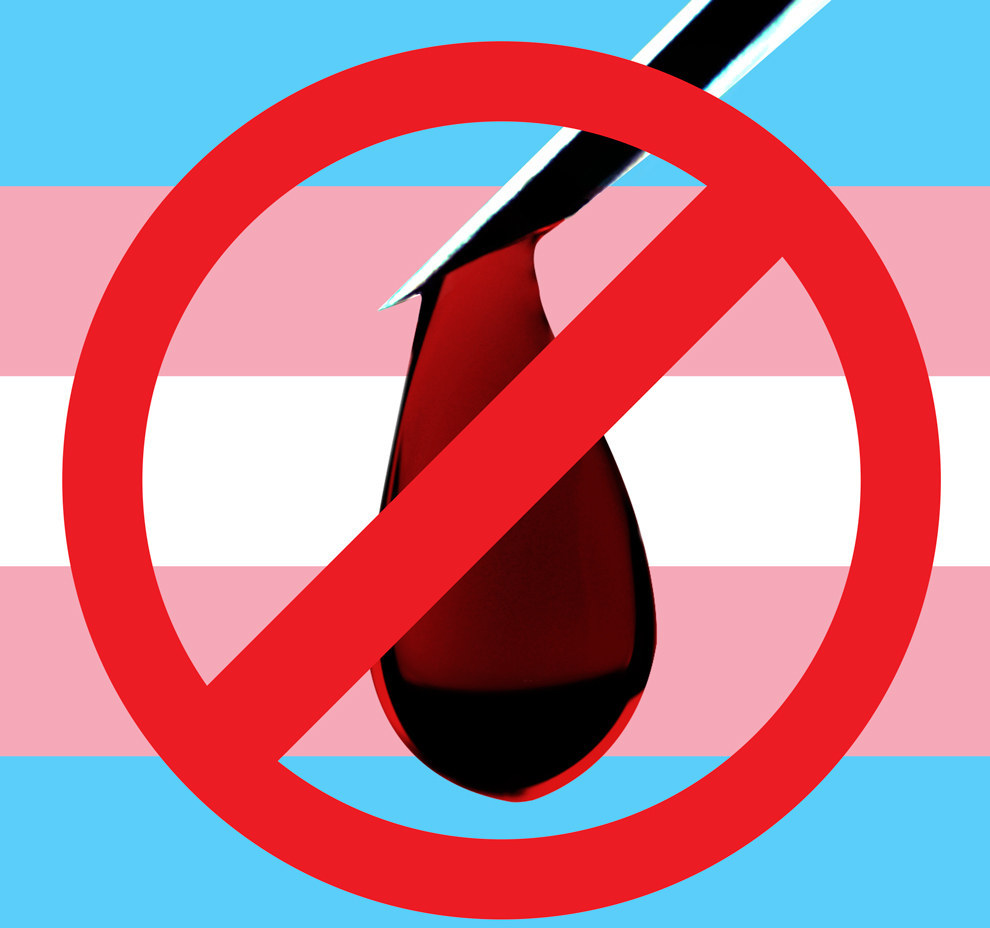 CSL Plasma has made this argument before — in another case that's now in litigation.
In November 2008, Lisa Scott went to a CSL Plasma center in Minneapolis, Minnesota. Staff initially said she met the requirements to donate blood. But according to her lawsuit filed in U.S. District Court, a triage nurse asked Scott why she was taking a hormone. Scott explained the medicine was part of a follow-up for gender-reassignment surgery, adding that she was medically and legally female.
"You people can't give plasma," the nurse allegedly told her, according to the suit. "We can't take plasma from your type." The nurse said that Scott had "taken part in risky behaviors."
Much like Kaiser, Scott says in her lawsuit the ban should not apply to her. "At no point, either before or after her transition process, has [Scott] ever been a gay man or engaged in any sexual contact with a man," the suit says.
Scott is suing CSL Plasma for violation of Minnesota law — which, like Washington law, bans discrimination based on sexual orientation and gender identity.
CSL Plasma also argued in this case that it broke no laws and was simply complying with rules from on high. In court filings, the company argued, "Under the current regulatory scheme, it is the FDA's position that any man who has slept with another man since 1977 should be deferred indefinitely from donating blood or plasma. Likewise, it is the FDA's position that transgender females should be deferred from donating."
One of Scott's lawyers, Jill Gaulding, legal director of the group Gender Justice, told BuzzFeed News she disagreed. "I think the FDA does not require CSL or any other plasma companies to reject people based on the gender identity."
As evidence in court, CSL Plasma offered the summary of a May 2009 meeting between staff at the FDA and liaisons from AABB, an international trade association for the blood products industry. "FDA has determined that a transgender female donor (was born male) would be deferred," a meeting summary from AABB says. "FDA has no data from which to asses risk of a transgender male (born female)."
CSL Plasma seems to have taken those notes, from a trade group, as an official reading of the federal government's rules. "Through these recommendations and guidance, the FDA has made clear that certain donors should be deferred from donating blood and plasma because they are considered high risk (e.g., gay men and transgender individuals)," the company wrote in court documents.
Lawyers for Scott and Kaiser say there are flaws with that argument, calling the meeting notes "unquestionably hearsay." Other notes from meetings between the FDA and AABB appear to contradict the claim that trans people are inherently banned — notes that CSL Plasma also introduced as evidence in the Scott case. At a November 2012 meeting, FDA officials reportedly said a transgender female donor would be deferred "based on a history" of having sex with men.
Judge Joan Erickson wrote in an order in April 2014 that the trade group's meeting notes should not be "appropriately considered" to represent the FDA's position and that the court would "disregard" them. The case is ongoing.
In other words, the problem is the lack of understable rules. "It's not clear that the FDA has an explicit policy," Mayer from Fenway Health said.
CSL Plasma and its lawyers did not reply to questions from BuzzFeed News about how the FDA policy applies to transgender people, the apparent discrepancies between evidence the company submitted in court filings, allegations of blacklisting a donor, company policies, or claims of discrimination in places of public accommodation. (The company's lawyers argued in court records that its plasma centers are not places of public accommodation, so nondiscrimination rules cannot apply.)
In both cases, the company said its policies are protecting the public. "Plaintiff and her supporters may desire that change occur more quickly," lawyers for the company wrote in Kaiser's case, "but the issue at hand is complex and requires that the FDA proceed with caution as the lives of patients — the end-users of pharmaceuticals made with the plasma that CSL collects — are at stake."
"It's not clear that the FDA has an explicit policy."
Critics argue that this issue has been at the FDA's feet for years — and that the federal government has clung to a vague policy that is a catalyst for claims of discrimination and litigation. The underlying issue, these critics said, is whether transgender people are treated fairly in a health care system that has often treated them as second class.

Transgender patients have countless horror stories: Being refused care, hostile attitudes from medical staff, and interrogations about their genitals and mental health are commonplace. The National Center for Transgender Equality published the country's most comprehensive report to date on transgender discrimination in 2011. The study found 19% of those surveyed had been refused medical care and 28% delayed care after experiencing discrimination from a medical provider.
One man with with stage 4 cancer spoke to BuzzFeed News this year about being turned away by a doctor who wasn't comfortable treating a transgender man. The doctor was suspicious that Jay Kallio sought a mastectomy to look more masculine, not to treat his breast cancer. "He starts off saying, I have a real problem with your transgender status. I don't even know what to call you," Kallio told BuzzFeed News. "He seemed to be suspicious of all my motives as a patient. I have found that transgender people tend to be perceived as dishonest patients — as if the need to present our authentic selves to the public is seen as a lie."
"I became terrified of ever walking into a doctor's office," said Kallio, who was backing an LGBT health care bill of rights that would promote equitable treatment from medical professionals.
Mayer from Fenway Health said that when the blood ban is misapplied, "It is stigmatizing to people who already face a lot of social sanctions. Most transgender people have not grown up in an affirming environment and this obviously feels stigmatizing to them."
Even though blood donations from transgender people account for a small puddle of the overall donor pool, Mayer added, "For the blood organizations that want donations, they're losing out on some potential altruistic donors."
"Transgender people are often discriminated against by the medical establishment."
Change could come this year. In May, the FDA proposed new guidelines — which the agency has recently accepted comments on, though a timeline for finalizing the rules is unclear — that would relax the ban. It would defer men who have had sex with men within the previous year.

But the proposed guidance, as written, does not address transgender donor eligibility specifically. Rather it says that people can self-report their gender identity and medical directors at blood banks could decide whether to accept their blood or send them home.
Asked what this would change for transgender donors, Jeff Ventura, an FDA spokesman, sent a link to that draft and said it represents the agency's "current thinking." He added, "Recent scientific data continue to indicate that males who have changed their gender to female are at high risk of acquiring HIV." He did not provide data showing whether that included transgender women who've never had sex with a male, nor did he answer questions about whether new guidelines would ban transgender people from donating. The draft guidance says it "does not operate to bind FDA or the public."
Both Mayer and Deutsch said this does not provide greater clarity or a practical change. "Nobody is going to do something that the FDA doesn't recommend," said Deutsch, adding that if blood banks have no guidance and transgender people can be categorically deferred, "It perpetuates a fear that all transgender people have HIV."
"It says that transgender women are men in the eyes of the FDA. Or maybe, now the guidance will say transgender women are whatever the local medical director decides that they are," she said. "It hasn't changed anything."
Letting blood banks decide is unacceptable, Deutsch argued.
"Transgender people are often discriminated against by the medical establishment, and now what is happening is the FDA is trying to get off the hook on this. Instead of making a meaningful policy that is broadly applicable and risk-based, they're basically hedging and saying we're going to stay out of this and leave it up to the medical directors to make these decisions."
Eighty-two members of Congress from both chambers sent a letter to the FDA on July 14 echoing concerns similar to the advocates.
The one-year deferral policy lacked scientific basis and continued to discriminate against gay men, they wrote. The lawmakers also said donors should be deferred based on the risky behaviors.
The members of Congress were also "deeply concerned" that medical directors would be given discretion to turn away transgender donors. "Transgender individuals often face discrimination, unfair stigma, and misunderstanding, including by some medical professionals," the lawmakers said. Leaving discretion to staff at blood banks turn "increases the chance that a transgender individual will be turned away, and set the stage for discrimination."
Similarly, the National Center for Transgender Equality, an advocacy group, filed comments with the FDA this month to "respectfully request a reconsideration" of the current one-year deferral proposal and also said risky behaviors — not sexual orientation or gender identity — are the only scientific basis for a blood policy.
Realistically, it is unlikely the FDA will drop its current proposal entirely and switch to a risk-based assessment when it finalizes rules. Instead, the agency appears likely to maintain some version of a one-year deferral.
That would still give the FDA room to clarify what the policy means for transgender donors — one sentence could say that they are not categorically banned from donating blood. But before the FDA can create that solution, critics said the agency has to acknowledge their current policy and draft policy create a problem.