"I know of seven girls who have been murdered out here," said Lakyra Dawson. Out as a transgender woman for seven years, Dawson was standing across from Detroit's Palmer Park on Woodward Avenue. The area is known as an enclave for LGBT people during the daytime, but at night, the park's 300 acres of fields and forest are the city's epicenter of violence against transgender women — a problem worsening at the same time awareness about transgender people has been growing.

"People are kinda ruthless now more than ever, you know," said Dawson. "The killers, the murderers. The violence is getting more wild and more crazy. I feel like we are being targeted."
In a three-month span, three black trans or gender-nonconforming people were killed in Detroit this year, two near Palmer Park. During one week in summer 2014, three transgender women were shot, one fatally, near the park. Those incidents don't include countless other stories relayed to BuzzFeed News by police and trans women about robberies, knifings, sucker-punchings, more homicides, dismemberment, charred bodies, trans women being shoved out of moving cars, and other acts of violence against trans women nearby in recent years.
"I feel like we are being targeted."
"I seen people get shot, jumped on, robbed, everything," said Beyoncé Carter — she has a name like the singer — while checking over her shoulder every few seconds to keep her eye on a man standing on the corner. "I don't want to be out here — hell no. But some days, I just say, 'Fuck it, I need some money.'"
For Carter, Dawson, and other trans women BuzzFeed News interviewed in Detroit, facing this environment isn't a choice. "I want to be a girl, so if that's the risk you take, I'm taking it. I'm sorry," Carter said. "It's about who I am, and I love me. I do what I got to do to survive."
Woodward Avenue begins at the Detroit River, forming the city's central aorta through downtown. The six lanes go northwest past glass towers, then chic bars and salons, then strip malls and auto shops and empty industrial buildings, and eventually reaching the hulking beige Déjà Vu strip club near the southern tip of the park at the intersection of Six Mile Road.
"Six Mile and Woodward?" the front-desk man at the Holiday Inn Express said. "That's where all the trans women are."
Just past the intersection, directly across the street from Palmer Park, northbound drivers slow down to assess the "stroll," as it's called, a strip for johns to find a date. The women sometimes linger, or they strut south past the Fontaine Motel. They check themselves out in what they call "the mirrors" — dark reflective windows of a real estate office on the corner of Worcester Place — and head south past a coin laundry, the Bread Basket, a 24-hour video store, and a sports bar, until they reach a gas station.
From where she stood on Woodward Avenue on a frigid Thursday night, Dawson pointed out where 20-year-old Amber Monroe was shot dead after she got out of a car on Aug. 8. Dawson was around the corner from the side street where a person who simply went by the name Melvin — who numerous people said was a gay man who worked as a transgender woman — was found fatally shot on Oct 5. Dawson said she was pistol-whipped and robbed one night last year by a man behind a restaurant up the street. And down the block, a 53-year-old transgender woman's body was found two years ago stuffed into a trash container in the back alley, the woman's corpse so badly burned that police could not identify her remains (a medical examiner identified her weeks later by the male name Calvin Curtis Lipscomb).
"People say we're not normal, we're freaks or something," said Dawson. "They just feel like they can dispose of us, because we really don't matter to them. My reaction is kinda like, tired, because it's still going on and it's not enough justice. The police come, and they ask questions and do their slight investigations, but I don't see any change."
Confirmed homicides of transgender women have nearly doubled in the United States within the past year. Friday, Nov. 20, marks the annual Transgender Day of Remembrance. The National Coalition of Anti-Violence Programs reported 24 homicides between Nov. 20, 2014, and the same date in 2015, compared with 12 during the previous year. Seventeen of the victims since this time last November were black trans women or black gender-nonconforming people; four were Latina; just three were white.
The circumstances of each killing are different, and by no means is sex work a common thread among all transgender women or among those who were killed. Still, in several cases in recent years, cops have treated transgender women as sex workers regardless — sometimes making arrests and then releasing the women — even though there was no evidence of sex work. Many other people undoubtedly assume the same.
But in Detroit, the six black transgender women or gender-nonconforming people who were killed in the last three years had been involved in sex work, Officer Danni Woods told BuzzFeed News. It was not known if sex work was linked to their killings. Among the victims was Ashton O'Hara, who was reportedly stabbed on July 14 on the city's east side before being run over by a car.
"I don't think it's a target on the back of trans women or trans women of color," said Woods, who serves as a liaison between the Detroit Police Department and the LGBT community. "But it's more violent to me than other crimes — like you hate this person. It tends to be more aggressive; it tends to be more hostile. It's definitely more graphic."
But trans women in Detroit who spoke to BuzzFeed News believe they are targeted, attacked simply for being who they are or because they are in a neighborhood where trans women are known to congregate.
Ashia, who declined to provide her last name, said she was standing on Woodward one night when a man approached. "'How are you?' he said. I said, 'Hi, how are you?' Then he just hit me. He hit me as hard as he could. Like you know when you see the light?" she said, touching the side of her eye.
"Next thing I know I am fighting this strong man, and I can't get away. He didn't try to rob me or anything," she said. "He was way stronger than me. He wasn't stopping. He would have killed me. I would have died. I ran, and he chased me, but he didn't catch me. He didn't say, 'Give me your purse, give me your phone, give me your money.' It was nothing. He just fought me."
Around 11 p.m. on a cold, wet, windy evening, one woman walked the stroll heading south, then north, then south again. "I'm assuming she has no other way to eat or a place to stay — that is the only reason why anybody would subject themselves to being out here," said Julisa Abad, a trans woman and activist. She works a 21-hour-a-week job that pays $8.50 an hour — barely making enough to eat and pay rent — but uses her spare time advocating for trans women in Detroit.
"They always say they're scared," Abad continued. "But if this is the only way you know to make money to eat, or have a place to stay, where else are you gonna go? If attackers were trying to do something, we're kind of making it easy for them."
"We're just sitting ducks," she said. "We are making it too easy for them."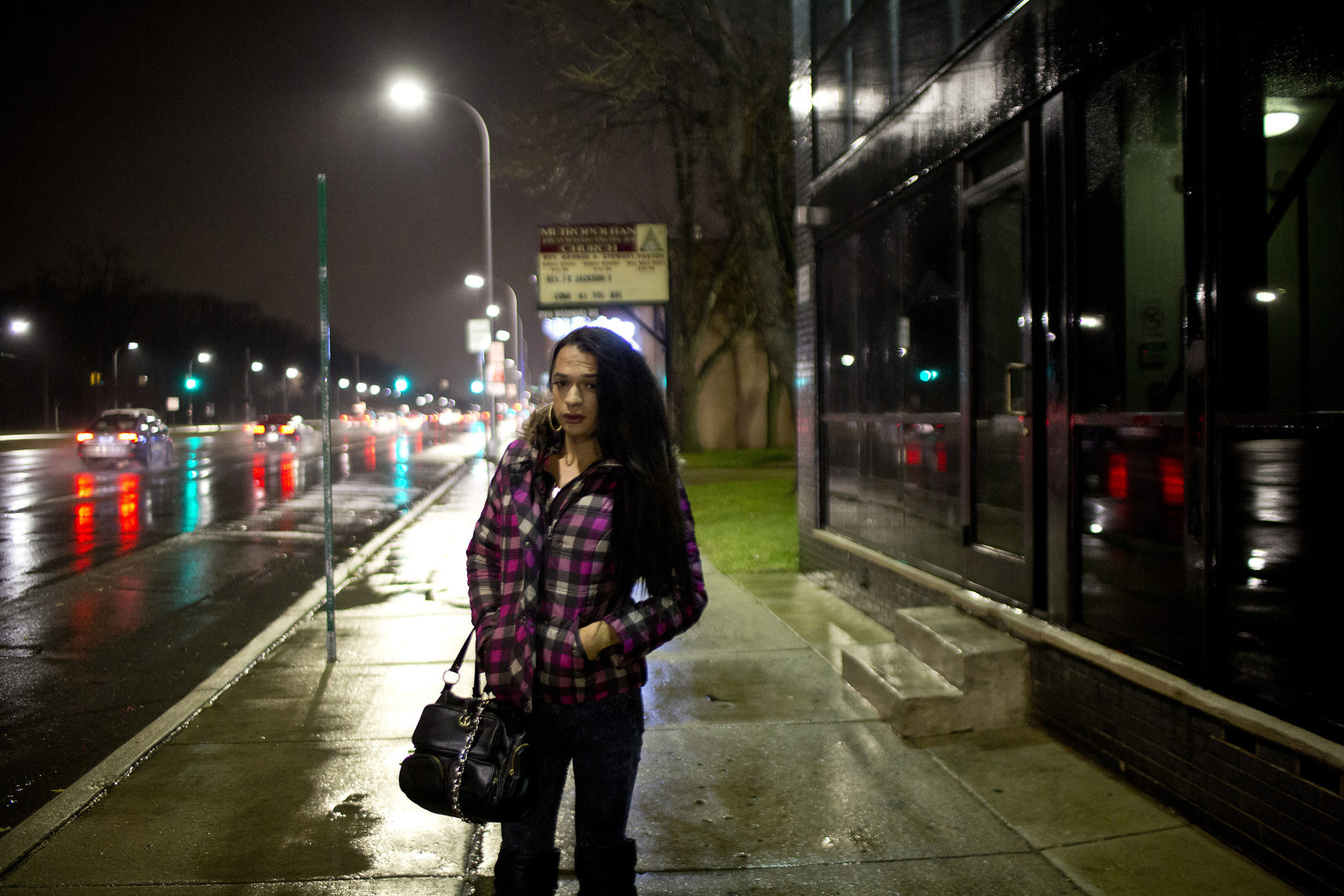 Dawson came back out to Woodward a month after Monroe was gunned down. "Once someone gets killed, some girls come out here the same night, the next day," said Dawson, getting into a Toyota sedan parked on Woodward. "But some girls, we stay away for like a month, probably two. When things like that happen, and you don't have another route, you just have to suck it up and do what you have to do. I needed to get my hair did, buy clothes, eat, you know."
Personal anecdotes and academic studies echo common explanations for how transgender women end up working in a survival economy: Families ridicule or beat transgender girls when they try to come out. Kids tease them at school, and teachers punish them for wearing clothes that clash with gender expectations. They leave home young, often without diplomas, and move to cities and neighborhoods where they can find transgender families that offer emotional support. And then, turned away from employers who make empty promises to "call you back," the women come to places like Six Mile and Woodward for money.
"We're just sitting ducks," she said. "We are making it too easy for them."
Joblessness among transgender people was at 14% in 2011, double the national average at the time, according to the most comprehensive survey to date on anti-trans discrimination. Black transgender respondents were unemployed at double that rate, 28%, according to the National Center for Transgender Equality and the National Gay and Lesbian Task Force's survey.
"I've tried to apply for jobs before," said Dawson, "but I never gotten a lot of callbacks. I can't say what happened. We want to have careers. Everybody don't want to be out here."
Forty-four percent of the survey's 6,450 trans or gender-nonconforming respondents believed they didn't get a job they applied for due to gender identity. And those who had been unemployed due to their gender identity were far more likely to be engaged in sex work. Again, the survey authors wrote, black trans women reported "the highest rate at 44%."
Those national figures were reinforced by a November study by the District of Columbia Office of Human Rights. The government-run investigation found that 48% of employers tested in the capital preferred a less qualified non-transgender applicant over a more qualified transgender person seeking a job. In 33% of the cases, the less qualified applicant was offered an interview when the trans person wasn't.
Ashia was invited to sign paperwork and give fingerprints for a job in Detroit, she said, but the hiring manager paused after seeing her ID. "Once she figured out what was going on and that I was born male, she kinda totally changed her whole demeanor," Ashia recalled. "Then she was like, 'We'll call you.'" Ashia remembers thinking: "You called me to come in today. What happened between now and then?"
They never called.
In Detroit, the city council has banned LGBT discrimination in employment and housing — but it's not clear that employers in the city know about the law, or that job applicants feel they have recourse if they're turned away. Discriminating on the basis of gender identity and sexual orientation is legal in Michigan. (There are no federal laws explicitly protecting LGBT people from employment discrimination, though several federal agencies argue current civil rights laws provide those protections.)
None of the transgender women in Detroit who spoke to BuzzFeed News felt like victims, powerless to get a job, intractably subjected to violence — they all had agency to work as they wanted and defend themselves. But they didn't like their conditions, either.
"I don't wanna do this, but I have got to eat, have to have somewhere to go. It's $60 a day here," Ashia said, sitting on the edge of a bed in a motel room. An empty Little Caesars pizza box was by the door. "Lately I haven't really applied myself, and that's because I got comfortable with the sex work. It's fast money."
But she knows it's dangerous money. "It is scary not knowing if this could be your last time living or your last time being able to speak to your family because you were trying to eat."
Stats on trans women are scarce, but the scant examples show that anti-trans discrimination is also common among landlords. In a report released in June, 67% of landlords gave different treatment to transgender people seeking apartments in a test conducted by the the Seattle Office for Civil Rights. In one case, the Seattle Times reported in June, the city agency found a property manager who told a transgender person that no units were available. But within 30 minutes, the company told a cisgender person — the term for people who are non-transgender — about two units for rent.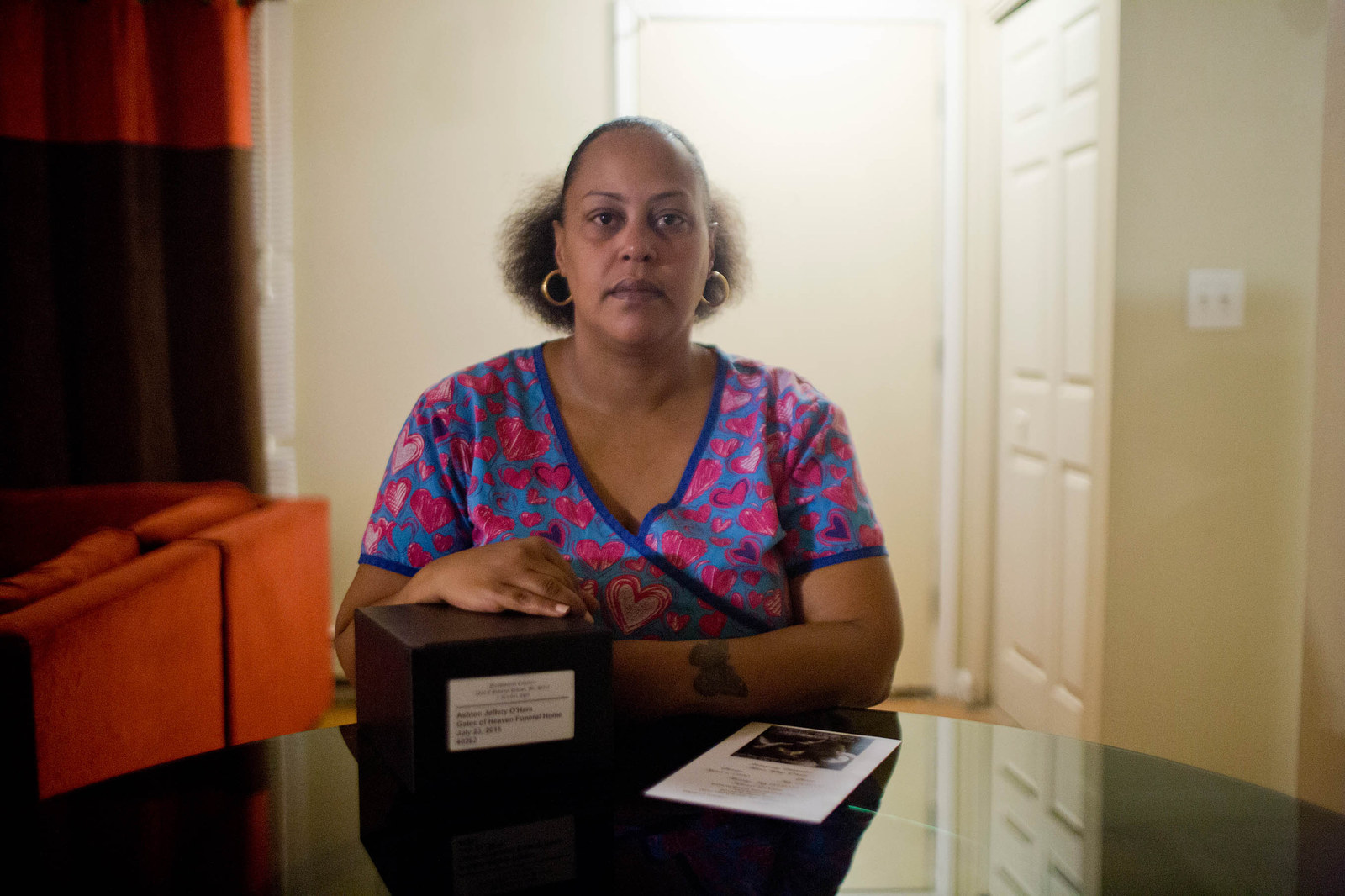 "That's Ashton in that box," Rebecca O'Hara said, gesturing to an end table in her living room. She carried the black container, which bears the date of her child's cremation, to the dining room table. "I'm trying to get an urn. I sit with him every day."

Ashton was gender-nonconforming, using female and male pronouns and sometimes identifying as transgender. "At home, he would say he was my son. So maybe you could word it in a way where he could be identified the way he wanted to be identified, but when you refer to me speaking about him, you can refer to me speaking about my son," she said.
Like many mothers who love and support their transgender kids, O'Hara feared for Ashton's safety.
"I would always ask him, 'If you are going to dress like a girl, could you please do it while you're on your way to the club so you'll be among your peers, where people accept you?'" she began. "Please don't do it in the daytime, and please don't feel free to walk at night, because somebody else may not agree with it, get violent because of it."
Although many people won't answer calls from unfamiliar phone numbers, "I always have," she said. "I never knew if it was somebody calling to say something was wrong with my son. So every time my phone would ring late at night, I was always terrified it was going to be that call, and one day, it was in the morning, and it was actually that call. So it was something I was ... trying to prepare myself for."
"He was such a free spirit and he never really felt like something was going to happen to him," she said. "He always felt like he would be able to handle it. I mean, all the way back in middle school people used to try to attack him, and he had never had a problem with fighting his way out of the situations. It's been a long time coming, I believe."
The attack on Ashton happened around 4 a.m., she said. "By the time we got the phone call, it had to be about 11 in the morning. When the ambulance got there, he still had a pulse, so he had to be laying there that whole time."
O'Hara said the violence against transgender women in Detroit has been getting worse as support for marriage equality grows and transgender people gain prominence. "I've known for the maybe last 10 to 15 years that violence against transgender people was a problem," she said. "It wasn't highly publicized."
She stood up to grab some tissues and wipe her eyes.
"I wouldn't want anybody to misinterpret my feelings about this, but there were, like, mixed emotions," O'Hara said. "For years I was living, waiting on this call. And so when it happened, I was mortified because I knew I was going to miss my son forever. And I really didn't how to deal with that. But at the same time, it was like this heavy burden was lifted, like it's happened, you know. So I don't even really know how to express that feeling — because I felt bad for feeling like a weight had lifted off of me."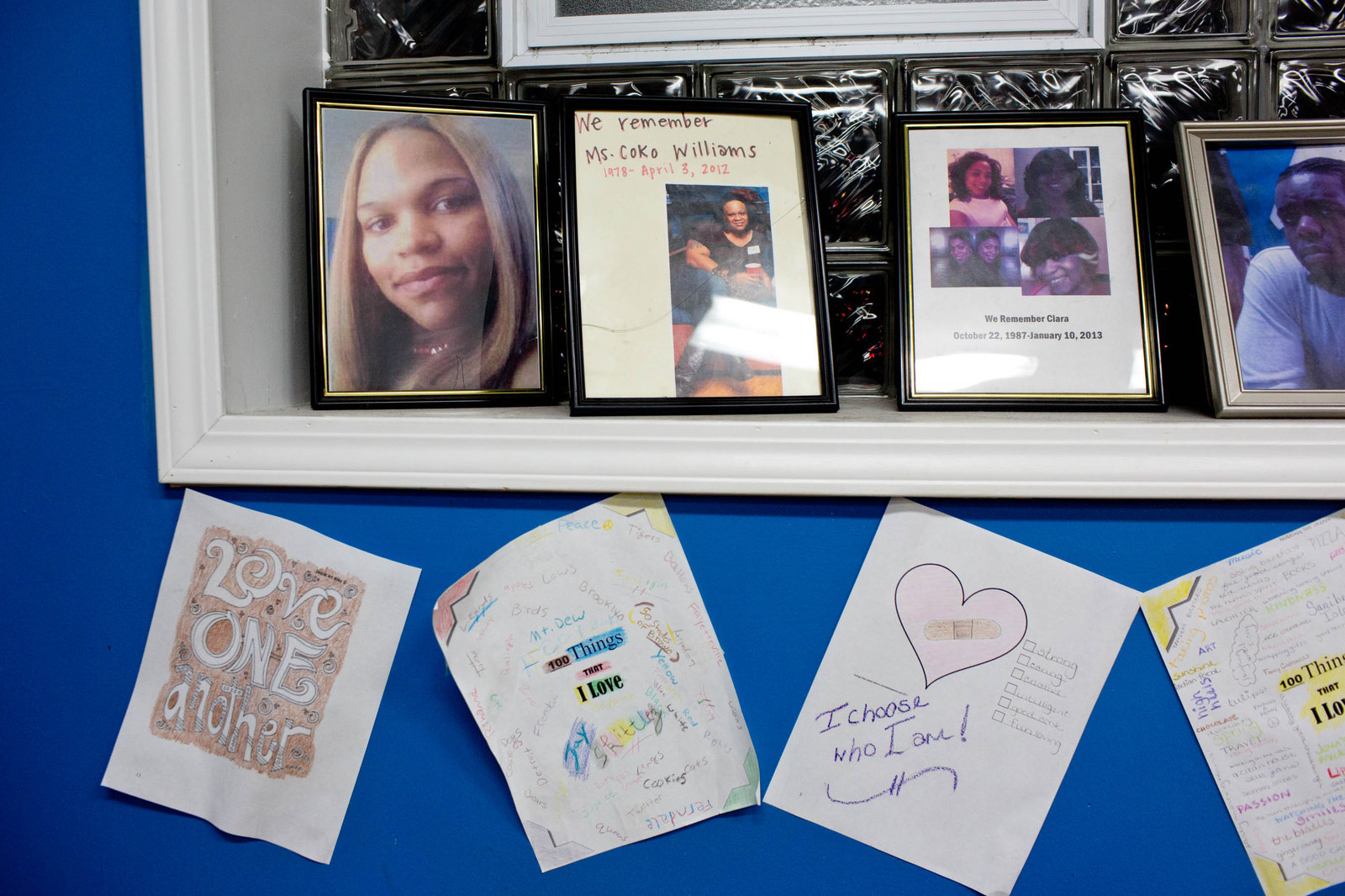 As the number of trans homicides sharply increased this year, antiviolence advocates described the trend as a "crisis" and an "epidemic." Yet nobody knows, exactly, why the number of confirmed homicides of transgender people is rising.
Among the theories: They are simply better reported. A growing national consciousness that trans people exist means that people press police to correctly report and record the murders beyond just noting a "man in a dress." Or reporters connect the dots when police don't. Or families are growing more forthcoming about publicizing a victim's gender identity.
On the other hand, the homicides could just be increasing.
"There has never been accurate reporting; people are always misgendered, and families don't want to admit that their loved one is trans sometimes," said Leah Taraskiewicz, the victim advocate at Equality Michigan, an LGBT antiviolence group and a member of the National Coalition of Anti-Violence Programs, which attempts to track trans homicides.
The size of the transgender population is not well-studied, so it is impossible to conclusively compare homicide rates of trans people to other populations. That said, it's worth making an unscientific, back-of-the-envelope estimate. And it makes sense to examine the population getting killed: overwhelmingly black trans women.
Most federal surveys designed to estimate populations simply don't account for trans people, according to the Williams Institute. A 2011 report by the UCLA think tank pegged the total national trans population at just below 700,000, based on various data sources.
If about 6.5% of the trans population is black and female — like the percentage of the general population that is black and female — that would suggest there are roughly 45,500 black transgender women in the U.S. With 17 black transgender women confirmed killed in the past 12 months, that would suggest there would be a homicide rate of about 37 black trans women in a population of 100,000.
This rate — comparing a figure to a 100,000-person population — is a little odd when it is likely there are not even 100,000 black trans women in the U.S. However, this is the formula that the Bureau of Justice Statistics used for other crime stats in a survey released in 2012. It found that black people had the highest homicide rate of any race — about six times that of whites. The Violence Policy Center found that, according to those federal stats, the homicide rate for black male victims was 31.67 per 100,000 people, and for black female victims was 4.54.
There are almost certainly more homicides of black trans women, because police chronically misgender trans homicide victims — leaving many deaths never accounted for.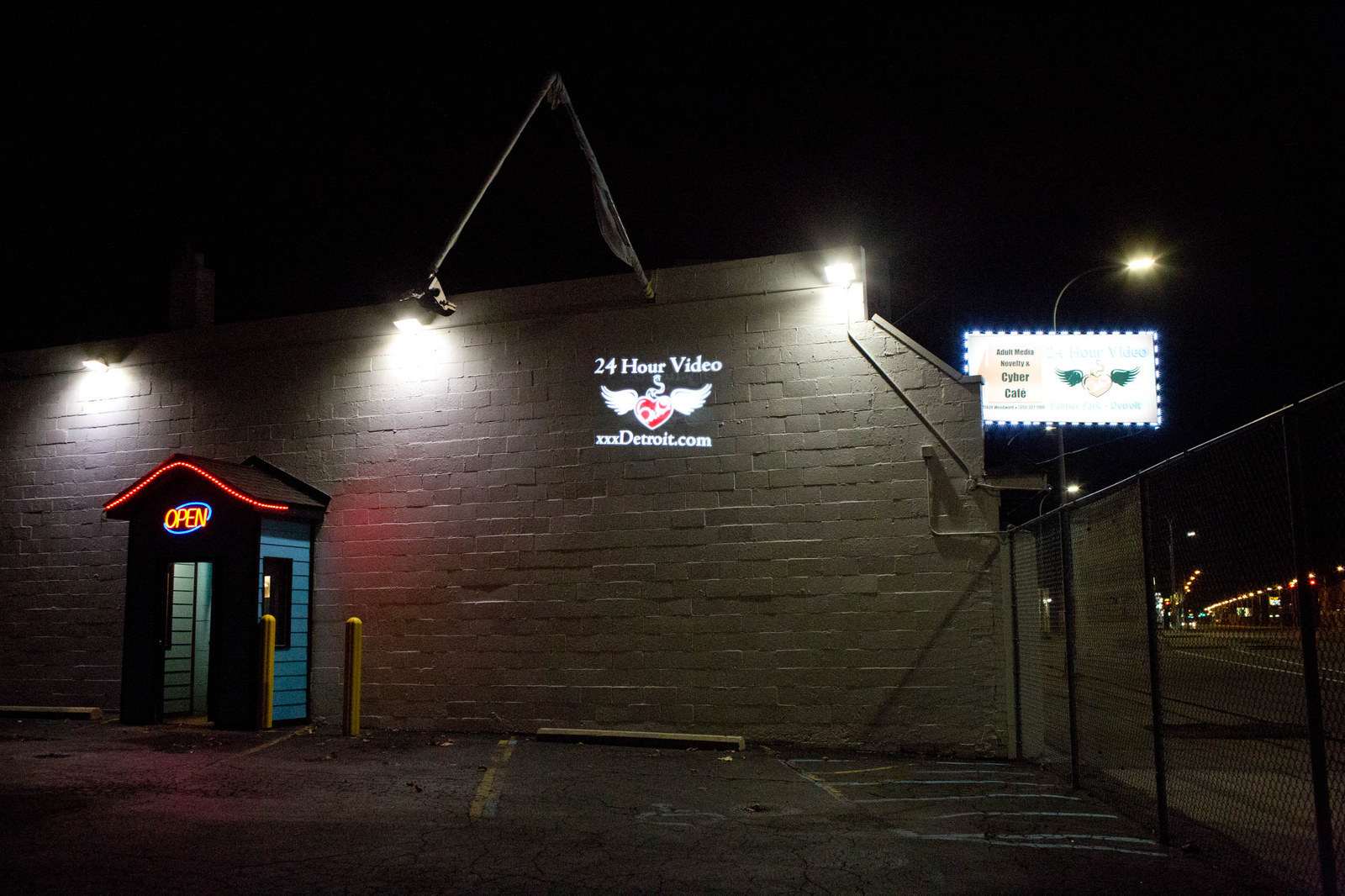 Officer Will Williams drove a squad car south on Woodward, pointing out the stroll to his left. "This is where everything happens. On a warmer night, you'll see 10 to 15 bodies, maybe more," he said. "I don't think they know the risk they are putting themselves in, just someone who is looking to hurt them."
Officer Linda Gilbert, sitting in the passenger seat while Michael Jackson played on the radio, added, "I think that some of them are targeted because of their sexual choices — what they choose to be, men dressed like women. Some people think that transgender people are sick." But she added, "I don't have a problem with transgender people. They are very respectful."
Then the pair did a U-turn at Six Mile Road.
The city of Detroit surrounds the small city of Highland Park. The jurisdictions share a border at Six Mile Road — in the middle of the strip of Woodward where many women work and walk. These women cross the border regularly, as do police for the Highland Park Police Department, responding to emergency calls or stopping transgender women on the street, several women said in interviews.
"They will pull over and, on the bullhorn, say loud as hell, 'What the fuck are you nasty-ass men doing out here? Get your triflin', ugly asses across the street,'" said Abad, the activist. "They call you a man, a fag."
Carter recounted the same: "They do it to humiliate."
Detroit Officer Woods has heard the same stories about Highland Park cops and trans women. "I have yet to hear a positive story. It's all negative," she said.
But Officer Calvin Wimberly of the Highland Park Police Department told BuzzFeed News that transgender women "never come on our side — never — for some reason." That is, he contended, trans women simply reach Six Mile Road and never cross it.
Not only did transgender women and antiviolence advocates laugh at this claim, they pointed out that the Ruth Ellis Center, a popular LGBT facility that transgender women visit daily, is located in the center of Highland Park.
Wimberly, though, insisted "there is no reason" officers from his department would ever interact with transgender women and said he is "not aware" of any instance of his officers speaking to trans women.
Dawson said the Highland Park police's behavior could actually encourage more violence. "When they are the ones doing the harassing, it makes it looks like it's OK for everyone else to harass us." She says people think, "If police are doing it, maybe we can do it."
A 2014 study of transgender women in Detroit, published in Sexuality Research and Social Policy, reported that police in the area — the study doesn't specify which departments — "were also implicated as participants in sex work as johns or clients." In two cases, participants told researchers:
"Oh, the police are no different than johns to me. They use their authority to get what they want... The same thing that the rest of them want, but they want it for nothing... Because they are police, 'I can take you to jail if you don't suck my dick.'
"I had a client before and after we, after we got finished, he told me, 'You know not to come out here Thursdays or Tuesdays.' And I said, 'What do you mean?' He said, 'You know, that's sting night.' I said, 'How you know it's sting night?' He said, 'I'm an officer.'"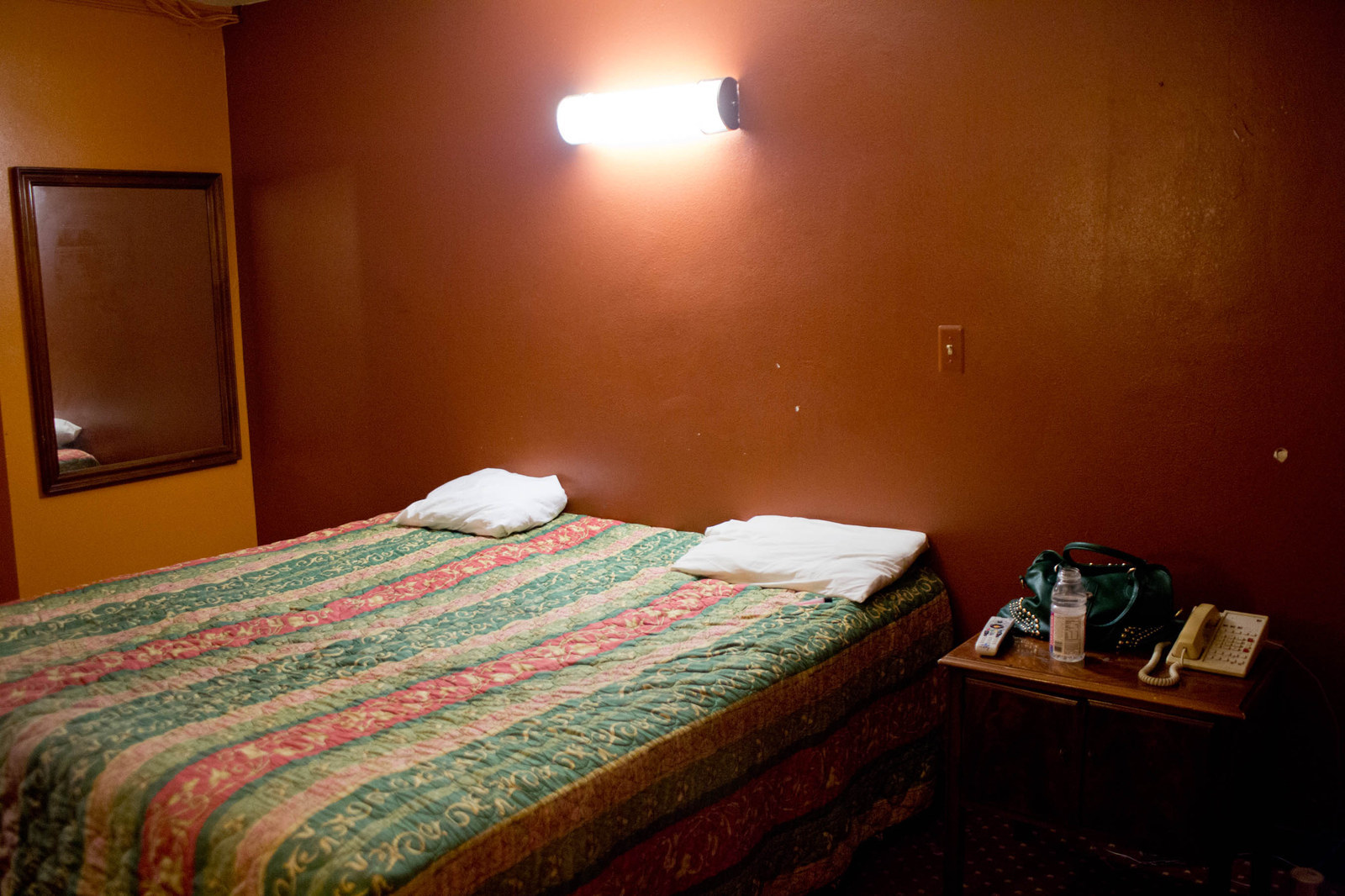 BuzzFeed News spoke to women who also said they had heard from sex workers that Highland Park police have "dated" the women — a euphemism for meeting for sex. They believe that relationship, combined with instances of humiliation and misgendering, further alienates trans women, who witness crimes and could provide key information to identify suspects or catch assailants.
Abad explained, "What makes you feel like they are going to be comfortable enough to come forward if these same people that we are supposed to trust are not only taking us to jail, beating and ridiculing us, but you also have some crooked ones on the force who are dating us as well?"
Highland Park Police Chief Kevin Coney, reached by phone, did not say whether his officers have had sex with trans women. "What people do in their personal life — you heard that some officers were dating transgenders [sic] — I don't know if it's a fact or a lie."
"I don't listen to hearsay," the chief continued. "If it's not on paper, I don't listen to it." Coney also could not confirm whether his officers had ever interacted with transgender people, saying it was "a possibility."
Asked if he knew of violence against transgender women, Coney said: "Not that I am aware of, any violence." And he described his thinking on transgender identities like this: "If you say you are transgender, then that's what you are. I might say I am Superman. Some people might say I'm crazy."
Police around the country often misgender trans women as men — particularly after death, when police rely on IDs that refer to a victim's birth sex. A dead person can't divulge their gender identity. For example, police in Maryland called Zella Ziona, who was murdered in October, a man because they "went by the driver's license," even though her purse lay in plain view at the crime scene. Police later issued a press release with Ziona's correct gender. Police in Louisville, Kentucky, insisted to BuzzFeed News that a victim killed in January was also a man, yet a BuzzFeed News investigation of records and an interview with a witness found that the victim was presenting as a woman at the time of the homicide — she had just told the shooter she was trans, and he got angry before he shot her. Police still refused to acknowledge that gender identity may have been a factor in the case.
This pattern can hamper investigations by misidentifying victims and alienating people who could assist. When Amber Monroe was shot in Detroit, her boyfriend, who asked to be identified only as K, was a few blocks away. "When I got there, she was laying on the ground and police told me to get back. Police were being rude and told me it was none of my business."
Shelly Hilliard was burned and dismembered in Detroit three days after working as an informant for the nearby Madison Heights police, according to Courthouse News. The murder was investigated in the documentary Treasure.
"I have seen too much stuff happen out here," Carter said. "But I'm not going to tell [police] anything, because I risk myself."
Officer Woods said that when cisgender sex workers are "shot or stabbed, you know, they go to the hospital, they call. Citizens are more apt to say this lady is out here, there is a lady on the ground. Whereas if it's in the trans community, sometimes people ignore it. They'll drive by. It's not reported."
Officer Woods recounted stories from inside the Detroit police department from the past 15 years: An officer once called her a "dyke," and police responding to a household of two men concluded the guys "must be fags," for example. But more officers are developing competency with LGBT people, slowly. "I don't want to totally say everybody" is over that cultural hurdle, said Woods, "because everybody is not." Twinges of discrimination still linger with some cops. "It's still there. And that is going to take time."
"I'm not going to tell [police] anything, because I risk myself."
Woods acknowledged that derisive behavior from police creates mistrust among trans women. "When you call the police for help and they talk at you or mistreat or refuse to help you, where do you go from there?" she said. But at the same time, she said that when some trans women talk about being harassed, they need to be reminded what they do for a living. "Because I wear both hats, I have to give it to them straight: You're prostituting; that is a crime."
Detroit police convened an LGBT advisory board on Tuesday for the first time, and Woods said she did not invite the Highland Park police. It's also difficult to ascertain how much of the force's LGBT outreach is backed up with anything more than gestures.
Misgendering victims further upsets people when families do it. Monroe was buried by her family in male attire, her boyfriend said. Jessie Fullenkamp, the youth services director at the Ruth Ellis Center, recalled, "Amber was buried as her family knew her … very masculine. She was wearing a plaid button-up shirt and slacks. She didn't have her hair or her nails done."
Monroe's mother, Pamela, declined an interview with BuzzFeed News. But Jerry Peterson, executive director of the Ruth Ellis Center, confirmed with Pamela that she has been unable to get any information from police about her daughter's homicide since the initial interview. "It's still under investigation, so she hasn't been able to get Amber's things back," Peterson said. "There is just no movement at all."
It's also difficult to ascertain how much police prioritize tracking these homicides. For two weeks, BuzzFeed News asked Woods and others at the police department if they had any press releases or announcements — even a list of homicides of transgender people — documenting the trend. Although police officials initially said they had that information handy, they later punted, suggesting two days before this story was published that BuzzFeed News would have to file a request under the Freedom of Information Act, which could take weeks or months to fulfill.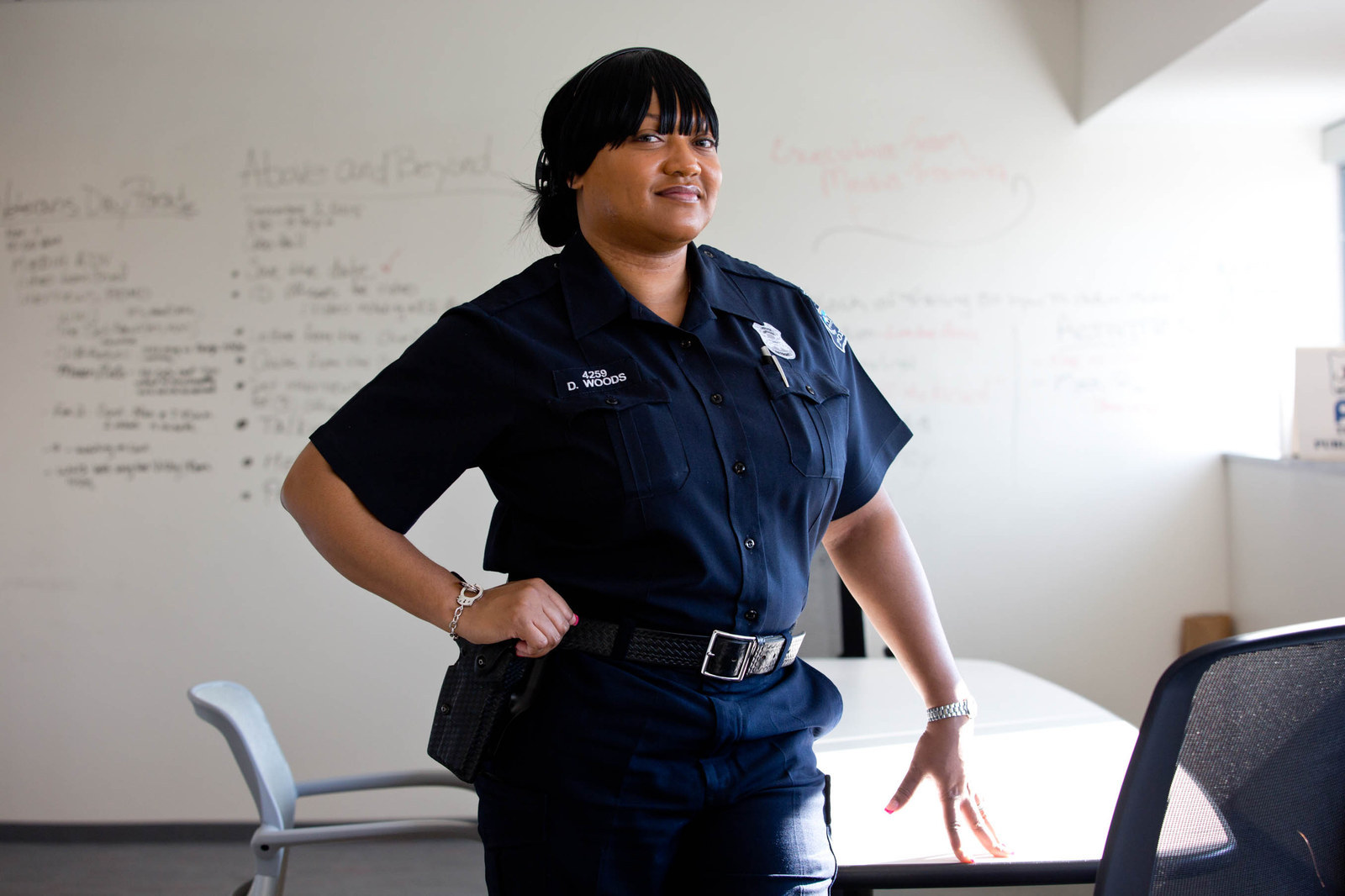 In the last 12 months, Christian conservatives and Republican politicians have increasingly raised the specter of transgender women, and men posing as them, sexually assaulting young girls. Such arguments have been raised to challenge or defeat transgender nondiscrimination laws in Arkansas, North Carolina, Missouri, Florida, California, and Texas.
That message was the primary rallying cry in Houston over the past two months, saturating radio and TV stations with hundreds of thousands of dollars' worth of ads to repeal a nondiscrimination ordinance there.
"A man who says that he is a 'transgender female' is still
 a man, no matter what he thinks he is," said a mailer from the Houston campaign. It said being transgender is "deviant behavior" and suggested that the city's trans nondiscrimination law allowed "perverted men" to "harm" women in the bathroom. A TV commercial showed a man trapping a young girl inside a bathroom stall.
Seventeen states and 200 cities have nondiscrimination laws for gender identity, and there are no examples of those laws enabling a trans woman or anyone to assault a woman. But still, Texas's governor and lieutenant governor raised that argument in order to repeal the Houston law — and voters did, by a 22-point margin, on Nov. 3.
"We want to have careers. Everybody don't want to be out here."
The underlying message of this nationally viral narrative is obvious: that transgender people are dangerous and sexually scheming. That transgender people are a threat for even being alive.
"Hyper-visibility doesn't always mean that people are more safe," warned Ahya Simone, a 23-year-old transgender woman who recently graduated from Wayne State University in Detroit and works as a freelance harpist. "Hyper-visibility can also make us vulnerable to violence. It makes you a target."
Simone is sick of the bathroom debate and sick of what happens when she uses restrooms herself. Staff at a library recently banned her from a women's restroom after finding out she was trans. Last month, she encountered the opposite problem at a bar when she used the men's restroom. "The bouncer was at the door, and he said, 'You have to go,'" said Simone. "I was laughing in my mind. I mean, where am I supposed to go then?"
"I don't think any of it is a fluke, but I don't think it is a Law & Order conspiracy," Fullenkamp said of the killings in Detroit. "If we are not going to allow someone to do the most simple acts of a human existence — use a bathroom, live in a home, have a job — we are creating a society that is setting those individuals up for violence."
Simone said when lives like hers are devalued, people think they "are almost doing a favor by removing us. Even when you talk about the murders, you have to talk about how these people were murdered — and most of them in gruesome and disgusting ways. Part of that comes from that feeling of having to erase these people's existence."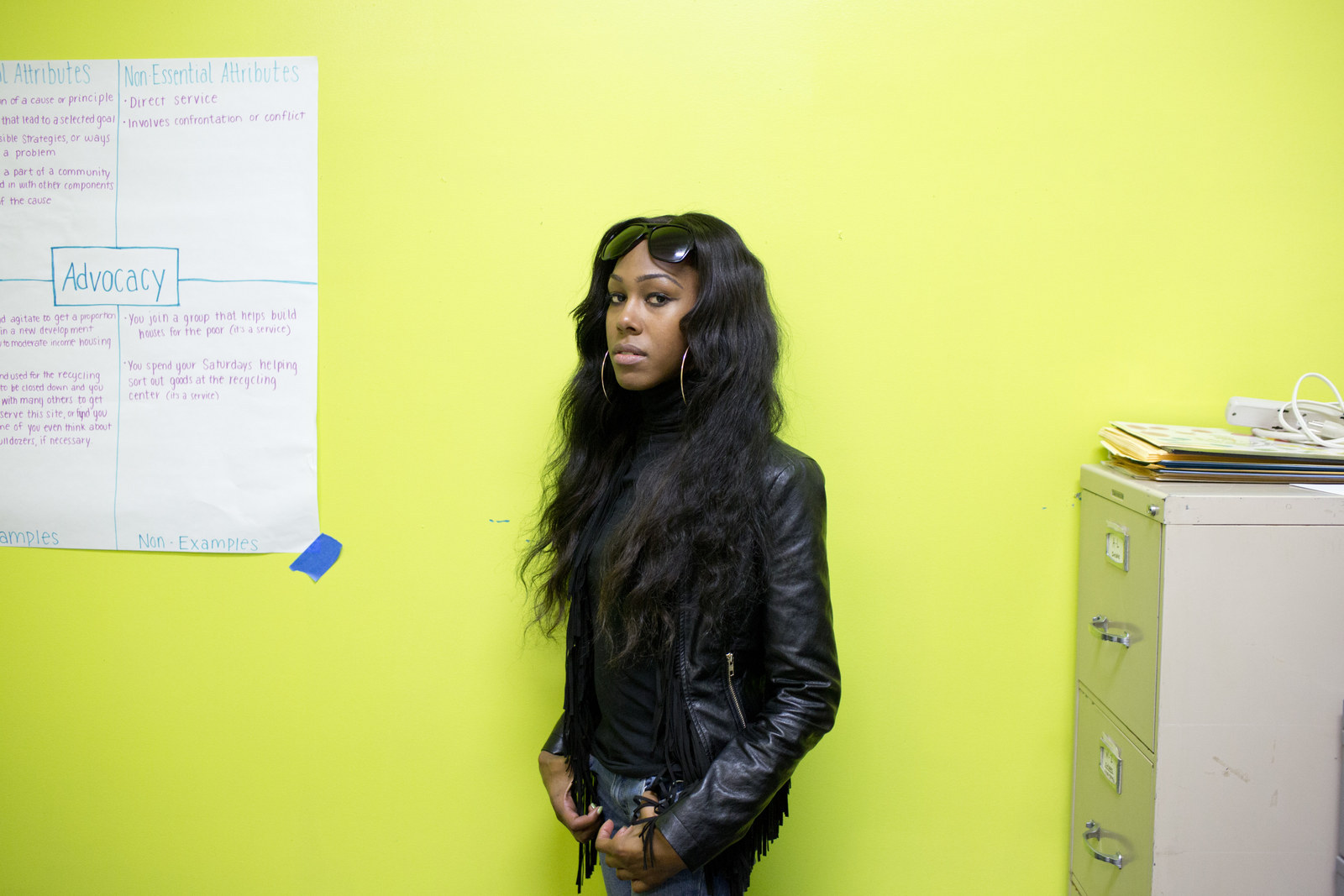 After Ziona's killing in October, U.S. Sen. Al Franken sent a letter to the Justice Department and the FBI asking how federal officials planned to deal with — or even track — what he described as the "disturbing trend of anti-transgender violence this year. " He pointed out that federal hate crime statistics accounted for only 33 anti-transgender bias crimes in 2013, the most recent year there's data for, a figure so implausibly low as to be meaningless.

The FBI office in Detroit did not answer questions from BuzzFeed News about whether the bureau, which tracks crime statistics, had any records of anti-transgender violence in the city. The city also produced no information.
Absent substantial data, people can only speculate on how bad the problem is and how to stop it. Trans women and advocates who spoke to BuzzFeed universally wanted government leaders — especially local figures — to take a more visible role condemning anti-trans violence. They said Michigan Republicans, who control a majority in both chambers, should pass a transgender nondiscrimination bill that has languished in the legislature. They said human services should boost provisions for trans people, and police need more basic training on cultural competency.
In making its recommendations, the academic study of transgender women in Detroit from 2014 added that "the minimum investigative mandates for reported assaults should be enhanced" and that sex work should be decriminalized and regulated.
It's unclear how much violence stems from anti-transgender bias and how much results from the circumstances these women live in. It could also be a combination — or none of the above. Often, readers will speculate on social media that a transgender woman "tricked" a man who then became angry. But it seems implausible in many cases: Women working Woodward Avenue in Detroit are essentially all transgender; cisgender women work on John R. Street, and men work on Covington Drive.
"We all know that," said O'Hara. Everyone from police officers interviewed for this article to hotel clerks and cab drivers knew that the women in that area are transgender. Trans women also self-identify before getting in cars.
"The girl will just come out and say, 'I'm a tranny,''" said Abad. "And the guys are ready for you to get in the car and go."
Rather than blame victims, Dawson said, the public needs to embrace trans women like other women. "We still have the same heartbeat; the same blood pumps through us. I shouldn't be able to walk down the street, and a group of people laugh at me, and nobody says anything about it. Real women walk down the street and get her purse snatched, everyone is going to hurry up and defend and get justice served. But if I get my head cut off, this month people say, 'Let's say her name,' but next month, nothing is said about it."