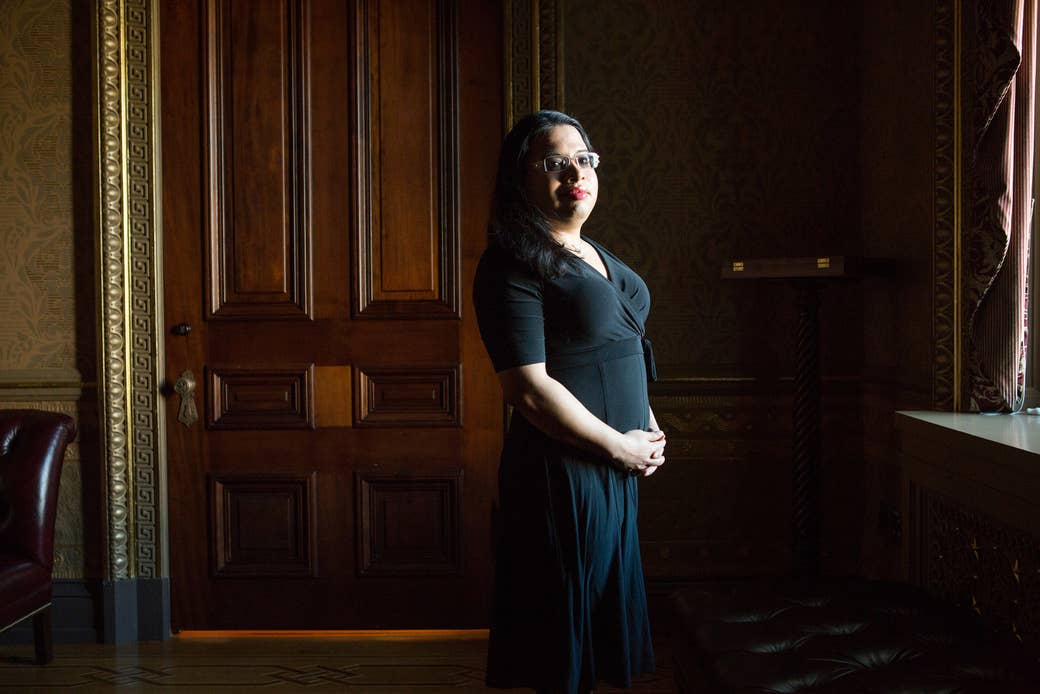 Raffi Freedman-Gurspan woke up to a text message on June 12: "Turn on CNN." A gunman had killed dozens of people at an LGBT nightclub in Orlando, and while Americans reeled in front of their TVs, the White House LGBT liaison began working the phones. She has long-maintained close ties to community leaders in Florida, who were among the best informed that day about who died in the club and who made it to the hospital. She had direct access to federal agencies and made sure law enforcement had the right information for victims' families. Until 3:00 a.m., she collected the latest news from people on the ground, shared it with the highest echelons of DC, and relayed condolences back down the chain.

"Part of my job was to talk to community leaders who were bereaved and ultimately be the voice of the president," she recalled in an interview with BuzzFeed News during her last week on the job, "passing along word that the president was very, very, very concerned."
Soon, a designated voice for LGBT people on behalf of the president could go silent — and the White House could lose its direct line in a crisis. Donald Trump's transition team has not responded to questions from BuzzFeed News about whether it will replace Freedman-Gurspan and install a new LGBT liaison in his White House. Freedman-Gurspan said she has not had direct contact with the transition team, per standard protocol for her job. And in interviews, gay conservative activists said they don't know of a replacement in the wings.
"It's about getting the work done. And ultimately getting it done right."
For her part, Freedman-Gurspan worries that if another LGBT catastrophe happens without a liaison in the room — from massacre to health epidemic — the White House won't be ready.
"I hope they have liaisons to many communities," she said inside an ornate war strategy room of the Eisenhower Executive Office Building. "If we don't have a particular individual here in this building who has an immense amount of influence and power and impact — that's a loss. That's clearly a loss."
She pointed to the Reagan administration's obstinacy as thousands of gay men died amid the outbreak of a mysterious illness — a mystery protracted by the White House's deafness. "It actually gives me a little bit of chills thinking about not having a potential person here, if, God forbid, we have another outbreak of, say HIV or AIDS or something like that," she said. "We saw what happened in the '80s — how there was no response."
Marsha Scott, a straight woman, was the first White House liaison to gays and lesbians, named to the role by President Clinton in 1995. But the position disappeared when George W. Bush took office and later returned under Obama. Aditi Hardikar held the position until leaving to join Hillary Clinton's campaign.
Last March, Freedman-Gurspan became the first transgender person in the role.
"Only in America," said Freedman-Gurspan, who wore a star of David on a thin gold chain around her neck. She was born in Honduras and raised by Jewish parents in Massachusetts, where she became the first transgender staffer in the state's House of Representatives. "I'm an adopted child from Latin America; my birth parents were illiterate peasants in the countryside. It's been an immense pleasure. It's been humbling, and it's required a heck of a lot of work, and I don't regret it."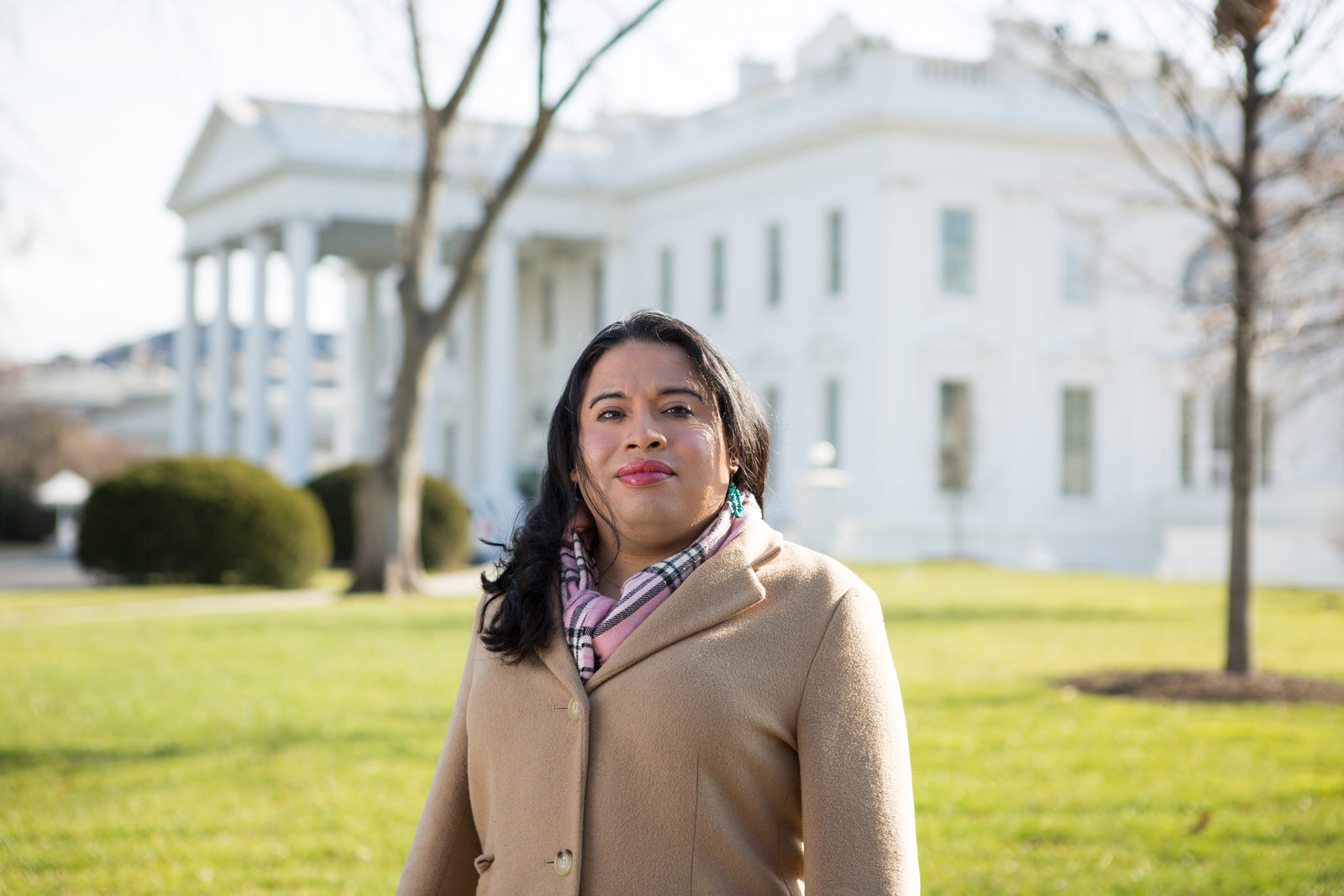 For some conservatives, however, it has been easy to write off community liaisons in general as agents of identity politics, a notion that Freedman-Gurspan both understands and resists. "Identities are there and minorities are out there," she said, "but it's more than just a pat on the shoulder — it's more than just that tokenization."
"I think we are in a different kind of age," Freedman-Gurspan said. "It's about getting the work done. And ultimately getting it done right."
She pointed to the Zika outbreak as an example of the job's practical necessity. As the virus spread, public health officials focused on its potential for causing birth defects, warning pregnant women to avoid exposure. Yet, in doing so, LGBT people risked being left out of the target audience, even though one epicenter of Zika was the LGBT enclave of Miami Beach.
"We wanted to make sure that heteronormative rhetoric around Zika was being massaged a bit so that it could be digestible for an LGBT audience too," she said, pointing out that LGBT people get pregnant and can carry the virus to others. She believed reaching LGBT homeless and Latino populations would be critical.
She pressed the Center for Disease Control and US Department for Health and Human Services — penetrating federal bureaucracies known for being neither cooperative or nimble — to adapt their outreach. "To call agencies and say, 'This matters to the president, ultimately,'" she said, "it's an incredibly influential position. I look at it more as an obligation and a service to the American people."
The White House could "lose touch, ultimately, with what is going on out there."
Absent a crisis, Freedman-Gurspan was the daily buffer between the president and LGBT organizations — playing referee in a relationship that has been mostly warm, but occasionally prickly. She would pass along intel, such as the figures of about rising rates of confirmed transgender violence, which administration officials worked into speeches regularly. In other cases, she was the go-to person when groups wanted Obama's help.
"We aren't always responding the way folks want us to," she said. "That is a larger calculus that happens beyond me. There are conversations about whether we dip in, whether we don't."
In one case of dipping in, Obama offered implicit support to uphold Houston's LGBT nondiscrimination ordinance — a measure pushed aggressively by the Human Rights Campaign — by issuing a statement that said he was "confident that the citizens of Houston will vote in favor of fairness and equality." And then last year, when North Carolina passed a law restricting transgender people's access to bathrooms, the Justice Department sued.
In a case of Obama dipping in less, he has been less engaged with the Equality Act, a bill filed in 2015 that never got a hearing.
Trump surprised voters by making an overt appeal to LGBT Americans, breaking from Republican orthodoxy. Still, his positions have been contradictory and even hostile to LGBT protections. He vowed to Catholic voters, for example, to sign a law that protects people with a religious objection to same-sex couples marrying.
How Trump plans to balance his desire to be liked by LGBT people and appease factions of his conservative base remain a mystery.
One option could be replacing the liaison position so he keeps an open door. Otherwise, Freedman-Gurspan said, if her position sits unfilled, "There is no one inside the hallways to advocate for the community, so we lose an internal advocate."
The White House would also "lose touch, ultimately, with what is going on out there. We lose that ability to inform our president about our community and our needs."
"But that's up to the next administration."