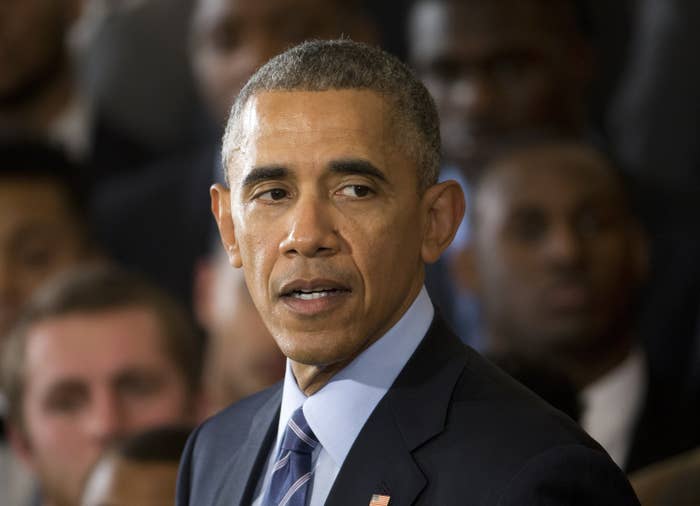 The White House on Monday condemned a new North Carolina law that repealed local LGBT rights ordinances and restricts transgender people's access to restrooms as "mean-spirited," with an Obama administration spokesman telling BuzzFeed News they are especially worried about the law's impact on transgender youth.
"This Administration is strongly committed to advancing the cause of equality for LGBT Americans and to ensuring that they do not face discrimination simply because of who they are or who they love," White House Press Secretary Josh Earnest said in a statement.
"Like so many others across the country, we are concerned about the potential harmful impact of this law, especially on transgender youth, and believe it is mean-spirited and sends the wrong message," Earnest added.
On March 23, Republican state legislators convened a one-day legislative session to pass House Bill 2 with the explicit goal of overriding an ordinance in Charlotte. The city ordinance would have protected LGBT people from discrimination in housing and public accommodations.
The new state law also mandates that single-sex restrooms and locker rooms in public schools and government buildings only be used only by those who have a corresponding sex listed on their birth certificate.
LGBT groups and three individual plaintiffs sued the state in U.S. District Court on Monday, arguing that the North Carolina's law violates people's equal protection, privacy, and liberty rights under the Fourteenth Amendment to the U.S. Constitution and their civil rights under Title IX of the Education Act of 1972.

The White House's comments did not pledge to take any official action against the state. However, the condemnation could suggest the administration would consider supporting the lawsuit against North Carolina, which was filed in part by two transgender student plaintiffs. The administration has backed transgender students in other active federal lawsuits involving claims of civil rights violations in schools.

White House officials did not answer a question about whether the administration may join a lawsuit or if they believed the law violated Title IX.
Under Obama, federal agencies have interpreted Title IX — which bans discrimination in publicly funded schools on the basis of sex — to ban transgender discrimination as a form of sex discrimination.

The Justice Department weighed in to support a transgender student in the country's most advanced lawsuit over student restroom access. Federal lawyers filed an amicus brief before the 4th Circuit Court in October backing Gavin Grimm, a transgender boy trying to overturn a school district policy that bans students from restrooms that don't reflect their "biological gender."

In North Carolina, Gov. Pat McCrory and Christian conservatives had claimed the public accommodations portion of the Charlotte ordinance posed a safety threat by allowing transgender women — whom they called "men" — to prey on women and girls, especially in bathrooms.
However, in the 17 states and 225 cities with laws banning LGBT discrimination, there are no known instances of the rules being used to defend or facilitate predatory behavior in bathrooms or locker rooms.