How Are States Reacting To The Supreme Court's Marriage Equality Decision?
Same-sex couples are marrying in parts of Alabama, Arkansas, Georgia, Michigan, Nebraska, Ohio, South Dakota, Tennessee, and Texas. While some governors have declared the end of marriage bans in their states, other state officials decried the court's decision and left the next steps in doubt.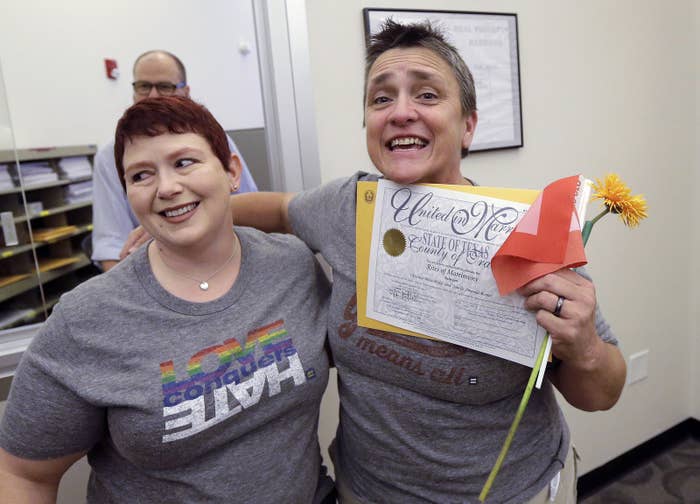 Governors in several states announced Friday they would embrace the U.S. Supreme Court's landmark decision to strike down same-sex marriage bans across the country, leading several local jurisdictions to start issuing marriage licenses to gay couples right away.
The legal landscape was changing rapidly in some states Friday afternoon — check back here for updates and see details at the bottom of this post — while a handful of officials showed resistance to the decision, indicating their states would take longer to comply.

Ohio Gov. John Kasich was among the quickest to respond to the morning ruling. Marriage equality, he announced, would be the new state policy following the court's decision in Obergefell v. Hodges — a case out of Ohio.

"The governor has always believed in the sanctity of marriage between a man and a woman," a spokesperson for Kasich told BuzzFeed News, "but our nation's highest court has spoken and we must respect its decision." Ohio's attorney general also issued a statement accepting the marriage decision. WKYC reported marriage licenses were being issued Friday morning.
Gov. Bobby Jindal of Louisiana, however, took a different tack.
Jindal issued a statement from his presidential campaign saying, "This decision will pave the way for an all out assault against the religious freedom rights of Christians who disagree." As of Friday afternoon, clerks in Louisiana were not issuing marriage licenses and it was unclear what steps Jindal may take to mitigate the court's ruling.
In contrast, same-sex couples began marrying on Friday in parts of Alabama, Arkansas, Georgia, Michigan, Nebraska, Ohio, South Dakota, Tennessee, and Texas.

Thirty-five states had already recognized same-sex couples' marriages prior to Friday's decision. Those 35 states obtained marriage equality through legislation, popular votes, and/or court rulings.
The remaining 15 states, however, have had mixed practices and policies: Three states had marriage rulings affecting parts of the states, but lacked any clear statewide policy, and the final dozen did not have marriage equality at all.

What is happening in those 15 states now that the Supreme Court ruled that marriage bans across the country are unconstitutional? Here's how things stand as of BuzzFeed News' most recent update:
The states that were defending their bans at the Supreme Court:
Ohio
Ohio was among four states in the 6th Circuit Court of Appeals — along with Michigan, Kentucky, and Tennessee — that were defending their marriage and marriage recognition bans before the Supreme Court. The appeals court had ruled in favor of the state bans last fall, which led to the Supreme Court appeal in Obergefell v. Hodges.
On Friday, Ohio's governor and attorney general said they would accept the ruling. "While Ohio argued that the Supreme Court should let this issue ultimately be decided by the voters, the Court has now made its decision," Ohio Attorney General Mike DeWine conceded in a statement.
Jimmie Beall and Mindy Ross were the first couple to obtain a marriage license in Franklin County, while Rob Rivera and Dan Siegfried were the first to be married in Cuyahoga County. But officials declined to issue marriage licenses to same-sex couple in other jurisdictions — including in Boone, Ross, and Crawford Counties — citing legal questions, Cincinnati.com reported.
Michigan
Michigan Gov. Rick Snyder embraced the decision. "Our state government will follow the law and our state agencies will make the necessary changes to ensure that we will fully comply," Snyder said in a statement, adding that "it is important for everyone to respect the judicial process and the decision today from the U.S. Supreme Court."
A spokesperson for Gov. Snyder added in an email to BuzzFeed News on Friday morning that the legal rights for same-sex couples to marry "is the law of the land. I'm assuming they are starting immediately."
Same-sex couples began marrying Friday, with Oakland County Clerk/Register of Deeds Lisa Brown telling the Detroit Free Press after she performed marriages, "I'm relieved that I'm not forced to discriminate in my office anymore."
Kentucky
Kentucky Gov. Steve Beshear posted on Twitter, "I've directed all cabinets of the exec branch to immediately alter any policies necessary to implement the @Scotus #samesexmarriage decision."
Tennessee
Likewise, Tennessee Gov. Bill Haslam said in a statement, "The people of Tennessee have recently voted clearly on this issue. The Supreme Court has overturned that vote. We will comply with the decision and will ensure that our departments are able to do so as quickly as possible."
Couples did not need to wait long. The Associated Press reported Friday afternoon that a same-sex couple had married in Nashville, and WATE reported that Jon Coffee and Keith Swofford were the first same-sex couple married in Knox County.
The remaining 11 states:
Alabama
Attorney General Luther Strange said same-sex marriage is "now the law of the land" and pivoted to the issue of religious liberty. "I expect the focus will now turn to the exercise of one's religious liberty," Strange said a in a statement. "I will continue to defend the religious liberties of Alabamians and ensure that people and businesses honoring their religious beliefs are protected."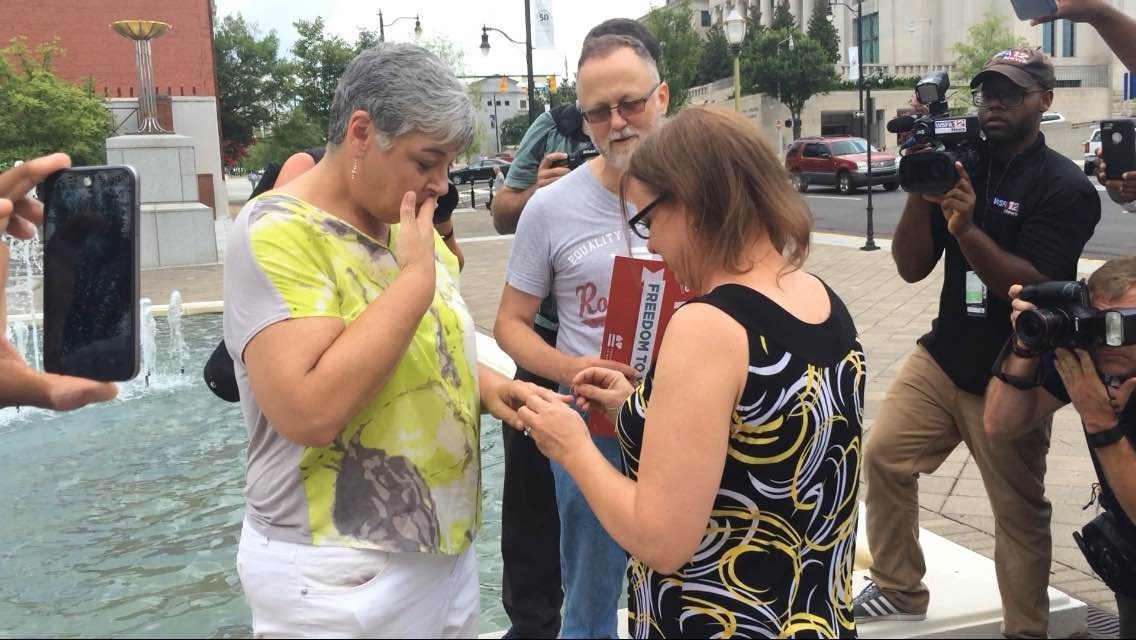 Alabama's Gov. Robert Bentley acknowledged the ruling while disagreeing with it. He issued a statement Friday that read: "Regardless of today's ruling by the Supreme Court, I still believe in a one man and one woman definition of marriage. The people of Alabama also voted to define marriage as between a man and woman. I always respect the people's vote, and I am disappointed that the Supreme Court has disregarded the choice made by the people of Alabama in its decision today."

Arkansas
Earnie Matheson, 65, and Tony Chiaro, 73, became the first same-sex couple to get married in Arkansas after the court's Friday ruling, according to numerous reports out of the Pulaski County Courthouse.
The state's top elected official, despite disagreeing with the court, said earlier in the day that state agencies would be instructed to comply with the decision.
"I recognize the responsibility of the state to follow the direction of the U.S. Supreme Court. As a result of this ruling, I will direct all state agencies to comply with the decision," Gov. Asa Hutchinson said in a statement.
"It is also important to note that the Supreme Court decision is directed at the states to allow and recognize marriage between two people of the same sex," the governor continued. "It is not a directive for churches or pastors to recognize same-sex marriage. The decision for churches, pastors and individuals is a choice that should be left to the convictions of conscience."
Meanwhile, Arkansas Attorney General Leslie Rutledge said in her own statement, "We are continuing to review this landmark decision to make sure the full implications are understood and that implementation is consistent with the rule of law. I urge those seeking to marry to be respectful as the State seeks to follow this ruling. Moving forward, it is critically important that the rights of religious freedom be protected, and I am committed to doing so."
Georgia
Gov. Nathan Deal said, "While I believe that this issue should be decided by the states and by legislatures, not the federal judiciary, I also believe in the rule of law. The state of Georgia is subject to the laws of the United States, and we will follow them."
Kansas
Kansas Gov. Sam Brownback decried the ruling and said he would review it further, the Associated Press reported. Brownback's statement read: "Activist courts should not overrule the people of this state, who have clearly supported the Kansas Constitution's definition of marriage as being between one man and one woman."
Louisiana
Gov Jindal did not say whether his state would adopt marriage equality as a matter of state policy — and he commented instead on religious freedom — while the attorney general's office announced it had "found nothing in today's decision that makes the Court's order effective immediately."
The Louisiana Clerks of Court Association told local officials to wait out a 25-day deadline for losers in the marriage case to file a motion asking the court to reconsider its ruling, NOLA.com reported.

"Marriage between a man and a woman was established by God, and no earthly court can alter that," Jindal's statement said. "This decision will pave the way for an all out assault against the religious freedom rights of Christians who disagree with this decision. This ruling must not be used as pretext by Washington to erode our right to religious liberty.
Attorney General Buddy Caldwell issued a statement saying marriage should be left to the states.

In addition, the Attorney General's Office said that it "has found nothing in today's decision that makes the Court's order effective immediately. Therefore, there is not yet a legal requirement for officials to issue marriage licenses or perform marriages for same-sex couples in Louisiana. The Attorney General's Office will be watching for the Court to issue a mandate or order making today's decision final and effective and will issue a statement when that occurs."
Mississippi
Mississippi Attorney General Jim Hood said marriages would not begin right away.
As Hood explained in a Facebook post, his office "is certainly not standing in the way of the Supreme Court's decision. We simply want to inform our citizens of the procedure that takes effect after this ruling."
"The Supreme Court decision is the law of the land and we do not dispute that," Hood went on. "When the 5th Circuit lifts the stay of Judge Reeves' order, it will become effective in Mississippi and circuit clerks will be required to issue same-sex marriage licenses."
Gov. Phil Bryant lamented the court's decision. "Throughout history, states have had the authority to regulate marriage within their borders," he said. "Today, a federal court has usurped that right to self-governance and has mandated that states must comply with federal marriage standards — standards that are out of step with the wishes of many in the United States and that are certainly out of step with the majority of Mississippians."
Missouri
Missouri Gov. Jay Nixon issued a statement calling the ruling "a major victory for equality and an important step toward a fairer and more just society for all Americans. No one should be discriminated against because of who they are or who they love. In the coming days, I will be taking all necessary and appropriate actions to ensure this decision is implemented throughout the state of Missouri."
Meanwhile, Missouri Attorney General Chris Koster said in a statement that he dismissed the state's appeals — which attempted to uphold the state's same-sex marriage ban — in the 8th Circuit Court of Appeals and in the Missouri Supreme Court.
Nebraska
Gov. Pete Ricketts said his state would abide by the court's decision. "The U.S. Supreme Court has spoken and ruled state same-sex marriage bans to be unconstitutional," he announced in a statement. "While 70 percent of Nebraskans approved our amendment to our state constitution that defined marriage as only between a man and a woman, the highest court in the land has ruled states cannot place limits on marriage between same-sex couples. We will follow the law and respect the ruling outlined by the court."
Barbara DiBernard and Judith Gibson became the first same-sex couple to wed in Nebraska.

North Dakota
North Dakota Gov. Jack Dalrymple said simply, "The U.S. Supreme Court has ruled that same-sex marriage is legal throughout the nation and we will abide by this federal mandate." The AP reported at least one county had issues a marriage license.
South Dakota
South Dakota Gov. Dennis Daugaard said on Twitter his state will comply with the decision. "We are a nation of laws, and the state will follow the law," he wrote. "I will be working with the AG to comply with the decision in Obergefell."
The AP tweeted that couples were marrying in a South Dakota county.
Texas
In Texas, officials did not appear to be responding uniformly, but numerous counties began issuing licenses.
Attorney General Ken Paxton issued a long statement lamenting the court's decision, saying, "[M]y office will be addressing questions about the religious liberties of clerks of court and justices of the peace."
Texas Gov. Greg Abbott issued a statement that did not directly address the state's policy on same-sex marriage. "The Supreme Court has abandoned its role as an impartial judicial arbiter and has become an unelected nine-member legislature," said Abbott, adding that "no Texan is required by the Supreme Court's decision to act contrary to his or her religious beliefs regarding marriage."
Gov. Abbott followed his the statement by sending a memo to all agency heads that said they "should ensure that no one acting on behalf of their agency takes any adverse action against any person ... on account of the person's act or refusal to act that is substantially motivated by sincere religious belief."
Officials in Denton County refused to issue marriage licenses to same-sex couples on Friday while they waited for legal guidance, the Denton Record-Chronicle reported. Judge Mary Horn reportedly explained that the difference between actions taken by officials in Dallas County and Denton County reflected "a difference in core philosophies."

But officials welcomed couples seeking marriage licenses in Dallas County. Meanwhile, the Corpus Christi Caller-Times reported clerks were issuing marriage licenses in Bexar, Hidalgo, McLennan, and Travis Counties.
In Nueces County, Fanny Chirinos-Tober and Lisa Tober were the first couple to obtain a license.

Rick Snyder is the governor of Michigan. An earlier version of the post said he was governor of Ohio.