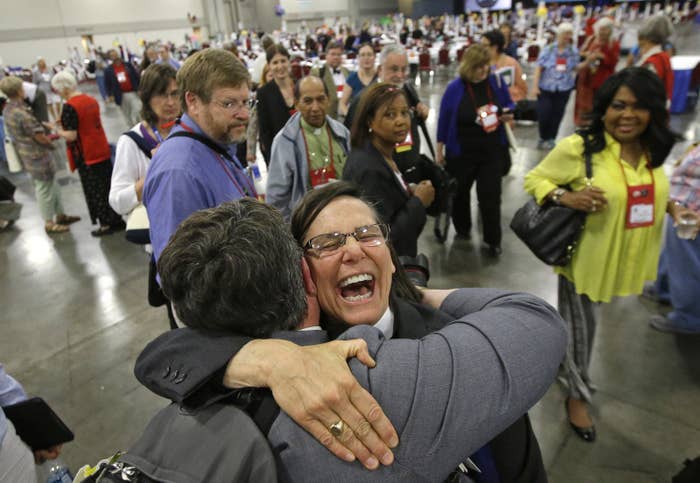 Just days after the landmark Supreme Court decision legalizing same-sex marriage nationwide, leaders of the U.S. Episcopal Church voted overwhelmingly on Wednesday to allow clergy to wed same-sex couples.
The decision once again puts the U.S. branch of the Anglican Communion at the forefront of mainstream Christian acceptance of gays and lesbians.

Presented at the church's triennial General Assembly on Wednesday, the resolution strikes the words "man and woman" from a marriage canon and replaces them with gender-neutral language.
Clergy, however, will not be compelled to perform same-sex marriages under the resolution. A clause in the revised canon states it "shall be within the discretion of any member of the clergy of this church to decline to solemnize or bless any marriage."

The vote on Wednesday represents the latest move by the U.S. branch of the Anglican Communion, which claims roughly 2 million members, to embrace the LGBT community.
In 2003, the church appointed an openly gay bishop to lead its New Hampshire diocese. And Episcopalian bishops already had the freedom to allow same-sex couples to marry in their dioceses.
Last week at the general assembly in Salt Lake City, church leaders elected Michael Curry, who had said the Supreme Court's vote for marriage equality "affirmed the authenticity of love," as their presiding bishop.
Two other mainline Protestant churches, the United Church of Christ and the Presbyterian Church, also allow same-sex marriage.
However, the vote on Wednesday exposes the U.S. branch of the Anglican Communion to criticism from fellow Anglicans abroad — there are an estimated 80 million Anglicans worldwide. African Anglican leaders had denounced the Church of England for accepting celibate gay bishops.
Those divisions may be what Archbishop of Canterbury Justin Welby, the most senior bishop in the loosely assembled global Anglican Communion, was trying to avoid when he bristled at the prospect of the church's U.S. affiliate marrying same-sex couples.
In a statement Tuesday, Welby warned he had "deep concern" that the decision "will cause distress for some and have ramifications for the Anglican Communion as a whole."
Citing global suffering, he added: "This was a moment for the church to be looking outwards."