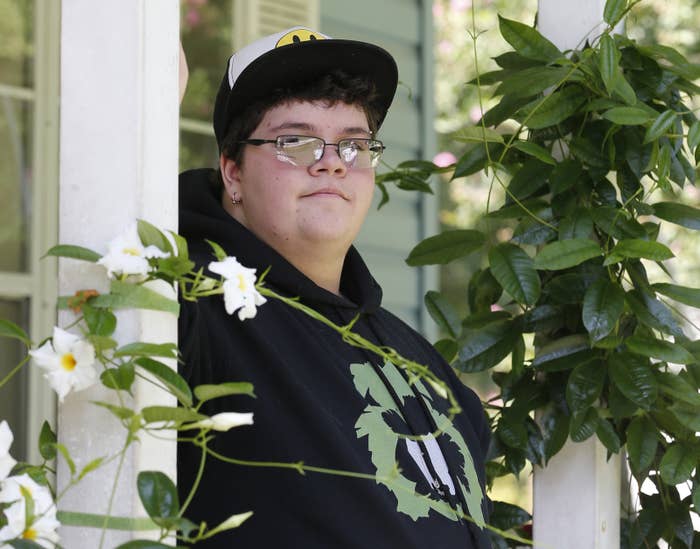 Unions representing more than one million teachers told the Supreme Court on Thursday that it should a grant a transgender student in Virginia, and students like him across the country, access to school restrooms that match their gender.

Joining a fiery debate over civil rights laws and moral norms, the country's major education unions argue the court should rule to protect transgender rights not only for students, but also to ensure that teachers aren't required to enforce harmful policies.
"Educators are, above all, advocates and protectors of their students," said the friend-of-the court brief supporting 17-year-old Gavin Grimm, who was banned from the boys rooms at his rural high school. "Compelling them to discriminate against and harm their students runs counter to everything about their personal and professional mission."
The brief was filed by the National Education Association; the American Federation of Teachers; the National Association of Secondary School Principals; the American Federation of State, County, and Municipal Employees; Service Employees International Union; and the School Social Work Association of America.
In 2014, Grimm was the only transgender student at his high school when the Gloucester County School Board passed a resolution restricting single-sex facilities to people of the same "biological gender."
The unions said Thursday that rules like those "are defended by unjustifiable fear and disdain of transgender students — fear and disdain that in turn leads to and magnifies harassment, abuse, and even violence directed at transgender students."
That environment, they say, opens the door to missing school, dropping out, and committing suicide.
"A contrary ruling will create confusion and sow discord."
Although Grimm won in a federal appeals court, the judges there did not directly address an underlying dispute about whether a civil rights law governing public education, which bans discrimination on the basis of sex, also bans discrimination on the basis of gender identity. The lower court instead ruled on a question about deferring to guidance from a federal agency when a law is ambiguous.
The Supreme Court is considering both questions about federal guidance and the underlying civil rights law, called the Title IX of the Education Amendments of 1972.
The unions spoke to the broader Title IX question in their brief on Thursday. "Concluding that Title IX proscribes transgender discrimination would provide administrable rules for education employees; a contrary ruling will create confusion and sow discord," they told the high court, adding, "School policies that respect transgender students promote a positive school climate for all students."
Last week, the Trump administration withdrew guidance from the Obama era that said Title IX requires all publicly funded schools to give transgender students access to single-sex facilities that match their gender identity.
Since then, both Grimm's lawyers at the ACLU and the school board's attorneys have told the Supreme Court the case should proceed, saying the justices should rule on the broad question of whether Title IX does indeed protect transgender students.
"The need for the Court to act is only magnified by the Trump administration's decision to side with bigotry and roll back protections for transgendered students," Randi Weingarten, president of the American Federation of Teachers, which has 1.6 million members, told BuzzFeed News in a statement. "When any of our children feel threatened or unsafe, we will protect them."
Weingarten's group has been friendly to nondiscrimination efforts for decades, from filing a brief in Brown v. Board of Education in 1954 to passing a resolution last year to advocating for LGBT rights.

Lily Eskelsen García, the president of the National Education Association, which reports 3 million members, said in a statement to BuzzFeed News, "We have a moral, legal, and professional duty to support all students, including our transgender students."