Two-Thirds Of U.S. Voters Think LGBT Discrimination Should Be Illegal, Poll Finds
But pollsters did not ask about the lighting-rod issue of religious exemptions.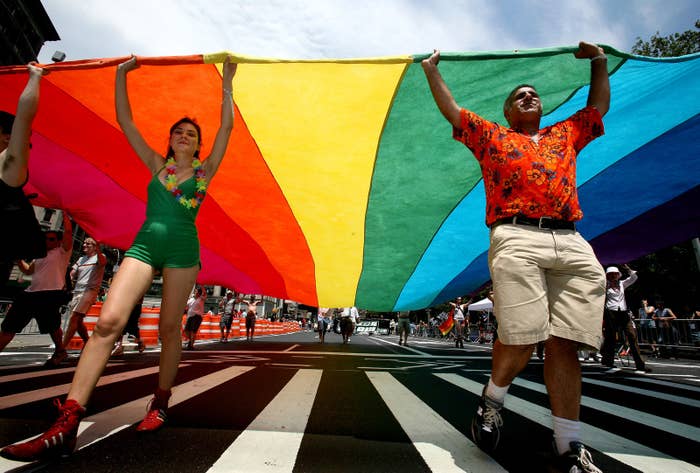 Sixty-nine percent of American voters — including 51% of Republicans — want a federal law that prohibits discriminating against someone based on sexual orientation or gender identity, according to a new national poll released.
Pollsters didn't ask, however, about the topic dominating state legislatures over the past year when it comes to LGBT politics: whether voters think such laws should contain religious exemptions.
Conducted by Greenberg Quinlan Rosner Research and commissioned by the Human Rights Campaign, an LGBT advocacy organization, the survey asked 1,000 Americans likely to vote in the 2016 general election about a potential federal bill to "prohibit" LGBT discrimination in employment, housing, credit, education, jury selection, and access to public places.
"If Americans knew their affirmation of the question in this poll would have such disastrous results, the numbers would look much different," one opponent said.
Nearly seven-in-ten said yes, while 27% were opposed. The remaining 4% were undecided.
"This poll predictably asks a half-question," Greg Scott of the Alliance Defending Freedom, a conservative legal and advocacy group, told BuzzFeed News.
Such a law would "increase the government's coercive power" in arenas of free speech and exercise of faith, Scott argued. "If Americans knew their affirmation of the question in this poll would have such disastrous results, the numbers would look much different."
An Associated Press-GfK poll in January highlighted Americans' mixed feelings on LGBT rights and religious liberty: While Americans were largely split on same-sex marriage, a 57%-39% majority support exemptions that would allow businesses, such as bakers who sell wedding cakes, to deny service to same-sex couples.
That tension between faith and LGBT rights may only grow after the Supreme Court rules on same-sex marriage in June, a decision many court observers expect to lead to nationwide marriage equality. Today's poll comes as advocacy groups and lawmakers plan their post-marriage strategy.
A big part of that strategy involves federal nondiscrimination legislation: Democratic lawmakers are expected to introduce such a bill this year — but its scope is unclear.
The robust support found in the poll released Tuesday poll could make the case for introducing an omnibus nondiscrimination bill this spring — even in a Congress controlled by Republicans — instead of a more narrowly tailored bill like others that failed in previous years.
For more than a decade, LGBT advocates have backed bills — with some Republican support — that would ban discrimination in the workplace, known as the Employment Non-Discrimination Act, or ENDA. Although versions have passed one or the other chamber, the bill has never been passed by both chambers in the same session — meaning it has never gotten to a president for the decision whether to sign or veto it.
But, the new polling backs the even more sweeping proposal that HRC and other groups have said they would be supporting in this Congress. Rep. David Cicilline, one of several out gay members of the House, has said he will be taking the lead on the legislation in that chamber.
While support was strongest among Democrats, 80% to 18%, coveted independent voters were close behind with 72% support. A narrow majority of Republican respondents said they support a nondiscrimination law, 51%, while 43% of Republicans were opposed — inside the poll's 4.78% margin of error for GOP voters.
Those figures could shore up support among conservative Democratic and liberal Republican lawmakers by showing there is political safety in voting for a comprehensive nondiscrimination bill. Conversely, the poll makes a case there is risk in voting against it.
Sixty-five percent of independent voters said they were less likely to back a congressional representative who voted against a comprehensive nondiscrimination bill.
Pollsters asked voters if they would be less likely to support their Congress member if he or she voted against a nondiscrimination bill. Four out of five Democratic voters said they were less likely; 65% of independent voters were less likely; and 43% of Republicans said they would be less likely.
"Democrats, Republicans and Independent voters have all made clear they believe that when it comes to discrimination, everyone, including LGBT Americans, should get a fair chance to earn a living and be judged based on their job performance," said the Human Rights Campaign's director of government affairs, David Stacy.
Even voters in 14 states without marriage laws or rulings, mostly Republican-leaning states in the Midwest and South, supported nondiscrimination laws 60%-37%. In states with same-sex marriage, support for a federal nondiscrimination law was favored 68-29%.
Still, Alliance Defending Freedom's Scott said, "While Americans may support the idea presented in the poll, they certainly don't support the outcomes of laws and ordinances like the one proposed in the question."
It is also unclear how voters prioritize such an issue. That is: Would a Congress member's opposition to an LGBT-rights bill amount to a deal-breaker for voters?
The poll was conducted on cell and landlines from Jan 25 -31. The margin of error is 3.1% for voters overall and 4.78% among the subset of Republican voters.
But it remains unclear is if advocates can or will transform public opinion into law.