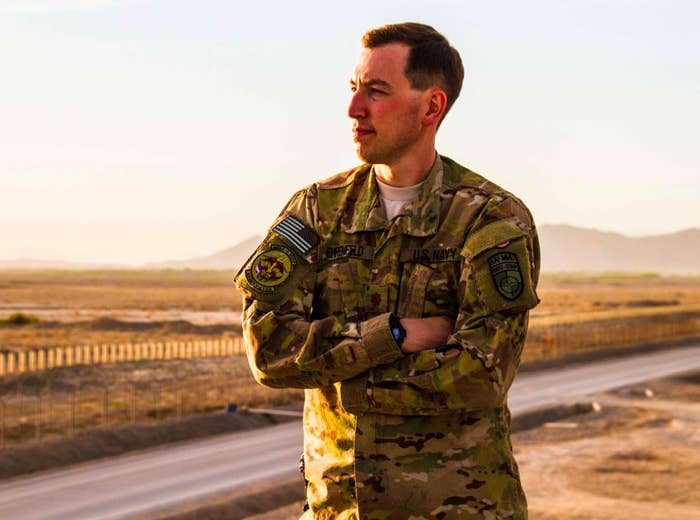 A television station in Tennessee had no policy about airing commercials on same-sex marriage until executives received a submission this week. The 30-second spot, sponsored by the group Freedom to Marry, features Dr. Jesse Ehrenfeld, a gay soldier who just returned from a tour of duty working in a trauma hospital in Afghanistan — and wants to marry his partner.

"I'm a Republican, I'm a doctor, and I'm a soldier," says a voice over by Ehrenfeld as the commercial shows images of him serving in uniform, and back at home with his boyfriend, Judd Taback. "As a military physician, I take care of other people's loved ones who are wounded in combat. But here at home, I'm fighting a different fight. Because I'm gay, I'm not allowed to marry my partner here in Tennessee where we live."
When station executives saw the ad, they refused to run it.
"It's just a very controversial and personal issue, and we just choose to not air a commercial on either side of that debate," Tom Tolar, the president and general manager of Chattanooga-based WRCB, told BuzzFeed News in a phone interview.
The ad crossed the station's lines, he explained, because "people probably have really strong opinions on one side or other of the debate. It's just an emotional debate for many people."
The station, an NBC affiliate that also broadcasts in parts of Georgia and North Carolina, didn't have a position on ads about same-sex marriage until executives reviewed the commercial featuring Ehrenfeld on Wednesday, said Tolar. "We had not had a request before to run an issue-ad like that."
Ehrenfeld called the decision disappointing, saying that people in Tennessee — where same-sex couples are prohibited by law from marrying — are the ones who need to see the ad most.

"I respect that they have to manage their TV station as they see fit," he said in a phone call with BuzzFeed News. "But it seems they just created this policy out of thin air when presented with this ad."
"I just got back in April from my tour in Afghanistan, where I put my life on the line to fight for our freedom," he continued. "I believe so strongly in the right to our freedom, and I was disappointed that this is the position of the TV station, that they are not interested in engaging in an important discussion about those freedoms today."
When asked if other issue-based commercials also stir an emotional debate, Tolar said simply, "Not really."
Marc Solomon, the national campaign director of Freedom to Marry, which is running the ad, called the station's decision "irresponsible."
Of the roughly two-dozen other commercials the group has run around the United States, he said, none has been rejected. For example, stations are airing the commercial over the next week in Nashville and Memphis.
"We want people from Tennessee to know we are not talking about people out there in Washington, D.C., and New York City — we're talking about people who are living in this community, serving their country, and just want the dignity that comes along with marriage," said Solomon.
Same-sex marriage remains banned in Tennessee, one of four states involved in a case before the Supreme Court to decide whether those bans violate the Constitution. A decision is expected in late June.
Ehrenfeld said that reaching regular Tennesseans, not justices, is the goal.
"Even though the Supreme Court justices will decide the issue, it's the people in my community who I interact with and take care of as patients, who I see in the grocery store or going for a jog with my partner — they need to see both sides of the story," he argued. "They need to understand the perspective of people who are being denied this basic right."
Ehrenfeld has been a naval reserve officer for seven years, recently returning to Nashville after nine-months of active duty working in Kandahar; his boyfriend, Taback, is an administrative judge for the state of Tennessee.

"Perhaps they are afraid of running afoul of their audience, but for us, that's why it's important to share this ad with as many people as possible — so they can understand the impact of the marriage debate on people like Judd and myself, that we cannot share in all the rights marriage offers and are made to feel like we are second-class citizens. And that is not right in any shape or form."
Watch the full commercial: