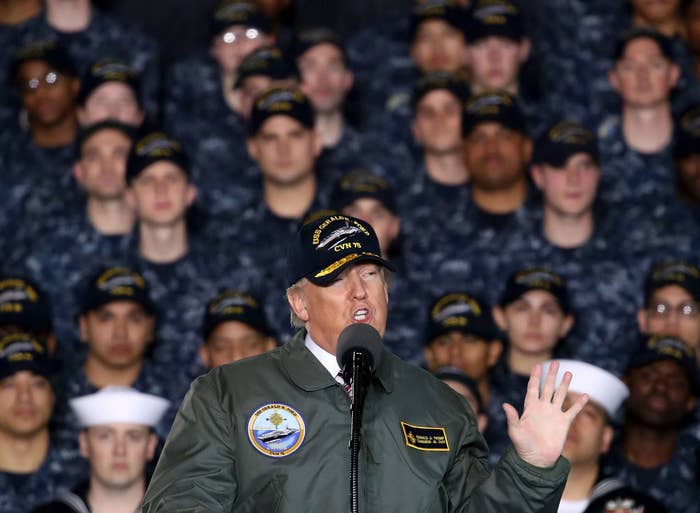 President Trump issued an executive order on Monday to once again let military weapons and supplies flow into the hands of local police departments, saying it provides "life-saving equipment and resources."
The order rolls back an Obama-era rule, which had limited the transfer of the equipment — including grenade launchers, high-caliber rifles, and armored vehicles.
"It represents a policy shift toward ensuring officers have the tools they need to reduce crime and keep their communities safe," states a Department of Justice document, which cites two reports that say the devices help arrest drug traffickers while protecting officers.
"We will not allow criminal activity, violence, and lawlessness to become the new normal," said Jeff Sessions.
Attorney General Jeff Sessions enthusiastically supported putting the equipment onto American streets in a speech on Monday, saying Trump's order shows "we will not allow criminal activity, violence, and lawlessness to become the new normal."
But civil rights activists said the weaponry treats Americans like enemy combatants, while some local law enforcement said the tools needed to be deployed with caution.
"I don't think police departments should be asking for 'military gear,'" King County Sheriff John Urquhart of Washington state told BuzzFeed News. "The public doesn't want to see the police militarized, nor do I. But occasionally we need to gear up — but only to a point."
After clashes between protesters and heavily armed police in Ferguson, Missouri, Obama issued an executive order in 2015 that throttled leftover military supplies from local agencies, saying, "We've seen how militarized gear can sometimes give people a feeling like they're an occupying force."
But a Justice Department document issued this week hit back, arguing Obama's rules were "putting claims about perception above protecting public safety and law enforcement officers."
Many in state and local law enforcement quickly hailed the decision, with the Major County Sheriffs of America saying the new policy gives them "cause for optimism," pointing out that cash is often transferred by private armored vehicles — such as those operated by Loomis — and demonstrates the equipment is useful.
But Urquhart tempered that enthusiasm, telling BuzzFeed News that armored vehicles are a "false equivalent. Loomis isn't the government, but we are."
Obama had curtailed the Department of Defense's 1033 program, which was created in 1990 and expanded in 1997 to unload military equipment and assist local law enforcement. His order banned certain supplies from reaching local police entirely — including tracked, armored vehicles; weaponized vehicles; firearms and ammunition of .50-caliber or higher; grenade launchers; and camouflage uniforms.

Obama still allowed "controlled equipment" to be transferred, however. That equipment included ammunition under .50-caliber; some aircraft; certain armored and tactical vehicles; explosives; battering rams; riot helmets; and riot shields. Those items could only be used after agencies complied with certain conditions, such as logging their use.
"I don't think police departments should be asking for 'military gear,'" said Sheriff Urquhart.
Sue Rahr, executive director of the Washington State Criminal Justice Training Commission, which provides basic training to police officers, said on Monday it's most critical how officers actually deploy the newly allowed tools.
"In my experience, when used appropriately, the equipment has been essential for agencies that otherwise couldn't afford the same equipment purchases from nonmilitary sources," she said. "I do support the federal government putting some restrictions on the use of the equipment when it is given to local agencies."
Urquhart said .50 caliber sniper rifles and mine-sweeping trucks are unnecessary, but "other military surplus is just fine. I would love to get some .223 patrol rifles. But I don't want or need anything larger than that. ... We never need [Mine-Resistant Ambush Protected vehicles] or 'true' military hardware."
Progressive groups balked at Trump's moves on Monday.
Vanita Gupta, president of the Leadership Conference on Civil and Human Rights and a former Justice Department official, said in a statement, "These guidelines were created after Ferguson to ensure that police departments had a guardian, not warrior, mentality. Our communities are not the same as armed combatants in a war zone. It is especially troubling that some of this equipment can now again be used in schools where our children are sent to learn."
Democratic lawmakers have asked to suspend the military-to-police program entirely following a Government Accountability Office report in July that found a fake agency was able to obtain supplies through the program.
"The Defense Department should not be providing military equipment to civilian law enforcement agencies until we can be sure the program is capable of preventing dangerous items from falling into the wrong hands," said a statement issued in July by House Armed Services Committee Ranking Member Adam Smith of Washington state and Readiness Subcommittee Ranking Member Madeleine Bordallo of Guam.